CRT, Pedophilia, and Conservatives, Oh My!: Senate Confirms Judge Jackson for SCOTUS Pick
by npatano on April 21, 2022
---
National and Global News
---
On April 7, the U.S. Senate confirmed Judge Ketanji Brown Jackson to the Supreme Court. This monumental decision makes her the 116th justice to be confirmed, along with the first Black woman to serve on the Supreme Court, the highest court in the nation. 
The 53-47 Senate final vote showed a rather stark contrast in the support for Judge Jackson's nomination, with just three Republicans joining all 50 Democrats to vote her into a lifetime appointment on the Supreme Court.
Judge Jackson is U.S. President Joe Biden's first Supreme Court nominee. She will replace retiring Justice Stephen Breyer, 83, who was confirmed to the bench in 1994 by former U.S. President Bill Clinton.
Judge Jackson graduated magna cum laude from Harvard University, then attended Harvard Law School, where she graduated cum laude and was an editor of the Harvard Law Review. Since graduating, she has pursued a legal career spanning both public service and the Washington D.C. circuit courts. 
The Supreme Court has long maintained rather homogenous appointments to the bench throughout history. Since the establishment of its first assembly in 1790, only five white women have served on the Supreme Court: Sandra Day O'Connor, Ruth Bader Ginsburg, Sonia Sotomayor, Elena Kagan, and Amy Coney Barrett. Only two Black men, Thurgood Marshall and Clarence Thomas have served whileno Black women have previously sat on the highest court in the nation.
Following the appointment of three of former U.S. President Donald Trump's nominees during his presidency, the Supreme Court remains a 6-3 conservative majority following Judge Jackson's confirmation. 
Such a conservative majority in the highest court in the nation has led to increased apprehension among many Americans, particularly in fear that certain progressive legislation will be repealed. For instance, the recent abortion rulings in states like Oklahoma, Tenessee, Florida, and Kentucky represent the growing incrimination of women's reproductive freedom in the United States, particularly among those who identify as pro-choice. 
Judge Jackson's nomination did not come without a slew of attacks from certain Republican Senators, largely those who align with typical conservative talking points popularized over the last couple of decades. 
Texas Sen. Ted Cruz (R), a member of the Senate Judiciary Committee, utilized his time during judiciary hearings to criticize Judge Jackson on the basis of false claims that she promotes critical race theory. Commonly known as CRT, critical race theory is an academic concept that emphasizes the role of race as a social, rather than biological, concept, in the broader implications of race and racism throughout U.S. history. 
CRT, a university-level academic concept, has been weaponized by the GOP, with many conservative politicians falsely claiming that its teachings will be implemented in K-12 curriculum across the country. During the hearings, in response to Judge Brown being a board member at the Georgetown Day School, Sen. Cruz held up several anti-racism books in the school's curriculum. He claimed, "if you look at the Georgetown Day School's curriculum, it is filled and overflowing with critical race theory." 
Republican Missouri Sen. Josh Hawley (R) similarly attacked Judge Jackson, not on the basis of her qualifications or her legal merit, but rather to pursue another largely misconstrued claim that she has been a defendant of pedophilia during her tenure in the D.C. Court Circuit.
In response to both claims, Judge Jackson said, "the evidence in these cases are egregious. The evidence in these cases are among the worst that I have seen, and yet, as Congress directs, judges don't just calculate the guidelines and stop. Judges have to take into account the personal circumstances of the defendant, because that's a requirement of Congress."
The Republican Party has long sought to directly engage in narratives that seek to polarize the nation at both the local and national levels of government. Similar tactics to the ones used by both U.S. Senators were employed  in 2015, before the legalization of same-sex marriage across the United States. 
After hearing from nearly 23 hours of questioning by the Senate Judiciary Committee, Judge Brown was finally confirmed by the Senate. Judge Brown's appointment to the bench of the highest court in the United States represents changing tides and the necessity for diversity not only in the judiciary, but in society at large to create just representation and equity. "Equal Justice Under the Law," a motto emboldened on the U.S. Supreme Court building, is emblematic of the necessary equity within the juridical means of society; Judge Jackson's appointment to the bench of the most powerful court in the U.S. embodies that notion of implementing systemic change.
Setting the Stage to Empower Students: Striving to Amplify the Voices of Underrepresented Groups
by awakelin on January 10, 2022
---
Campus
---
On Nov. 13, Student Congress' Awareness, Education, and Collaboration (AEC) Committee held Amplifying Voices, a performance in the Center at Moore Hall's Bouligny Lounge. The open-mic styled event gave the opportunity for student groups to present or perform various forms of art. These included dance, poetry, and monologues on topics ranging from identity, culture, representation, and awareness.  
The event began with an opening speech by the chair of the AEC Committee, Catalina Betancur-Velez '23, on the importance of the performances in the greater representation of different diverse groups on-campus. 
The AEC was formed as a response to campus-wide concerns regarding equity and diversity at Providence College. The committee has researched the history of student demands and the long-term history of the struggle for diversity on campus. They have presented in front of various College administrators, the Board of Trustees, and Father Kenneth Sicard, O.P., in efforts to cultivate a more equitable campus. 
PC has long struggled to provide more inclusive spaces for those students, faculty, and staff who comprise a community of underrepresented groups on campus. These include BIPOC, the LGBTQ+ community, and other historically marginalized groups who continuously feel the alienation of PC's homogenous student population. Events like Amplifying Voices create the safe spaces necessary to encourage and to promote dialogue on issues faced by those most marginalized on campus. 
Mariela Flores '23, who performed "Creep" by Radiohead, was one of the many student performers featured during the event. Flores describes, "This event meant a lot to me. As a BIPOC on campus, I personally know the talents that exist among us as well as the kind of stories that each of us carries. But, it was so beautiful to see BIPOC get the stage and make it their own. I teared up many times seeing these talents being showcased in a space that felt safe and felt filled with so much love and support."
Art, regardless of the capacities of creative expression, presents intrinsic emotional, moral, and cultural values beyond the aesthetic value of solely performing creative pieces. These student performances reflected on the complex expressions of visibility and awareness of the multifacetedness of each performer's own identity, especially of the tribulations toward achieving just representation within educational institutions like PC. 
The student performers included Jezel Tracey '24, Hashim Hassan '23, Orlando Ramos '25, Grace Higgins '22, Diego Avila '22, Alexandra Guzman '22, Santiago Najarro-Cano '24, Sorieba Fofanah '22, along with members of PC's Footprints Gospel Choir. 
Betancur-Velez describes the importance of holding events like Amplifying Voices, as they cultivate the necessary dialogue surrounding inclusion and equity, particularly among the student population. She said, "I want to thank all of the performers and the attendees, but especially the performers, as they were the essence of the event. To be so courageous and to put their talent and their voices out there is really special, and is a step in the right direction in terms of diversity and equity that we need to come together in celebration [of] and appreciation for everyone."
Flores explained, "I think it is so important that PC continues to hold this kind of event because it makes its marginalized students feel heard. The fact [that] the event was organized by Congress felt validating as if the school is acknowledging that these are students that do deserve a space to showcase their talents and expression and that there is value to this." 
Tracey, another student performer, added that, "if PC continues to hold events like these, I believe that many students of color will be given the opportunity to contribute their gifts to PC's community. But, also, I feel that all parties of PC's community will be given an opportunity to experience, appreciate, and support such talents within PC's community of POC."
Events like Amplifying Voices create the artistic spaces necessary for students and faculty to perform their own pieces through creative means: most notably poetry, music, and dance. Further, the event presented the opportunity for the performers to express themselves through truly authentic means, in celebration of diversity and awareness, that are imperative to achieve inclusive and equitable treatment at PC.
In detailing the future of attaining just representation and equity among different groups on PC's campus, Betancur-Velez concludes: "I'm hopeful for the future. It's a battle against the current. There is a lot to be done, but I think these are issues that can be solved not only gradually, but also tangibly." 
This event extended beyond just sharing student performances as it also aided in constructing the political, cultural, and social narratives necessary to bolster change on campus. Through compounding the means of creative expression with the various intersecting forces of identity and awareness, Amplifying Voices actively sought to recognize the foundational importance of diversity and visibility of the most underrepresented on campus and will continue to do so for many years to come. 
Security Update: New On- and Off-Campus Initiatives Established in Response to Rise in Crime
by The Cowl Editor on October 21, 2021
---
Campus
---
In the aftermath of the Oct. 5 all-campus security forum with the Office of Public Safety and the Providence Police Department, in which PC students were able to vocalize their concerns in the uptick in on- and off-campus crimes, several initiatives have been implemented to better protect both the Providence College and surrounding communities. 
PC has recently announced the creation of several measures to better ensure that on-campus students feel safe. These include the formation of a Safety and Security Task Force, Friar Nite Ride, a late-night shuttle service for students on-campus and in the surrounding neighborhoods, and the return of self-defense classes.
For off-campus students, the Providence Police Department has stated that they will increase the number of police officers assigned to weekend police detail, along with an increase in the undercover PPD officers patrolling the surrounding neighborhood.
Pertaining to the rise in off-campus crimes, the 02908 Club, a student housing center that many PC upperclassmen students utilize for off-campus houses, has announced the creation of the 02908 Club Ambassador Program.
On Oct. 13, Shannon Russell, The 02908 Club's Operations Manager, announced the implementation of the program in an email to all tenants. She states, "The ultimate goal [of the program], though, is to have regular communication between all groups so that we can provide you with not only an outstanding off-campus living experience, but most importantly a safe and respectful experience."
The program will establish the communication necessary for off-campus students to develop better relationships with their houses, The 02908 Club, Providence College, the police department, city officials, and the surrounding neighborhoods. This initiative comes as off-campus students have voiced their concerns about the rise in crimes that have occurred both in and near off-campus student housing these last few weeks.
These on- and off-campus initiatives come as a response to the growing concerns over the lack of accountability and culpability of the Office of Public Safety and the Providence Police Department over these incidents. The proposed efforts will seek to both better respond to and control the incidents that have occurred to protect both PC and the surrounding neighborhoods.
A Not-So-Pink Tide Floods South America: Ideological Divide Grows Amidst Presidential Elections
by The Cowl Editor on April 22, 2021
---
National and Global News
---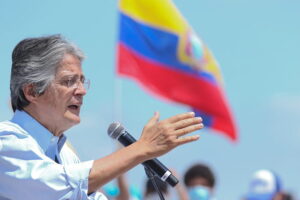 by Addison Wakelin '22
Assistant News Editor
South America experienced a tense and tumultuous political trend in elections this past April. Two high-profile elections in Ecuador and Peru have been a reflection of the increasing political and ideological tensions that have been exacerbated by both the COVID-19 pandemic and economic stagnation.
On April 11, Guillermo Lasso, a conservative former banker who advocated for cutting taxes and implementing austerity measures to decrease the fiscal deficit, won the Ecuadorian presidential election with nearly 99%of the votes counted. His opponent, leftist Andrés Arauz, ran on a largely progressive platform, emphasizing the implementation of social spending and social welfare policies that would benefit Ecuadorians.  
The results of Ecuador's election come as a major blow to the leftist movement within the country. Ecuador has not elected a president from a conservative platform in the last 15 years. Former Ecuadorian President Rafael Correa personally picked Arauz to run on a platform reminiscent of his own administration's policies.
Lasso's win represents Ecuador's shifting political dynamic from a key "pink-tide" country to a gradual shift to the right. Pink Tide was a political and economic movement in the late 1990s and early 2000s that captured the growing anti-capitalist and left-wing sentiments of several South American countries, including Ecuador, Bolivia, and Argentina.
Peruvians went to the polls this past weekend to vote in the first of two runoff elections. After former president Martín Vizcarra was removed from office last November, Peru has continued to face the effects of the COVID-19 pandemic, economic stagnation, and political instability. With a 70.21% turnout rate in the first round, the results of the election have put Pedro Castillo and Keiko Fujimori in the lead, with Fujimori narrowly polling ahead.
The Fujimori family is not new to Peruvian politics. Keiko Fujimori previously ran for president in 2011 and 2016, and is currently running again in 2021. In 2018, she was arrested on charges of money laundering during her 2011 campaign and was later released on bail in May 2020. Her father, Alberto Fujimori, was first elected president in 1990 and fled the country in 2000 due to numerous allegations of corruption and human rights abuses.
The two candidates leading the presidential race are left-leaning Castillo, a member of the Free Peru National Political Party, and right-leaning Fujimori, founder of the Popular Force party and daughter of former Peruvian president Alberto Fujimori.
This year's Peruvian elections have been a reflection on the increasing ideological tensions of Peru's political and social institutions. Peru has been hit especially hard by the COVID-19 pandemic, as staunch  inequities within both their healthcare and economic systems have been exposed by their high COVID-19 death rate.    
In Ecuador, Arauz conceded the race shortly after the results on April 11 and called to congratulate Lasso on his victory. In Peru, Castillo and Fujimori will face off in a second round of elections on June 6.  
Dark Storms Over the Capitol: Policing and Democracy After the Jan. 6 Insurrection
by The Cowl Editor on March 4, 2021
---
Campus
---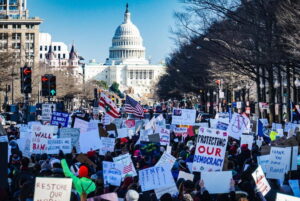 by Addison Wakelin '22
Assistant News Editor
On March 2, the Board of Programmers and the Board of Multicultural Student Affairs hosted a panel of Providence College faculty to discuss the topic of the double standards in protest policing and the implications of the Jan. 6. attack on the U.S. Capitol Building. The faculty panel included Dr. Keith Morton of the public and community service and American studies departments; Dr. Jeff Johnson of the history and American studies departments, and Dr. Paul Herron of the political science department, all of whom gave diverse views on the events that occurred.
On Jan. 6, shortly before pro-Trump insurrectionists stormed the Capitol, Donald Trump spoke at the Stop the Steal rally, which his campaign helped organize. Projecting into an echo chamber of lies and conspiracies, Trump made various false claims about the presidential election being stolen, widespread voter fraud, and how he won by a landslide. Less than 30 minutes after Trump's speech, the pro-Trump crowds had formed outside the Capitol, and the ensuing events occurred shortly after. Five people died in the aftermath, including U.S. Capitol Police officer Brian Sicknick.
The talk on March 2 gave important insight into the different political and social implications of the Jan. 6 insurrection. Morton most notably detailed the stark contrast of policing during the Jan. 6 Capitol insurrection and the Black Lives Matter protests this past summer.
The events that unfolded on Jan. 6 represent the deeply rooted institutionalized issues surrounding policing and race in the United States. The protests this past summer over the unjust murders of Breonna Taylor and George Floyd reflect larger issues of selective policing and deeply rooted racial inequality in this country.
"Our history of racialized violence by police influences all of the decisions and actions made in both the marches and in the insurrections and the ways in which we're trying to interpret what those events mean," stated Morton, reflecting on the distinct contrast of policing between the two events.
It has been close to two months since the assault on the Capitol took place. Of the thousands of participants in the attack, only 52 people were arrested on Jan. 6 in Washington, D.C., according to law enforcement officials. As of March 2, only 266 rioters have been formally charged.
In contrast, at the peak of the BLM protests this past summer, 427 protestors were arrested between May 30 and June 2, 2020, according to the metropolitan police department. The differences in police presence during the BLM protests over the summer versus the attack on Jan. 6 perpetuate those exact racial prejudices and issues with policing.
Johnson also provided insight into the ways in which history tends to repeat itself in American politics. Johnson described how much of the Jan. 6 attack mirrors past historical events, particularly the rhetoric surrounding the Burning of Washington on Aug. 24, 1814 and the controversial 2000 U.S. presidential election.
Herron, who specializes in American political history and constitutional law, raised important questions about the role of American political institutions in confronting such assaults on democracy. One of the most important questions Herron posed was about the role of Congress and the vice president in counting electoral votes, especially in their participation in aiding in the peaceful transfer of power.
The participation of several members of Congress, including Texas Sen. Ted Cruz, Missouri Sen. Josh Hawley, and Georgia congresswoman Marjorie Taylor Greene, who all rejected the electoral college votes of key swing states and have been accused of inciting the attack, has led to calls for their resignations.
The three faculty members reflected on the importance of remembering such events as Jan. 6, especially in the magnitude of precedence for the future state of politics in the United States. The insurrectionist attempt has proven the necessity for U.S. democratic institutions to be protected, and that the restoration of democracy is essential for the future of both American politics and civil society.
Bursting the PC Bubble: Takeaways from the First 2020 Presidential Debate
by The Cowl Editor on October 15, 2020
---
National and Global News
---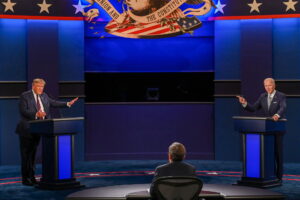 by Addison Wakelin '22
News Staff
Less than a month away from the 2020 presidential election, the first presidential debate left many Americans in a state of pessimism and uncertainty about the future of the United States.
On Tuesday, Sept. 29 in Cleveland, former Vice President Joe Biden and President Donald Trump faced off in a brutish debate during one of the most unprecedented times in modern U.S. history. The debate was moderated by Fox News anchor Chris Wallace.
Although the debate became somewhat personal given Trump's jeers and ad hominem attacks against Biden and his family—especially Hunter Biden—the two debated on some important topics pertaining to the United States. The debate can be broken down into several important topics, picked by Wallace, including the Supreme Court vacancy, the COVID-19 pandemic, protests and violence in cities as a result of the issue of racism, and the economy.
Following the tragic death of former Supreme Court Justice Ruth Bader Ginsburg, the Supreme Court vacancy has become a point of interest for Republicans. Less than two weeks after RBG's death, Trump announced he would nominate Amy Coney Barrett to the Supreme Court.
Several Republicans, including South Carolina Senator Lindsey Graham and Kentucky Senator Mitch McConnell, have been criticized for their hypocritical comments on blocking Obama's nomination of Merrick Garland to the Supreme Court in 2016, claiming it would be unfair to Americans to vote for a justice during an election year.
Biden countered Trump's claims, warning that Barrett's potentially successful nomination will solidify a 6-3 conservative majority in the Supreme Court. As a result, Republicans will be able to repeal Roe v. Wade and the Affordable Care Act, unraveling years of progressive lawmaking that could strip away healthcare accessibility and benefits for many Americans, especially women.
COVID-19 also became a major point of discussion during the debate. Trump has been criticized for holding several rallies without masks or social distancing enforcement, as the U.S. has surpassed 215 thousand coronavirus deaths. Trump taunted Biden during the debate for his mask-wearing, saying, "I don't wear a mask like him. Every time you see him, he's got a mask. He could be speaking 200 feet away from you and he shows up with the biggest mask I've ever seen."
Less than 72 hours after the debate, on Oct. 2, Trump announced he tested positive for COVID-19. He tweeted: "Tonight, @FLOTUS and I tested positive for COVID-19." Trump was promptly hospitalized at Walter Reed Hospital and treated with an experimental antibody treatment, steroids, and oxygen. He has since been released.
Perhaps the most shocking part of the debate was Trump's failure to condemn white supremacists. Wallace challenged Trump, asking if he is willing to "condemn white supremacists and militia groups." Both Wallace and Biden pushed Trump to condemn white supremacists. After asking for a specific group to condemn, Biden suggested the Proud Boys, a far-right, fascist organization that spouts anti-Semitic, Islamophobic and other bigoted rhetoric.
Trump stated, "Proud Boys, stand back and stand by." Trump's comments caused an uproar. "Stand back and stand by" suggests that these groups wait for his command and is not a condemnation of their actions.
The debate left one question: who won? For many Americans, the answer is no one. The nation is at a standstill between polarizing political beliefs and a chaotic year defined by a pandemic and socio-racial upheaval.
Many viewers felt as though the true loser of the debate was the United States itself. Between the U.S. nearing almost 220 thousand coronavirus deaths, millions of Americans having filed for unemployment and facing eviction since the pandemic started, and growing social unrest, the U.S. faces a desolate political landscape.
Only time will tell if the U.S. can muster the strength and unity necessary to overcome the hardships that have plagued this country.
After Trump's COVID-19 diagnosis, the Commission on Presidential Debates decided that the second presidential debate, initially scheduled for Oct. 15, would be canceled, citing Trump's refusal to participate in a virtual debate.
Both candidates have instead opted to host their own respective virtual town halls on Oct. 15 at 8 p.m., with NBC covering Trump's town hall and ABC covering Biden.
The next debate is scheduled for Thursday, Oct. 22 in Nashville, moderated by NBC's White House correspondent Kristen Welker.
U.S. Concerned with Fueled Tensions Between China and Hong Kong
by Kyle Burgess on September 17, 2020
---
National and Global News
---
by Addison Wakelin '22
News Staff
In late August, 12 activists were caught by Chinese officials trying to flee to Taiwan and are now detained with little known of their whereabouts. The arrests came in a growing crackdown on pro-democracy protests in Hong Kong, as more protests in Hong Kong are being targeted by China's new national security law.
The 12 activists were seized by speedboat in the South China Sea. Little is known of the activists' well-being and safety, outraging both pro-democracy Hong Kong people and one of Hong Kong's most prominent allies, the United States.
The detainment of the 12 activists comes in a slew of anti-democratic actions taken by Hong Kong, instigated by an increasingly impatient China to obtain complete autonomy of the region. In early August, prominent Hong Kong media personality and critic of China and the Chinese Communist Party, Jimmy Lai, was arrested. As Chinese officials state, Lai was arrested on suspicion of "foreign collusion" under China's national security law, which was passed this summer to stop the pro-democracy protests in Hong Kong and the growing criticisms of Chinese leader Xi Jinping.
On Saturday, Sept. 12, the relatives of the detained activists came out and pleaded for their family members to be granted the right to hire their own lawyers, rather than be represented by lawyers appointed by Chinese authorities. They argued that China is violating the activists' legal rights and that their relatives deserve fair legal representation.
In a recent press statement, U.S. Secretary of State Mike Pompeo expressed his growing concern over both Hong Kong's and China's handling of the activists. Pompeo cited particular worry about the lack of information reported on the protesters and their safety. In regard to Hong Kong's leader Carrie Lam and her leadership, Pompeo stated: "We question Chief Executive Lam's stated commitment to protecting the rights of Hong Kong residents, and call on authorities to ensure due process."
China has been in a contentious relationship with Hong Kong, as it continuously attempts to control the economic and political affairs of the region. The U.S. has also encouraged Hong Kong's independence from China's growing power over the region. However, China has slowly been garnering more legislative and judicial power. This has resulted in growing resentment by Hong Kongers against mainland China.
Having initially been a British colony, Hong Kong was able to remain semi-autonomous once they gained their independence. However, the passing of China's national security law is one of many instances in which China has tried to maintain and expand its power in a postcolonial Hong Kong.
Tensions between China and Hong Kong have increased to international notoriety, with many Americans even boycotting Disney's new live-action remake of Mulan. Last week, the hashtag #BoycottMulan was trending on Twitter following the release of the remake of the acclaimed '90s classic.
The outrage came as the lead actress, Liu Yifei, stated in a message on Weibo, a popular Chinese social media platform, "I support Hong Kong's police, you can beat me up now." The public outrage comes as Hong Kong police continue to clash with pro-democracy protesters, engaging in violence to control the mass protests in the region.
The detention of the 12 activists is only a recent instance of China utilizing their far-reaching legislative power to engage in suppressing pro-democracy Hong Kong protestors.
The whereabouts of the 12 detained activists are still currently unknown, meaning increased protests against Chinese political intrusions into Hong Kong are a likely possibility.
Pro-democracy protests in Hong Kong have attracted international attention. Photo courtesy of wikepedia.org.
Bursting the PC Bubble: New Israeli Prime Minister Elected
by The Cowl Editor on March 5, 2020
---
National and Global News
---
by Addison Wakelin '22
News Staff
After a continuous year-long political deadlock, the long-term Israeli Prime Minister Benjamin Netanyahu has claimed a victory from preliminary results and exit polls. This was a major win for his party's attempt to try and secure its majority in the Knesset, Israel's parliament. This win is also significant for PM Netanyahu's party over contentious rival Benny Gantz and his centrist Blue and White party.
This had been Israel's third election in less than one year, with elections last April and September, due to both of the main party leaders unable to win the majority in the nation's parliament system the last two election cycles.
Recently, Israeli media has reported that 93 percent of votes have been counted.
The most recent exit polls state that Netanyahu's Likud party was projected to win 36 to 37 seats, whereas Gantz's Blue and White party was projected to win 32 to 34 seats. It has been projected that his Likud party, along with its right-wing allies, are forecasted to win 59 seats, although this would leave the party two short of a majority.
Last week, Netanyahu spoke in Tel Aviv about the election. He stated, "Our opponents said, 'the Netanyahu era is over.' But together we flipped the story. We turned lemons to lemonade. We must avoid any more elections. It's time to heal the rifts. It's time for reconciliation."
Gantz also spoke in Tel Aviv to his supporters in response to the exit polls. Gantz stated, "Perhaps this is not the result you are wishing for…but let's look at the glass half full." Gantz remains optimistic that there is a possibility that his own coalition, which identifies as both centrist and centrist-left, may have a chance to win the parliamentary majority needed to form a government. 
Throughout this past election, Gantz has targeted not only Netanyahu's corruption charges, but also the general fatigue that Gantz cites as a major problem in Netanyahu's ability to properly lead Israel.
Netanyahu is hoping to seek a fourth consecutive term in office (his fifth overall) as he tries to grasp onto power, while simultaneously battling significant corruption charges.
Over the last three years, PM Netanyahu has been under an ongoing investigation by Israeli prosecutors into corruption charges; those charges include breach of trust, bribery, and fraud. Further, he is being prosecuted for the acceptance of gifts from wealthy friends along with meeting with major media figures to negotiate positive media coverage of himself.
Netanyahu has continuously denied any wrongdoing relating to these charges and will not step down, as he believes he can still proudly lead Israel while also dealing with court matters.
Despite these ongoing corruption charges, Netanyahu continues to present himself as the most viable Israeli leader. He further stated in that same Tel Aviv rally, "This is a victory against all the odds, because we stood against powerful forces." 
Netanyahu has repeatedly suggested that the fate of Israel's political institution will be revitalized through his party's ability to become the parliamentary majority.
However, the future of Israel's parliamentary majority, along with Israel's own political fate, both remain largely contested in reviving its paralyzing, lengthy deadlock. It remains uncertain if another election for parliamentary majority will occur, or if the two parties will have to compromise to reach an agreement to reestablish a coherent Israeli government.
Election of 2020: Bloomberg Faces Major Opposition From Fellow Candidates
by The Cowl Editor on February 27, 2020
---
National and Global News
---
by Addison Wakelin '22
News Staff
On Wednesday, February 19, at the Paris Theater in Las Vegas, NV, six Democratic candidates lined up to debate in the ninth installment of the 2020 Democratic Party presidential debates.
This debate has been the most-watched Democratic presidential primary debate in its history, with a record 19.7 million viewers tuning in, as the 2020 presidential election draws closer.
With future state primaries and caucuses coming up, each debate has been significantly more confrontational as each of the Democratic candidates hopes to receive the party nomination. Sanders has already proved a promising early lead as the potential presidential nominee for the Democratic Party. He has shown a strong polling performance in the Iowa caucus, won the New Hampshire primary, and is projected to win the Nevada caucuses. 
As Super Tuesday is less than two weeks away, the next few debate cycles are even more important as candidates try to make last-minute impressions to appeal to voters.
The qualified candidates, who had to meet the polling thresholds at both state and national levels to be eligible for this debate, included: U.S. Senator Bernie Sanders, former Mayor of South Bend Pete Buttigieg, U.S. Senator Amy Klobuchar, former Vice President Joseph Biden, U.S. Senator Elizabeth Warren, and former Mayor of New York City and billionaire Michael Bloomberg.
All took to the stage to debate the usual highly contested, yet important, topics pertaining to the Democratic Party. Such topics included health care, general individual electability, economic inequality, and climate change.
However, most of the candidates' focus was on the presence of Michael Bloomberg, who made his first major debate appearance that night. The former New York City mayor has had a somewhat contentious political legacy, particularly in the controversial policies he had passed during his mayoralty. Several of the other candidates extensively criticized his policy history; one of Bloomberg's most notorious actions was his support for and implementation of Stop, Question, and Frisk (SQF) that many of his critics have condemned as racist and shameful, as it purportedly targeted specific minorities in high-crime areas in New York City.
The debate opened up with NBC News anchor and moderator of that evening's debate, Lester Holt, immediately posing a question to Sanders about Bloomberg's hopes to beat Trump in November. Sanders stated, "Mr. Bloomberg had policies in New York City of stop and frisk which went after African-American and Latino people in an outrageous way." Sanders has long criticized the conglomeration of wealth that much of the one percent, including Bloomberg himself, hold in the United States.
The most noteworthy critic of Bloomberg on Wednesday, however, was Warren. Shortly after Sanders criticized Bloomberg's past, Warren, a former bankruptcy lawyer with a history of criticizing billionaires and their oppositions to a wealth tax, condemned Bloomberg's past. Particularly she criticized his own wealth and how he has been able to avoid contentions for so long because of it.
In response to Bloomberg's comments on his hopes to defeat President Trump in November, Warren went in for a direct attack on Bloomberg's refusal to release NDAs along with his inability to release his tax returns, a major blow to Bloomberg's opening night to impress the U.S. as a hopeful presidential nominee.
Warren stated, "So I'd like to talk about who we're running against, a billionaire who calls women 'fat broads' and 'horse-faced lesbians.' And, no, I'm not talking about Donald Trump. I'm talking about Mayor Bloomberg. Democrats are not going to win if we have a nominee who has a history of hiding his tax returns, of harassing women, and of supporting racist policies like redlining and stop and frisk."
The ninth installment of the Democratic debates did much more than simply reflect the current political state of the Democratic Party. The debates also represent the importance of what separates the Democratic Party from its opposition, and the partisan views represented by the two. 
As the 2020 presidential election draws closer, the candidates continue competing to win Democratic primaries and caucuses in the hopes of obtaining a spot as the party nominee in order to try and defeat Trump in November.