A Preview of Ed Sheeran's Anticipated New Album
by The Cowl Editor on September 3, 2021
---
Arts & Entertainment
---
A Preview of Ed Sheeran's Anticipated New Album
The Musician Returns to the Spotlight With '='
By Grace O'Connor '22
Ed Sheeran is once again in the spotlight, this time with the anticipation surrounding the Oct. 29 release of his new album, '=.' It has been four years since he released his last traditional album, '÷,' so fans are excitedly awaiting the day that they can enjoy his newest release.
The Guardian describes how "Sheeran had trailed the album with an image of a chrysalis, with butterflies featuring on the album cover itself. Speaking on Instagram Live while on holiday with his family, he said the imagery represents 'new life – I've been through, over the last four years, different experiences in life, including getting married, having a kid, losing a friend."
Evidently, these major life events have given Sheeran plenty of inspiration for '=.' Fans and music critics alike are expecting it to be an impactful record and a strong representation of Sheeran's talent based on the previews the musician has offered so far.
On Aug. 25, Sheeran performed a small show at hmv Empire in Coventry, England. He introduced two love songs, "First Times" and "Overpass Graffiti." The hit-heavy set also featured recent singles "Bad Habits" and "Visiting Hours." A close examination of the lyrics and composition of these songs reveals that they were put together with focus and contemplation. Sheeran reflects on small, impactful moments, turning them into works of art that are both meaningful to him and relatable to fans around the world.
'=' features 14 new songs. Interestingly, the album's final tracklist was significantly cut down from an original set of songs. According to The Guardian, Sheeran described the process of making final decisions about which tracks to include on the album as "painstaking." However, of the songs that made the final cut and the album as a whole, he said, "'They all have their place – I love it, I think it's the best piece of work I've done, it's cohesive and it feels great." It certainly seems that this album has been carefully crafted and will truly represent Sheeran's hard work and the growth he has experienced over the course of his career.
Indeed, the amounts of time between the release of each one of Sheeran's albums highlight different turning points in the singer's life, making his discography uniquely heartfelt and impactful. In a recent statement, Sheeran described '=' as "a coming of age record" and stated, "I've never been more proud of a body of work."
For those eager to learn more about the upcoming release, Variety offers a sneak peak. The magazine describes that "thematically, '=' finds Ed taking stock of his life and the people in it, as he explores the varying degrees of love ('The Joker And The Queen', 'First Times', '2step'), loss ('Visiting Hours'), resilience ('Can't Stop The Rain') and fatherhood ('Sandman', 'Leave Your Life'), while also processing his reality and career ('Tides')."
Sheeran's career has been filled with many highs. For instance, his 2014 album 'x' was the 49th best-selling album ever in the UK. After releasing his third album '÷,' he embarked on a world tour that would become the highest-grossing and most-attended tour of all time.
Much of Sheeran's success has to do with his dedicated fans who not only relate to his music, but are also in awe of his unique, pure talent. Over the course of the past ten years, his career has skyrocketed and he has become a household name.
His career is being especially celebrated this year as the tenth anniversary of the release of '+,' his debut album, approaches on Sept. 9. Loyal fans who have been with the musician all these years, as well as the fans he's won during this time, are excited to see where Ed Sheeran's career will take him, and are counting down the days until they can hear his latest masterpiece on Oct. 29.
A Successful Summer in the RI Music Scene
by The Cowl Editor on September 3, 2021
---
Arts & Entertainment
---
A Successful Summer in the RI Music Scene
Local Bands, Venues Resume Live Performance
By Jack Downey '23
The summer of 2020 was a bleak  time for musicians everywhere, especially those performing live shows. As the COVID-19 pandemic raged throughout the world, people were forced to spend much of their summers hunkered down, biding their time until life began to return to normal.
However, to say no good music came out of this time would be a lie. Many artists capitalized on their newfound abundance of free time to write and record. Nonetheless, there was a sense of tension regarding what would become of the music industry.
However, the summer of 2021 was a completely different picture. With a brief window of semi-normalcy made possible by the COVID-19 vaccines before the Delta Variant began fighting back, music surged back into the world. Suddenly, concerts and other live music events became commonplace once more. Although there were still certain rules in place to mitigate the re-emergence of the Coronavirus, live music was definitely back in season.
Rhode Island was no exception to this resurgence. As people began to feel more comfortable stepping out of the safety of their homes, Providence venues such as Dusk and Askew offered them fun places to go. The former began to host spacious outdoor shows and the latter hosted socially-distanced open mic nights. Eventually, as COVID-19 cases lowered even more, both of these places began to host weekly concerts that were booked in the blink of an eye. Local bands jumped at the chance to get back to doing what they love, and many played to record crowds as Rhode Islanders, starved of the live music experience, flocked to shows.
The need for live music was so great that some bands took matters into their own hands and hosted large house shows as the most popular local venues slowly reopened. For instance, Atomic Action and Youth Distribute, two record labels from Middletown, Rhode Island, threw barn shows. The first one of these performances was hosted on June 14 at Simmons Farm and featured a bill including local legends Bullet Proof Backpack as well as Massachusetts screamers Peace Test, New Hampshire-based hardcore band Tossed Aside, and the righteous fury of New Jersey band Gel. Despite the threat of downpours, people showed up en masse to throw down in the mosh pit. Merch was sold in spades, as was vegan food from the Born From Pain food truck. The show ended as lightning began crashing all around, providing a dramatic conclusion to an intense but welcome experience.
Another example of a house venue offering a unique live experience this past summer was the Lake House in North Smithfield. Hosted by Seb Toledo of the band Amanita, shows were held out among the trees near a serene lake. While bands played, attendees could go cool down from the summer heat or simply relax near the water. The atmosphere of this venue is unlike any other in the area, and it will be interesting to see what they do next.
Famed venue AS220, located in downtown Providence, mainly stuck to livestreams. However, referring to these productions as "livestreams" would be somewhat inaccurate, as their production quality was off the charts. Recently, AS220 has begun allowing people back inside their doors, combining limited capacity concerts with their high-grade video productions. This setup gives bands the unique opportunity to have professional live footage and audio at their disposal, an asset that local music groups hardly ever have. These recordings could help give local bands a more legitimate sheen, and AS220 are doing the scene a great service.
Although the Delta Variant now seems to be lurking around every corner, local music does not appear to be going anywhere for now. Hopefully, the forward momentum established during the summer months can continue into the fall, giving local bands more of a chance to do what they do best: create and perform.
RI Food Fights Offers a Taste of Competition
by The Cowl Editor on September 3, 2021
---
Arts & Entertainment
---
RI Food Fights Offers a Taste of Competition
A Fun and Easy Way to Explore Local Flavors
By Grace Whitman '22
Have you ever sat in your dorm room and said to your roommates, "guys, what should we have for dinner? The Ray food just isn't cutting it today?" If so, log onto Instagram and check out Rhode Island Food Fights' account (@rifoodfights). The local blog posts the best food finds across the state of Rhode Island.
You may ask, what makes RI Food Fights different from any other state food Instagram account? Each month, they bring people together by hosting competitions between local restaurants and other food businesses.
RI Food Fights originally only hosted competitions in set locations. The purpose of these contests was for restaurants to compete with one another in order to find the "Best in Rhode Island." The first food "fight" was a cupcake challenge held at The Spot Underground in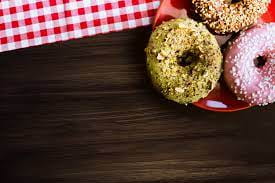 March 2011. This competition was such a success that the company expanded their events to include ice cream and cookie challenges.
As RI Food Fights grew bigger and became more popular, it became harder for restaurants to bring their hot food like burgers, pizza, and wings to an off-site event. This complication sparked the creation of a second type of food fight: the passport event.
How does this event work? RI foodies buy a $25 passport full of coupons for 20-30 shops or restaurants in the Ocean State. Participants travel to these different locations and vote on which stops are their favorite. Each month, the food voted on varies. Recent contests have centered around ice cream, pizza, donuts, and hot wings.
This past month, Providence College students participated in the #BestScoopsRI competition, traveling to 25 different ice cream shops in 31 days.
Kate Zenobio '22 said she "would highly recommend participating in RI Food Fights!" Zenobio explained, "I have gotten to explore the state of RI and try some really good ice cream! My favorite is from the Sacred Cow in East Providence! Definitely give it a try!"
Each monthly competition is split into two categories: one judged by the people of Rhode Island and the other by expert judges, who are chefs and food industry professionals. Past winners have been Providence's Knead Donuts, who have claimed victory in the d
onut category for the past four years, Cranston's La Casa for best Taco, and Federal Hill's Bun Fun for Best Burger.
Since these local shops only span approximately 48 miles from the northern border of Rhode Island to the state's southernmost tip, stopping at them won't kill your car's mileage. With over 90% of the Providence College student body coming from out of state, participating in the RI Food Fight Passport Program can be a great way to explore the Ocean State during your four years at PC.
Those looking to participate in an upcoming Rhode Island Food Fights event can head to their website, www.rifoodfights.com, to buy a passport. The month of September will be best Vegan Eats & Treats, October will be Best Tacos, November will be best pizza, and January will be best wings.