Friars Volleyball End of Season Recap
by The Cowl Editor on December 9, 2021
---
Friar Sports
---
By Joseph Quirk '23
Sports Staff
The 2021 season started out with much promise for the Providence College Women's Volleyball team. After earning a spot in the Big East tournament for the first time since 1999 (the Big East Tournament for volleyball only accepts the top four finishers in the conference), the Friars expected to continue their growth into 2021 and use the confidence and experience gained the previous season to return to the Big East Tournament. 
In the beginning of the season, that seemed like it would be just the case. The Friars went 12-1 in non-conference play, dominating opponents apart from the United States Military Academy, also known as Army. 
Head coach Margot Royer-Johnson was excited about the continued development of her team, especially with the many underclassmen contributors she expected to step up, along with returning veterans using extra years of eligibility to play.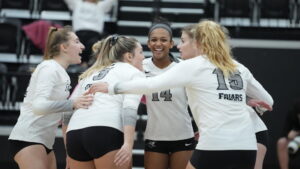 Heading into Big East Play, coach Royer-Johnson exclaimed that she did not want to change anything, only perfect the skills they were already implementing. It seemed that the Friars were ready to roll through the Big East. 
Unfortunately, this was not the case. The Friars went 4-14 in conference play, including a seven-match losing streak that ended them with a 16-15 record overall. Needless to say, the Friars, who felt disrespected by the preseason prediction that they would finish seventh in the Big East, were disappointed this season.
On the bright side, setter Allison Barber '22GS finished her career in Friartown as the school's all-time assist leader. A tremendous accomplishment—no doubt—for a deserving and long-tenured athlete.
Looking at the statistics, it is difficult to point at where things went wrong for the Friars. They averaged more kills-per-set than opponents, albeit with a lower kill percentage. They barely averaged more assists-per-set and had less ball-handling errors than opponents. They had more aces-per-set than opponents, too. However, opponents averaged more digs-per-set, more blocks-per-set, and fewer errors-per-set than the Friars.
As for the Friars season leaders individually, the statistics show many things to be excited about moving forward. Outside hitter Shaliyah Rhoden '25 played in every set this season except one. That alone is very impressive for a freshman, but she also led the team in points, points-per-set, kills, kills-per-set, errors, and total kill attempts. Because of her large number of kill attempts, Rhoden did not lead the team in kill percentage. 
The most efficient Friar in that category was sophomore setter Sammie Ruggles '24. To the surprise of few, Allison Barber led the team in assists, her 101 assists being just slightly more than the next assist leader with 96. Caroline LaMacchia '23 and Jennifer Leitman '23 led the team in service aces and service aces per serve, respectively. 
Defensively, specialist Mackenzie Taylor '22 led the Friars in digs, digs-per-set, total receiving attempts, and receiving errors. Middle back Sasha Rudich '23 led the team in block attempts, blocks, blocks-per-set and blocking errors. All of this to say that, despite a letdown season, the Friars are returning a significant proportion of their core next season and have a young and developing team of contributors. The promise for next year is still very bright, despite a disappointing 2021.
Volleyball Veterans Lead the Way
by The Cowl Editor on September 23, 2021
---
Friar Sports
---
Friars Look to Continue Hot Start to Season
Joseph Quirk '23
Sports Staff
Last year, the Providence College Friars Volleyball team faced the daunting challenge so many other collegiate sports teams had to face: a season in the wake of a global pandemic.
The Friars spent all of last season playing in masks, having a schedule constantly in flux, and starting their practices much later than usual with no summer training camp to help players get acclimated before the onset of the season.
It was a completely different way to go about doing a Division I sports season, and there were many differences between this season and last. "Well, the biggest difference is we don't have to practice or play in masks," said head coach Margot Royer-Johnson. "So that's definitely different. And significant."
And in terms of differences on the court, the five new freshmen on the team seem to have had a big impact on their dynamic and successful play so far this season, building off last year's 7-3 record and fourth-place finish in the Big East. "The biggest difference right now is we have five new freshmen and we only lost one player from last year," said coach Royer-Johnson. "So, we pretty much brought back everyone who was with us this past year and we've added five new players. And they've all gotten playing time," added coach.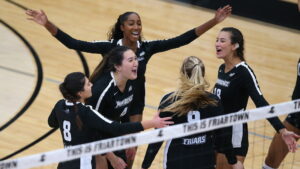 Yet, despite all the COVID-19 difficulties last season, Coach Royer-Johnson led the Friars to their first Big East Tournament appearance in years. Unfortunately, a COVID-19 outbreak prevented the girls from being able to play in the tournament, but that disappointment seems to have provided them with extra motivation and confidence going into this season. "Yeah, it's definitely stuck with them. I think it's given us the confidence that we need to mentally know that we can qualify for the tournament and be successful in the Big East Conference," said coach Royer-Johnson. She then added, "I think confidence is a big part of this game, and so it is a mental game in a lot of ways."
That confidence has certainly shown up in the play on the court thus far. So far this season, the Friars are 12-1 in non-conference play, with their only loss so far to the United States Military Academy, also known as Army. However, since that loss to Army back in August, the Friars are 11-0 and winning games in dominant fashion with 10 out of their 12 wins being decided by four sets or less.
Coach Royer-Johnson points to added depth as another reason for the team's tremendous start. "Well, we have a lot more depth than we've had in the past," said the coach. "We have a lot more depth and a lot more talent. A lot more experienced talent, so we don't have to play certain players in certain positions, we have options" she added. On the topic of depth, Coach Royer-Johnson mentioned last season how the team only had two outside hitters, and while they had players that could play there if necessary, she feels much more comfortable allowing players to play their own positions.
Coach Royer-Johnson also discussed the team's experience as a big factor in its performance. "The two biggest experience factors are our setter and libero," said coach Royer-Johnson. The team's setter Allison Barber '23 is a grad student, using her extra year of eligibility due to COVID-19, and Coach Royer-Johnson pointed out that she had been the team's setter since her freshman year. "When you have basically your quarterback coming back, that's obviously an experience boost," said the coach. As for the team's libero, Mackenzie Taylor '22 is a senior who has been playing crucial minutes since her freshman season. "The leader of our defense is the libero and she's a senior this year and she too has been starting for us since her freshman year," said the coach. Coach Royer-Johnson then added, "So the leaders of both our offense and defense are our veterans, and yeah, I think it most certainly makes a difference."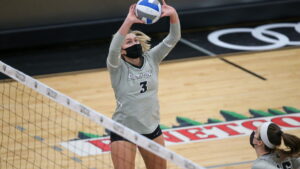 The Friars now get the week to prepare before starting Big East competition this Friday, Sept. 24 on the road against Xavier University. When asked about the impending Big East Conference play and whether the team was going to keep using their current strategies, Coach Royer-Johnson showed respect to the competition before saying that the Friars only wanted to be better before conference play began. "Yeah, it's definitely going to be a step up in terms of level of competition," stated the coach. "I think we're just hoping that by that time we have a lot of our skills honed a little bit, that our connections that we've been making with our hitters are a little more precise and our passing is a little more precise, our serving is a little bit tougher," explained coach Royer-Johnson. However, immediately after this remark she was quick to point out how the Friars are leading the conference in aces per set and that it is a strong part of their game–she just wants the team to perfect it.
The Friars now have the rest of conference play and hopefully tournament play to look forward to. After a great season last year and a fantastic start this year, Coach Royer-Johnson said that their expectation and hope this season is to prove the haters wrong. "We have a little bit of a chip on our shoulder given how well we did in the spring, and what we believe in ourselves, we were picked only eighth in the Big East. We felt like we were pushed down a little bit by that, so I think one of our goals is to just prove 'em wrong," emphasized Coach Royer-Johnson. She also mentioned what the coaching staff is looking for going forward in the season. "We're just looking for everyday improvement. You know, that one-percent-better-every day improvement."
The Friars look to continue their fantastic start into Big East play this Friday against Xavier University in what will hopefully be the first of many Big East victories for Providence College this season.