PCI: The Arizona Wildcats Will Win the NCAA Tournament
by The Cowl Editor on March 15, 2018
---
PCI
---
by Max Anderson '18
Sports Staff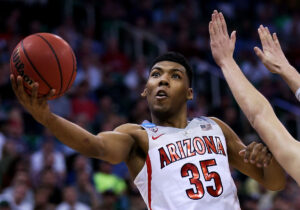 Saying this college basketball season has been unpredictable and chaotic would be an understatement; the University of Virginia Cavaliers, a team that was not even ranked going into the season, is the number one overall seed in the NCAA Tournament, while five teams that were ranked in the Preseason AP Top 25 poll did not make the tournament all together. Therefore, it should not be surprising that I am choosing a four seed (not one, not two, not three) to win the NCAA Tournament. That team is the University of Arizona Wildcats, a team that I feel has underperformed at times, but also looked dominant at others.
In my opinion (and I feel this opinion is widely shared), Arizona is criminally underrated as a four seed; they have veteran leadership in guards Allonzo Trier and Rawle Alkins, one of the top head coaches in the country in Sean Miller, and arguably the number one overall pick (and player of the year candidate) in center Deandre Ayton. Arizona can perhaps chalk up their low seed to a disappointing start to the season, which saw the Wildcats lose three straight at the "Battle 4 Atlantis Tournament" and start off with a 3-3 record.
However, perhaps more influential on the Wildcats seeding is the recent scandal regarding Miller. Miller has been accused of offering to pay Ayton $100,000 to attend Arizona. This information is supposedly on wiretaps that the FBI has yet to release.
The scandal has hovered over Arizona for the past month like a dark cloud and resulted in Miller vehemently denying all accusations. With this scandal out of the picture for now, I believe this team is determined to stick it to the NCAA by winning it all.
At the end of the day, I think there are very few teams, if any, that can match Arizona's talent on the court. Combine that with Miller's coaching, as well as the fuel of a recent NCAA scandal, and I believe you will not get the Arizona team that dropped three straight games in Atlantis, but rather the Arizona team that went 24-4 in their final 28 games and dominated the Pac-12 Tournament. That team is good enough to beat anybody else in the country and will prove that when they are crowned NCAA Champions.