Keeping the Coasts Clear: PC Student Helps in Fight Against Pollution
by The Cowl Editor on April 22, 2021
---
Features
---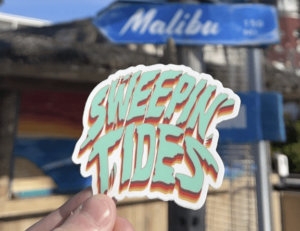 by Kyle Burgess '21
News Co-Editor
As the old adage goes, "If you do what you love, you'll never work a day in your life." For Providence College students like Charles "Fred" Manoog '23, this phrase was more than just a job-hunting cliché. Instead, Manoog decided to make the most out of his passion by turning it into a business opportunity.
Manoog first discovered PC through his uncle who himself is a PC alumnus. During the college applications process, his uncle insisted that he include Providence College on his list despite Manoog's uncertainty about it. However, all he needed was one visit to know for sure that he was in the right place.
"When I toured it was a beautiful day and all the students were outside hanging out, it gave off a great vibe that I knew I wanted to be a part of," Manoog explained. "I then decided to apply early decision and got in, I love it so much here."
In addition to spending time with his friends at PC, one of Manoog's other strong passions is his love for the ocean. In addition to surfing, Manoog spends his summers as a lifeguard back home. While working as a lifeguard in Cape Cod with his cousin and best friend, he witnessed large amounts of trash washing up on the beach. This did not sit well with Manoog who, along with his cousin and friend, decided to do something about preventing further pollution.
Together, the three young men formed Sweeping Tides. Sweeping Tides is an apparel company that specializes in surf apparel with 5% of purchases going towards Oceana, the largest international advocacy organization dedicated to ocean conservation.
"I have been affiliated with it since the beginning since I am one of the co-founders," Manoog said. "It has been a great experience for me to watch a business grow."
The end goal for the founders of Sweeping Tides is to expand their catalog of items for potential buyers in the near future. They hope to eventually sell hard-goods like surfboards and wetsuits. Should that not work out as planned, then they are just as satisfied to continue their apparel brand and gain greater community involvement in the conservation effort.
For Manoog and his fellow co-founders, profit was never a priority as much as bringing attention to the fight to keep oceans clean. "We are all surfers so we are very passionate about the ocean and taking care of it. We wanted to start a way to help keep it clean."
Following graduation from PC, Manoog sees himself moving to the coast or Hawaii, working for either a large surf company or an ocean conservation brand. For now, however, he is thankful to combine his passion for the ocean with a platform that enables him to work in the field he loves so much.