NIL Deals For Student Athletes
by npatano on March 31, 2022
---
The Scowl
---
Watson, Cooley, Driscoll All Involved
TikTok Star '22
On June 21, 2021, the United States Supreme Court upheld the U.S. Court of Appeals for the Ninth Circuit's decision that the NCAA's restrictions on "education-related benefits" for college athletes violated antitrust laws. As a result, college athletes who play at any division in the NCAA can now profit off of their names, images, and/or likeness. Since July 1, when the NCAA formally approved this policy, many college athletes, including Providence College student-athletes, have jumped at the opportunity to profit, signing deals with different brands and beginning to market themselves.
For the 2021-2022 season, the Providence College Men's Basketball Team ranked No. 1 on the luck scale for the Ken Pomeroy College Basketball Ratings. Since then, they have embraced the "luck" narrative, and this has even translated into their NIL deals. The entire team has partnered with General Mills' Lucky Charms Cereal. All 15 members of the team signed a deal that requires them to eat Lucky Charms before every single game they play and star in a commercial for Lucky Charms. Ed Cooley will also star in the commercial as Lucky the Leprechaun, a casting inspired by his comment in an interview before the team's first Round NCAA Tournament game against South Dakota State University in which he said, "Why not? Hell, I may be the leprechaun tomorrow."
Individual team members have also signed with companies whose brands are centered around luck, such as Irish Spring Body Wash. Nate Watson signed with the soap company and has taken to his TikTok account to promote the product via a shower thirst trap. Watson has almost a million followers on TikTok as well as Instagram, so thanks to him, Irish Spring sales have skyrocketed.
Furthermore, everyone—well, at least everyone who's taken Civ—knows that the number seven is seen as a lucky number in the Western world. The men's basketball team does not currently have a player wearing No. 7, but AJ Reeves will be doing so next season when he returns to Friartown for a fifth year. With the switch to No. 7 from his current jersey No. 11, Reeves signed a partnership with the convenience store 7/11. More specifically, he will be the main figurehead for Switch Sparkling Juice's Green Watermelon-Strawberry flavor, which is sold at 7/11.
Finally, although Nike has been the official outfitter of the PC Friars for decades, Bob Driscoll wanted to make a last-minute impact on Friartown. The Providence College athletics department has signed a new long-term partnership with Lucky Brand: the clothing retailer will now be the official sponsor of all footwear and apparel for PC. The Friars are the first NCAA school to partner with Lucky Brand in this capacity. Driscoll felt that the graphic tee and jean lines were a must-have on campus.
It is safe to say that PC's Men's Basketball Team is taking full advantage of the NCAA's NIL policy and embracing the luck narrative they have been pushing all season.
Bob Driscoll to Retire as Athletic Director
by npatano on February 10, 2022
---
Friar Sports
---
Steve Napolillo Next in Line
Joseph Quirk '23
Sports Staff
It is the end of an era at Providence College: longtime athletic director Bob Driscoll has announced his retirement in the coming months. Driscoll's tenure in Friartown certainly had its ups-and-downs and was defined by change. At the end of Driscoll's role in leadership at PC, the athletic programs are noticeably improved and better off. His work will have everlasting effects on the athletic program at Providence College.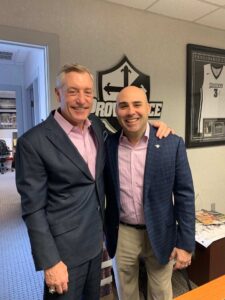 Driscoll was hired back in 2002. At the time, Driscoll was working at the University of California-Berkeley with the dream of one day being an athletic director. He interviewed for the position at UC Berkeley and did not get it. During his retirement announcement press conference, Driscoll told the story about how he ended up as a Friar after not being offered the position at Berkeley. He had heard that the position was open at Providence College, and he begged the headhunter to get him an interview. He ultimately got the job and established a staff that shared the vision of wanting to make the PC Athletics Department one of the best in the country.
Early on in his tenure as A.D., Driscoll made mistakes. He said he was inheriting a college with athletic facilities the quality of a "bad high school." The "big time" programs of the school: basketball and ice hockey, were struggling and not winning to the extent that is now expected of them. As one of his first head coaching hires, Driscoll hired Tim Army to be the head coach of the men's ice hockey team. Army had a long and extensive resume prior to being hired as a head coach for the Friars, which included time spent as an assistant coach with at PC in the 1980s. After leaving Friartown the first time, Army would have experience coaching at the NHL and AHL level, including a three-year stint as head coach of the Portland Pirates in the AHL. Army was hired in 2005 and only lasted six seasons with the Friars, with his highest single-season winning percentage being 0.514 his first season. After that, Army never posted a single-season winning percentage over 0.500. Another bad hire was Keno Davis, who was hired in 2008. Davis was out of town by 2011. Davis was hired after being named the College Basketball Coach of the Year by the Associated Press because of his success as head coach of the men's basketball program at Drake University. Davis went 46-50 during his few seasons in Friartown. When asked about these hires during his retirement press conference, Driscoll said, "Those weren't bad hires. They were good coaches; it just didn't work out here."
The failures of both Tim Army and Keno Davis may have been enough to get Driscoll fired at other schools, but then-president of the College, Rev. Brian Shanley O.P., kept faith in Driscoll. His next two hires, Ed Cooley and Nate Leaman, turned out to be home runs. Cooley brought the men's basketball program back to the NCAA tournament and currently has the Friars at No. 11 in the nation. Leaman has two Frozen Four appearances under his belt, including one national championship in 2015 with the men's ice hockey team. That championship was the first by a men's team in the College's history. During his press conference, Driscoll mentioned how Friartown has been turned into a destination job no one wants to leave. Driscoll affirmed: "I promise you: Ed had the University of Michigan job. I was there. We sat down and talked about it. He wanted to stay here." He also said, "He can go anywhere in the country and chose to stay here."
Driscoll has had several other impacts outside of his coaching hires. Driscoll was responsible for the underground parking garage with tennis courts on top, an idea he said he got from similar structures at Berkeley. He also rebuilt the soccer field and, in the process, relocated the softball field. He has upgraded the fundraising program to provide the different teams here with the amenities top Division 1 programs enjoy, such as the world-class Ruane Friar Development Center and renovations to Schneider Arena. Of course, Driscoll helped lead the Friars through the creation of the new Big East and aided in the building of the conference as it is today.
Driscoll has said he is retiring not only because it feels right but because he cannot provide the longevity that new president Rev. Kenneth Sicard O.P. will need it from him. He also wants to spend more time with his wife. "She has given so much of her energy to me and now it's time I give all my energy to her," said Driscoll. He also noted his competitive spirit and drive, things he picked up playing hockey at Ithaca College, and a desire to build a program and coach young men as the reasons he wanted to be an A.D. Driscoll noted how he had had "life coaches" his whole life, and all he has ever wanted to do was coach and teach other people.
In his press conference, Driscoll thanked his "teammates," identifying them as the reasons for his success. He hinted at an internal hiring when he said, "When you have a successful organization, you want to hire the team members that have been already working to make it so successful." A few days later, Steve Napolillo was announced as the new A.D. Napolillo was one of Driscoll's first hires and has worked closely with him for quite some time. He is equipped to take over as he has a list of uncompleted plans of Driscoll's, an idea of how things should be running here, and will have continued mentoring from Driscoll himself.
At Napolillo's first press conference, President Rev. Kenneth Sicard O.P. noted that he had done his due diligence and had been discussing Driscoll's replacement for months. He said that he feared screwing up the momentum that the program had built by bringing in an outside candidate and how he wanted to reward the talent they had internally. Driscoll said, "Nobody loves Providence College more than Steve [Napolillo]" and talked about the overwhelmingly positive reaction from the whole athletics department when they were told about his hire. Napolillo further exclaimed his gratitude and love for this school when he began to speak. From the sounds of things, Napolillo will be a great A.D. for Providence College. He will have big shoes to fill and we look forward to seeing how he will do it. To Bob Driscoll: thank you for everything and enjoy retirement.
An Interview with PC Athletic Director Bob Driscoll
by The Cowl Editor on October 16, 2020
---
Friar Sports
---
Driscoll Speaks on the Pandemic's Long-Lasting Ramifications
by Cam Smith '21
Sports Co-Editor
Last October, The Cowl sat down with vice president and director of athletics, Bob Driscoll, in his office on the top floor of the Friar Development Center. The conversation revolved around the remarkable success of Providence College athletics in recent years, as well as the growth of the campus and its stunning athletic facilities.
This October, that conversation looked vastly different. In place of an in-person meeting was an all-too-familiar Zoom call. The topics of discussion were different, too. There was no Late Night Madness to reflect on, nor was there a fall sports season to review. Instead, the interview was filled with thoughts on what could have been as well as speculation on what hopefully can be.
That being said, even without an ongoing sports season to discuss, there remained plenty to talk about. One might think an athletic director without sports may have some free time on their hands. However, Driscoll certainly does not, as his days without sports have been almost as busy as his days with them.
Indeed, much like the rest of the world, the state of PC athletics changed forever in mid-March. Driscoll and the men's basketball team were in New York City, getting ready to play in the highly anticipated Big East tournament. The first game of the day had already kicked off, with the Friars due up next to take on Butler University. Then, the news they were dreading came.
"It felt surreal. I was just so excited to be down there," said Driscoll. "I knew it was kind of fragile, but I actually thought we were going to play. We were on Zoom with the presidents and the ADs, with the head people, the doctors from the NCAA just the day before, and they're going 'no we're good, everything is a go.'"
Soon, it became apparent that all spring sports athletics would have to be canceled as well. It was left to Driscoll and the athletic staff to deliver the heartbreaking news. "I remember telling our student-athletes, first of all apologizing to the spring sports and telling them how heartbroken I was that their season got taken away," recalled Driscoll. "Particularly the seniors, who never got a chance to finish it. But I never thought that we'd be sitting here today not playing sports in the fall. Never."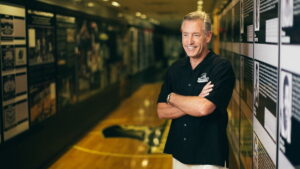 Driscoll had to make another set of calls once it became clear in the summer that fall sports would have to be canceled too. It was not any easier the second time around. "That was difficult because I knew they were heartbroken—as was I," said Driscoll. "But one thing I said to them was that Friartown, we as a team, are built for this. Mental toughness, grit, resilience—let's use this as a way of developing our character."
The athletic department has certainly shown resilience as a whole since those fateful March days. Driscoll credits a strong working relationship between him, the coaches, and the entire athletics staff as the reason for their success in overcoming a myriad of obstacles in recent months. Communication too, says Driscoll, is key.
"I feel as connected as I've ever felt to my staff. Although I'm not seeing them in person, I'm seeing them literally everyday through Zoom," he reflected. "I call, I text, I've engaged with them consistently during this entire time frame. And more than just X's and O's, [I ask] how's your family? How's your children? How are you coping? How's your health? Really focusing on the higher, more important things and trying to put it into context. Competition is important, but do you know what's more important? Your health and mental well-being."
Although Driscoll and the rest of the athletics staff have made the best of a difficult situation, that is not to say that everything is perfect. Recruiting new athletes has been particularly difficult during these times. The NCAA instituted a ban on in-person recruiting since the start of the pandemic, which barred prospective student-athletes from visiting campuses.
For PC, the ban seems to hit especially hard. For many prospective athletes, it is the visit to campus that really sells them on Friartown. "When they walk on the campus and are able to feel the vibe between people, and then you see our beautiful facilities and academic buildings…I think people's perceptions change pretty radically once we get people here, so I think that's hurt us a little bit," lamented Driscoll. "But with people like coach Cooley, Nate Leaman, and Chris Gabrielli, people who are really good at communication…I still think we've been able to sign some talented people."
Some of those recruits will be able to take the court and the rink this winter, as PC plans on going ahead with both its hockey and basketball seasons. With an established testing infrastructure now in place and the appropriate alterations being made to the schedules, Friar fans can plan on watching PC athletics for the first time since March.
"We're looking at Nov. 20 for the start date for hockey. They're planning on 24 games right now," said Driscoll. "[For men's basketball] we're still contemplating during winter break, from Dec. 30 until late January, maybe a possible bubble at Mohegan Sun and/or Omaha. We've even talked about Disney, where the NBA teams have played, to play five or six games."
Men's basketball will join the women's basketball team in hosting their home games at Alumni Hall. The men's team usually hosts their games in downtown Providence at the Dunkin' Donuts Center. Games will be at Alumni for the duration of the season, according to Driscoll, "unless in the new year the state opens up the Dunk and they allow people to come in. Then we'll make a decision on whether we can get enough people down there to make it worth our while to actually rent the building."
The resumption of sports this winter will certainly be a welcome sight for a campus that has gone without athletics for seven months. Sports and the comradery that they bring is a key part of the culture at PC. Without them, campus has certainly felt far less alive.  
"Yeah, it just feels empty," said Driscoll. "I was talking to my wife the other day, this is my 46th year in college athletics…and I've never experienced anything like this; it's like taking a piece of your entire being away for me personally. I can imagine it's the same for every student that plays and a lot of the fans. These are really unusual and difficult times because I think we as a culture need to be together in groups to celebrate the good things or the struggles. There's something about being in a sold-out arena that is so inspiring and uplifting. I think it adds to the quality of our lives, win or lose."
Besides a pandemic, 2020 has also featured one of the largest civil rights movements since the 1960s. Black Lives Matter protests have brought the systemic inequality in our nation to the forefront of the national dialogue. Driscoll is outspoken on the change that must occur in the U.S., just as is he outspoken on the change that must be enacted on the PC campus. 
Three years ago, Driscoll sat down with the women's basketball coaching staff. He recalls them "hitting him in between the eyes" about how the athletics department and school in general was not doing the best it could do for its BIPOC students and staff. "They shared stories that were very disturbing to me, about how our young men and women of color were treated," disclosed Driscoll. "It opened my eyes to what we needed to try to do if we were going to be a leader in this world, and one of those things was that we needed to hire more men and women of color." 
The department carried out this vision, hiring top-notch candidates such as Nick Sailor, the director of training and education for Diversity, Equity and Inclusion. In their five-year strategic plan, they also have guidelines in place "almost like the Rooney Rule in the NFL," said Driscoll. "Where that in every position we hire for we are going to consciously turn over every stone to try and find men and women of color, from diverse backgrounds, to make our organization better."
Driscoll also spoke to the efforts of Ivan Thomas, an assistant coach on the men's basketball staff. Thomas is among the founding members of Coaches for Action, a coalition of all 21 Black men's basketball assistant coaches in the Big East. "I was able to bring Ivan and the other coaches in front of the ADs of the Big East and they made an amazing presentation," stated Driscoll. "They proposed that we wear Black Lives Matter patches on our jerseys, and also spoke about really focusing on getting the [student-athlete] vote out, and then raising some money for first-generation students of color scholarships." 
The proposal was universally passed. "I'm really proud and happy about that," said Driscoll. "But we still have a long way to go." 
To conclude, Driscoll spoke on the recent events surrounding campus, emphasizing the importance of the safety protocols while also sympathizing with the students who have felt the impact of the recent lockdown. "I just wanted to thank all of our students for their hard work," said Driscoll. "This is not easy work and a lot of times young people get the blame for this stuff, and it's really not their fault. This is an epidemic that affects us all. So, my message is really just: stay strong, stay together, this will pass, and we'll be back watching games hopefully in the very near future."
Friar fans certainly hope all goes according to plan, as the arrival of basketball and hockey will be a major boost to a campus that has seen most of its events shut down. For Driscoll and the entire athletics department, their arrival will be a marker of months of hard work paying off.
And for Driscoll, it will probably provide some sense of normalcy for the first time since that fateful March bus ride to New York City.
Father Brian J. Shanley, O.P., Talks Big East
by The Cowl Editor on March 5, 2020
---
Friar Sports
---
Bob Driscoll Joins in for Riveting Presentation
by Liam Tormey '22
Sports Staff
Last Thursday, the Sports Business Organization at Providence College got the opportunity to hear Rev. Brian J. Shanley, O.P. and Athletic Director Bob Driscoll discuss the history of the Big East Conference and the influence that both men had on its formation. 
To begin, both guests gave an overview of the roles that they have in sports at PC. Driscoll has been the athletic director at PC for 19 years and says his job is to "create the vision of what a first-class Division I department should look like." He said that his role as athletic director  would not be possible without the support of the president of the College, with that, of course being Fr. Shanley.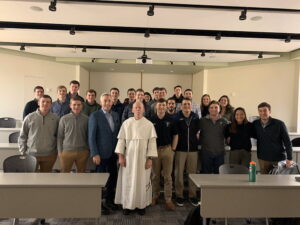 Fr. Shanley's role at PC is far-reaching; however, and sports are a big part of his responsibilities. Fr. Shanley talked about the importance of "hiring smart people and letting them do their own thing." He also spoke to the fact that he believes that if he needs to get into the "weeds" about someone, then that person is not doing their job. Although, he admits that has never found this to be the case at PC. 
Next, Fr. Shanley and Driscoll were asked about both the history of the Big East and the realignment of the conference. The Big East originated in 1979. Fr. Shanley discussed the vision of Dave Gavitt, the former athletic director at PC at the time, and how he saw that northeast basketball was going to fall behind other major conferences unless something was done. 
Indeed, in the early stages, many colleges wanted to join the Big East, and the conference had great success. However, the demise of the conference in past 10 years came as many of the big schools left to go to football conferences where all the revenue was. 
Fr. Shanley spoke about the meeting at St. John's University where all of the schools in the Big East got together to discuss how to fix this problem. At the meeting, it was decided that the Big East was going to "chart our own path individually of the football schools."
 A unique opportunity arose with the arrival of Fox Sports 1 and their need for a polished basketball product. The match between the conference and TV broadcaster ended up being perfect, as the Big East Conference received a 12-year contract with Fox which has "been a blessing," according to Fr. Shanley. 
Driscoll added that they were "in the right place at the right time" and "we went back to our roots" regarding the realignment of the Big East. The desire for schools to get into the Big East skyrocketed as presidents and athletic directors bombarded Fr. Shanley and Driscoll with calls to join the Big East. 
Being able to play at Madison Square Garden for the Big East Tournament was also a huge boost for the conference. Both Shanley and Driscoll referred to it as "the Mecca," saying the ability to have a long-term deal with MSG as the only conference in the country to play at the Garden was very important. Many major conferences still want to play at MSG, but the Big East is still the only conference able to do so, and that is huge from a marketing standpoint for the conference. 
Fr. Shanley and Driscoll, were very excited to answer members' questions about their role in forming the Big East Conference, and both believe the conference is in very good hands for years to come.  
PC Athletics: A Golden Age
by The Cowl Editor on October 24, 2019
---
Friar Sports
---
A Sit-Down with Athletic Director Bob Driscoll
By Cam Smith '21
Sports Assistant Editor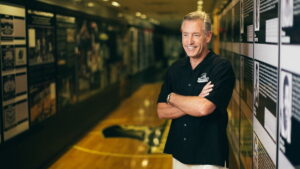 As Vice President and Director of Athletics at Providence College, Bob Driscoll has overseen some of the brightest moments in Providence College history in his now 19-year tenure. So, when he says that things have never been better in Friartown, it is a good idea to believe him.
The Cowl got a chance to sit down with the affable athletic director following Homecoming Weekend to get his thoughts on the state of Friar athletics. The result: a fascinating conversation which delved into not only the present condition of the department, but its promising future as well.
It is hard to imagine how things can get much better for Driscoll and the Friars. Since 2013, PC has achieved an absurd amount of success under the AD's watch, highlighted by national championships from both the women's cross country team and the men's ice hockey team.
Coupled with a string of seven consecutive postseason appearances by Ed Cooley and the men's basketball team, in addition to the stunning facility upgrades on campus, it is safe to say that life is good as a Friar. Driscoll would have to agree.
"I am really proud of the entire campus," said Driscoll. "When we bring people on it, they're just blown away… It did not look like this 15, 18 years ago, but now when I bring my friends who worked at the University of California and a lot of the Big East schools they go, 'Wow, I did not realize what a beautiful place this is.'"
One of the recent additions to contribute to the revitalization of the campus is the extraordinary Ruane Friar Development Center. The 30 million-dollar, 58,218 square-foot building opened in August of 2018, and has already played a significant role in the success of all 350 plus student-athletes.
Not only has it helped out those Friars currently in uniform, but it has already assisted in attracting some of the most skilled recruits in the country. "I have said this before, you get one chance to make a first impression," commented Driscoll. "If you look at all of our athletic facilities, they have all either been renovated or built brand new because if you are going to attract the best student-athletes you have to have big time facilities."
It is easy to see the appeal that the Friar Development Center has to recruits when it boasts equipment such as sleep pods, cryogenic machines, and meditative tanks. However, the top-notch equipment is far from the only draw for prospective athletes, as Driscoll and the department also utilize a talented team of sports psychologists and nutritionists. The recent partnership with the Mindfulness Center at Brown University, aimed at practicing healthy lifestyles, showcases the level of attention to personal wellness that the department displays.
"It is almost like an Olympic training village if you will… it really has had an impact on recruiting and the morale of our present student-athletes because they feel like they are being taken care of," said Driscoll.
The on-the-field product certainly speaks to the athletic director's point, as the Friars are off to a solid start in both the fall and winter sport seasons. "We are off to a good start," said Driscoll. "Field hockey is in the mix with a chance to compete for a championship… I think [cross country] will be competitive, they will certainly get back to the NCAA's. I'm not sure they will have a shot to win the whole thing, but we'll have to see."
Driscoll spoke to the start of hockey season as well, admitting that, "Hockey has gotten off to a good start too. The men beating Maine 7-0 with a really young team and then the women splitting with Quinnipiac with a really young team as well. So, I think things are going really well so far."
Things may get even better in the future as the resources of the Friar Development Center take further effect, and as the plans for the second phase of the Friar Development Center come to fruition. Indeed, Driscoll and his fellow college leadership members have launched an ambitious effort to take the Alumni Hall area of the campus to a whole new, previously unimaginable, level.
While phase one of the Friar Development Center may seem more athlete-oriented, phase two will create a resource geared toward every student and visitor on campus: Friartown Way.
The forthcoming phase will erect a connecting concourse between the Slavin Center and Alumni Hall, and will feature an expansion of both the Career Development Center as well as '64 Hall. The effect will be the creation of an indoor street, one that very likely will serve as the new heart of campus.
"… It is going to be almost like a shopping mall area," said Driscoll, as he gazed out upon the site from his office window. "This [area] is going to be expanded with a big dome over the top. We are hoping to have the designs and approvals this year and then start construction."
The new area will be just the latest addition to a campus that has seen a remarkable number of jaw-dropping projects completed over the past few years. For Driscoll, the possibilities for this particular project are endless: "You can imagine just looking down on this great big open spot with perhaps a Dunkin Donuts in there, study areas, tables where people can hang out with the sunshine shining through. That would complete this entire project, it is going to be special."
Driscoll has been more than a little busy lately, in addition to the announcement of phase two of the Friar Development Center, the Athletic Director also just recently completed a new, five-year strategic plan for the athletic department. The plan centers around five key goals, which aim to sustain the success of the department while enriching the experience of the student-athlete.
"We are trying to play a bigger game here," said Driscoll. "Our new mission is to build champion citizens, scholars, and athletes who positively impact the world around them. I want our student- athletes to learn through playing sports that they have the ability to go out and hopefully change the world."
With a new mission statement, a flourishing fall season underway, and more facilities set to arrive on campus, the condition of PC athletics has never been better. And, with Bob Driscoll and his talented staff of coaches at the helm, the continued success of the department seems guaranteed for decades to come.
PC Recognizes Newest VP: Bob Driscoll
by The Cowl Editor on February 28, 2019
---
Campus
---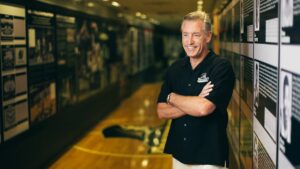 By Hannah Langley '21
News Co-Editor
As athletic director at Providence College for the last 18 years, Robert, or Bob, Driscoll understands the importance of athletics at PC, not only for the student athletes and coaches themselves, but for the entire institution. 
Recently promoted to the position of Vice President, Driscoll discussed his hopes for PC's future not only in athletics, but in all areas of the College, in the effort to promote and build on the strong sense of community and pride that already exists on the PC campus.
When asked about his experience in athletics, Driscoll had no shortage of knowledge and expertise. "I've been doing this for 44 years at four different colleges," Driscoll noted, including the University of California, Berkeley. Since his arrival at PC in 2001, Driscoll has seen tremendous success and growth in the College's athletics.
Driscoll believes that his new position as vice president, along with other vice presidents, such as Kristine Goodwin, vice president of student affairs, and President Father Brian J. Shanley, O.P., will allow him to help the College grow and develop in a positive way. "[Being VP] will allow me to do my job differently," Driscoll noted, "and I have great teammates with me."
Since his new role as vice president gives him more authority in matters beyond athletics, Driscoll is excited for the opportunity. "I like to push myself out of my comfort zone," Driscoll stated. He continued, saying, "Change is a great opportunity to grow and take on new challenges," and he looks forward to these challenges in his new position.
He discussed the College's initiatives for the next several years, specifically in the future of the College's athletic department. Driscoll mentioned how the College currently has around 60 different initiatives it hopes to implement, but is going to begin by selecting the most important three, decided by Fr. Shanley, Fr. Kenneth Sicard, O.P., and the other vice presidents.
From an athletic standpoint, Driscoll mentioned how the College is working on expanding the department by renovating facilities, such as Alumni Gym, and building on the relationship the College currently has with the Big East, Fox, and Madison Square Garden. 
Driscoll also hopes to help work towards the school's goal of expanding the academic aspect of the College, by taking steps to renovate the Center for Career Education and Professional Development, raising more money to be put towards scholarships, and increase the diversity and inclusivity of the school. 
As Driscoll said, "These are bigger issues than just winning and losing games," which is why he believes there are multiple aspects of the College that he wants to be involved with in order to better everyone's PC experience. 
Driscoll strongly believes that athletics is a big part of what makes PC such a great school, because our sports teams help not only enhance the reputation of the school, but also the experience of the PC community. "Athletics has an impact on admissions, fundraising, the [College's] brand," said Driscoll, "It's important to the image of the institution."
One thing Driscoll wanted to stress was how PC's athletic and academic programs are not mutually exclusive from one another. He talked about how PC's athletes have a 93% graduation rate with an average GPA of 3.2, which is statistically better than many other schools with similar athletic programs. "Great academics and great athletics aren't mutually exclusive," said Driscoll.
Driscoll is excited for the future of the College and the progress that is yet to come. He believes that over the past several years, the College has expanded and grown in a tremendous and positive way. Indicating that things can only get better from here, Driscoll said, "The best indication of the future is the past."
He would like to personally thank Fr. Shanley and Fr. Sicard for the opportunity he has been given, reiterating the idea that he is proud and excited to be part of the committee that will be responsible for the future growth of the College.