Addressing the Pain of the Past: PC Hosts Interview With Comedian Trevor Noah
by The Cowl Editor on April 22, 2021
---
Campus
---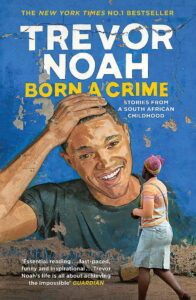 by Hannah Langley '21
News Co-Editor
Before the class of 2022 began their journey as Providence College Friars, they were asked to read Trevor Noah's autobiography, Born a Crime, which documents his life as a child of a Black mother and white father in apartheid South Africa. On April 15, Noah was invited to answer questions from the class of 2022 in a virtual conversation with provost and senior vice president for academic affairs, Sean Reid, which was then made accessible to the College community on April 20. 
Noah is a South African comedian, host, writer, political commentator, producer, and actor. Known for hosting The Daily Show, Noah adds a comedic lens to current events and issues in America. 
Reid began the conversation by asking Noah if he ever thought as a young child that he would host his own show or host award shows such as the Grammys. Noah joked that he did not even know what the Grammys were when he was a young child, but regardless, discussed how he had wanted to be a policeman when he was a child and a computer scientist when he got older. 
Noah talked about how his career has taken a very different trajectory, as he began to realize that his real passion lay in comedy. As his career progressed, opportunities began to present themselves to him. Noah remembered how his mom used to tell him, "When God closes one door, he opens another." 
Noah credits his ability to begin something new with "enthusiasm and grace" and to not be afraid of failure as part of his success.
He advised PC students to have the same outlook and mentality on life. "Understand that you can always change. Understand that this isn't your entire journey. Every book has a beginning, a middle, and an end." He told PC students, "Whatever you start doing, do it with everything you got. Approach it with the best vigor you can."
When asked how he stays so positive with all the issues in the world today, Noah replied that he is not positive all the time, but tries to maintain a "net positive" mindset. He said feeling hopeless or sad or other emotions is part of life, and it is okay to feel those ways, but he tries to not remain in that hopelessness and to instead be optimistic. "Optimism is oftentimes the only thing that has gotten us here," Noah said, meaning that optimism often leads to discovery, which is how we evolve as a society. 
Despite feeling optimistic, though, Noah still recognizes the turmoil and divisiveness that exist in America, especially within politics. He argued, "The two party system has done America a huge disservice" as it has created a culture where people believe there are only two sides to every issue. "Unless you have honest conversations," said Noah, "everything remains binary."

Noah continued, saying that America must look to the past to move forward. "Racism and oppression all have compound interest," said Noah, meaning that if not addressed properly, the issues will only continue to grow over time. "I don't think you can fix the ills of the past without addressing them first," he said.
He also argued that people cannot avoid politics, even if they believe they can. "Politics cares about you," said Noah, "It's in your life whether you like it or not." He even noted how his own birth was political, as his mother could get arrested any day for having a child with a white man in apartheid South Africa. 
Growing up in South Africa did not come without its struggles, Noah explained. In writing his book, he realized he had to become vulnerable to share his life experiences. "Writing a book about yourself is extremely…terrifying," said Noah. He realized there were many events in his life that he had gotten past, but had never fully gotten over, and found it difficult to be that honest and vulnerable about them in his writing. 
He talked about how this struggle led him to comedy, saying there is "something about struggling that wants human beings to find a way to contextualize their experience." Noah continued, explaining how he thinks "comedy and struggle are inextricably linked." "When we laugh," he explains, "we become the truest versions of ourselves." He continued, explaining the pricelessness of laughing: "The one thing you can create yourself is a laugh."
Noah also discussed how much of his strength comes from his mother and his religion. He explained how his mother, who is strong but honest and vulnerable, helped prepare him for the realities of the world. She also emphasized to him the importance of not only reading the Bible, but interpreting it in different contexts and ways. 
Noah exemplified this idea of interpreting the Bible in different ways in his interview with Reid. He discussed how even in the Bible, there are politics, conflict, and more. From Moses negotiating with Pharoah to Jesus telling the Scripture scholars to rethink some of their old teachings, the Bible provides examples of understanding what life really is, just as his mother told him from a young age. 
When asked what his next plans are, Noah replied that he does not know. "I focus on the here, and the here will become the there in time," he said. He advised students at PC to enjoy every moment of their time in college, to take advantage of every opportunity, to be unafraid to try new things, to challenge themselves, and to carry their present joy into the future.