If the Big East Could Add One Team, Who Should It Be?
by The Cowl Editor on February 14, 2019
---
PCI
---
Boston College
By Gavin Woods '22
Sports Staff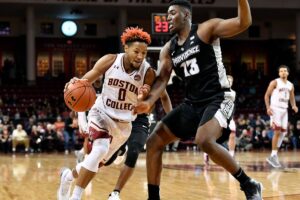 The Big East conference has produced nail-biting matchups between rival schools along the east coast since 1979. It is hard to imagine the conference with any other teams, as the current teams have long been associated with one another. However, if the Big East were to add another team to their list, who would it be?
Several factors are involved when deciding a conference configuration. Perhaps the most important of these factors is the school size. Roughly all schools in the Big East are categorized as medium-sized schools, ranging from 4,000 to 16,000 undergraduate students. 
Another variable in this decision is location. This factor, however, does not hold as much value as the size, as Marquette University is located in Milwaukee, Wisconsin, yet still participates in the Big East. Nonetheless, the majority of Big East schools are located relatively close to the east coast region. 
One school that satisfies both of these requisites is Boston College. With an undergraduate class of roughly 9,300, as well as its location just outside of the city of Boston, the Eagles would be an appropriate addition to the Big East conference. 
While size and location help to categorize colleges and universities in their respective conferences, it is ultimately the caliber of the program that will determine whom they should play. The overall ambition of a conference is to produce a highly competitive tournament for the conference title. This begs the question, "Can Boston College compete with the Big East powerhouses?" 
The answer to this question is complicated, as it is difficult to compare the teams in the Big East to Boston College, which is included in the Atlantic Coast Conference (ACC). However, it helps to look at non-conference games between Boston College and some of the Big East teams to see their compatibility. An example of this can be seen in the most recent meeting of Providence College and Boston College in basketball. 
This game took place on Tuesday, December 4, and it proved to be an exciting match-up. The two teams were neck-and-neck throughout the game, yet BC seemed to have a slight edge with a lead of four points at the half. Boston College continued their success in the second half, but the Friars were right behind them. Towards the end of the second half, Boston College led by three with one PC possession left in the game. If it were not for A.J. Reeves '22 scoring the last-second deep three point shot to take the Friars into overtime, Boston College would have walked away with the win. 
If nothing else, this meeting proved that Boston College has the potential to compete with the best the Big East has to offer.