Death of the Darty
by thecowl.opinion on May 4, 2017
---
Editorials
---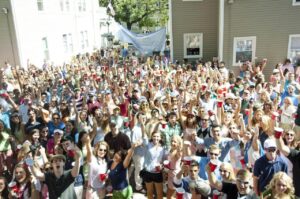 by Brianna Abbott '17
Opinion Co-Editor Emerita
Twice a year since the 1990s, a sea of pastel golfers has pulsed through Eaton Street, devouring nine kegs at nine different houses in the name of Golf Party and Lilly Pulitzer. This year, however, students were crammed into two houses or stuck standing on the Smith Quad, separated by distance and gloomy weather.
Lilly Pulitzer is still the queen of campus, but her colors have been dulled. Soon, she may be dethroned. Last week, The Cowl ran its Friar Flashback on the infamous tradition, charting how Golf Party has evolved over the years. Golf Party, however, isn't evolving; it's dying. And there's a lot of work that needs to be done if Providence College students want to maintain one of our most unique and anticipated traditions.
As it was stated in the Friar Flashback, Golf Party was established in the mid 1990s. Students would begin the "Tee-off" at one house, finish the keg there, and move on to the eight other houses in their best golfing attire. The "nine holes" were a vague, exciting rumor to me as a freshman, but they became completely non-existent by the time I became a senior; only the preppy clothes have remained.  Even the enthusiasm for the day has waned, at least among the upperclassmen who remember its previous glory.
"Our first year it was a legitimate party, and the cops weren't as involved," said Haley Grant '17. "They used to stand back and supervise, and now people actually get arrested."
Indeed, the cops have been more actively infiltrating the gatherings and breaking them up rather than observing them, which can be attributed both to the views of the administration and the increased incidents of violence that have taken place at parties over the past four years, including the infamous couch burning on the night of the 2015 NCAA Hockey National Championship and the thrown vodka bottles after the Patriots 2017 Superbowl victory.
An email from Steven Sears, dean of students, to the student body earlier this semester highlights this point. "Large gatherings, while intended to be social and enjoyable, not only cause a nuisance to our neighbors, but also put people at risk."
Although safety should always be everyone's priority, a large portion of the houses off Eaton Street are lived in by students, and breaking up the backyard parties and forcing the students to roam the streets looking for a location is more of a public nuisance to any other neighbors than allowing them to stand in the backyard of a student house.
Furthermore, whether or not more incidents of violence are caused by students pushing back against increased police presence or if more police presence is due to the increased incidents of violence is difficult to determine. Violent incidents in which people are harmed, however, should never be tolerated, and students, administration, and police need to find a balance between allowing students to have fun while making sure everyone is safe.
Unfortunately, for many students, the alternative of Friar Fest simply isn't going to cut it, and it certainly isn't an equal replacement, no matter how many food trucks appear.
If students want to maintain the tradition of Golf Party, there needs to be cooperation on everyone's part—and students should attempt to maintain that tradition. Since its inception, Golf Party is something that has made Providence College unique and has given the entire school a sense of unity. It gives the College character.
Other schools may laugh at our preppy clothing while we embrace it, but it is something done for the students by the students that would only happen at Providence, and there's something to be said for that. Golf Party may never again be what it once was, but it should certainly be more than a few sad darties on a rainy day, attempting to remember a tradition that feels like a thing of the past.
Long Live the Lilly Pulitzer queen, just as long as none of her subjects get beheaded.
Tangents and Tirades
by thecowl.opinion on April 27, 2017
---
Opinion
---
Marching For Facts
$2.6 billion. That's $2.6 billion less dedicated to clean air, water quality, reducing emissions, and climate studies after President Trump cuts the budget of the Environmental Protection Agency (EPA). Billions of dollars taken away from the commitment not only to environmental care, but public health and safety as well. To ignore environmental concerns is to ignore the plain facts, and that's why people marched for science last Saturday.
With the creation of the EPA, President Nixon once said that protecting the environment was "a cause beyond party and beyond factions," and for good reason. So much of politics today is one viewpoint versus another, but all signs of science (otherwise known as facts) point to a climate that is under threat.
The fact that Trump plans to take money out of the budget suggests that scientific research has all been for nothing, that it holds no significance in our society. But this couldn't be further from the truth. Scientific investigation has helped immensely in terms of dealing with the issue of climate change, to the point where 97 percent of experts agree that humans are responsible.
For those who might say that the March for Science won't change any minds, that is not necessarily the point. Science matters. The facts matter. Taking care of the planet matters. Reducing the environmental budget is not going to change the fact that the conservation of the earth is of primary concern.
– Hannah Paxton '19
Take Advantage of Spring Shows
A musical, a band concert, a dance club performance, an A cappella show—these are just a few of the artistic performances that have happened or will happen during these last few weeks of the semester. They are events that are sometimes simply passed over by students as just another blurb on that colorful card on the tables at Ray, but they are really a unique opportunity that college students should not miss out on.
We are in a rare position at Providence College, as are those in colleges around the country, in having many different kinds of entertainment just steps away and often at a reasonable price, if not completely free. And though we all have busy schedules, we should try our best to attend as many of these events as we can while we are here.
Professional singers, dancers, and performers all started somewhere, many of them on stages just like the ones in Smith. The student performers on campus will be these people someday too, and it will cost a lot more to see them once they leave.
I attended a performance of Into the Woods a few weeks ago and a student ticket was only $5. Where else but a college campus can you enjoy such quality entertainment for the price of a cup of coffee?
-Taylor Godfrey '19
No Progress, Just Nuisance
Walking to my VW Beetle is usually a quick, pleasant trip, especially after I snag a coveted spot in the Glay Parking Lot. However, now when I walk to my car, I'm greeted by an ugly, inconvenient fence blocking off Huxley for a construction project with non-existent progress.
The fence, which stretches from the Cunningham lawn to the Glay Lot entrance, annoys anyone who walks down Eaton Street or parks his or her car. It turns my two minute walk into ten because it takes away one of the entrances to the lot and forces students to walk around. It's a massive, literal roadblock in the middle of campus, ruining the spring aesthetic just in time for graduation.
Sure, the fence exists so that Huxley can become a walkway rather than a street, and construction is a messy affair. I would be willing to sacrifice beauty and convenience for a few months in the name of progress if actual progress were being made. However, the only thing that has changed in the fenced-in area during the last few weeks is the transformation of the Cunningham lawn into a mud pit.
If you're going to start construction, please start construction. If you're not going to start construction, please give me my walkway back. I'm just trying to get to the grocery store.
-Brianna Abbott '17
We Come in Peace
by The Cowl Editor on March 2, 2017
---
Opinion
---
by Brianna Abbott '17
Opinion Co-Editor
The discovery of alien persons is more theologically complex; however, there is still room for alien persons in the Catholic faith. There is no definite theological basis for human beings as the only persons created in God's image or created at all, and if these persons do exist, they could be either fallen or unfallen. Unfallen persons, those who have not disobeyed God, could live on an idyllic planet—much like the world described in Perelandra by C.S. Lewis. If the alien persons have disobeyed God and exist in a fallen state, they may also have been saved, potentially through sending another savoir, a second person like Christ.
"Can God save them? Of course he can. Could the second person be an alien like them? It's possible, if that's what he wanted to do," said Fr. Nic.
Fr. Nic is not the only member of the Church or even the only Dominican Friar to believe that alien life is possible. The 16th century Dominican Friar Giordano Bruno hypothesized that there could be an infinite number of worlds with an infinite number of saviors, and St. Thomas Aquinas pointed out that there is no reason why Christ cannot have additional, unknown natures other than the human and the divine.
Even Pope Francis has weighed in on the subject in the past, saying, "Until America was discovered we thought it didn't exist, and instead it existed…I think that we should stick to what the scientists tell us, still aware that the Creator is infinitely greater than our knowledge."
Many keep their faith and science as two different—and contradictory—subjects that they do not attempt to reconcile. However, as scientific discovery and process continue to shape our world, it is impossible not to bring them together.
The good news is that they do not have to contradict each other. They can coincide, feed off each other, and give us a fuller explanation of the universe when working together. So, although we are unsure of whether or not we are the only persons in the universe, there is still room for God on the planets surrounding TRAPPIST-1.
A March In The Wrong Direction?
by The Cowl Editor on February 9, 2017
---
Opinion
---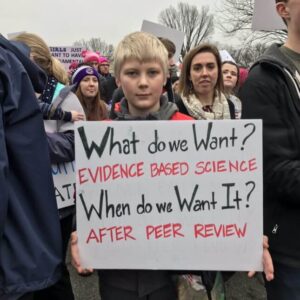 by Brianna Abbott '17
Opinion Co-Editor
Feet are growing weary and arms are growing tired. People are running out of clever ideas for signs; but the wave of marchers protesting different aspects of the new Trump administration refuses to ebb. The newest group to join the protests: scientists.
On Earth Day, April 22, there will be a March for Science in Washington, D.C., and over 100 other cities in the United States. And although science and empirical evidence should be championed by all, a march with clear political implications might hurt the scientists more than it helps.
Science has always been eclipsed by politics. The Church didn't put Galileo under house arrest because his data wasn't peer reviewed properly. The Scopes Trial didn't occur due to a lapse in the scientific method.
However, science itself should be completely objective and devoid of bias, and this generation has grown up believing in objective data and has had the privilege of seeing the rise of a belief in science in our technological age. Students who are taught that the mitochondria is the powerhouse of the cell before they are taught how to file taxes naturally view science as objective fact more than any generation before.
That is why the actions of the Trump administration have come with shockwaves of disbelief and anger. Scientists and citizens alike were flabbergasted when pages regarding climate change and environmental conservation were taken down from government websites. Trump appointed former Texas governor Rick Perry as the head of the Department of Energy, a position usually given to a qualified physicist.
The scientific community and social media also panicked when a gag order was placed on federal scientists and federal research grants were frozen,  most of which has largely been retracted due to backlash.
These actions have caused scientists to take up arms, believing that the integrity and process of science needs defenders. And when President Trump's pick for the head of the EPA, Scott Pruitt, has ties to the oil industry and has actually sued the EPA more than once as Oklahoma attorney general, science certainly does need defenders. However, a march is not always the best defense.
Yes, the demonstrations against the Muslim ban have seen pressure and pushback from the administration, and that gives hope that a March for Science will alert the government that scientists are here for the fight and will induce change.
However, there is also a chance that openly politicizing science rather than keeping it objective will be a danger to science in the years to come, especially with a country so divided down party lines.
Although the recent marches have produced some results, a large portion of the country is also growing weary of seeing people taking the streets. They refer to protesters as "sore losers" or "snowflakes," and the cause of the protestors seems less and less valuable the more that they march. Now, I have no problem with someone calling me a "snowflake" if it means that an immigrant with a legal travel visa is released from an airport; however, it becomes a completely different situation when science is involved.
Science is supposed to be objective and about discovery of the natural world, and can lead to advancement if actions are taken in accordance with scientific principles. However, much like how Galileo was forced to spend the rest of his life in his home, science does not get you very far if no one believes your data, even if it is fact.
In this divided country, the more science becomes associated with the left, the more the far right will dismiss it as fake news and agenda-driven, and the less people will trust the scientific community.
That doesn't mean, however, that the scientific community shouldn't fight with everything it's got to make sure that science is respected and heeded in this country. It just means that a march isn't the most productive way to get attention.
The way to fight for science is to advocate for it objectively on both sides. It is to raise hell when our grants are taken away through petition or social media in order to get them back. It's advocating for scientific issues and voting scientists into office from both political sides. It is about making science more factual and less political so that any argument against it cannot stand. It is going into scientific fields, advocating for science in school, and making sure that scientific issues see the light of day instead of getting buried underneath politics.
The way to fight fiction is with objective, nonpolitical fact. Shouting only works if the person you're trying to convince is willing to listen. The way to fight for science is the same way you do proper science—to support the data and make sure that your unbiased, factual voice is heard in the crowd.
Universal or University?
by The Cowl Editor on January 26, 2017
---
Opinion
---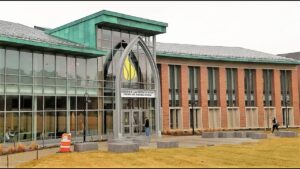 by Brianna Abbott '17
Opinion Co-Editor
Between packed study spaces splashed with green, computer labs that glimpse into the future, and a late-night food window that brings hoards of hungry students, the new Arthur F. and Patricia Ryan Center for Business Studies has been nothing short of a success. With this new success and the continuous rise of the Providence College School of Business (PCSB), new questions also arise about the consequences for Providence College as a whole as the PCSB begins to break off from the classic liberal arts.
As a double major in English and Chemistry, I live on the opposite end of campus (in Albertus Magnus Hall) and have little interaction with PCSB. However, because I felt like I should learn something about money, I enrolled in "Personal Financial Planning" for the semester. I was excited to see what the business school was all about—especially because of the opening of the new building—and I even went to the Villanova basketball game screening when the school was giving away free lawn chairs.
Lawn chairs, however, were only for PCSB students, meaning that I couldn't have one even though I was taking a business class and there were still chairs left.
Although I understand that PCSB is excited about its new building and the growth of its program —as it should be—and should be allowed to celebrate accordingly, this celebration of a school rather than a program demonstrates a clear break between PCSB and the School of Arts and Sciences.
PCSB is the largest program on campus; 25 percent of incoming freshmen declare a business major, and PCSB graduates about 40 percent of the students at Providence College every year with numbers on the rise.
To combat the massive influx of students attempting to enter PCSB, it recently instituted a minimum GPA requirement of 2.5, and admission to Providence College with a declared business major is becoming more competitive. And with the opening of the Arthur F. and Patricia Ryan Center for Business Studies, it now has its own separate building.
PCSB students are still liberal arts students first, taking the Core Curriculum along with the rest of their classmates. I think it would even be beneficial to include a business requirement in the Core Curriculum. However, PCSB has grown into a school rather than a program, and this continued growth and separation will only increase with time.
It looks as if the College is heading down the path to become a small, liberal arts university. Except there is no such thing as a small, liberal arts university.
In the coming years, PC needs to decide what it is going to be and what it considers its top priorities. We are in a transitional age, and employment rather than education has been the cornerstone of the modern college student. And although the new business school and the rise of the program are excellent for the College, it raises serious questions about the College's identity as a whole. Are we an all-inclusive, liberal arts college, or are we about to break from our past and explore larger options? Are we universal or university?
With the blessing of a new building upon us, we should use the new Ryan Center not only as an opportunity to reflect on where we came from, but also —and more importantly—to take a look at where we are going.
Our Last Semester
by The Cowl Editor on January 19, 2017
---
Opinion
---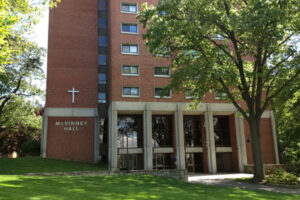 by Brianna Abbott '17
Opinion Co-Editor
Earlier this week, roommates were happily unpacking their clothes, students were bracing themselves for another semester of learning, and friends were dashing through Ray to tackle each other and say "welcome back." It was the first day of spring semester. For those who didn't want to leave in the first place, it was an anticipated reunion. For those who had a tough time the semester before, it was a second chance. For the Class of 2017, there's a thick truth hanging over these happy reunions: it's our last semester.
We have been preparing for our last semester, for our graduation from Providence College, since before we even stepped foot on campus for the first time. The entire point of college was to graduate, right? College was simply the next stage of our lives, another stop on our journey.
We heard rumors about how much it was going to change us—how we will either love or hate our freshman year roommates, how we are going to pull all-nighters with people that would feel like family, how everything that we think will be questioned and altered, hopefully for the better, and how we will not want to leave.
Whether or not we believed the rumors, the Class of 2017 marched forward to meet their new friends, their fate, their super creepy college mascot, and now we've almost reached the end—almost. Fortunately for us, there's still time.
There's still time to make up for lost time and for the inevitable mistakes that have plagued our college careers. Maybe some feel like they have missed out on extracurriculars, or spending time with friends rather than studying, or drifted from a person that they never planned on drifting from. Whatever the burden we carry might be, that burden does not have to follow us to graduation day.
Our college careers are far from over. Well, mathematically that is not true, but there's a lot that can be done in a single semester. We can correct those mistakes or regrets—or at least we can try. We can reach out to old friends that we lost or make new ones. There is still time, so we should not act like it's over.
We can also  cherish the time we have left. Start taking more pictures and saving embarrassing Snapchats of friends—we're going to need them when we want to reminisce during our inevitable post-college slump. We can complain forever about the paper that's due tomorrow that we have not started, but suffering with our friends and ordering pizza in the library will be a fond memory once we move our tassels to the other side.
The College is giving us plenty of opportunity to cherish the time, too, especially with all of the Centennial Events, like the Black and White Ball. Senior events, BOP nights, or things going on in our dorms may seem corny. Participate anyway.
Most importantly, we need to do whatever makes us happy. There's no reason not to be optimistic moving into our last semester, but we have to make a conscious effort to make it the best semester we can.
It's the last fresh start we're going to get in Friartown. Use it wisely.