PC Men's Swimming and Diving See First Big East Champions Since 1985
by Joshua Lopes on April 22, 2021
---
Friar Sports
---
Justin Viotto '22 and Kevin Hood '23 Secure Thrilling Victories
By Cam Smith '21
Sports Co-Editor
At the Big East championships in early April, the Providence College Men's Swimming and Diving Team did something that has not been done since 1985: have swimmers bring home individual championships. After a 36-year wait, the Friars had two swimmers bring home titles in just two days.
In the 200-yard butterfly, Justin Viotto '22 pulled off a thrilling comeback victory. Trailing after the final turn, Viotto accelerated over the last 50 yards, hunting down Seton Hall University's Justin Oosterwyk to claim the title. He won by a finger length, finishing just one one-hundredth of a second in front of Oosterwyk.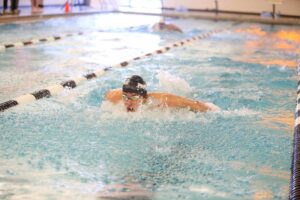 "I really had no idea," said Viotto when asked about if he thought he had won when his fingers hit the wall. "The funny thing is that I didn't know I had won by one one-hundredth until my friend told me about 45 minutes later in the locker room."
One thing Viotto did know was his game plan going into the race. "With the way that I race, I'm more of a back-half swimmer," he said. "I knew from the beginning I was probably going to be behind, but after the first 100 I knew that I had a chance."
In the 100-yard breaststroke, Kevin Hood '23 captured an impressive championship. Hood never looked back after leading the race at the 50-yard mark, perhaps motivated by the raucous cheers of his teammates.
"I had a good feeling that I could hold on," said Hood when speaking of his stretch run. "I trusted my training that I would be able to at least stay with the [nearest] guy, or hold on for it, so once I heard the crowd I just tried to get to that wall as fast as I could."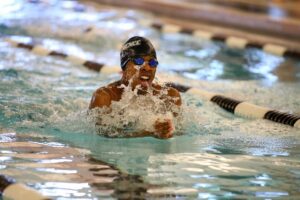 "When I looked up and saw number one…it was just indescribable," continued Hood. "Then to hear everyone on the team screaming and going crazy in the stands, it was just an unbelievable feeling."
Viotto and Hood will return next year to a team that produced strong results in a season shortened by the pandemic. They each spoke to how their team goals center around continuing the squad's upward trajectory next season, focusing on producing more points across the board at meets.
As far as individual goals, Hood looks forward to defending his 100-yard breaststroke title. "To win it again. That's the main goal I have personally," said the sophomore swimmer.
Viotto, in his senior year next year, plans on going out on a high note. "I just want to be able to say I had no regrets in my last season, to be able to give it my all, and hopefully defend the 200-fly title as well."
Wheeler and Coffin Set Pace for Friars Track and Field
by Joshua Lopes on April 15, 2021
---
Athlete of the Week
---
Runners Excel in Championship Races
By Joseph Quirk '23 and Cam Smith '21
Sports Staff and Sports Co-Editor
Last month, two Providence College athletes took their talents to the NCAA championships. Abbey Wheeler '20GS finished fifth in the 5,000-meter at the NCAA Indoor Track and Field Championships. Maria Coffin '21 placed 99th out of 253 runners at the NCAA Cross Country Championships. The Cowl sat down with each runner to reflect on their NCAA experiences, the challenges of racing in the COVID-19 pandemic, and their goals for the future.
Abbey Wheeler '20GS:
During her illustrious career at PC, Abbey Wheeler '20GS has been one of the most consistently dominant athletes on campus. Wheeler, recently named the United States Track and Field and Cross Country Coaches Association 2021 Women's Track Athlete of the Year, recently finished fifth at the NCAA Indoor Track and Field Championships for the 5,000-meter race.
The fifth place finish earned Wheeler an All-American nod, her third in her PC career. The championships took place in Fayetteville, AR, and Wheeler described the experience as both "wonderful" and "different" from other meets she had been to  because of COVID-19 protocols. 
"It's always so exciting to be at a meet where you're truly among the best of the best," Wheeler said. "That's always a bit nerve-racking, but also exciting where you get to test yourself in a field where there are no soft spots."
One would imagine that such a race would stir up a slew of emotions, but Wheeler kept herself composed, despite how difficult she said it could be. That would be needed, as she described the race itself as an "odd run" where the pack paced weirdly and stayed together for a lot of the race.
"It was really difficult to remain comfortable and composed with all those weird pacing things going on," Wheeler said. She added that "with everyone getting a little aggressive with pacing, everyone was pushing and in your head you're just trying to stay in it until the race actually gets going." Despite it being easy to lose focus and composure, Wheeler was able to hang on for a strong finish, passing multiple runners in the final lap when the pack finally began to split.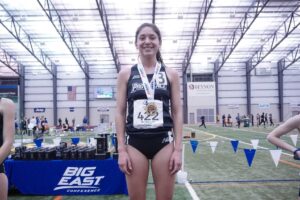 This was Wheeler's first appearance at the indoor track championships. She had previously competed in the outdoor championships and had qualified for the indoor race last year; however, it was unfortunately canceled. She said that the finish felt like a "long time coming," especially because she felt ready to make this breakthrough at last year's event before its cancellation.
When comparing it to previous 5,000-meter races she had run, she called it her "best performance at the national level. I definitely leveled up a bit there," Wheeler proudly said. "My last one I was second team All-American, so this was the first time I was first team All-American, so that was super exciting." She also pointed to a major difference between the indoor and outdoor versions of the 5,000-meter, citing that the indoor race only features 16 runners while the outdoor race features 24.
Following nationals, Wheeler proceeded to again finish fifth overall at the Raleigh Relays, one of the first races of the spring track season. Her finishing time of 15:46.87, as well as previous years' performances, should be enough to qualify her for the NCAA Outdoor Track and Field First Round in Jacksonville, FL on May 27-29.
When asked about the meet, the humble Wheeler mentioned her excitement about her time and possible qualification, before expressing a lot of happiness for her teammates who she also thinks could qualify following their performances. "It was nice to get a bunch of my other teammates to get times that can be competitive to qualify for that as well," stated Wheeler. "That was pretty much the goal of the meet."
Wheeler made sure to give credit to her coaches and teammates for keeping each other "grounded" throughout the season, especially with the challenges the COVID-19 pandemic held over both the school and the track season. This was especially important with a short season and a hard winter, making it difficult to stay ready and having less chances to qualify.
When reflecting back on her racing career here at PC, Wheeler noted something interesting. Aside from all the other accomplishments she has, one of her proudest moments actually came from overcoming adversity at a regional meet her junior season. "I was in the 5k and I wasn't in particularly fantastic shape, but I was racing to get a spot in outdoor nationals," she started. "And someone stepped on my shoe early on in the race and so I was running with my shoe kinda off. In the last mile I just kicked it off and I was running with only one shoe."
She said in those kinds of moments it is easy to give up on yourself, but vocal support from her teammates kept her focused and pushed her forward. She ended the race with a qualifying time, and while she said it was not her best race, overcoming that adversity made her really feel that she belonged competing at this level.
As for her goals for the remainder of the season, Wheeler is "just trying to run really fast, make the championship season, and make outdoor nationals. And if I can run fast there, that would be great."
Maria Coffin '21:
In October 2020, Maria Coffin '21 finishing in the top-100 at the NCAA Championships in March 2021 would have seemed improbable. After a summer of hard training, Coffin suffered a femoral stress reaction in October, which effectively shut down her training for the foreseeable future. When she was finally able to ramp back up her training in January 2021, the cross country schedule remained murky as COVID-19 regulations stayed in flux.
Nevertheless, Coffin persevered. Coming into her trip to nationals, she had just raced once, in the Big East Championships. Her performance there booked her a ticket to Stillwater, OK to compete with the best cross country runners in the nation.
The massive field of 253 runners, and a distinctly challenging course, made the event a grueling one for all parties involved. "It was a very difficult course," said Coffin. "Super windy, super hilly. I'd definitely say it's the hardest one I've run in my career."
Coffin's plan going into the race was to stay middle of the pack for the first half of the event, explaining that "in a course like that you can't really go out too quick, so I was trying to be conservative, stay in the middle, and then do most of my damage in the last half of the race."
Coffin did just that, passing 28 runners in the final 3,000 meters of the race. "When I finished, I really had no idea where I was," explained Coffin. "I was hoping I had gotten in the top 100 and luckily I just made that."
This was not Coffin's first trip to the biggest stage in the sport. In the 2017-2018 cross country season, her entire team qualified for the event, allowing her to participate in nationals in just her freshman year. That time around, Coffin placed 245th.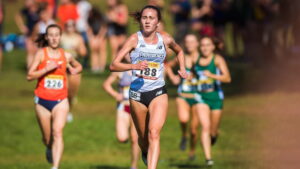 "That was definitely a tough race for me as a freshman," said Coffin. "I definitely did not do nearly as well [as this time]." Indeed, three years later, Coffin shaved off over a minute on her time, vaulting her up 146 spots. "It was cool to come back and really see that improvement," she added.
 As much as Coffin was thrilled to be able to finish top-100 at nationals, she also lamented the fact that her team could not be there with her. It was always going to be an uphill battle for the team, as the Big East Championship was the only time they could all compete together as a squad. "We have such a young team, it was pretty difficult for the freshmen without much race experience to jump right into the Big East Conference meet," said Coffin. "They still did really well there considering that was the first cross country race of their collegiate careers…I think that will help us next year having a few races under our belt."
 Coffin, a senior who will be returning as a graduate student next year, will get the chance to again lead her team in a season that will hopefully resemble a normal one. She has high hopes for a squad that she says will return more experienced and more confident. Coffin's goals: a Big East championship, an NCAA regional victory, and a whole team appearance at nationals.
For Coffin herself, "[I want] to improve upon my place and try to get around that All-American top-40 status at nationals." With a full slate of races next season, and an injury far in the rearview mirror, Coffin has what it takes to do just that.
Listening Tour: Coaches For Action
by Joshua Lopes on February 25, 2021
---
Friar Sports
---
An Interview with Coach Ivan Thomas
By Cameron Smith '21
Sports Co-Editor
This article is part of The Cowl's Listening Tour, a series that aims to amplify the voices of BIPOC members of our community and bring awareness to social justice initiatives on campus.
On May 25, 2020, just before 8 a.m., a white woman made a 911 call in Central Park, in which she falsely accused Christian Cooper, a Black birdwatcher, of threatening her life. Just a few hours later, George Floyd would be killed in Minneapolis, MN, after a police officer pinned Floyd's neck under his knee. Both incidents, captured on video, would go viral, igniting what is now considered the largest mass movement in U.S. history.
For Ivan Thomas, an assistant coach for the Providence College Men's Basketball Team, both of these incidents were jarring, but far from surprising. "I was brought up in the South…I've seen a lot," Thomas said. What was different this time was that the incidents happened to be caught on camera during a time period when a COVID-19 lockdown had the whole nation glued to their screens. 
As protesters took to the streets, companies and organizations began releasing statements in support of the movement for racial justice. For Thomas, it was vital that these words of support be backed up with meaningful action. "It was important that you're just not releasing a statement," said Thomas. "I've seen a lot of people release statements. And you know that's good, to come out and say where you stand, that you don't believe in it, but what actions are you taking to prove that you don't believe in it?"
It turns out that other coaches in the Big East held the same sentiments. Thomas soon began speaking with Marquette University associate head coach Dwayne Killings, University of Connecticut assistant coach Kimani Young, and Villanova University assistant coach Kyle Neptune as they pieced together what they could do to enact meaningful change. The product of these talks: Coaches for Action, a coalition of all 21 Big East assistant coaches of color.
"We began to form a think tank in terms of what we wanted to do with the platform that we have, to better take action for the athletes that we recruit," said Thomas. "We wanted to make sure that we just did not talk or form a group of coaches that was symbolic. We wanted to take real action for our players."
Thomas explained that the main purpose of the group was to make sure they offered their current players a platform that could simultaneously teach them how to use their voices while amplifying the players' voices as well. From this, Coaches for Action founded themselves on three main initiatives meant to deliver concrete action.
The first was to place Black Lives Matter patches on all Big East men's basketball uniforms for the upcoming season. "We thought it was very important to give them an opportunity to basically say that their lives matter," said Thomas. "We were the first to put forth having in collegiate athletics, BLM put on our uniforms." Their efforts were successful. Thomas credits the support of PC athletic director Bob Driscoll, as well as Big East commissioner Val Ackerman, with getting the resolution passed.
The Friars, and the rest of the Big East, have now played almost an entire season with the BLM patches on their uniforms. "I was very pleased with how it came out," said Thomas. "It means a great deal not only to me but to our players, and we want to be clear when saying Black Lives Matter, we're attaching ourselves to the statement: our players' lives matter. And we want you to understand that it matters not just when they're in uniform…when they're not shooting and dunking for your entertainment, that their life matters outside of that uniform."
The second foundational initiative was centered around familiarizing student-athletes with voter registration and election issues. This took the form of a Big East-wide voter drive that made sure student-athletes were registered to vote in the November general election. Thomas spoke to the emphasis Coaches for Action placed on the importance of each of the players using their vote as a way to project their voice.
Indeed, the initiative was a resounding success. Thomas proudly relayed that the Big East reported 100 percent voter registration for both men's and women's basketball. This was part of a remarkable push for student-athlete registration across the board in November, as PC's Student Athlete Advisory Council also reported 100 percent voter registration for all eligible voters across all sports at PC.
Finally, Coaches for Action's third foundational initiative was establishing a scholarship fund for first-generation students of color to attend Big East institutions. This was a pivotal step in ensuring one of the group's main goals: sustainability.
"We wanted to take action in terms of education," said Thomas. "We created this scholarship, which is still growing, and we want to eventually give it to young men and women to attend one of the 11 Big East schools that are non-athletic related."
Furthermore, Thomas stressed that "in order to take real action, education has to happen, and diversity within education." While the Coaches for Action coalition is still working on the details, its members hope to begin officially awarding the scholarship as soon as possible.
Even as all 21 coaches are deep into their basketball season, they continue to provide a platform for their student-athletes. "We still talk regularly," commented Thomas. "We have leadership building skills for our players. We've had different opportunities for building leadership skills with our current coaches." When the basketball season ends, they will likely turn their attention to a new set of initiatives, in addition to the ongoing efforts in building the scholarship fund.
Thomas identified two potential areas of focus for these future initiatives. The first centers on the coaches themselves, as each is an aspiring head coach in their own right. "We want to make sure that we are ready for opportunities of leadership, so we do empowering sessions for ourselves in preparation," said Thomas. Ingrained in this idea is also the importance of diversity in positions of power. "We think it's important that we try to impact administratively, we can't talk about diversity if none of the people who are hiring are diverse," added Thomas. "You tend to hire people who look like you and talk like you. In order to make that happen, we have to effectively get more people of color in positions of power, and get these positions balanced."
The second area focuses on the future of their student-athletes, beyond the realm of basketball. This includes ensuring that the players use their educational and athletic experiences at PC in the most successful manner possible. "We want to make sure our players take full advantage of their education and get opportunities to be in diverse situations that they are not typically hired in," said Thomas. "Whether it's Wall Street, whether it's executive positions, and then putting their expertise of leadership that they learned for four years, and team building, of being part of something collectively, to good use."
Whatever their next initiative ends up being, Coaches for Action will continue to provide an impactful voice for social justice on all 11 Big East campuses. Their voices are much needed in a country plagued by racial inequality, even as it has receded from the front pages of the news. "Progress is slow," noted Thomas. "James Baldwin said, 'How long?'… and it has been a steady crawl in terms of meaningful, impactful progress. The biggest thing is that you can't just change the mindset of a nation overnight, but what you can do is impact what's right. Just impact and do what's right."
PCI: Picking the NBA All-Star Game Starters
by Joshua Lopes on February 11, 2021
---
PCI
---
The Eastern Conference
By Cam Smith '21
Sports Co-Editor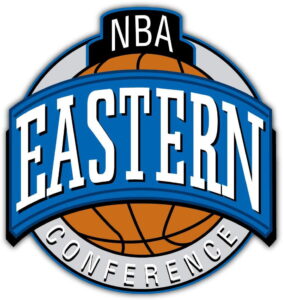 While the status of the actual NBA All-Star Game hangs in the balance due to the COVID-19 pandemic, the selection process must still go on. Five starters are chosen from each conference: two guards and three frontcourt players. From the East, the guards should be Bradley Beal and Jaylen Brown. Meanwhile, the frontcourt should feature Joel Embiid, Giannis Antetokounmpo, and Kevin Durant.
Even though Beal is the only player on this list who currently does not reside on a playoff team, his selection should be without question. Beal currently leads the NBA in scoring with a stunning 33.3 points per game. In his first 17 games, Beal scored at least 25 points in each one, passing Michael Jordan to set a new NBA record.
Brown, on the other hand, may be a more controversial selection, as some might prefer to choose either of the Brooklyn Nets star guards, Kyrie Irving or James Harden. While either would be a fair pick, Brown's sensational season for the Boston Celtics is hard to ignore. The high-flying guard is currently averaging 26.4 points, an over six-point increase from last year. He has also mastered the mid-range shot, averaging an impressive 56.8 percent on mid-range jumpers.
Moving to the frontcourt, one must select Embiid. The dominant center is putting up MVP numbers, averaging 29.1 points and 10.8 rebounds to start the season. He has also propelled the Philadelphia 76ers to the top of the Eastern Conference standings.
Right behind the 76ers is the Milwaukee Bucks, led by the astounding Antetokounmpo. The Greek Freak is putting up his usual impressive numbers, averaging 27.3 points and 11.2 rebounds. Although it took a little while for Antetokounmpo to adjust to the Bucks' new offense, he has found his stride in recent weeks. A recent showing against the Indiana Pacers saw him notch his third triple-double on the season in the Bucks' 20-point victory.
Finally, the last spot in the East's starting lineup should go to Durant. Although Durant's numbers are tremendous as usual, this was a difficult selection to make considering the season that Celtics' star Jayson Tatum is having. In the end, it comes down to the numbers, as Durant holds about a two-point advantage in the points column while averaging about an assist more per game. Much should also be said about Durant's remarkable return, as the star has picked up right where he left off despite missing all of last season due to a torn Achilles.
In a pandemic-ridden season, all five of the selected players have stood out as incredible performers. Beyond their potential selections to the All-Star team, each will continue to jockey with one another in a riveting battle for victory in the East.
The Western Conference
By Cam Smith '21
Sports Co-Editor
Over in the West, the selections are a little easier thanks to some remarkable numbers being put up by the Conference's best. Indeed, in the West, the guards should be Stephen Curry and Damian Lillard. The towering trio in the frontcourt should be none other than Nikola Jokic, Lebron James, and Kawhi Leonard.  
Curry came into the season trying to navigate a new-look Golden State Warriors roster that was thrown into turmoil after his superstar backcourt mate Klay Thompson tore his Achilles shortly before the start of the season. While the pieces around him have often struggled, Curry has thrown the team on his back. The prolific scorer has done what he does best: score. Curry is currently averaging 29.5 points per game, due in part to his impressive numbers from behind the three-point and free-throw lines. He also leads the league in total points with 709.                                                                                                          
Curry's proposed backcourt partner in the West, Lillard, has faced eerily similar circumstances. He, too, is currently operating without his star shooting guard, CJ McCollum, who fractured his left foot in January. And again, like Curry, Lillard has dragged the hobbled Portland Trail Blazers to the current six-seed in the West. He is putting up 29.1 points per game to go along with an impressive 7.3 assists per outing.
As for the frontcourt, it is impossible not to start with Denver Nuggets star center, Nikola Jokic. The Serbian superstar is the likely frontrunner for MVP, averaging a near triple-double with 27.5 points, 11.5 rebounds, and 8.5 assists. He has had no shortage of remarkable outings. On Feb. 6, Jokic put up a casual 50 points, 12 assists, and eight rebounds in a loss to the Sacramento Kings. The next highest scorer on the Nuggets had 14.
The Los Angeles Lakers' Lebron James, of course, is an inevitable selection. He holds the record for most consecutive games played with 16 All-Star appearances in a row, all 16 of them being starts. However, James is not simply making the team due to past performance. In his 18th season, the potential greatest player of all time is putting up 25.6 points per game, in addition to averaging eight rebounds and eight assists.
Finally, the last spot in the starting five goes to Kawhi Leonard. Perhaps the best two-way player in the league, Leonard has kept the Los Angeles Clippers near the top of the standings in the West, even as the team around him has battled injuries. He is averaging 26 points per game while also adding 1.8 steals per contest.
As in the East, each of these players will see much of one another in the future as they represent their teams in both the All-Star Game and in the NBA Western Conference playoffs.
PCI: Who Will Win Super Bowl LV?
by Joshua Lopes on February 4, 2021
---
PCI
---
Providence College Investigates
Kansas City Chiefs
By Joseph Quirk '23
Sports Staff
Simply put, who will win this season's Super Bowl should not even be a question. As much as one has to respect Tom Brady and what he has been able to accomplish, this is Patrick Mahomes's time. Indeed, Brady will be reaching a remarkable 10th Super Bowl, a feat that is hard to even fathom. It is made more impressive when you consider that this is his very first year on the Tampa Bay Buccaneers. But the debate should be about who is the best team: a debate that Kansas City wins.
Their advantage starts on special teams, a part of the game that is not glamorous, but is important, especially in the playoffs. Ryan Succop is the placekicker for the Bucs, and he is not terrible by any means. But compared to Chiefs' kicker Harrison Butker, he is severely outmatched. Since entering the league, Butker has been among the league's best kickers, and has experience kicking in the biggest moments. He has proven to be accurate and powerful, and his kickoff abilities should give the Bucs trouble.
Steve Spagnuolo, the defensive coordinator for the Chiefs, gives the Chiefs another major advantage. Spagnuolo has experience dealing with Brady in the Super Bowl as he led the 2007 New York Giants defense which famously stopped Brady's Patriots from having a perfect season. His defense now features high-energy and versatile weaponry with the likes of Tyrann Mathieu. Mathieu leads a Chiefs' secondary that is far stronger than their Buccaneers counterparts. This was proven in their last regular season matchup.
It bears mentioning that Tampa Bay has a much better front seven than the Chiefs: Vita Vea, linebacker Devin White, and Pro Bowler Jason-Pierre Paul form a formidable trio for Tampa. However, Kansas City's tandem of Frank Clark and Chris Jones is also very disruptive and works well with the Chiefs' stronger secondary.
However, the real reason the Chiefs will win is because their offense is far superior to the Bucs. Although the Buccaneers have a very good duo in Chris Godwin and Mike Evans at receiver, other weapons like Rob Gronkowski and Antonio Brown are at the tail end of their careers. Meanwhile, the Chiefs feature a stronger and more mobile quarterback, a system that fits its players perfectly, a game-breaking tight end in Travis Kelce, and a trio of speedy wideouts led by Tyreek Hill.
One final point worth noting is Kansas City's coaching advantage. While both coaches are experienced, Andy Reid proved last season that he may very well be the best coach in the league. All of these factors combined make it all but certain that the Chiefs will be crowned the champions of Super Bowl LV.
Tampa Buccaneers
by Cam Smith '21
Sports Co-Editor
All eyes will be on star quarterbacks Patrick Mahomes and Tom Brady as the Kansas City Chiefs take on the Tampa Bay Buccaneers in Super Bowl LV. However, it will be the performances of other players that will ultimately determine the outcome. Specifically, the play of the Tampa Bay defense and Tampa running back Leonard Fournette will propel the Buccaneers to their second Super Bowl victory in franchise history.
The two teams last met in Week 12, when the Chiefs knocked off the Bucs 27-24. Kansas City wide receiver Tyreek Hill torched the Tampa defense to the tune of 269 yards and three touchdowns. Following that embarrassing showing, the Bucs worked hard during their Week 13 bye to address their issues with the deep ball. 
Following the bye week, the Bucs have played 2-man coverage for 18.1% of all defensive possessions, compared to just 4.8% in weeks 1–12. This increase in 2-man coverage will provide a challenge to Hill, as it allows for the cornerbacks to play more aggressively while also protecting against the deep ball with two safeties over the top. So too does it target Mahomes's potential weakness, as the Kansas City quarterback's 53.6% completion rate against the 2-man was his lowest rate against any type of pass defense in 2020. 
Tampa's run defense, on the other hand, is one area that has refused to show any flaws all season. Coming into the Super Bowl, the Bucs have the league's number one rush defense. In the Week 12 matchup, they limited the Kansas City backs to just 59 yards on 16 rushing attempts.
This trend will likely continue into the Super Bowl matchup, as the Chiefs suffered a brutal loss when left tackle Eric Fisher went down with an Achilles injury in the AFC Championship game. The Chiefs are also expected to be without right tackle Mitchell Schwartz, leaving two gaping holes in the line for the talented Tampa run defenders to take advantage of.
On the other side of the ball, Fournette has flourished since the start of the playoffs following an inconsistent regular season. Coming into the Super Bowl, the Tampa running back leads all players with 313 postseason yards from scrimmage. With a Chiefs defense potentially spread thin defending one of the best receiving corps in the game, Fournette should have plenty of room to continue his dominant run.
Indeed, with Tom Brady at the helm, the Bucs' offense will remain effective, but it will be the Tampa Bay defense that brings home the trophy. Limiting big plays from perhaps the best offensive trio in the game in Mahomes, Hill, and tight end Travis Kelce will not be easy, but the surging Bucs defense might just have what it takes.
Editor's Corner: Race in Sports
by The Cowl Editor on November 12, 2020
---
Friar Sports
---
By Cam Smith '21
Sports Coeditor
Below is an all too brief synopsis of just one talking point from Providence College Athletics' "Race in Sports" panel, a feature in its 2020 Diversity and Inclusion Campaign in partnership with the NCAA. The Cowl encourages you to visit the PC Athletics YouTube channel to view the full event.
PC Athletics' "Race in Sports" panel gathered five brilliant Friar alumni for a discussion on race, sports, and the ongoing diversity efforts at the College. Moderated by Rudy Cline-Thomas '00, founder and managing partner of Mastry, Inc., the conversation proved to be both insightful and moving.
Although many topics were covered throughout the discussion, one prevailing theme from the former athletes seemed to be their dual identities as both athletes and students. James Best '88, former PC men's basketball player and current Senior Advisor for the American Business Forum Inc., described how the "red-carpet treatment" that basketball players got could sometimes shelter them from a racialized campus climate.
Best spoke to how it was not until he sat out a season with an injury and got more involved with on-campus organizations that he really understood and appreciated the difficulties that Black, non-athlete students faced on campus. Britt King '86, a former PC women's basketball star and a member of PC's Hall of Fame, added that "on the court I had a great experience with my teammates…[but] I had friends who did not play sports, and the struggle was real."
With this being said, the former athletes certainly still faced issues on campus because of the color of their skin. Megan Onyundo '19, a former PC women's volleyball star, spoke to how she constantly compared herself to the small, blonde girls on campus. Onyundo relayed how this really wore on her mental health, and how now "just realizing that and changing my mindset to I can't be like them so I'm going to do my best based off who I am…that I'm going to be happy and proud of all the work I put in."
Nick Sailor '17, former men's soccer standout and current director of training and education for Diversity, Equity, and Inclusion at PC, added further insight on this. "Like James [Best] said, you're kind of in this bubble, yet at the same time you're not void of those things, you're still a young Black student on campus," he stated. "Yes, you're a student-athlete, yes you get the gear, yes they know who you are, but at the end of the day you're still racialized and seen in that light. So, having to navigate those two things at one time can be challenging."
An Interview with PC Athletic Director Bob Driscoll
by The Cowl Editor on October 16, 2020
---
Friar Sports
---
Driscoll Speaks on the Pandemic's Long-Lasting Ramifications
by Cam Smith '21
Sports Co-Editor
Last October, The Cowl sat down with vice president and director of athletics, Bob Driscoll, in his office on the top floor of the Friar Development Center. The conversation revolved around the remarkable success of Providence College athletics in recent years, as well as the growth of the campus and its stunning athletic facilities.
This October, that conversation looked vastly different. In place of an in-person meeting was an all-too-familiar Zoom call. The topics of discussion were different, too. There was no Late Night Madness to reflect on, nor was there a fall sports season to review. Instead, the interview was filled with thoughts on what could have been as well as speculation on what hopefully can be.
That being said, even without an ongoing sports season to discuss, there remained plenty to talk about. One might think an athletic director without sports may have some free time on their hands. However, Driscoll certainly does not, as his days without sports have been almost as busy as his days with them.
Indeed, much like the rest of the world, the state of PC athletics changed forever in mid-March. Driscoll and the men's basketball team were in New York City, getting ready to play in the highly anticipated Big East tournament. The first game of the day had already kicked off, with the Friars due up next to take on Butler University. Then, the news they were dreading came.
"It felt surreal. I was just so excited to be down there," said Driscoll. "I knew it was kind of fragile, but I actually thought we were going to play. We were on Zoom with the presidents and the ADs, with the head people, the doctors from the NCAA just the day before, and they're going 'no we're good, everything is a go.'"
Soon, it became apparent that all spring sports athletics would have to be canceled as well. It was left to Driscoll and the athletic staff to deliver the heartbreaking news. "I remember telling our student-athletes, first of all apologizing to the spring sports and telling them how heartbroken I was that their season got taken away," recalled Driscoll. "Particularly the seniors, who never got a chance to finish it. But I never thought that we'd be sitting here today not playing sports in the fall. Never."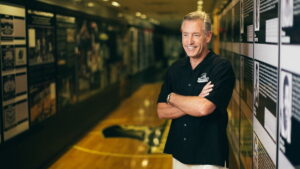 Driscoll had to make another set of calls once it became clear in the summer that fall sports would have to be canceled too. It was not any easier the second time around. "That was difficult because I knew they were heartbroken—as was I," said Driscoll. "But one thing I said to them was that Friartown, we as a team, are built for this. Mental toughness, grit, resilience—let's use this as a way of developing our character."
The athletic department has certainly shown resilience as a whole since those fateful March days. Driscoll credits a strong working relationship between him, the coaches, and the entire athletics staff as the reason for their success in overcoming a myriad of obstacles in recent months. Communication too, says Driscoll, is key.
"I feel as connected as I've ever felt to my staff. Although I'm not seeing them in person, I'm seeing them literally everyday through Zoom," he reflected. "I call, I text, I've engaged with them consistently during this entire time frame. And more than just X's and O's, [I ask] how's your family? How's your children? How are you coping? How's your health? Really focusing on the higher, more important things and trying to put it into context. Competition is important, but do you know what's more important? Your health and mental well-being."
Although Driscoll and the rest of the athletics staff have made the best of a difficult situation, that is not to say that everything is perfect. Recruiting new athletes has been particularly difficult during these times. The NCAA instituted a ban on in-person recruiting since the start of the pandemic, which barred prospective student-athletes from visiting campuses.
For PC, the ban seems to hit especially hard. For many prospective athletes, it is the visit to campus that really sells them on Friartown. "When they walk on the campus and are able to feel the vibe between people, and then you see our beautiful facilities and academic buildings…I think people's perceptions change pretty radically once we get people here, so I think that's hurt us a little bit," lamented Driscoll. "But with people like coach Cooley, Nate Leaman, and Chris Gabrielli, people who are really good at communication…I still think we've been able to sign some talented people."
Some of those recruits will be able to take the court and the rink this winter, as PC plans on going ahead with both its hockey and basketball seasons. With an established testing infrastructure now in place and the appropriate alterations being made to the schedules, Friar fans can plan on watching PC athletics for the first time since March.
"We're looking at Nov. 20 for the start date for hockey. They're planning on 24 games right now," said Driscoll. "[For men's basketball] we're still contemplating during winter break, from Dec. 30 until late January, maybe a possible bubble at Mohegan Sun and/or Omaha. We've even talked about Disney, where the NBA teams have played, to play five or six games."
Men's basketball will join the women's basketball team in hosting their home games at Alumni Hall. The men's team usually hosts their games in downtown Providence at the Dunkin' Donuts Center. Games will be at Alumni for the duration of the season, according to Driscoll, "unless in the new year the state opens up the Dunk and they allow people to come in. Then we'll make a decision on whether we can get enough people down there to make it worth our while to actually rent the building."
The resumption of sports this winter will certainly be a welcome sight for a campus that has gone without athletics for seven months. Sports and the comradery that they bring is a key part of the culture at PC. Without them, campus has certainly felt far less alive.  
"Yeah, it just feels empty," said Driscoll. "I was talking to my wife the other day, this is my 46th year in college athletics…and I've never experienced anything like this; it's like taking a piece of your entire being away for me personally. I can imagine it's the same for every student that plays and a lot of the fans. These are really unusual and difficult times because I think we as a culture need to be together in groups to celebrate the good things or the struggles. There's something about being in a sold-out arena that is so inspiring and uplifting. I think it adds to the quality of our lives, win or lose."
Besides a pandemic, 2020 has also featured one of the largest civil rights movements since the 1960s. Black Lives Matter protests have brought the systemic inequality in our nation to the forefront of the national dialogue. Driscoll is outspoken on the change that must occur in the U.S., just as is he outspoken on the change that must be enacted on the PC campus. 
Three years ago, Driscoll sat down with the women's basketball coaching staff. He recalls them "hitting him in between the eyes" about how the athletics department and school in general was not doing the best it could do for its BIPOC students and staff. "They shared stories that were very disturbing to me, about how our young men and women of color were treated," disclosed Driscoll. "It opened my eyes to what we needed to try to do if we were going to be a leader in this world, and one of those things was that we needed to hire more men and women of color." 
The department carried out this vision, hiring top-notch candidates such as Nick Sailor, the director of training and education for Diversity, Equity and Inclusion. In their five-year strategic plan, they also have guidelines in place "almost like the Rooney Rule in the NFL," said Driscoll. "Where that in every position we hire for we are going to consciously turn over every stone to try and find men and women of color, from diverse backgrounds, to make our organization better."
Driscoll also spoke to the efforts of Ivan Thomas, an assistant coach on the men's basketball staff. Thomas is among the founding members of Coaches for Action, a coalition of all 21 Black men's basketball assistant coaches in the Big East. "I was able to bring Ivan and the other coaches in front of the ADs of the Big East and they made an amazing presentation," stated Driscoll. "They proposed that we wear Black Lives Matter patches on our jerseys, and also spoke about really focusing on getting the [student-athlete] vote out, and then raising some money for first-generation students of color scholarships." 
The proposal was universally passed. "I'm really proud and happy about that," said Driscoll. "But we still have a long way to go." 
To conclude, Driscoll spoke on the recent events surrounding campus, emphasizing the importance of the safety protocols while also sympathizing with the students who have felt the impact of the recent lockdown. "I just wanted to thank all of our students for their hard work," said Driscoll. "This is not easy work and a lot of times young people get the blame for this stuff, and it's really not their fault. This is an epidemic that affects us all. So, my message is really just: stay strong, stay together, this will pass, and we'll be back watching games hopefully in the very near future."
Friar fans certainly hope all goes according to plan, as the arrival of basketball and hockey will be a major boost to a campus that has seen most of its events shut down. For Driscoll and the entire athletics department, their arrival will be a marker of months of hard work paying off.
And for Driscoll, it will probably provide some sense of normalcy for the first time since that fateful March bus ride to New York City.
In Memoriam: John Thompson
by The Cowl Editor on September 3, 2020
---
Friar Sports
---
PC Legend Leaves Behind Lasting Legacy
by Cam Smith '21
Sports Co-Editor
John Thompson '64, a legend in the game of basketball, passed away last Sunday night at the age of 78.
Thompson spent four years in Friartown under then Coach Joe Mullaney, helping lead the Friars to a National Invitational Tournament title in 1963. The talented "big man" accumulated 1,520 points and 1,061 rebounds during his college career, one of only seven Friars to ever do so. Following his graduation, Thompson was selected by the Boston Celtics, where he would go on to win two NBA titles.
As remarkable as his playing career was, Thompson made his true impact on the game of basketball as a coach. He served as the head coach for Georgetown University for 27 years. In that time, he would lead the Hoyas to 24 straight postseasons, featuring three Final Four appearances and a championship victory in 1984.
With that 1984 title, Thompson became the first Black basketball head coach to win an NCAA National Championship. Indeed, Thompson's rise to prominence as a coach began to break down barriers that had stood since the game's creation. The great hypocrisy at the beginning of the 1980s was that there were Black stars on the basketball court, but almost no Black men coaching them.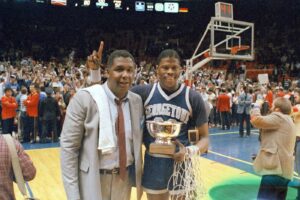 Thompson's fearlessness changed this. By the mid-80s, there were more Black basketball head coaches than ever before.
Patrick Ewing, another basketball legend in his own right, caused a stir in the 1980s when he chose to attend Georgetown over some other high-profile schools. "The main reason I chose Georgetown was Coach Thompson," said Ewing. "I thought that being a young Black kid who in just listening to a Black man who back then, spoke the way that he spoke, the way that he carried himself, it was someone I could emulate."
Thompson never shied away from using his powerful position as an avenue for pursuing racial justice. He protested numerous times, but perhaps his most famous protest came against Proposition 48.
In January 1989, the NCAA implemented Prop. 48, which denied scholarships to freshmen who failed to meet certain academic criteria. Estimates showed that approximately 90 percent of the students impacted by the decree would be Black students. Thompson refused to let that stand.
On a cold night in January against Boston College, Thompson walked out onto the floor 12 minutes before the game. He talked with the opposing coach. He shook hands with the officials. Then he walked right back out of the tunnel, not looking back until he reached his maroon Lincoln Town Car.
"Coach Thompson was a pioneer whose impact extended far beyond basketball," said current Friar Head Coach Ed Cooley after learning of Thompson's passing. "His message was always real and authentic as his passion was helping people to be better… As a mentor, Coach Thompson taught me about fit and loyalty and I will forever be grateful for the doors he opened for so many of us Black coaches. My heart is heavy today. It was an honor to have known him."
Indeed, Thompson's legacy extends far past the confines of any basketball arena. He was a trailblazer: forever fearless and resolute.
The Rise of the Bubble
by The Cowl Editor on September 3, 2020
---
Professional Sports
---
Professional Sports During COVID-19
by Cam Smith '21
Sports Co-Editor
Late in the evening of March 11, 2020, life in the United States changed forever. In the span of 45 minutes, President Donald Trump announced a travel ban on European countries, actor Tom Hanks declared he was infected with COVID-19, and the National Basketball Association suspended its season indefinitely. The pandemic became real for Americans in these 45 minutes. No longer a mystery disease confined to a far-off continent, it was now an invading virus. 
Though all three of these events woke America up to the impending threat, it seemed almost as if the NBA's cancellation shook the nation the most. Sports have been a constant throughout the lives of every American in the modern day. They have been there through tragedies ranging from 9/11 to the Boston Marathon bombings. Sports are a unifying force, a way to disconnect from the hardships of life and a way to come together despite individual differences. So, when they abruptly disappeared, the country finally realized the scale of the problem at hand. 
Almost immediately after the major leagues were indefinitely suspended, people started to think about what they would look like upon their return. Many hoped the seasons could just resume a month later, once the virus had been contained. Unfortunately, that containment never came.
Instead, it became clear that fans would not be allowed at games when the leagues did restart. Some even started floating the ideas of possible "bubbles," where the entire league would be confined to one complex. No one would be allowed to leave the designated area, and testing would occur almost daily. The hope was that if there was no contact with the outside world, COVID-19 would never be able to make it in.
Major League Baseball seemed to discuss this idea first, with a possible "Arizona League" in Phoenix, Arizona. The idea was quickly shot down by players, however, as they lamented having to stay away from their families for months.
The bubble idea caught on elsewhere, however, and in late June, the National Women's Soccer League became the first American professional sports league to resume play. The NWSL hosted the 2020 Challenge Cup, a tournament featuring eight teams and 23 games. The tournament was a remarkable success, both on and off the field. Once in the Utah-based bubble, over 2,000 tests were doled out to both players and staff members alike. Not a single one came back positive.
The NBA and NHL soon followed suit, and by the end of July both had resumed their seasons in bubbles of their own. Basketball resumed at the Walt Disney Resort in Orlando, Florida while the NHL fled north of the border to Canada. Luckily, a few cases were caught upon arrival to the bubbles and as of now, not a single case has been detected in either leagues' bubbles since the start of play. Both leagues have also shown surprisingly high-quality products on the court and on the ice, as the athletes have seemingly not missed a beat even after the long layoff.
Indeed, the bubbles have shown to be remarkable success stories, blueprints for sports during a pandemic. Meanwhile, the MLB has embarrassingly stumbled along without one even after being the first league to raise the possibility of a bubble. Their decision not to enfore a bubble has been nothing but an abject failure.
Just a mere week into the start of the season, COVID-19 outbreaks had already hit several different teams, forcing them to cancel entire series of games. Reports began to leak about players visiting clubs and casinos. With no bubble to speak of, teams continued to fly across the country, exposing themselves and others to the virus every time they were forced to travel.
Sport Illustrated's Stephanie Apstein summed it up perfectly by saying, "the protocols are woefully inadequate, so the weak spot could be anywhere. It will be almost impossible for the league to identify it definitively—which is one of the challenges of playing baseball outside of a bubble during a pandemic in the country with one of the world's worst responses."
The league has continued to saunter on, however, seeing very few changes to its protocols at all. The delays continue, as just last weekend the Houston Astros and Oakland Athletics game was postponed after a positive test in the A's organization. Instead of admitting failure and cancelling the season, Commissioner Rob Manfred and the rest of the MLB have dug their heels in. And by doing so, they have put the communities they play in at risk. 
On the horizon now looms the start of both the NFL and college sports. Even after witnessing the failures of the MLB, the NFL has decided not to use a bubble. That decision could spell disaster for a sport that features the largest rosters of any of the professional sports and is likely the one with the most physical contact. Perhaps the NFL simply does not care about the spread of COVID-19, as the MLB has shown not to.
College sports face even more complex challenges and risks, as bubbles are much harder to pull off for student-athletes who still need to attend class. At the same time, no bubbles mean that student-athletes will be forced to travel around to other campuses and communities. They would then return to their own campuses, potentially breaking the tight seals that colleges across the country are working so hard to keep.
Indeed, the sports world and the rest of the world at large have come a long way since that fateful March 11 night. But, one thing is abundantly clear: if you want to safely play sports during a pandemic, the bubble is king.
Sport Shorts Feb. 27-March 5
by The Cowl Editor on March 5, 2020
---
Sports
---
Sport Shorts Week of 2/27-3/05
by Cam Smith '21
Sports Assistant Editor
Indoor Track and Field:
The Providence College Men's and Women's Indoor Track Teams turned in impressive performances over the weekend at the Big East Championships in Geneva, OH. Day one of the competition featured an Abbey Wheeler '20 women's 5,000-meter victory, the first Big East Championship in her storied PC career. Wheeler maintained her positioning in the lead pack for most of the race before pulling away from the rest of the runners with five laps to go. Day one also featured a remarkable first place finish in the distance medley relay by the grouping of Tessa Hunt '23, Niamh Gowing '22, Alex O'Neil '23, and Lilly Tuck '23. The foursome started off strong thanks to an explosive push out of the gates from Hunt. The squad never relinquished the lead from that point on. Day two of the event saw Wheeler achieve another Big East Championship, this time in the women's 3,000-meter. Tuck and Maria Coffin '21 also finished strong in the same race, placing second and fifth respectively. Day two also saw Michael O'Leary '19GS finish second in the 3,000-meter on the men's side due to a strong push on the final lap. The weekend was made all the better for the Friars as it was announced that Wheeler had been named Co-Most Outstanding Track Performer, putting the perfect finishing touch on her Big East career.
Men's Lacrosse:
The Providence College Men's Lacrosse Team took home the Ocean State Cup on Feb. 29, defeating Brown University 13-12 in a thrilling overtime contest. The Friars dominated the first half of the game, outshooting Brown 23-14 on their way to a 7-4 halftime lead. The start of the second half would be much of the same, as John Hoffman '23 started a scoring onslaught for PC that netted three more Friar goals. The Bears would claw their way back into the game, scoring three goals in the final 2:27 minutes of the game to knot the contest up at 12 a piece heading into overtime. PC would escape with the victory on a Sean Leahey '20 game-winner, a shot that would give him three goals on the day and his second hat trick of the season.
Men's Hockey:
The Providence College Men's Hockey Team got a much-needed win on Feb. 29, as they took down the fifteenth ranked University of Maine Black Bears. Jack Dugan '22 got the scoring going for the Friars, as he exploded out of the box to snag the puck at the blue line before sneaking a backhander past the Maine goalie. Goals by Jason O'Neill '21 and Greg Printz '21 would add to the lead, although Maine would keep it close in the third period. In the end, the play of Friar goalie Michael Lackey '20GS would allow PC to hold on in the third, as he turned away 13 shots in the period on the way to a 3-2 PC victory.