Silence for Solidarity
by The Cowl Editor on September 4, 2017
---
Campus
---
 PC Community Walks Together for Social Change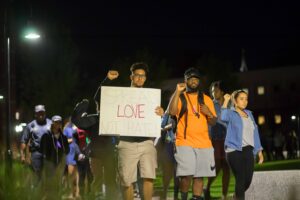 By Sabrina Guilbeault '18
News Editor
Only one day into the academic year, members of the Providence College community received an email from the BMSA Executive Board, inviting all to a Solidarity Walk, which took place this past Thursday, August 31. The walk allowed the community to reflect on the events that occurred this summer in Barcelona and Charlottesville, Virginia, and challenge one another to foster social change.
In the email, the student leaders said, "The events that took place in Charlottesville and Barcelona are inexcusable actions and it is through these times that we should come together as a community and engage in dialogue (not debate) despite our differences."
Thursday night at 8:30 p.m., students, faculty, and staff gathered outside the glass doors of the Slavin Atrium, and listened intently as Chalayna Smart '18, treasurer of BMSA, stood before the group and said, "Tonight we stand in solidarity for victims of violence." Smart recognized Kayla Luciano '18, president of OLAS for organizing the event, and explained that this walk would be a silent one.
"Take this time to live in one's shared experience," Fartun Abdulle '19, vice president of BMSA, said as she addressed the group. "Take the time to get to know how those around you are feeling, and then talk about how you feel." She emphasized that there is power in numbers, and that there were in fact numbers there.
The walk stretched throughout all of campus. The group moved through Slavin and Alumni (members holding doors for one another as the group entered) then walked across Slavin Lawn, across Aquinas Lawn and past Saint Dominic Chapel, then cut in front of Raymond Dining Hall and ended outside of the doors to the business school. Friends greeted friends as they passed; as Smart later reflected, "This is the first time no one screamed at us as we walked by, that's progress."
"This is a good time for reflection on those things we were not physically there to experience," said Ivan Vukusic '18. "College is supposed to change the way you think for the better, and I'm glad I had the chance to participate in a walk like this during my time here."
Once at the business school, the group circled around the stone benches found by the front door, and organizers of the event welcomed participants to stand and speak their reflections. All the while, Onassis Valerio '18 held up a sign that displayed the words, "Spread Love Not Hate."
Prior to the reflections, a group of women sang a rendition to classic gospel hymns including "Oh Freedom" and "Wade in the Water." Their voices echoed as far to the back of the crowd where administrators such as Father Brian Shanley, O.P., Father Kenneth Sicard, O.P., Kristine Goodwin, Steven Sears, and Tiffany Gaffney stood amidst the group of students and staff.
"PC has grown so much since I've been here," said Sara Jean Francois '19. "This is a student led march of solidarity and that means something."
Students then took turns standing on the stone benches and addressing the crowd. Sean Richardson '20 started the trend, emphasizing that silence is violence. "This is serious," he said. "It is so nice to see students here that are not of color. Thank you for supporting us."
Later, Gabe Alvarez '20 stood, and explained that he has learned a lot from his grandmother, especially the significance of the blue in the Colombian flag. "The blue in the middle represents the people and the water that connects us," he said. "Water runs through everyone. We don't make progress through hatred, but by seeing the blue in each other."
Keeping with the theme of water, Chaplain Father Peter Martyr Yungwirth, O.P., later explained that the spiritual "Wade in the Water" is normally associated with the Underground Railroad and has strong connections with the freedom of the Israelites from slavery in Egypt, but the version the students sang reminded him of the image of Jesus healing the sick man at the Pool of Bethsaida. "God stirred up even more powerful waters, and it shows that the healing that is needed comes from Christ," he said. "Imagine what our campus would be like if Jesus could touch all our hearts like that."
Two freshmen spoke, and were encouraged and applauded by their peers for their bravery. "I can feel the love," one said. The other emphasized that racism does exist at PC, and shared an experience she has already encountered this past week, "But it means so much to me to see all this support here tonight," she said.
Students were welcomed to voice their frustrations; one expressed her distress that solidarity walks still need to happen and said, "I hate feeling like I don't belong."
Another student shared her story about a time when someone told her that she only got accepted to PC due to affirmative action. "Good grades can make it," she said, and went on to explain that marches of solidarity like this one allow her to know that this is the place she wants to be. "Yeah we got problems, but shit, who else doesn't?" she asked the crowd.
Mostly students spoke, but two staff members from the Office of Admissions did stand and thank the students for what they were doing. Both highlighted the fact that that PC does love all its students, and that everyone is an equal member of our campus community. "It is so beautiful to see this representation," said Karen Vargas, associate dean of admission and coordinator of multicultural recruitment.
The event ended with pizza as a gift from the Dean's Office, which was brought out by members of the Office of Safety and Security who were at the event. Students embraced and interacted with one another and the faculty and staff who were present.
It was emphasized, however, that although the walk was successful, work still needs to be done.
"This is easy. This was a silent walk, you didn't even have to speak," Adriel Antoine '18 said. He explained that this same kind of energy should be found in the classroom, in the hallway, even on Eaton Street. "When you're on your own and you hear something said that isn't right, that's what's difficult. I challenge everyone here to speak up when you are alone just as we are all speaking up here," he said.