PC Dads in Politics Speak on Upcoming Election: College Hosts Chris Christie '23P and Michael Dukakis '23GP
by The Cowl Editor on October 15, 2020
---
Campus
---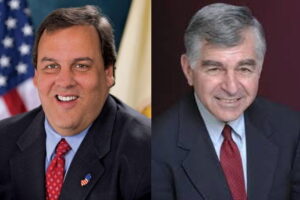 by Eileen Cooney '23
News Staff
On Thursday, Oct. 1, Providence College hosted a Friar Forum with two former governors and presidential candidates, Chris Christie '23P and Michael Dukakis '23GP. Christie and Dukakis answered questions about the upcoming election and shared stories about their careers in public service.
The event, moderated by political science department chair Dr. Joseph Cammarano and senior political science major Julia Murphy '21, was extremely popular with over 700 students, parents, faculty, and alumni in attendance.
Murphy opened the forum by asking the two former governors, "What drew you to public service, and what made you stay so long?" Both Christie and Dukakis answered with detailed, personal anecdotes about their early childhood and adolescence.
Dukakis, growing up in Brookline, MA at a time when people of color were barred from living in his neighborhood, listened to the CBS World News Roundup every night on the radio, and grew interested in solving the injustices he observed in his immediate surroundings. He says that he never regretted his decision to serve in the public sector, and he emphatically claimed, "to be able to make a difference in the lives of your fellow citizens, there is nothing like it."
Similar to Dukakis, Christie said his interest in public service came at a young age. He told stories of being six years old and watching the Democratic National Convention with his grandmother and of being a teenager volunteering on Tom Kean's 1977 campaign for the Republican nomination for the governor of New Jersey.
Dukakis and Christie, who both have extensive experience in bridging partisan division, were asked how current political leaders can work effectively with opposing ideas or individuals.
Christie stressed the importance of generating strong personal relationships with others above all else. He feels that the largest problem in Washington, D.C. today is the lack of interaction between politicians; they do not engage with one another long enough to foster personal trust. "It's much harder to hate up close," he says. That is why personal relationships make all the difference. Similarly, Dukakis emphasized the importance of inviting leaders on both sides to work together to solve problems and develop policy.
While bipartisanship is surely a big issue, so is the lack of democratic participation among young people. Thus, Murphy asked Christie and Dukakis what passionate young people should do to get involved.
Both responded by emphasizing that we have a political system that allows for people of all backgrounds to come forward and speak their minds. They highlighted the importance of young millennials and Generation Z kids just showing up, displaying their talent, and working hard to make their voices heard.
In addition to questions asked by the moderators, Dukakis and Christie also answered questions from the audience about the current executive administration's COVID-19 response, the recent nomination of a Supreme Court Justice, and how one can ensure that our democratic institutions are not weakened.
Murphy says that "co-moderating the Friar Forum was a great experience, as it was really remarkable to see Governor Dukakis and Governor Christie, who fall on opposite sides of the political aisle, come together to share stories and insight about the importance of public service." Coming away from the event, Murphy says that she hopes "people watching saw this as an example of how we can work together despite our differences and to take the time to get to know people we do not always agree with."