Tag:
community conversation
Sicard Holds Conversation on State of Campus: Racism and Election Among Hot Topics
by The Cowl Editor on November 12, 2020
---
Campus
---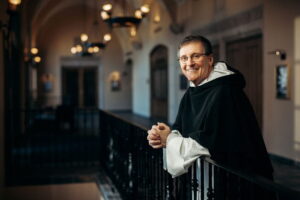 by Hannah Langley '21
News Co-Editor
Since Father Kenneth Sicard, O.P., became president of Providence College, he has made an effort to host numerous conversations regarding the College's response to racism and COVID-19.
On Monday, Nov. 2, Fr. Sicard invited all students, faculty, and staff to a community conversation held virtually over Zoom. This conversation specifically focused on the College's response to systemic racism and the College's action plans to prevent incidents of racism and move towards becoming a more inclusive community. 
This community conversation was just one Zoom session in a series held by Fr. Sicard and other members of the PC administration and staff, including Jacqueline Peterson, special advisor to the president for diversity, equity, and inclusion; Steven Sears, dean of students and vice president for student affairs; and Father James Cuddy, O.P., vice president for Mission and Ministry and director of the center for Catholic and Dominican studies. 
This particular conversation was open to the entire PC community and was held as a closed Zoom session rather than in a webinar format. Fr. Sicard previously received backlash on his decision to hold these conversations as webinars, as some members of the PC community argued that webinars stifled conversation and real-time comments. 
The conversation was moderated by Leigh Anne Cappello, chief experience officer at Kinetic Seeds, a design consultancy that has been working with Fr. Sicard and others on creating solutions to fix systemic racism in the PC community. As a PC alumna, Cappello also feels personally attached to and invested in this work.
To begin the conversation, Fr. Sicard talked about how he was a first-generation college graduate from PC, so the College has always had a special place in his heart. "Being the beloved community is an essential part of our mission and part of our Catholic and Dominican identity," said Fr. Sicard. He does recognize, however, that not everyone feels like they are part of that beloved community yet. "Even at PC, we are not immune to the sins of racism," said Fr. Sicard. 
He talked about how he is "willing to re-examine the way [the College does] things," but that does not mean mistakes will not be made along the way. "This is really hard work and we're going to make mistakes along the way," Fr. Sicard said. "But we can't let our mistakes stifle our progress and work."
To open the conversation, Cappello invited all those present to share their own experiences and feelings about systemic racism through a metaphor. She gave the template, "Being [me] is like ______ when it should be like _____." This exercise was open to all attendants, and the goal of the exercise was to help everyone try to understand a certain issue or feeling through a different type of lens. 
All of the metaphors written were able to be viewed publicly by those on the Zoom call through the chat feature. Some of the metaphors were then further discussed by attendees. Fr. Sicard commented that while he found some of the metaphors "upsetting," he also found them "enlightening."
The conversation then shifted to questions either submitted ahead of time or asked live publicly over the Zoom call.  
When asked about action items the College will be taking to address systemic racism, Fr. Sicard and Peterson talked about the several steps they have already taken. These steps included the creation of  a student advisory board, the beginning of "Friarside Chats" with students and student clubs and organizations, new reporting tools for bias incidents, and implicit bias training. 
Another question answered during this time addressed alt-right Catholic conservative teaching at PC. Both Fr. Sicard and Fr. Cuddy addressed this question, saying the Dominican tradition and PC's teachings do not follow any beliefs preached by magazines such as Crisis Magazine and Church Militant, but only the Bible and other documents of the Catholic Church. 
A question was also asked regarding how the College can work towards amplifying BIPOC voices. Fr. Sicard agreed that it should not fall on only the BIPOC community to begin conversations and educate others on racism and bias. 
As this conversation was held the night before Election Day, Noah DeRossi-Goldberg '22 asked what the College would do to prevent  racism from  prevailing on campus even if it prevails throughout the country. Many faculty and staff responded to DeRossi-Goldberg's question, saying that racism will not be tolerated, that we are all here to protect one another, and that we must hold one another accountable for our behaviors. The overarching theme of responses was that we all must respect and protect one another regardless of political views. 
More interactive portions of the Zoom call included participants being asked to think of someone who embodies the ideal state of the College and utilized breakout rooms to discuss collective ownership in depth, especially as it pertains to the PC community. 
After the group discussions, Peterson talked about her appreciation and gratitude towards Fr. Sicard and other members of the PC community in their work towards developing collective ownership. 
Dr. Oscar Santos, executive director at the Center for Collaborative Education, was invited to speak to the PC community on the topic of collective ownership, as well. He discussed how he has worked with other colleges and institutions on his idea of a three-level model for collective ownership. These levels include creating voice and ownership, looking at all different aspects of the community, and building a capacity to build a culture.
Fr. Sicard closed the night's call by thanking the PC community for their openness and honesty. He pledged his commitment to having more conversations like the one that night and in working towards creating a truly beloved community.