Campus Ministry Embraces Faith Over Break: Students Visit Indianapolis for SEEK 2019
by The Cowl Editor on January 17, 2019
---
Campus
---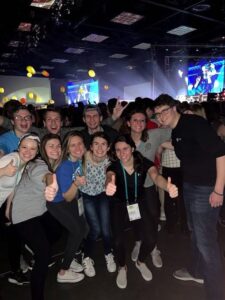 By Hannah Langley '21
News Co-Editor
While the Providence College community may have been on break, that did not stop several students from continuing to embrace their religious faith while off-campus. 
From Jan. 3-7, members of the PC community went to Indianapolis, Indiana to attend SEEK 2019, an annual conference that invites young Christians to come together to learn, grow in faith, sing, and pray as a community in an uplifting and exciting atmosphere.
A group of 13 students left for Indianapolis along with Fr. Peter Martyr Yungwirth, O.P., Sister Anne Frances Klein, O.P., and Molly White, one of PC's campus ministers. The group then spent five days not only attending the conference, but also touring around Indianapolis, visiting places such as Notre Dame University and more.
SEEK 2019 itself was held in the Indiana Convention Center right in downtown Indianapolis. Such a large venue was necessary for this particular event as, according to Brooke Douglass '21, one of the students on the trip stated, nearly 17,000 people attended this year's conference.
Throughout their time in Indianapolis, the students really got to experience many different forms of worship and gained a lot of knowledge.
The days began with a Mass in the convention center, which Douglass pointed out was one of her favorite parts of the day. "There were about 500 priests processing in and it was so cool," said Douglass.
She also talked about how she really enjoyed several of the speakers that came throughout the week and the entertainment at the conference. Some of the keynote speakers were founders of the Chastity Project Jason Evert, writer, speaker, and host Jennifer Fulwiler, and best-selling author Dr. Scott Hahn. Among these few, there were also several other keynote and regular speakers who attended the conference inspiring not only the young adults present, but the adults, as well.
Fr. Peter Martyr noted how he found many of the speakers to be very inspiring, saying, "A number of the talks geared to Chaplains and Campus Ministers were really helpful, and the discussions… helped me to be able to see what other schools are doing." He hopes to learn from his experience at SEEK 2019 to help make the Campus Ministry at PC "more cohesive and interrelated" in its ministries and programs in the future.
The conference also featured performances by several artists, including NEEDTOBREATHE, a Christian rock band that Douglass particularly enjoyed watching perform.
There were approximately 100 informational booths set up throughout the convention center, which allowed people to expand their knowledge about their faith through various resources and organizations.
While the convention had many different sponsors, SEEK 2019 was held largely in part with its partners Benedictine College and Our Sunday Visitor, as well as its official sponsors: the Augustine Institute, The Catholic University of America, and the Knights of Columbus.
The trip inspired all who attended and left the PC students with a new feeling and a better sense of their already strong faith. "I learned so much at SEEK and also had an absolute blast," said Douglass, "it was amazing to experience such a large Catholic community come together from so many different places."
Fr. Peter Martyr was thankful for the opportunity to take these students to SEEK, saying it was "a great time to walk with our students on their own journeys of faith."
Being that SEEK 2019 seemed to be such a success with this year's group, Campus Ministry will hopefully continue to plan trips to SEEK and other conferences in the future.