Updates from Alpha Epsilon Delta
by Samantha Gabree '23 on November 27, 2022
Guest Writer
---
News
---
by Samantha Gabree '23
Guest News Writer
Alpha Epsilon Delta is a national health preprofessional honors and service organization.
During the COVID-19 pandemic, many patients were unable to breathe due to their lungs being filled with fluid. This was the case with many individuals in New York and as the city's hospitals overflowed, the patients were sedated and put on ventilators. However, after recovering from the sickness, the patients would not wake up for weeks or even months. Even more perplexing is that when they did eventually wake, there was no indication of brain damage. This phenomenon was widespread, as Dr. Nicholas Schiff, who specializes in treating disorders of consciousness, was not the only neurologist to see this in his patients.
Dr. Schiff and his collaborator Dr. Emery Brown, a computational neuroscientist at M.I.T., studied 795 of these COVID-19 patients who displayed a delayed recovery from the sickness, where 25 percent of these patients took 10 or more days to regain enough consciousness to perform simple commands such as squeezing someone else's finger. The study also reported that 10 percent of those who were studied took over 23 days to regain consciousness.
Dr. Schiff and Dr. Brown have also recently published a proposal as to why these COVID-19 patients remained unconscious for such a long period of time. These doctors propose a theory comparing the unconscious human brain to that of turtles.
During the winter, turtles can shift their neurons into an unusually quiet state that lasts for months. They burrow themselves in frozen mud, and their respiration becomes minimal. In preparing for the winter season, turtles release the chemical GABA into their brains, allowing the neurons to conserve energy by decreasing the amount of nerve impulses that are fired. In a sense, turtles "auto-anesthetize" themselves. Dr. Schiff and Dr. Brown claim that the combination of sedatives along with having COVID-19 may prompt a similar response in the human brain, and even after the sedatives wear off, the brain may keep itself in this state for a period of time. This theory could be powerful, for if it can be proven, we will have a better understanding of how to preserve and protect the brain. Researchers and doctors would be able to find new ways to aid people with brain damage by putting patients into an unconscious state on purpose.
While it is too early to rely on this turtle-human brain analogy, this research could provide a new method for aiding recovery and even saving patients from brain damage.
A Year for the Books: An Overview of COVID-19 at PC This Academic Year
by The Cowl Editor on May 6, 2021
---
Campus
---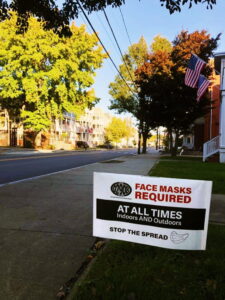 by Hannah Langley '21
News Co-Editor
Since the formation of this committee, PC students have become all too familiar with emails and text notifications for daily screenings, weekly testing schedules, and other updates. 
An email from Dr. Sean Reid, provost and senior vice president for academic affairs, explained the mix of classes that would be offered going into the fall semester. The mix of in-person, hybrid, split, hy-flex, and remote classes gave faculty the ability to choose the way in which they wished to teach their classes. It also gave students who decided to remain remote and not return to campus greater flexibility. 
Not long into the fall semester, a COVID-19 outbreak occurred. On Sept. 17, Fr. Sicard announced that the College would be shifting to "total remote learning at least through September 26" after over 80 students tested positive in the span of two days. On-campus students were directed to not leave campus, and stay-at-home orders were put in place for all off-campus students. By Sept. 19, the number of cases rose to about 138 positive students. 
On Sept. 25, Fr. Sicard announced that remote instruction and stay-at-home directives for students would last until Oct. 3. Just a few days later, the date was extended to Oct. 8 for on-campus students and Oct. 12 for off-campus students. 
The outbreak led to several initiatives by the College, including weekly testing for all students, consistent messaging about remaining in one's pod, a restriction on any non-essential travel, and more. Rising cases in the state by November also caused Governor Gina Raimondo to make several announcements, restricting group gatherings to 10 and setting curfews. 
Following winter break, students began to return with point-of-origin tests the week of Jan. 18. With classes resuming on Jan. 25, weekly COVID tests also resumed. Not long into the spring semester, though, a smaller COVID outbreak occurred. Students both on and off campus were sent to the Providence Marriott Downtown and Davis Hall to quarantine and isolate. The Continuity Task Force announced that PC had an approximately 2% positivity rate, leading to further restrictions from the President's Office.
This second outbreak led to the decision to have students tested twice a week. For the remainder of the semester, students were asked to go for testing either Mondays and Wednesdays or Tuesdays and Thursdays, leaving Fridays for faculty and staff testing. 
As cases began to decline, more and more restrictions and precautions began to ease. McPhail's reopened on Thursdays, Fridays, and Saturdays for seniors. Attendance of outdoor games began to be permitted. Acceptable outdoor group gatherings increased to 50 people. Club sports were able to resume. An in-person commencement with two guests per graduate was approved to be held on May 20 on Hendricken Field. 
Vaccines were also made eligible to all Rhode Island residents 16-years-old or over. Friars off campus began getting vaccinated towards the end of March, and the College held a vaccination clinic for all students, faculty, and staff on April 28. 
Fr. Sicard reflected on the year by saying, "I think that one of the best decisions that we made was to reopen in person." He continued, "During the first year of my presidency, I have been deeply moved by the commitment I have seen from our faculty, staff, and students. So many went above and beyond in caring for each other, in helping our students succeed, and in keeping each other safe and well."
Ann Manchester-Molak, executive vice president, commented as well, saying, "In the 40+ years that I've worked here, I honestly can say that I have never experienced such a spirit of collegiality, involving so many faculty, staff, and students who joined together to somehow maneuver the highs and lows of a pandemic that has affected us all so acutely." She commended the work of faculty, staff, and students who each did their part to persevere this academic year. 
 While masks are still required on campus, social distancing is still enforced, and students are still getting tested twice per week, there has been a significant change in COVID protocols since the fall semester began in August. Both Fr. Sicard and Manchester-Molak noted their excitement at the opportunity to have an in-person commencement for the class of 2021 to conclude the year. 
The PC community has faced many trials and tribulations in dealing with COVID-19, but actions being taken and certain restrictions being eased show that there is a light at the end of the tunnel and a promising future for the next academic year. As Manchester-Molak stated, "Someday we will be able to look back at this year and realize that the goodness of ordinary people—doing extraordinary things—was all around us." 
Vaccinations at Friars' Fingertips: Moderna Vaccines Arrive on PC Campus
by The Cowl Editor on May 6, 2021
---
Campus
---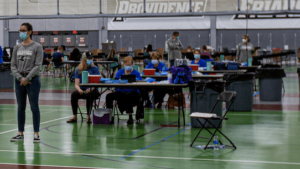 Katherine Morrissey '22
News Staff
Almost a week after vaccines became available to all students over the age of 16 in Rhode Island, the Providence College community was once again greeted with positive news regarding COVID-19 vaccinations. In addition to vaccination appointments continuing to be available in Providence at the Dunkin' Donuts Center, vaccines would soon become accessible like never before for the Friar Family.  
The news came through a series of emails sent to students, faculty, and members of the PC community from the Continuity Task Force during the weekend of April 25. These messages communicated that the Rhode Island Department of Health had announced it would offer a COVID-19 vaccination clinic for Providence College students, faculty, and staff at Peterson Recreation Center on Wednesday, April 28.
Students who wished to be vaccinated at the on-campus clinic were required to register in advance through the state's scheduling portal. Despite the need for registration, the clinic located on campus provided a convenient opportunity to get vaccinated for students, faculty, and staff as Wednesday, April 28 was already a designated rest day.
The clinic operated from 10 a.m. to 6 p.m. in Peterson Recreation Center, offering those who wished to make appointments a large window on their day off to stop by and get vaccinated. The large gym, with the help of many devoted workers, was quickly transformed into a fully functional vaccination clinic. The gym, however, is no stranger to dramatic transformations as it has been the backdrop of many events throughout the years including everything from Black and White Ball to spin classes to, most recently, a COVID-19 testing center.  
Those who got vaccinated at the on-campus clinic on April 28 received the Moderna vaccine, which requires a minimum of four weeks between doses. Those who are able to return to campus after the school year is over are encouraged to come back to Peterson on May 26 for their second dose. Individuals who cannot are encouraged to schedule their second doses of Moderna at home for on or around the same date. Those who have received both doses are then required to upload documentation to the College's website.
After receiving their vaccine, students were given a Dunkin' gift card and were entered into a raffle for the opportunity to win an Apple Watch. This provided extra incentive for all students to take a little time during their day off to get vaccinated.
The vaccination clinic was not open to all students, such as those who have already received the first dose of vaccines from different manufacturers like Pfizer, or students who were in quarantine or isolation for COVID-19. The clinic did not have significantly negative impacts on the schedules and routine of other students on their day off. The only change the PC community was forced to make was to their twice-a-week testing schedule.
While this change required students to test a day earlier and later than normal during the week, it also afforded them no testing on their day off. This quick and successful change demonstrated the school's flexibility in executing the clinic as well as maintaining COVID-19 protocols already in place.
Vaccinations for students do not indicate an immediate end to the COVID-19 pandemic which continues to impact all our lives. However, Wednesday's clinic marked a revolutionary step in the process of getting all members of the school community vaccinated.
Within the last year, many communities and groups of people have struggled to adapt and navigate the COVID-19 pandemic. This was widely seen across many college campuses as school communities had no choice but to be remote in order to keep students and faculty safe. Although many of us have been witnesses to the struggles and hardships of the last year, widespread vaccinations remind us of the triumphs of the human spirit and the many ways in which situations of necessity bring about the most impressive innovations.
Continued information about vaccination availability and registration will be provided to students through Continuity emails. The most up-to-date information is also provided on Providence College's website and the state health department's online portal.
Vaccinated Americans Get Breath of Fresh Air: Biden Removes Mask Mandate for COVID Vaccine Recipients
by The Cowl Editor on May 6, 2021
---
National and Global News
---
by Sydney Olinger '23
News Staff
As of Tuesday, April 27, President Joseph Biden, alongside the CDC and Dr. Anthony Fauci, released new guidelines regarding the wearing of face masks. Biden addressed the immense progress America has made in reducing the number of COVID-19 cases and deaths by continuing to wear masks, social distancing, and now getting vaccinated. With full vaccination comes many new privileges, one of which is the freedom to not wear a face mask outdoors.
Experts have determined that wearing face masks throughout this pandemic has been one of the most effective ways of controlling virus transmission. 
This new mandate has been up for debate for a few months; however, since the release of the vaccine. Because many people are now getting the vaccine and most COVID-19 transmission occurs indoors, it was finally decided that a fully vaccinated person does not have to wear a mask outdoors. These new perks of not having to wear a mask in certain places will hopefully be an incentive for every person to get out and get vaccinated.
"So, for those who haven't gotten their vaccination, especially if you're younger or thinking you don't need it, this is another great reason to go get vaccinated," Biden said. People are considered fully vaccinated by the CDC two weeks after the second dose of the Pfizer/BioNTech or Moderna vaccines or two weeks after the single-dose Johnson & Johnson vaccine.
Unfortunately, though the vaccine certainly makes it much less likely that vaccinated people  will test positive for COVID-19 or experience symptoms, there is still a small chance that a vaccinated person could carry the virus and possibly transfer it to an unvaccinated person. It is also important that those who received the Moderna or Pfizer/BioNTech vaccines remain especially cautious, wear a mask, and socially distance before their second dose.
Coronavirus cases have decreased by 16 percent in just the last week as the amount of people in the U.S. who have received the first dose of the vaccine surpassed 140 million people. This means that 32 percent of the population is now fully vaccinated, with 44 percent having received one dose of the two-shot vaccine. Despite the high numbers of vaccinated citizens, many more will need to receive the vaccine before the country can return to normal life.
There has been hesitancy surrounding the vaccine, mainly as a result of fear of possible long-term effects. However, the vaccines were developed over a fairly long period of time, ruling out the majority of possible risks. Moreover, as of right now, there have been very few extreme negative reactions to the vaccines. It is important that we trust the experts and health professionals who worked diligently to find the most effective way to prevent the spread of the virus that we have faced for over a year now.
COVID-19 Ends PC Volleyball's Incredible Year
by Joshua Lopes on May 6, 2021
---
Friar Sports
---
Magic Season Comes to an End Too Soon
Luke Sweeney '24
Sports Staff
For the Providence College Women's Volleyball Team, adversity struck when they were sent home for the 2020 spring semester last year. This meant that they would not have the chance to practice together or to engage in any in-person, team-building activities in the lead up to their next season. However, head coach and former player Margot Royer-Johnson was able to adapt to the situation by creating an online fitness and team-building program that allowed her team to remain in contact with each other while improving their skills in preparation for the 2021 season.
When asked about her team and how they responded to the challenges of COVID-19 protocols, coach Royer-Johnson could not say enough about how pleased she was with the way the athletes adapted and committed themselves to being successful: "Every member of our team completely bought into our offseason program and were more than excited to compete once allowed back on campus." 
Their hard work in the offseason clearly paid dividends as the shortened, 2021 spring season came to a close. It was a special season for the Friars, as it was the first time they had been invited to the Big East tournament since 1999. In a dramatic, five-set victory over the Villanova University Wildcats in late March, the Friars punched their ticket to become the No. 2 seed in the tournament.
Unfortunately, due to COVID-19 complications, such as players testing positive and being close contacts of positive cases, Royer-Johnson and her team were forced to pull out of the tournament just a week before they were set to begin. This was a devastating moment for all members of the team, especially the seniors who will not be returning to compete next year.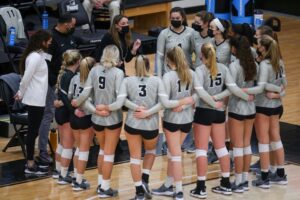 Although the season did not end quite the way they had hoped, two players, as well as the entire coaching staff, were awarded Big East All-Conference Honors to highlight their exceptional performances this season. 
Allison Barber '21 and Emma Nelson '23 were both named to the All-Big East First Team.  
Barber was highlighted as a dominant player in the Big East because of her ability in the backcourt, ranking fourth in assists in the Big East, while also racking up 115 defensive digs. Nelson has proved to be dangerous near the net in her first two seasons with the Friars, tallying a total of 128 kills in her sophomore year as well as carrying a .226 hitting percentage.
Although both players were tremendous this year, coach Royer-Johnson emphasized that their success as a team was not dependent on any individual's performance, rather, their success was the product of a complete team effort. "Every player on this year's team contributed to our success," said Royer-Johnson. "There was very little focus on individual accomplishment."
The coaching staff, headed by Royer-Johnson, was recognized for their 7-3 season by being named the Big East Coaching Staff of the Year. The team, picked to finish fifth in the preseason poll, far exceeded expectations by finishing second in the east division. 
When asked what she thought contributed to this accolade, Royer-Johnson remained humble by insisting it was a full-team effort. She also explained that it was not only the coaching staff that was crucial to the team's accomplishments, but also the Providence College athletic training staff, calling them "one of the best in the entire country." The trainers played a huge role in keeping the members of the team healthy and in peak physical shape throughout a difficult offseason and into the end of the year.
Although their run came to an end in a heartbreaking fashion, PC volleyball produced fantastic results in a trying time, and now look well positioned to build on their success next season.
COVID Campus Updates
by The Cowl Editor on March 18, 2021
---
Campus
---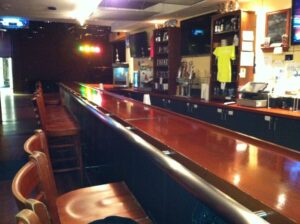 by Kyle Burgess '21
News Co-Editor
With the arrival of spring comes a renewed sense of hope and excitement in the Friar community. On March 6, a school-wide email from Dean and Vice President of Student Affairs Steven Sears announced that a gradual return to normalcy would be coming in the next few weeks. Some of the major changes that the email highlighted were outdoor and in-person meetings for clubs, the re-opening of club offices and McPhail's for seniors who are 21 and older, and even hosting school-wide events like a spring concert and Clam Jam.
Another ground-breaking change that students can expect this semester is the ability to remain on campus during Easter break. Typically, such privileges are allotted to student athletes or students who need to travel great distances to return home, but this option has now been offered to all students who wish to remain on campus. Meals will continue to be provided on campus for such students and facilities such as Concannon Fitness Center will remain open for their use as well. Additionally, Friars who stay on campus are welcome to attend Triduum liturgies and take part in Easter festivities. Regular testing and social-distancing protocols will remain in effect during this time.
For those students who plan on leaving campus, the College has asked that they share their break plans via the Google form linked in the recent Continuity email regarding Easter break. The College has also encouraged students traveling to limit contact with others over break for the safety of their roommates and the larger PC community.
Lastly, the College has shared their intentions of holding an in-person commencement ceremony for the class of 2021. While this ceremony will not take place at the Dunkin' Donuts Center, the traditional ceremony site for graduating Friars, an alternative location is to be revealed at some point. Such developments are in line with previous statements made by commencement ceremony planners on Facebook and elsewhere as the College anticipates celebrating the hard work and achievements of both the classes of 2020 and 2021.
Attempting to Get Vaccines and Stimulus Checks for All: Biden Administration Plans on Rapid COVID Relief
by The Cowl Editor on March 18, 2021
---
National and Global News
---
by Sydney Olinger '23
News Staff
March 11 marks the one-year anniversary of the nationwide shutdown that was enacted due to the rapid spread of COVID-19. A year ago today, no one could have predicted that our country would still have increasing cases and harsh COVID-19 regulations. In his first prime-time address to American citizens, given on this one-year anniversary, President Joseph Biden announced that he will direct states to make all adults vaccine-eligible by May 1. 
This directive will hopefully mark the start of our country's return to normalcy, but Biden noted that not all adults will be vaccinated by May 1. Therefore, some COVID-19 regulations, such as mask-wearing and not gathering in large crowds, need to be maintained. 
The federal government is in control of distributing the vaccine to each state, but states are given discretion in deciding who is eligible. Most states have been consistent in deciding who receives priority for the vaccine, but some have different guidelines for which groups are  eligible first. According to Biden, all adults should be able to get in line for their first dose of the vaccine by May 1, as long as the country has enough doses and rollout goes successfully. 
On the same day as this prime-time address, Biden signed a $1.9 trillion COVID-19 relief package into law. The intent of this bill is ultimately to help Americans who are struggling financially. The bill also aims to stimulate an American economy that has been facing major challenges for the last year, as countless businesses have shut down or reduced capacity in order to limit the spread of the virus. 
Biden's plans for returning the country to some semblance of normalcy offered a sense of hope to many people and businesses in the country. With the increased distribution of vaccines to all adults willing to get the vaccine, Biden hopes that we will be able to have as close to a normal Fourth of July that we possibly can. "By July the Fourth, there's a good chance you, your families and friends, will be able to get together in your backyard or in your neighborhood and have a cookout or a barbecue and celebrate Independence Day," said Biden. 
Despite the fact that Biden hopes we will be able to enjoy a fairly normal holiday, he is still encouraging people to not gather in large crowds. As vaccine rollouts progress in the coming weeks, the CDC will also update guidelines regarding travel, work, and gatherings. Depending on the number of cases as well as deaths, the first holiday we should be able to celebrate fully with people outside of immediate households will be Independence Day. "After this long hard year. . . [we] will make this Independence Day something truly special where we not only mark our independence as a nation but begin to mark our independence from this virus," stated Biden. Though we should remain hopeful that we will return to a sense of normalcy soon, we must also continue to follow the safety guidelines set by the CDC. 
Biden also asked Americans to do their part to help the country make it to the other side of the pandemic. "A lot can happen," Biden said. "Conditions can change. The scientists have made clear that things may get worse again. As new variants of the virus spread, we've got work to do to ensure that everyone has confidence in the safety and effectiveness of all three vaccines." Throughout his speech, Biden expressed empathy and compassion for the lives lost during the pandemic both within our country and across the world, while also offering hope to the nation that we will overcome the virus and all of the pain it has brought. 
COVID Cases Begin to Fall Following Campus Outbreak: Situation Temporarily Looking up for the Ocean State
by The Cowl Editor on March 4, 2021
---
Campus
---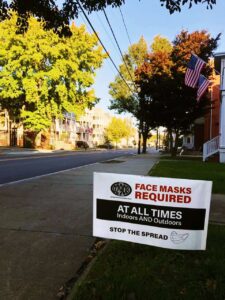 by Hannah Langley '21
News Co-Editor
For almost a year, COVID-19 has affected everyone in a variety of ways. Although the virus is still very much present, cases in Rhode Island have been dropping in recent weeks as more  people are getting vaccinated. Cases at Providence College have also been dropping, which is a good sign moving forward in this semester.
Over the past several months, nearly 300,000 doses of the vaccine have been administered in Rhode Island. The percentage of positive cases in the state has also been steadily declining, dropping from a positivity rate of 7.4 percent to 2.1 percent currently.  
Government officials in Rhode Island are divided on  whether the vaccine rollout is going smoothly or not. Governor Gina Raimondo argues that their strategy has been going well, targeting the state's most vulnerable populations first and now transitioning to broader immunization. "The overall picture, as it relates to us, is that we're in a good and stable place."
Lieutenant Governor Dan McKee disagrees, however, saying, "Like most Rhode Islanders, I am not satisfied with the current administration's progress on vaccine distribution, especially as we see our neighbors in Connecticut ranked among the top in the nation." Vaccine rollout will continue under the direction of McKee following Raimondo's departure to Washington, D.C., where she will be assuming the position of commerce secretary.
The PC community has also seen some success in recent weeks in combating the spread. During the week of Feb. 4, the College experienced a small outbreak with around 130 cases in a matter of five days. This forced the administration to set up temporary measures around campus, such as restricting non-essential travel, closing club offices, and making only to-go dining options available.
This past week, however, cases have been steadily decreasing, with only three positive cases reported on Thursday, Feb. 25 and five positive cases reported last Friday, Feb. 26. 
On Friday, the Continuity Task Force sent an email listing a number of lifted restrictions, including the opening of in-person dining on campus; the ability to begin student teaching, practicums, and other placements again; extension of the Concannon Fitness Center's hours; and 40 percent capacity of St. Dominic Chapel.
"Our sincerest hope is that this is just the beginning of our transition toward more opportunities for our students—and others in our community—to better enjoy more of the wonderful aspects of life on a campus," stated the email. "The College is committed to trying to create more opportunities for socialization and collaboration, but the first responsibility is for health and safety. Our best bet is to redouble our collective commitment to doing all the things that we know are effective—especially avoiding large gatherings—so that our COVID-19 cases continue to decline."
Dean Steven Sears, vice president for student affairs and dean of students, also sent an email that night, reiterating the email sent by the task force earlier. Sears' email included the prospect of many other positive changes that could be occurring on-campus in the coming weeks, including attendance at outdoor sports games, visitation at other residence halls, more intramural opportunities, and the reopening of McPhail's.
While these are just goals for what is to come during the remainder of this semester if case positivity rates remain low, it was a hopeful message to the PC community.
Rhode Island Recovery Effort Experiences Growing Pains: Citizens Become Frustrated With Vaccine Dispersal
by The Cowl Editor on February 25, 2021
---
Campus
---
by Max Waite '21
News Staff
As of Feb. 22, eligibility for the COVID-19 vaccine has expanded in Rhode Island to those who are 65 and older. Though this age group is now eligible, it has already proven to be difficult to book vaccination appointments at various testing centers and pharmacies like CVS and Walgreens. Appointments are quickly being booked extending into the immediate future as more groups are becoming eligible for the vaccine, and citizens have expressed their frustrations with the online format's technical issues. 
Approximately 9,900 citizens were vaccinated across both state-run testing facilities during the first three days of operation. Over the past six weeks, the vaccine administration rate has increased by 89 percent in Rhode Island, with more than 211,000 doses of the COVID-19 vaccine having been administered to date. 
Overall, the state has seen a steady decline in new cases and hospitalizations. Field hospitals in Providence and Cranston will be taken out of service, as Rhode Island has seen a 47 percent decline in hospital admissions since last month. The Rhode Island Convention Center will have its last day of patient care on Friday, Feb. 26, and Cranston's site is scheduled to shut down within the next couple of weeks. On another note, Rhode Island has placed New Hampshire back on the state travel advisory list, along with Louisiana. 
In the past seven days, Rhode Island reported the most COVID-19 deaths as a percentage of its population in the country. For the past year, the state has had the fourth-highest COVID-19 death rate in the country, behind New York, New Jersey, and Massachusetts. Six percent of the population in Rhode Island has been fully vaccinated. 
For Providence College students, the routine of weekly testing remains the same. Over the past week, the number of positive test results at the PC testing center has significantly declined. On Feb. 18, Rhode Island reported a 1.72 percent COVID-19 positivity rate, with an average of 2.2 percent over the course of that week. Though eligibility for vaccinations is expanding across the state, the College continues to urge students to remain conscientious of social distancing guidelines, having students remain in their pods and encouraging them to only leave for essential purposes. There have been concerns regarding the continuation of large gatherings off campus, and if the positive numbers increase significantly again, there may be trouble ahead in Friartown. In the meantime, as vaccination efforts continue to progress, it is best for everyone to continue to do whatever they can to stop the spread of the virus.
Making a Worthwhile Investment: PC Provides Grants for COVID-19 Research
by The Cowl Editor on February 25, 2021
---
Campus
---
by Sydney Olinger '23 and Kyle Burgess '21
News Staff
Nearly a year after the first string of international lockdowns due to the COVID-19 pandemic, the race to find the most effective and obtainable vaccine for the novel coronavirus continues to heat up. Major pharmaceutical giants such as Pfizer, AstraZeneca, and Moderna have each developed their own respective vaccines and have seen their wares distributed across the United States and Europe. Although the finish line for herd immunity appears to be in sight, much work remains in helping to understand the medical, economic, and social consequences of this historic moment.
Here at Providence College, five faculty members have taken it upon themselves to assist in answering these questions with their own research projects. Each of them has received short-term research grants from the College's Office of Sponsored Projects and Research Compliance totaling $10,000 in funding with support from the Rhode Island IDeA Network of Biomedical Research Excellence. 
Dr. Kris Monahan, director of SPaRC, explained how PC wanted to provide an opportunity for both faculty and students to make the most out of the current situation in conducting research.  
"A strategic decision was made in consultation with the SPaRC advisory committee that the best way to support faculty scholarly work this year was to provide direct support to faculty who wanted to work with students to explore, understand, and develop solutions related to the COVID-19 pandemic," said Monahan. "While we don't expect to be positioned to always make direct grants, we are pleased that we were able to fund these pilot projects."
Some of their findings have already begun making headlines in the battle to contain the virus's spread. Father Nicanor Austriaco, O.P., of the biology department, for example, has been spending his sabbatical leave at the University of Santo Tomas in the Philippines developing a yeast-based COVID-19 vaccine. He was inspired by the plight of many Filipinos who were unable to obtain Western vaccines due to their socioeconomic status. Unlike the vaccines produced by many leading pharmaceutical companies, Fr. Austriaco's vaccine would not need to be stored at lower temperatures and could be dispersed at little to no cost for potential recipients. "The poor are [the] beloved of the Lord," he explained. "We should make COVID-19 vaccines available to them at no cost. This is both the ethical thing to do, because we should provide for those in need, and the scientific thing to do, because the poor often live in densely populated areas that tend to harbor the virus."
Meanwhile, Dr. Fang Dong, associate professor of economics, is hoping to comprehend the economic fallout from the pandemic. More specifically, she aims to discover the interrelatedness between unemployment rates, COVID-19 cases, and stringency/movement restrictions indexes. With the College's financial backing, Dong has been able to hire two research assistants from the economics department to collect data across the globe on variables such as gross domestic product and unemployment in 2020. "There are so many colleagues who had already been or are also working either solely or collaboratively on COVID-related research projects and I am just lucky to receive the grant," she explained.
For some communities, the consequences of the COVID-19 pandemic have only compounded previous natural and economic disasters. Dr. Jessica Mulligan of the health policy and management department, along with the help of five student researchers, is looking at the experiences of healthcare workers in Puerto Rico as the island continues to reel from the effects of Hurricane Maria, which hit in 2017. The team aims to identify the ethics of care styles circulating among healthcare workers during COVID-19, develop dialogues with healthcare workers working after what they call "compounding disasters," and establish policy recommendations to improve working conditions within the U.S. territory.
Elementary and special education professors Dr. Marci Zipke and Dr. Lori Dunn are using the College's generous financial grant to investigate how pre-service teachers can best prepare themselves and their students for learning during the pandemic. "We have administered a survey to the undergraduate pre-service teachers who took methods courses last semester in order to explore best practices," said Zipke. "We suspect that a combination of synchronous meetings and asynchronous assignments, with flexibility and judicious use of technological tools is most effective for course work, and that virtual field experiences have clear benefits in terms of the students' perception of their preparedness for teaching, but we are still analyzing the data and holding focus groups." Both Zipke and Dunn believe that their research will help teachers learn which course designs, technological tools, and field component formats will work best in the virtual classroom as social-distancing measures continue to keep schools closed.
 With the help of these grants, the Friar Family is beginning to unravel some of the complex and multifaceted consequences caused by the COVID-19 pandemic.