Why God Is Not Like Santa Claus
by The Cowl Editor on December 7, 2017
---
Campus
---
Dr. Richard Barry Speaks at Christmas Themed Theology on Tap
by Daria Purdy  '19
Asst. News Editor
The last Theology on Tap event of the semester was appropriately focused on Christmas and, in particular, on Santa Claus. Dr. Richard Barry, a member of the theology department at Providence College and an expert in systematic theology, explained how the religious outlook of many teenagers can be equated with Santa Claus. The talk took place on Thursday, November 30, in McPhail's.
Barry discussed sociological studies on teenagers' views on religion. According to these studies, many American teenagers believed that religion was about making people happy, that God keeps a safe distance from their lives, and that it was important to be generally nice to people and not break any major commandments.
The teenagers in the study were also wary of being perceived as too religious. They did not want to seem like they were pushing their beliefs onto anyone else. Barry explained that the teenagers in the study did not want "to make any universal claims that might make someone anxious or uncomfortable." The teenagers were also very conventional and passive about religion, with many just taking on the religion of their parents.
Barry called the God of these teenagers a form of "moralistic therapeutic deism." Many young people believe that religion consists of being generally nice and about making oneself feel good, and that God did not directly intervene in their lives.
Barry equates the God of moralistic therapeutic deism with Santa Claus. Santa Claus demands that people be "nice," and he keeps a safe distance from peoples' lives, until that certain time in December comes around.
Barry explained how the Catholic God was different than Santa Claus, and therefore "not less than the God of moralistic therapeutic deism, but at the same time so much more." The Catholic God demands much of His followers, but accordingly also gives much more. According to Barry, the God of moralistic therapeutic deism does not "challenge our minds and lift our hearts," while the Catholic God offers profound reflection on the human condition, and the greater mysteries that give life meaning.
Barry said that the Catholic God "calls for us to give everything, but in giving everything, allows us to become free." Reflection on the Catholic God allows one to not focus on earthly and petty interests, but rather on higher purposes and mysteries.
Taylor Mulhearn '19 commented,"Dr. Barry's explanation of the difference between Santa Claus and Jesus made total sense, because with Santa it is a one-sided relationship where you only receive a gift at the end of each year. With Jesus, it is a two way relationship where Jesus is here to help you in times of trouble but it is through suffering you learn the love of Jesus, as Jesus died so we can go to heaven." Furthermore, Mulhearn said, "Theology on Tap is a great way to take a break from homework and hear an interesting topic or someone's life story."
Bridgette Clarke '18, a student minister for Campus Ministry, organizes the Theology on Tap events. She said that she invited Dr. Barry to give one of the Theology on Tap talks because he is "a fun and interesting professor," and "when you are talking about God and Santa Claus, I think that you need someone more fun." Clarke said that she felt that the talk was especially relevant, as she had been reflecting on the questions, "Why are we putting so much emphasis on Santa Claus during Christmas? What does this mean for my life?"
Although this was the last Theology on Tap event for the semester, Clarke said that there was a lot to look forward to for next semester. She hopes to be able to organize a talk from Dr. Dana Dillon, and possibly to organize a talk from an outside speaker
PC Celebrates Mental Health Awareness Week
by The Cowl Editor on November 2, 2017
---
Campus
---
By Daria Purdy '19
Assistant News Editor
From Oct. 30 to Nov. 3, the Office of Residence Life is holding the fourth annual Mental Health Awareness Week. Events are held throughout the week to help spark conversation and break down stigmas around mental health on the Providence College campus.
Glovine Beauport, the complex director of McVinney Hall, was instrumental in planning the events of Mental Health Awareness Week. She said, "One of the main themes of the week is the power of your voice. We want to encourage students using their voice to embrace one another and destigmatize mental health."
The week kicked off with Fresh Check Day, held in '64 Hall on Monday, October 30. The premise behind Fresh Check Day comes from the Jordan Porco Foundation, which was founded in 20ll by Ernie and Marisa Porco after they lost their son, Jordan, to suicide when he was a freshman in college. According to the foundation, Fresh Check Day "aims to create an approachable atmosphere where students are encouraged to engage in dialogue about mental health."
The foundation emphasizes the statistic that 1 in 10 college students contemplate suicide, and that on the flip side of this there are 9 out 10 college students that are able to help and reach out to the people who are struggling. Fresh Check Day embodies these ideas of connection, reaching out, and providing resources for people in trouble.
There were 11 different booths set up for Fresh Check Day. These booths included "100 Reasons," which listed 100 reasons to stay and put love letters from students on trees, to eventually be taken and read by others.
Another booth was "Elephant in the Room," where students were able to write down and display a concern or worry that they had. As Beauport describes, "There is always one thing that keeps us down, and this allows us to share it with the world."
The booth "Check In and Chill Out" provided information about suicide and mental health resources on campus. There were also mood assessment tests and substance use tests that students were able to take. Counselors from the Personal Counseling Center were present to talk to students that got an unexpected score, and counselors were ready at the Center to have a full counseling session with any students who felt like they needed it.
The booth also contained pieces of tree, in which students could write within each individual tree ring. Dr. Rosemary Mugan, director of the Personal Counseling Center, was present at the booth and described the tree rings as "an opportunity to write a message to yourself about your own personal growth." Beyond the booths, students were able to eat Insomnia Cookies and enjoy the upbeat music blasting through the speakers.
That night, a vigil was held in St. Dominic Chapel, to pray for those who are struggling and to remember the loved ones who had died from suicide. Every year, 1,100 college students commit suicide. The vigil gave students an opportunity to pray for who have committed suicide and those who are currently struggling, and Fresh Check Day gave students space to talk about mental health and opportunities to recognize the worth of themselves and their community.
On Tuesday, October 31, an event called Mental Health is Never TaBOO! Was held in '64 Hall. As Beauport describes, students were able to participate in a "mindfulness creative arts activity." Students made cubes, on which they wrote different strengths that they believed themselves to have. The event allowed the students to relax by participating in a craft, and served to remind them of their self-worth and self-belief.
On Thursday, November 2, two writing workshops will be held with Evander Wilson of ProvSlam, a poetry slam housed in AS220 and New Urban Arts. The workshops will be based on poetry. Beauport says they are meant to "teach students how to use a creative outlet," which can be very helpful in maintaining good mental health.  The two sessions will be at 2:30 p.m. and 7:30 p.m. in Guzman 250.
The week will cap off on Friday, November 3, with the Coffeehouse event in McPhail's at 6 p.m. The event will feature 20 planned acts, giving messages of hope, love, and support. Along with the acts, the event will have an open mic  session for those that wish to speak.
The Office of Residence Life created a video with the residence life staff, in which each staff member wrote a love letter in  support of people or groups. The staff members expressed support for marginalized groups, those affected by the DACA repeal, their residents, and anyone experiencing loneliness and isolation, among other things. The video can be accessed in the Morning Mail sent out on Monday, October 30. The messages expressed correspond to the purpose of all the events during Mental Health Awareness Week: to remind the PC community members of their self-worth, give them connections and resources, and to open conversation in an effort to destigmatize mental health.
Founding Director of Honors Progam is Memorialized
by The Cowl Editor on October 20, 2017
---
Campus
---
by Daria Purdy '19
Assistant News Editor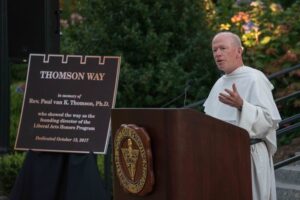 Last Friday, members of the Providence College community gathered in front of the Ruane Center for the Humanities to celebrate the life and work of Reverend Paul van K. Thomson, the first director of the Liberal Arts Honors Program. The walkway between Harkins Hall and Phillips Memorial Library was named Thomson Way in memory of Thomson, at the request of benefactors Dr. Charles Goetz '61 and Judith Goetz.
The dedication ceremony was attended by over 70 alumni, faculty, and students, including many members of Thomson's family. According to Dr. Stephen Lynch, director of the Honors Program, the choice of a walkway as a dedication to Thomson "was meant as a metaphor, to symbolize Thomson showing the way."
During the dedication, Lynch, along with President Father Brian Shanley, O.P. '80,  spoke about the impact that Thomson had on the College. Fr. Shanley also blessed the walkway. Charles and Judith Goetz were unable to attend the ceremony, but remarks from Goetz concerning Thomson were read by his classmate Jack Partridge '61.
Kathleen Baer '79, assistant vice president for engagement, who planned the event, said, "The late Fr. Thomson was considered one of the giant figures in the history of Providence College." Thomson was ordained an Episcopal priest in 1940. After serving in World War II, Thomson moved to Rhode Island, converted to Catholicism, and began to teach English and religious studies at Providence College. Thomson was the first leader of the Liberal Arts Honors Program. As Baer described, "This program has had a tremendous impact on the College and its students, and it continues stronger than ever, thanks to the foundation created by Fr. Thomson and his colleagues."
Fr. Thomson also served as academic vice president of the college from 1965 to 1982. As an administrator, he helped guide the school through many changes, such as the acceptance of women into the College and the implementation of the Development of Western Civilization program.
Goetz '61 earned a degree in economics and was one of the members of the first group of honors students at PC. He went on to earn a doctorate in economics from the University of Virginia, and later taught at the University of Virginia law school.
Goetz described the profound impact that Fr. Thomson had on his life as an undergraduate student. He said, "In freshman Honors English, I was thunderstruck to see the abundance of Thomson's joy and enthusiasm in the exercise of his professorial duties." Goetz says that it was Thomson who inspired him to pursue a profession in the world of academia.
Beyond his personal experience, Goetz described the profound impact Thomson had on the college as a whole. Goetz says, "Thomson had a vision about academics that eventually permeated and transformed Providence College." In both his roles as a founder of the honors program, and as an administrator, Thomson, in the words of Goetz, "revamped and restructured the academic institutions of Providence College."
Lynch also commented on Thomson's impact, saying that in Thomson's time PC  "was a tiny college, but he saw it could compete with the best colleges in the country, and I think that it turns out he was right about that."
Baer summed up the event, saying Goetz's choice to name Thomson Way "is symbolic in its recognition of Rev. Thomson's profound impact as both a treasured faculty member and a visionary academic leader during a transformative period in the College's—and our nation's—history."
Immediately following the ceremony was the annual Liberal Arts Honors Convocation Dinner, attended by around 160 students, 15 faculty members, and 30 alumni. During the dinner, alumna Laurie Malia D.O. '07 talked about how Providence College prepared her for her career in the medical field. The Rodney Delasanta Essay Award, given to the best first-year essay in the Honors Civ program, went to John Murphy '20, while Nick Ogrinc '19 was given the Thomson Award for Excellence in Honors Development of Western Civilization. The Thomson award, like the newly named walkway, honors Father Paul Thomson as a visionary and a transformer of academics at Providence College.
Students Express Concern at Off-Campus Coalition
by The Cowl Editor on October 5, 2017
---
Campus
---
by Daria Purdy '19
Assistant News Editor
A significant part of life at Providence College is the experience of students Many upperclassmen live in the neighborhoods surrounding campus, and they and their guests are brought into contact with other residents of the community and  with Providence Police. An Off-Campus Coalition Meeting, between students, administrators, and members of the police force convened last Wednesday in order to address the issues, conflicts, and shared interests between the three parties and ensure a positive off-campus experience.
The students who attended the meeting were all seniors who lived off-campus, or who observed the meeting for a community organizing class.
The administrators who attended the meeting included Dean of Students Steven Sears, Vice President of Student Affairs Kristine Goodwin, Associate Vice President of Public Affairs Steven Maurano '78, Executive Director of the Department of Public Safety Major Jack Leyden, and David O'Connor, assistant to the director of citizenship and off-Campus life.
Representatives of the Providence Police Department included Lt. John Dunbar, the crime prevention/campus relations officer for Providence College, and Lt. Patrick Reddy. The main concern the students brought to the meeting were the discrepancies between communication and conflict resolution between the students, administration, and police department off-campus. Some of the students at the meeting had received orange stickers on their houses.
The students pointed out how the lack of entertainment options for underclassmen on the weekends have led them to  flood Eaton Street in order to find fun social activities. The amount of students that go to Eaton Street on the weekends have led to over-crowding at parties and more incidents of open-container violations.
The students also wanted more clarity on why they were being given stickers, and how they could possibly appeal against the giving of a sticker.
Additionally, the students wanted to know when and how it was appropriate to get the police involved in a party.
Goodwin stressed that students have to take responsibility for the people that are entering their houses, and that if they do not know a person, they should not let them in.
Reddy emphasized that if a student felt a party was getting out of control, or if a large amount of students were gathering in their yard without their permission, they should call the police and ask for help in clearing the area. If a student calls the police to help control a large gathering, they will not be given a sticker, but they must do this before the police arrive by their own discretion.
Reddy went on to say, that if a student were to call the police to help control a large gathering, "they must be detailed in their call, and say that they feel unsafe." This will ensure that the police will respond to the call in a timely manner and that the student will not be penalized.
The coalition discussed many possible methods to alleviate the huge numbers of students that go off-campus to the community immediately surrounding campus every weekend. The solution included giving more options for socializing to seniors outside their off-campus residences, along with providing more entertainment options to underclassmen.
Dean Sears suggested that PC students should take advantage of the RIPTA more, in order to expand their socializing options. Dean Sears suggested that seniors could take the RIPTA to Thayer Street on the weekends, as there are many fun entertainment options there for students.
Dean Sears went on to say, "Thayer Street should be advertised more to freshmen". Therefore, freshmen and seniors would both be more inclined to spread their socializing beyond the community surrounding campus.
Dean Sears and other administrators also expressed great enthusiasm for McPhail's as a possible hub for socializing. Especially since McPhail's now has food options for students, the administrators and students agreed that it has great potential to be a fun and safe gathering place for students.
Students and administrators also discussed possibly using fences as a method of crowd control on Eaton Street. If fences were put in behind houses, residents would find it much easier to control and take responsibility for who was entering their backyard. On Eaton Street, it is hard for residents to stop people from entering their backyards without their permission.
Reddy said, "I am a firm believer in community solutions, and I hope that we can work together to solve these problems."
Similar feelings of a willingness to communicate and work together were expressed by the administrators and students. All those attending hoped that the coalition would mark the beginning of a period of greater cooperation and communication between the  students, administration, and police.
My Brother's Keeper Expands to New Location
by The Cowl Editor on October 5, 2017
---
News
---
by Daria Purdy '19
Assistant News Editor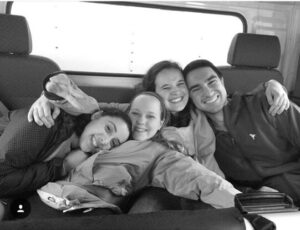 Providence College students who volunteer their time with the Christian charity organization, My Brother's Keeper, are able to live out their religious values of serving the community. The organization, which delivers furniture free of charge to families in need, is opening a brand new facility in Dartmouth, Massachusetts this Sunday, October 8.
My Brother's Keeper was founded in 1988 by a husband and wife who wished to help local families in need. The charity has two bases in Massachusetts, in Dartmouth and Easton, through which 11 staff members and over 3,000 volunteers bring furniture to families in need.
Any family living in the service area of Southeast Massachusetts is eligible to receive help from the non-profit organization.
The organization conducts 8,500 deliveries per year. The volunteers do the physical labor of bringing and installing the furniture to the homes. PC students volunteer their time with the organization Monday through Friday.
Josh Smith, one of the staff of My Brother's Keeper, says, "First and foremost we are a Christian mission. We try to bring the love and hope of Jesus Christ to those we serve." He goes on to say, "The furniture acts as a tool in that, it allows us to enter the hearts and prayers of those in need."
Smith describes how, along with the furniture, the group delivers a crucifix to each family that they serve. In this way, the Christian inspiration and purpose of the organization is emphasized with each act of charity.
Smith describes how he started with My Brother's Keeper as a student volunteer, at Stonehill College 10 years ago. Smith describes the experience of the student volunteers as "one that changes your world-view in a lot of ways," and also "allows you to see service as a privilege."
Meghan O'Connor '18, a student volunteer at the organization, said, "The experience has improved my overall ability to relate to people, and to not judge a book by its cover."
O'Connor has been volunteering with the organization since her sophomore year, and was able to be a summer intern with the non-profit through a PC grant. She said that she relishes the opportunities she gets to leave the PC campus and connect with a wide range of people through her work.
Smith emphasized the central role that PC students have played in the expansion of the organization. Smith says that PC has been My Brother's Keeper best college partner, through student volunteers and donation of dorm furniture to the organization. Smith says, "Our mission, to serve God by serving community, has resonated on campus."
The new facility that is opening Sunday in Dartmouth will be 23,000 square feet, which is two and half times larger than the previous facility in Dartmouth. The larger size is meant to accommodate the growing number of volunteers. The new facility will also have a larger prayer room and kitchen.
The ceremony to open the new facility this Sunday will begin at 2:30 p.m., with a mass beginning at 3:30 p.m. The Bishop of the Diocese will be in attendance. Smith emphasized that all are welcome to attend the ceremony and mass. Students are also welcome to join in the strong PC tradition of volunteering their time to serve the community through My Brother's Keeper.
Mailroom Lines Are Too Long
by The Cowl Editor on September 21, 2017
---
Campus
---
Students Express Frustration On Picking Up Packages at the Mailroom
By Daria Purdy '19
Assistant News Editor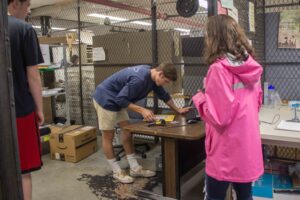 Providence College students have expressed their discontentment with the long lines that have been forming at the package room this semester. Many students said that the delays are unusual and have wondered whether a different, more efficient system in the package room could stop the long lines from forming.
Erica Beatey '19, a package room employee, describes the system that is currently used to process packages. The packages arrive in the morning from the trucks and get placed into bins. From there, the packages are scanned and the box number is matched to the name of the person on the package. Beatey describes that after around 30 packages, emails are sent out to those students who have received packages, and this process is repeated as the packages are processed.
For the last step of the process, Beatey said, "The packages that have been processed are then put on a cart, which is wheeled over to the shelves. We sort the boxes on the shelves according to the last number of the Friar Box. This process repeats throughout the day."
Multiple students have described incidents with the lines at the package room that have lead to inconvenience and frustration. Janelle LaFlamme '19 said, "I have had three packages shipped since the semester started, and each time it has taken me half an hour to get the package." She goes on to say, "I have walked to the package room multiple times and turned around because I did not want to wait in line."
The lines have been deterring some students from making online purchases. Taylor Mulhearn '19 said, "I haven't been buying things online because I don't want to wait in line." Brianna O'Shaughnessy '19 felt a similar reluctance. She said, "I was going to get a textbook, but when I saw the line, I decided to get an e-book instead of waiting in line. I was willing to pay the extra $6."
Students have also expressed discontentment with the hours that the package room is open. Julia Balukonis '20 said, "I have almost no time to go in between classes and by the time I'm out of class for the day, the package room is already closed." Olivia D'Elia '19 said, "The hours are totally inconvenient, so I think there would be less clutter if they extended them or opened earlier."
According to students, the long delays at the package room are something that have not been experienced in years past. Karen Thifault '19 said, "I remember when it used to take me five minutes to get a package freshman year, and now it takes me 30 minutes or more to get a package." D'Elia said, "Seeing the line as long as it is on the third week of school is very rare."
Sarah Jones '18, a member of Student Congress, feels especially frustrated with the issue. She describes how she has found long lines throughout the day, even at times when many students are in class. She said, "I had learned that there was no schedule for who works when and once I got to the front I saw there were only two people working with the long line. I feel there needs to be a better system where more people are working during the busy hours so people aren't spending so much time waiting or being late to class."
As to whether the volume of packages has increased, Beatey claims that they have. She said, "We've never seen this many packages before. Even though we expect a huge number at the beginning of each semester, due to people ordering their books and supplies, this semester is especially busy."
Students will have to wait and see if the issue can be resolved throughout the course of the semester. For now, they should plan for the likely experience of a long wait while picking up their packages.
The director of the mailroom was not available for comment.
Provapalooza Fills PC with Color
by The Cowl Editor on September 14, 2017
---
Campus
---
BOP Puts on Colorful Event to Kick-Off the Fall Semester
By Daria Purdy '19
Assistant News Editor
Last Friday, the annual Provapalooza, an event held by BOP that brings together the Providence College community for an afternoon of fun, was held on Smith Lawn. This year, the event was more colorful than ever—literally. Students ended the event by throwing packets of colored powder at each other, causing the lawn and the students to be lost in a rainbow of color.
In addition to the color packets, Provapalooza was packed with activities, serving as an enticement to students walking by. There were spikeball games available for the students, along with a giant blow-up chair to take pictures on, and free BOP merchandise such as water bottles.
Allie's Donuts as well as pizza were made available for the students, along with jars of candy. Student-favorite Haven Bros., also known as Yuck Truck, also made an appearance. For students 21 and older, there was also a beer garden. Adam Hanna '18 provided music for students to enjoy while eating the food or trying out the activities available.
The event was well attended by members of all classes. BOP member Katie Fair '18 said, "I'm so happy that so many people showed up. I think for BOP events sometimes people think that it is not cool to come but I love when all the grades can come and enjoy each other's company."
While attending the event, Julia Balukonis '20 said, "It's a great social environment with fun activities—overall a great way to spend an afternoon."
BOP member Brittney High '18 was the brains behind this years' Provapalooza, and came up with the idea of the color packets that made this year's event distinct. High said the idea to use color came to her originally in a dream, and that she was inspired by the TV show, "Life in Living Color." The rainbow color was also meant to evoke ties to SHEPARD, according to High.
High said, "I wanted to do something new and not typical with this year's event. My goal was to bring Providence College from black and white into technicolor, which is the whole essence of community."
High's dream made this year's Provapalooza into an event which brought together the community both literally and symbolically, and allowed students of all ages to unwind and have fun for an afternoon.
Stopping Student Suicide
by The Cowl Editor on September 14, 2017
---
Campus
---
Providence College Receives a $300,000 Suicide Prevention Grant
By Daria Purdy '19
Assistant News Editor
September is nationally recognized as Suicide Prevention Awareness Month, and this year Providence College is doing more than ever to prevent suicide on campus. PC is one of 17 schools in the nation, and the only school in Rhode Island, to receive a Garrett Lee Smith Campus Suicide Prevention Grant through the Substance Abuse and Mental Health Services Administration (SAMHSA).
Dr. James Campbell, assistant vice president for student development and compliance, spearheaded the efforts to secure the federal grant. The grant was written last fall, and that following spring it was awarded to PC.
The grant, which amounts to $306,000 over three years, will focus on raising prevention awareness, building infrastructure for suicide prevention, and promoting collaboration on and off campus on the issue of prevention. The grant will not be used to fund direct counseling or therapy services at the College.
A key part of the infrastructure that the grant seeks to build is gatekeeper training. A gatekeeper is an individual that can help direct someone in crisis or contemplating suicide to resources that they need.
One part of the gatekeeper training that has already been given to Resident Assitants and Orientation Leaders is an online course developed by Kognito. Campbell said the online course is meant to be "more live than listing some text about things to say, and is meant to be more interactive." The training is a simulation in which the participants learned how to act when confronted by an individual who is contemplating suicide.
The second phase of the gatekeeper training is called PC-Lifelines. This training will help teach gatekeepers how to make an authentic connection with those deemed at risk for suicide, and will emphasize the concept of circling back, or checking on the individual to make sure that they are cultivating a sense of social connectedness.
The grant will also allow for the appointment of an outreach coordinator who will orchestrate efforts in education and awareness raising. These efforts will include building network infrastructure, developing and expanding a crisis response plan, mitigating access to lethal means, providing educational seminars for students and families, and promoting  prevention hotlines and textlines.
The outreach coordinator, and other staff affiliated with the grant's purpose, will specifically try to reach out to students deemed at greater risk for suicide. Campbell said the goal of this effort is to make sure students at greater risk "stay connected to the college and its resources."
The students who could potentially be at greater risk for suicide include those who are on or returning from medical leave, LGBTQ students, students of color, survivors of sexual assault, student athletes, and first generation students. The grant is meant for all students, but its efforts will place an emphasis on these groups. As Campbell said, if any student "feels rejected, marginalized, or oppressed in any way, it stands to reason that they are more at risk."
Throughout the proposal and implementation of the grant, student groups such as Student Congress, Board of Multicultural Student Association, and SHEPARD have been consulted and included. Active Minds, which works to raise awareness of mental health issues, has specifically been involved with the grant. Cassandra Caggiano '18, co-president of Active Minds, said, "The grant directly supports many of the efforts Active Minds works towards. It will fund many lectures, events, and discussions on campus to get people talking more about the stigma around mental illness."
Dr. Rosemary Mugan, director of staff psychologists at PC, sees the grant as an opportunity to promote more inter-departmental coordination on the issue of prevention. She said, "I would like to see more of an integration of our programming related to mental health and resilience go across divisions. We have been collaborating more and more with Athletics and I see this as another opportunity to cross over with the entire community."
Furthermore, Mugan commented, "The fact that the SAMHSA grant specifically prohibits funding to go to clinical services speaks to how the topic of mental health is a campus-wide conversation that needs to continue."
The stigma surrounding mental illness is a possible hindrance in the effort of suicide prevention. Students might be reluctant to seek counseling if they perceive that they will be judged negatively for it. In response to this possible stigma, Caggiano said, "I really believe that because of the efforts of Active Minds and administration, we have allowed for our campus to become an inclusive environment that promotes discussing difficult topics—such as mental health." Caggiano goes on to say that she feels much more comfortable saying she is going to the counseling center now, as a senior, than she did when she was a freshman.
Concurring with Caggiano's opinion, Mugan said, "The campus, including Active Minds, Student Affairs, and all the offices in it, has done quite a bit of work to reduce the stigma of mental illness. As someone who has been a staff member in the personal counseling center for over eleven years now in addition to being an alumnus, the number of students who have sought out services at the personal counseling center have grown tremendously over the years."
However, Mugan warns against falling into complacency. She said stigma can still be present, just in a different form, and observed that some students feel their reason for going to the counseling center are not as important or difficult as some of their peers' reasons for seeking counseling. Mugan said, "It is important to get the message out that it is okay to access our services when you are in distress, even if it is only for one session, before a crisis ensues."
Despite the apparent reduction of stigma at PC, the usefulness of suicide prevention cannot be denied. Of the 582 students seen in the center in the 2015-16 school year, 17 percent reported that they had thought about suicide during the previous month.  Forty-seven percent of students reported that had thoughts about death and 58 percent reported that they had felt hopeless. The grant will help bring services to the members of the community who are most vulnerable, potentially saving lives at Providence College.
Development of Eastern Civilization
by The Cowl Editor on August 31, 2017
---
News
---
by Daria Purdy '19
Assistant News Editor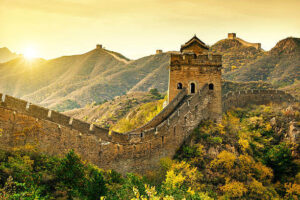 Two groups of Providence College students got the opportunity this summer to expand their horizons beyond the borders of Western civilization. The Development of Western Civilization program is an integral part of the PC experience, yet the study of Eastern civilization is not as integrated into the curriculum. Maymester trips to China and Japan allowed two groups of students to experience Eastern culture firsthand, in two countries with very sophisticated, ancient cultures.
The students who attended the China trip had the opportunity to build invaluable skills. Management professor John Schibler, who helped teach the course, said, "The course challenges students to use opportunities while at PC to further develop their sensitivity to other cultures, such as interacting with international students, volunteering in different culturally-based communities, or furthering their experience through studying abroad."
The course engineered a unique experience for students. The class was based on the study of organizational behavior, so while in China students were brought onsite to visit several different companies, including Coca-Cola Shanghai, BAOSTEEL, and Digital China. Dr. Jacqueline Elcik, assistant dean of the Providence College School of Business, described the visit to BAOSTEEL as being particularly interesting to the students, as "it was similar to driving through a small city, since the company offers housing, a primary school, and multiple buildings that gave it a campus feel."
Catherine Capolongo '19 expressed  her surprise about the character of the Chinese workers. "I believe Americans have a different definition of communism," she commented. "And the workers in China were not as rigid as I expected."
Beyond the company visits, the students also got to explore other aspects of Chinese society and hallmarks of Chinese culture. For example, the students visited the Great Wall of China and spent time at Shanghai Disney Resort.
Elcik emphasizes the transformative nature of the trip, saying, "Overall, I think that the students gained greater global acumen from the China experience, both in understanding the inherent differences between cultures globally, and also the variance of business studies and practices throughout the world."
The trip to Japan gave students a similar opportunity to immerse themselves in an Eastern culture with thousands of years of history. The group visited the cities of Tokyo, Kyoto, Atami, Hiroshima, Uji, and Nara. The course was photography-based, and as Professor Eric Sung, who taught the course, said, "Students were engaged in developing their own perspective of foreign culture by documenting and sharing what they discovered as they traveled."
Prior to traveling to Japan, the coursework involved a comprehensive look at the history of Japanese and U.S. relations, Japanese culture, and the basics of visual vocabulary. Josef Riccio '18 elaborated how history came to life for him Japan. He commented, "Hiroshima was hard, being there as an American. But it was important to go, especially to the Peace Park and Museum. That changed the way I look at history."
The students also got to enjoy the unique experience of attending a Japanese baseball game and interacting with locals there. On interacting with locals, Sung said, "The most challenging and overwhelming experience for the students might have been being a complete minority in such a remote culture." Sung elaborated, "I am sure that healthy but possibly uncomfortable experience helped students to think more about themselves and their place."
Both China and Japan are countries that forced the students to go outside their comfort zones and to discover a world beyond that of Western civilization. Elcik said, "From the minute you step off the plane in China, the country looks and feels different from the United States—everything from the cuisine, to the language, to the style of dress." This knowledge and experience of a non-Western world will give students many benefits. Elcik stresses, "Companies are looking for young talent with global mindsets who are adaptable and open-minded, and this type of experience will be what differentiates students from their peers." The Maymester trips to Eastern countries gave the PC students a more complete education and worldview, and helped to prepare them for life after college.
Students Granted Clare Boothe Luce Scholarship
by thecowl.news on May 4, 2017
---
Features
---
by Daria Purdy '19
News Staff
Three Providence College students have been chosen as recipients of scholarships that let them further their interests and passions above and beyond the classroom. Bianca Saliba '18 and Emma Burgess '18 are recipients of the Clare Boothe Luce scholarship, and Phoebee Jean '19 has been chosen as a Newman Civic Fellow.
The Clare Boothe Luce scholarship has been giving grants to college students since 1989. The program exclusively gives grants to female students with a declared major in science, mathematics, or engineering. Clare Boothe Luce, the woman that the scholarship program is named after, was a playwright, journalist, U.S. ambassador to Italy, and the first woman from Connecticut to be elected to Congress. Boothe founded the scholarship program in order to "encourage women to enter, study, graduate, and teach" in the fields of science, mathematics, and engineering. Since its inauguration in 1989, the program has supported more than 1900 women.
Providence College has received a grant from the Clare Boothe Luce program that will allow it to give eight scholarships to female students in the fields of chemistry, applied physics, mathematics, or computer science. Two scholarships will be given each year, beginning in the 2017-2018 academic year and concluding in the 2020-2021 academic year. Each student chosen will receive a full tuition and fees scholarship, a paid summer research experience, and an academic year research for credit.
Each Clare Boothe Luce scholar will be responsible for being active in their department and connecting with other STEM students, presenting their academic research, and attending recruitment events for prospective students. Each recipient will be required to complete a service project through their own initiative or through the Providence After School Alliance.
Saliba, a chemistry major, says, "I applied for the scholarship because, besides for the obvious perks of free tuition and a summer job, I also loved the idea of getting more involved with women in STEM. Being both a feminist and a scientist, it is important to me to empower women in this field that has been heavily male-dominated since the beginning." Saliba plans to conduct research in organic chemistry with Dr. Seann Mulcahy and his research team throughout her senior year and the summer. Looking towards the future, Saliba says, "receiving this scholarship has boosted my confidence in myself and my abilities tremendously, which I think will benefit me in my future endeavors by allowing me to believe in myself and have no fear of rejection or new experiences."
Burgess is an applied physics major, and says that her advisor introduced her to the scholarship and encouraged her to apply. "I'm going to continue the computational project I've been working on with Dr. Ashman this summer and the following year," Burgess says. "We've been working on calculating the lifetimes for individual ro-vibrational levels for an Na2 dimer." Burgess believes that the scholarship will bring her great experience in the lab, that she can incorporate into her future research and endeavors.
In addition to the Clare Boothe Luce scholarship, the Newman Civic Fellowship is also a gateway for PC students to get involved with their community. Newman Civic Fellows are nominated by the college, and the students nominated are those that have demonstrated commitment to finding solutions to challenges their community faces. The students who are nominated are expected to become public problem solvers and civic leaders. Jean, a health policy and management major, was nominated for the fellowship through the Feinstein Institute and Fr. Shanley.
The Fellowship program lasts for one year and gives students training and resources for community involvement through mentorship, working with peers, and critical self-reflection. Jean says throughout the year "I will attend conferences and seminars with other fellows where we will learn about how to work for social change in the communities we serve. We will learn how to solve systematic injustices at the root and empower community members to help themselves."
Both the Clare Boothe Luce program and the Newman Civic Fellowship support PC students who desire to share their passions with others. Through the two programs, the academic experience of students at PC is enhanced and expanded to the surrounding community.