Beckham to Create New MLS Team
by The Cowl Editor on February 8, 2018
---
Professional Sports
---
by Joe Myko '19
Sports Staff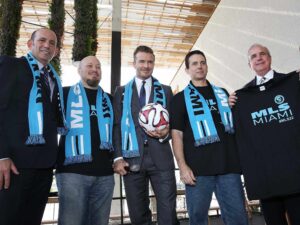 Former England national team soccer captain David Beckham announced on Monday Jan. 29 that his long-awaited Miami-based Major League Soccer team will be launched, becoming the 25th team included within the franchise.
Beckham and Miami were formally granted an expansion side by Don Garber, an MLS commissioner, at a ceremony at the Adrienne Arsht Center on Monday. Beckham himself promised, "The team we will bring into the league will be the best team."
The club is still unnamed, with no official badge, known team colors, or officially signed players; however, it has been confirmed that the Miami-based side will play at a 25,000 capacity stadium in the Overtown neighborhood of the city.
Having played for Manchester United, Real Madrid, Milan, Paris Saint-Germain and LA Galaxy, Beckham was well-travelled in his sporting career, something that will no doubt prove useful for developing and building this club from scratch. He said "I've had a long career in the game. I've had a wealth of experience from playing with different clubs in different cities around the world, so I've been able to experience different leagues and different cultures, so that's where I can add my expertise into this ownership group. That will be my role to bring great, talented players, but also to build this academy."
Beckham announced his intentions to establish the club in 2014, after having exercised a clause in his contract with LA Galaxy which allowed him to buy an expansion franchise. It has been a rather frustrating four years for those involved with the project, as there have been various disputes which have halted progress, mainly in relation to Miami residents disapproving of the placement of potential stadium builds.
Since joining LA Galaxy back in 2007, a team he went on to make 98 appearances for, the former-midfielder has been vocal about his appreciation and support for the growing enthusiasm for soccer within the United States. Beckham, speaking at the announcement ceremony on Monday, told the BBC that "I joined the Galaxy because I realised the long-term potential in this league." He went on to say, "Commissioner Garber came to me and sat down and explained the plan of this league and where he wanted to take it. I was in from day one."
Though many of the specifics surrounding this Miami-based MLS team are unconfirmed, Beckham has in fact ruled out any role as a coach or manager. The 42-year-old confirmed that "Management has never been something that I've felt passionate about doing." However, this does not mean Beckham will not still have a very hands-on approach to the development of his club he went on to say that his major role will be to help develop the academy and its players.
Ultimately, this announcement is great news for not only Miami-based soccer fans, but all United States soccer fans. Beckham, as one of the sport's most famous and recognizable names, should have no problem marketing and bringing more interest to the league.
The MLS, and the United States in general, has long been considered a sleeping giant within the soccer sphere, so Beckham's promises to bring in top players and coaches could prove pivotal in helping to unlock the league's potential. It is also good news for the nation's young talent, as the former Ballon d'Or nominee was quoted on Monday as enthusiastically saying, "We keep talking about building this state-of-the-art academy in Miami, because we have a hotbed of talent in young kids here and I believe if we build the right facilities, if we bring the right coaches, then we have a chance of bringing home-grown talent into this team."