Election of 2020: Bloomberg Faces Major Opposition From Fellow Candidates
by The Cowl Editor on February 27, 2020
---
National and Global News
---
by Addison Wakelin '22
News Staff
On Wednesday, February 19, at the Paris Theater in Las Vegas, NV, six Democratic candidates lined up to debate in the ninth installment of the 2020 Democratic Party presidential debates.
This debate has been the most-watched Democratic presidential primary debate in its history, with a record 19.7 million viewers tuning in, as the 2020 presidential election draws closer.
With future state primaries and caucuses coming up, each debate has been significantly more confrontational as each of the Democratic candidates hopes to receive the party nomination. Sanders has already proved a promising early lead as the potential presidential nominee for the Democratic Party. He has shown a strong polling performance in the Iowa caucus, won the New Hampshire primary, and is projected to win the Nevada caucuses. 
As Super Tuesday is less than two weeks away, the next few debate cycles are even more important as candidates try to make last-minute impressions to appeal to voters.
The qualified candidates, who had to meet the polling thresholds at both state and national levels to be eligible for this debate, included: U.S. Senator Bernie Sanders, former Mayor of South Bend Pete Buttigieg, U.S. Senator Amy Klobuchar, former Vice President Joseph Biden, U.S. Senator Elizabeth Warren, and former Mayor of New York City and billionaire Michael Bloomberg.
All took to the stage to debate the usual highly contested, yet important, topics pertaining to the Democratic Party. Such topics included health care, general individual electability, economic inequality, and climate change.
However, most of the candidates' focus was on the presence of Michael Bloomberg, who made his first major debate appearance that night. The former New York City mayor has had a somewhat contentious political legacy, particularly in the controversial policies he had passed during his mayoralty. Several of the other candidates extensively criticized his policy history; one of Bloomberg's most notorious actions was his support for and implementation of Stop, Question, and Frisk (SQF) that many of his critics have condemned as racist and shameful, as it purportedly targeted specific minorities in high-crime areas in New York City.
The debate opened up with NBC News anchor and moderator of that evening's debate, Lester Holt, immediately posing a question to Sanders about Bloomberg's hopes to beat Trump in November. Sanders stated, "Mr. Bloomberg had policies in New York City of stop and frisk which went after African-American and Latino people in an outrageous way." Sanders has long criticized the conglomeration of wealth that much of the one percent, including Bloomberg himself, hold in the United States.
The most noteworthy critic of Bloomberg on Wednesday, however, was Warren. Shortly after Sanders criticized Bloomberg's past, Warren, a former bankruptcy lawyer with a history of criticizing billionaires and their oppositions to a wealth tax, condemned Bloomberg's past. Particularly she criticized his own wealth and how he has been able to avoid contentions for so long because of it.
In response to Bloomberg's comments on his hopes to defeat President Trump in November, Warren went in for a direct attack on Bloomberg's refusal to release NDAs along with his inability to release his tax returns, a major blow to Bloomberg's opening night to impress the U.S. as a hopeful presidential nominee.
Warren stated, "So I'd like to talk about who we're running against, a billionaire who calls women 'fat broads' and 'horse-faced lesbians.' And, no, I'm not talking about Donald Trump. I'm talking about Mayor Bloomberg. Democrats are not going to win if we have a nominee who has a history of hiding his tax returns, of harassing women, and of supporting racist policies like redlining and stop and frisk."
The ninth installment of the Democratic debates did much more than simply reflect the current political state of the Democratic Party. The debates also represent the importance of what separates the Democratic Party from its opposition, and the partisan views represented by the two. 
As the 2020 presidential election draws closer, the candidates continue competing to win Democratic primaries and caucuses in the hopes of obtaining a spot as the party nominee in order to try and defeat Trump in November.
Bursting the PC Bubble: Democratic National Debates for Presidential Candidacy Begin
by The Cowl Editor on September 19, 2019
---
National and Global News
---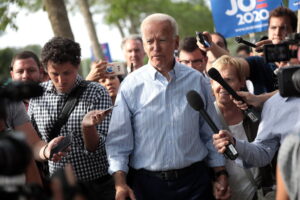 by Eileen Cooney '23
News Staff
On Sept. 12, the third round of the Democratic National Debates kicked off. It has been over a month since the candidates faced each other on stage in the last Democratic National Debate, and since then the number of candidates running has shrunk considerably. In the July debates, which spanned over two nights, there were twenty candidates, and in the September debates that number was down to ten candidates. 
Going into the night, all eyes were on former Vice President Joe Biden, Vermont Senator Bernie Sanders, and Massachusetts Senator Elizabeth Warren, as many believe they are the frontrunners in the race for the presidency. 
Many believe that Biden was the clear winner over Sanders and Warren, having a solid performance for the first thirty minutes, which is significant because this time block typically has the highest viewership. 
Although he stumbled a bit later into the night, particularly when faced with questions about race and historically black colleges, and weathered attacks from other candidates including those from former San Antonio mayor Julian Castro about his age and memory, Biden appeared to be a strong and able candidate overall. 
High expectations surrounded Elizabeth Warren and her face-off with Biden, but many were disappointed in her performance, particularly within the first hour of the debate where she did not participate as much as hoped. 
Warren provided solid answers when questioned about education policy and public school funding, and she also championed her "Medicare For All" healthcare plan, but some of her policies remain unpopular, as she has not indicated how she is going to directly implement or fund them. 
Both Warren and Sanders faced attacks on the "Medicare for All" plans by Senator Amy Klobuchar, who, when asked to speak on the topic, claimed, "I don't think that's a bold idea. It's a bad idea." This was not the only hit that Senator Sanders took. He faced criticisms from candidates who compared his idea of socialism to Venezuelan socialism, which is not a favorable comparison as political unrest plagues Venezuela.
Former congressman Beto O'Rourke shined when asked about his stance on gun-control. The crowd erupted in applause when he said, "Hell yes we are going to take your AR-15." 
O'Rourke has continued to call for stricter gun control and for a ban on AR-15 assault-style weapons, especially following the mass shooting at a Walmart in his hometown of El Paso, Texas. 
Cory Booker also had repeatedly called for plans to end systematic racism and for criminal justice reform, allowing him to remain popular among voters. 
Andrew Yang, who has surprised many by staying relevant in this race, stuck to his promises of giving every American adult over the age of 18 "Freedom Dividends," or $1000 a month. Yang's statements elicited chuckles from Senator Kamala Harris and Mayor Peter Buttigieg of South Bend, Indiana. 
Senator Harris stuck to her strategy of attacking President Donald Trump, mentioning him directly by name numerous times. The publicity she gained from her attacks on Biden for working with segregationist senators in the 1970s back in July seems to have worn off, and her complicated, ambiguous health care plan remains unpopular among some voters. 
Castro also faced backlash for his attacks on Biden's age and memory, repeatedly asking Biden, "Are you forgetting what you said two minutes ago?" 
Castro claimed that his remarks were not an attack on the former Vice President's age or memory, but an attack on their disagreement over healthcare policy. 
Mayor Buttigieg made political history by being the first person from the LGTBQ community to talk about coming out as a presidential candidate. 
He did so in his powerful closing statements where he talked about being a gay man serving in the military under the "Don't Ask, Don't Tell Policy" and being a gay man running for president. These powerful statements evoked enormous applause from the audience.
After the debates, Biden still lead the polls, followed by Sanders, Warren, and Harris.