Softball Heads Toward End of Season
by npatano on May 5, 2022
---
Friar Sports
---
Big East Tournament Set for Next Week
Stephen Foster '22
Sports Staff
The Providence College Softball Team is approaching the end of their 2022 season. They have an overall record of 24 wins and 19 losses and a conference record of 10 wins and 11 losses. Coach Jill Karwoski mentioned that one highlight from the season so far was winning in extra innings over the University of Connecticut, who is in first place in the Big East Conference, to snap their nine-game win streak.
Karwoski had many great things to say about the graduating seniors, especially their resilience and the impact that they have had on the PC softball program. This group of seniors had to go through a lot to get where they are today, including much of their college career being interrupted by the COVID-19 pandemic. She explained, "Every year we get to this point in the season and look at our soon to be graduating seniors and say, 'I can't believe it's been four years.' This year is no different, however, I would be remiss to not acknowledge that this year's seniors' careers were filled with unique ups and downs, Covid pauses and cancellations and nontraditional seasons. These past few years have been everything but 'normal' and I am extremely proud of their ability to overcome, persevere, and prevail. Each senior, whether they had been with our program for one year or four, will have left with us a foundation of resiliency and a path to success for years to come."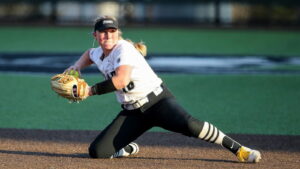 The Friars' softball coach also highlighted the significance of the freshmen on the team this year, explaining, "So many first-year players have been making an immediate impact on the field. And those not on the field have been equally committed to our culture and continue to improve weekly as well as positively influencing our program every day. This is both rewarding this season as well as for the future of our program." With seven freshmen on the team this season, it is important that they commit to the team culture and continue to improve as they grow to play greater on-field roles over the next three years.
The team has a three-game home series against DePaul University before the regular season comes to a close. They play Friday, May 6 at 5:00 p.m. and Saturday, May 7 at 1:00 p.m., and finish the series off with Senior Day on Sunday, May 8 at 12:00 p.m. Following this series, the Big East Tournament begins on Thursday, May 12 and goes until Saturday, May 14. Regarding the Friars' potential in making the tournament, Coach Karwoski explained, "We are still looking to qualify for a tournament berth. The Big East Tournament takes the top four teams and it's a dogfight for the last three spots. UConn has clinched but Villanova, Butler, DePaul, and us are still in the race. It may come down to our last home series next week vs. DePaul, but we have to take care of business today vs. Butler."
The Providence College Softball Team managed to pick up one win out of three games against Butler this past weekend, bringing them in need of some wins down the final stretch against DePaul University. Karwoski highlighted, "This upcoming last home series vs. DePaul will be the biggest weekend for us yet with likely playoff implications. I encourage all Friar fans to come out in full force Friday night. Saturday we will welcome back our Alumni, and Sunday we will celebrate our Seniors. We know there is both power and magic to competing in Friartown, so I thank everyone who has come out thus far to cheer us on and hope to see everyone this weekend. Go Friars!" Make sure you find your way to Glay Field this upcoming weekend to cheer on the Providence College Softball Team as they take on DePaul with hopes of securing a spot in the Big East Tournament.