Ray Composting: How Much Waste Have We Diverted from Landfills?
by Kaelin Ferland '23
Opinion Staff
---
Campus
---
After many years of trying to implement composting on campus, ECOPC was finally able to bring composting to Raymond Dining Hall last spring, and the program has since extended to Alumni over summer. This has had a substantial impact on decreasing our on-campus environmental impact, specifically in the area of food waste. From April 2022 through September 2022, we had already composted about 68.2 tons of food waste in Raymond Dining Hall alone. Since extending the program to Alumni over the summer, 3.3 tons of food in Alumni have been composted instead of being brought to  landfills. This number accounts for just the months of August and September, bringing the total to 71.5 tons of food waste that we have diverted from landfills.
This is not a small number. Composting will have a significant positive effect on our planet. This is a huge step in starting to take environmental issues seriously at PC. There is still a lot to be done in terms of sustainability on campus, but we are definitely moving in the right direction. Hopefully this will open the door for even greater and more impactful sustainability projects at PC.
Over one third of food is wasted around the world, and it's estimated that people waste one billion tons of food annually. This is a huge waste of the water and resources that go into producing this food. Also, with food decomposition in landfills being responsible for up to 10 percent of our greenhouse gas emissions, food waste has devastating consequences in terms of climate change.
With Thanksgiving approaching, it's important to keep this in mind. However, reducing our food waste is something that we should focus on year-round given its environmental impact.
Embracing the Entrepreneurial Spirit: PC Students Win Big East Startup Challenge
by The Cowl Editor
---
Campus
---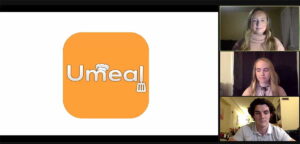 by Hannah Langley '21
News Co-Editor
Each year, students from Providence College and other schools within the Big East Conference are invited to participate in the Big East Startup Challenge, in which students can create teams to propose product ideas to an experienced panel of entrepreneurs, venture capitalists, and Big East alumni. 
 After competing against 10 other teams, PC students Jacqueline Ryan '21, Owen Delaney '22, and Faith Linscott '21 took home the first-place prize for "UMeal," an app that allows college students to create their own meal kits at their dining halls based on their preferences. Students can then pick up these kits to make their own meals back in their dorms, suites, apartments, or homes. 
Delaney, a finance major and co-president of the entrepreneurship society, began developing UMeal with three other students during last year's Big East Startup Challenge, but he and his teammates were never able to complete their idea. As Delaney explained, last year's competition was cut short because of COVID-19, but he partnered with Linscott and Ryan this year to complete the work he and his previous teammates started. "Although my teammates from last year were unable to return," Delaney explained, "I was lucky enough to be paired with Faith Linscott and Jackie Ryan and we worked great together."
Linscott, a psychology major, and Ryan, a history major, both have business and innovation minors, which is how they got involved with the challenge. Students with the business and innovation minor at PC are required to take a capstone their senior year in which they use their skill sets to make a mock entrepreneurial business, making this challenge a great fit for Linscott and Ryan. "I loved working on UMeal because I felt like a real entrepreneur," said Ryan. 
Their capstone professor, Dr. Eric Sung, associate professor of photography and director of the minor, recommended the two take on this project with Delaney. Megan A. Chang, assistant professor of voice and diction in the department of theatre, dance, and film; Rebeka Mazzone, a member of the adjunct faculty in finance; Dr. Kathleen A. Cornely, professor of chemistry and biochemistry; and alumni Paul Bachman '90, Mark Ruggeri '93, and Christopher Walker '86 were also involved with the group in various ways. 
For the competition, the students developed a prototype for the UMeal app and created a five-minute video about the product, which was then judged by a panel of professionals. With the help of Providence College Television, the group was able to create what they considered to be a fantastic video. "We were extremely lucky to have PCTV join us and help us create an incredible video," said Delaney. "They took our ideas and script and turned it into a piece of art."
The team had a great time working on this project together, saying that they learned a lot through the process. "Participating in the competition was fun and educational," said Linscott. "A key takeaway from the competition is that it takes a cohesive team effort to create a presentation to be proud of; I am happy about all the hard work everybody put in and proud of the result.
Delaney also commented that despite many obstacles along the way, the team was able to persevere. "During the crucial weeks leading up to the competition, me and Jackie both got COVID-19," he said. "However, we persevered and were able to get a lot done over our Zoom meetings and do some filming on our own in quarantine."
Delaney also hopes that this competition will inspire others, like himself, who have an interest in entrepreneurship. "I hope that winning this competition inspired other people just like me to continue your passion of entrepreneurship even if it is not what you officially study in school," he said. 
The teammates thanked one another, their faculty advisors, PCTV, alumni mentors, and all others who helped them in the process. "I believe that we were so successful because of the support we received from such passionate people," said Ryan. 
The team hopes that this is not the end for UMeal, and they are excited to see what the future holds for their startup.