Writer vs. Writer: Is the required reading for DWC in need of a refresh?
by The Cowl Editor on April 20, 2023
---
Featured Slider
---
NO
Anna Fakhri '24
The Development of Western Civilization class does not need to update the books required for the course. There is something inherently special about reading ancient literature, whether that be Greek mythology in works like Homer's Odyssey or theological texts like the Bible. It forces us to consider elements of past histories and cultures. If we refrain from engaging in ancient texts, how will we ever maintain a basic knowledge of the past?
Understanding our world's past histories and cultures is crucial in the development of our current world. Ensuring we recognize the mistakes of the past in order to provide a more successful future requires us to acknowledge old literature. Reading ancient literature provides us with this knowledge and also helps us to analyze diverse writing styles. After all, ancient literature serves as the primary source of inspiration for all future works and styles of writing.
The modern literature assigned in the course is of equal importance, however. My colloquium course specifically focused on comparing modern retellings of ancient stories to their originals. This worked effectively to demonstrate the similarities and differences between the two and how literature has developed over centuries. Ultimately, both the modern and ancient texts in the Development of Western Civilization courses can provide crucial cultural and historical information. Thus, the works of literature assigned to students in the course should not be refreshed.
YES
Abby Brockway '24
Historians, professors of the classics, and college students can agree that higher education relies on sources that derive from or highlight the victor's experience. Narratives of and from the opposite side have vanished from the agenda—socially eclipsed and even physically destroyed by the victor. We live in far more modern times than the days of imperialism and empires. It is our duty as inclusive and globally aware humans to discover the "other sides" in history, philosophy, and religion, and to fight to have those stories told.
One topic that already experienced a source-material refresh was America's past with slavery. Two decades ago, students were reading from matter-of-fact textbooks and classical works like The Adventures of Tom Sawyer and Huckleberry Finn by Mark Twain. Classical texts are successful in showcasing a point of view from a particular time, but in this case, students were not reading the most important point of view when it came to slavery; the slave's perspective is ignored if students only read these novels. Within the past decade, curriculum developers have instead taken the inclusive route and highlighted narratives written by former slaves that showcase exactly what was suppressed for centuries. Works like Uncle Tom's Cabin, Narrative of the Life of Frederick Douglass, and Born in Slavery: Slave Narratives from the Federal Writers Project replaced the classical texts written by well-off white men.
In terms of editing the reading content within the Development of Western Civilization program at Providence College, I encourage DWC professors to reevaluate their syllabi and ask: how will my students benefit in the grand scheme of things after reading these works? Professors need to include perspectives from both sides of global contentions like wars, all perspectives from landmark socio-political events like presidential elections, and question if the material is truly beneficial to the student in the long run. Yes, reading classical texts is important because they give readers a glance at what a time period was like, but really, how much is there to learn from the entirety of Beowulf? DWC is a core part of the Providence College experience. Instead of requiring students to read entire classical texts that are complicated, lengthy, and traditional, professors can consider shortening some requirements so more time is available to feature the "other sides" of history.
Tiff and Earl
by The Cowl Editor on September 26, 2022
---
Features
---
Dear Tiff and Earl,
I just got my first Civ paper prompt, and to say I'm freaking out is an understatement. I haven't done any of the readings for this class yet and I only have a couple of days until the paper is due. Any advice?
Sincerely,
Major Procrastinator
---
Hey Major Procrastinator,
Like you, I myself have procrastinated writing this response until the very last minute with some help from my friends in the writing center! They are great at helping people come up with ideas for Civ papers! Just go into your appointment with some knowledge about the readings for your paper and you should be all set!
From a former writing center tutor,
Earl
---
Dear Major Procrastinator,
What I am about to suggest may seem counterintuitive, but as a procrastinator myself, it's worked wonders for both my grades and my self-esteem: KEEP FREAKING OUT. DON'T DO ANYTHING UNTIL THE LAST POSSIBLE MINUTE. Then, when you sit down to do it, your adrenaline will be pumping like a train through your veins and inspiration will be pouring out of your ears. I can honestly guarantee you'll produce your best work— and why wouldn't you trust ME?
Cheers!
Tiff

Thankful: A DWC Paper 
by The Cowl Editor on November 18, 2021
---
Creative Non-Fiction
---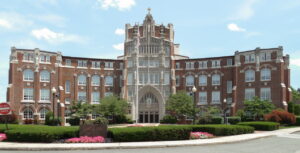 By: Aidan Lerner '22
Since the beginning of time when the first man evolved from clay or fish or from apes, there has been higher education (I would assume). Aidan Lerner '22 is a current student at Providence College who thinks positively about his experience. Lerner is a finance major, a writing minor, and a senior who lives off campus. He is a good example of the type of student who would be thankful to have chosen to go to the College. In this paper, I will argue that Aidan Lerner is thankful he goes to PC because of his living experience, the positives from COVID-19, and his fear of graduating. 
Aidan Lerner has lived in Guzman, Davis, and DiTraglia. Lerner talks a lot about how he liked that he had a bathroom in his room in Guzman, saying, "Having the bathroom was an incredible time saver. Also, it was a good way to make friends because people would barge in to use it" (Lerner,  phone call with his mother). This quote shows that Lerner values comfort because he is clearly lazy and does not want to go into the hall to use a communal bathroom. But I also think it shows that Lerner values the friendships he was able to form. Lerner refers to his direct roommates as "his immediate best friends that he was not really truly close with until second semester which he learned is a natural process for friendship" (Lerner, conversation with Yuck Truck guy). This mangled, contradictory quote shows that Lerner did not find friendship to be an instantaneous process, even though he hoped it would be. It took time, but he learned to appreciate the people around him. Furthermore, this is shown later on when he moved into Davis and then DiTraglia with new roommates. Lerner always talks about how he hates change, but at each spot, he formed new close bonds. I think Lerner had a great living experience because he formed friendships that became as strong as he could have imagined. 
According to Aidan Lerner, COVID-19 was a really bad thing. Many people would agree with that stance, but Lerner is also a legendary COVID-19 survivor who managed to test positive exactly one day before he was scheduled to get his vaccine. Lerner took a lot from the experience that contact-traced all of his roommates and friends. "Yeah, it sucked," an anonymous friend said. "The timing was terrible, and my initial reaction was that I wanted to find Aidan and slap him silly, but unfortunately he had a contagious virus, and I was locked up in a Marriott" (Anonymous, YikYak). I think that Lerner took a lot from this adversity. He reports that his friends were good-natured about the whole thing. It was no one's fault, and they all called him during their quarantines. Lerner really felt loved. That whole year was such a challenge for Lerner, but there were a lot of great things about being isolated with a group of his best friends. Lerner showed through his constant positivity and great memories from that time that Providence College had taught him that his friendships could make even the coronavirus pandemic a less depressing time. 
Finally, Aidan Lerner does not want to leave Providence College, therefore, he must be thankful for the school. Lerner was recently heard saying, "Yes, I will be miserable to leave. I am going to miss this place so much, and I want to just be at this place enjoying time with my friends forever. I definitely do not want to leave these people and have professional responsibilities" (Lerner,  job interview for a job he did not get). This quote shows a lot about Lerner and his love of Providence College. He has a lot of fear for his future, but it seems that it is more born out of his deep appreciation for the campus. I think that Lerner values his experiences so much and has managed to carve out happiness in his senior year. It seems he is reluctant to leave and to possibly fail miserably for the rest of his life alone. 
I think that Aidan Lerner is obviously thankful for this school because it was welcoming to him even though he is shy and anxious, and a virus ruined everyone's fun. This shows that Providence College is a great place that everyone will miss once they graduate. 
Professor Comments: Repetitive, poor central argument, awk, needs better quote integration, C-