Tiff and Earl
by The Cowl Editor
---
Features
---
Dear Tiff and Earl,
I just got my first Civ paper prompt, and to say I'm freaking out is an understatement. I haven't done any of the readings for this class yet and I only have a couple of days until the paper is due. Any advice?
Sincerely,
Major Procrastinator
---
Hey Major Procrastinator,
Like you, I myself have procrastinated writing this response until the very last minute with some help from my friends in the writing center! They are great at helping people come up with ideas for Civ papers! Just go into your appointment with some knowledge about the readings for your paper and you should be all set!
From a former writing center tutor,
Earl
---
Dear Major Procrastinator,
What I am about to suggest may seem counterintuitive, but as a procrastinator myself, it's worked wonders for both my grades and my self-esteem: KEEP FREAKING OUT. DON'T DO ANYTHING UNTIL THE LAST POSSIBLE MINUTE. Then, when you sit down to do it, your adrenaline will be pumping like a train through your veins and inspiration will be pouring out of your ears. I can honestly guarantee you'll produce your best work— and why wouldn't you trust ME?
Cheers!
Tiff

Thankful: A DWC Paper 
by The Cowl Editor
---
Creative Non-Fiction
---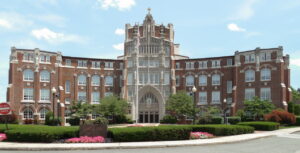 By: Aidan Lerner '22
Since the beginning of time when the first man evolved from clay or fish or from apes, there has been higher education (I would assume). Aidan Lerner '22 is a current student at Providence College who thinks positively about his experience. Lerner is a finance major, a writing minor, and a senior who lives off campus. He is a good example of the type of student who would be thankful to have chosen to go to the College. In this paper, I will argue that Aidan Lerner is thankful he goes to PC because of his living experience, the positives from COVID-19, and his fear of graduating. 
Aidan Lerner has lived in Guzman, Davis, and DiTraglia. Lerner talks a lot about how he liked that he had a bathroom in his room in Guzman, saying, "Having the bathroom was an incredible time saver. Also, it was a good way to make friends because people would barge in to use it" (Lerner,  phone call with his mother). This quote shows that Lerner values comfort because he is clearly lazy and does not want to go into the hall to use a communal bathroom. But I also think it shows that Lerner values the friendships he was able to form. Lerner refers to his direct roommates as "his immediate best friends that he was not really truly close with until second semester which he learned is a natural process for friendship" (Lerner, conversation with Yuck Truck guy). This mangled, contradictory quote shows that Lerner did not find friendship to be an instantaneous process, even though he hoped it would be. It took time, but he learned to appreciate the people around him. Furthermore, this is shown later on when he moved into Davis and then DiTraglia with new roommates. Lerner always talks about how he hates change, but at each spot, he formed new close bonds. I think Lerner had a great living experience because he formed friendships that became as strong as he could have imagined. 
According to Aidan Lerner, COVID-19 was a really bad thing. Many people would agree with that stance, but Lerner is also a legendary COVID-19 survivor who managed to test positive exactly one day before he was scheduled to get his vaccine. Lerner took a lot from the experience that contact-traced all of his roommates and friends. "Yeah, it sucked," an anonymous friend said. "The timing was terrible, and my initial reaction was that I wanted to find Aidan and slap him silly, but unfortunately he had a contagious virus, and I was locked up in a Marriott" (Anonymous, YikYak). I think that Lerner took a lot from this adversity. He reports that his friends were good-natured about the whole thing. It was no one's fault, and they all called him during their quarantines. Lerner really felt loved. That whole year was such a challenge for Lerner, but there were a lot of great things about being isolated with a group of his best friends. Lerner showed through his constant positivity and great memories from that time that Providence College had taught him that his friendships could make even the coronavirus pandemic a less depressing time. 
Finally, Aidan Lerner does not want to leave Providence College, therefore, he must be thankful for the school. Lerner was recently heard saying, "Yes, I will be miserable to leave. I am going to miss this place so much, and I want to just be at this place enjoying time with my friends forever. I definitely do not want to leave these people and have professional responsibilities" (Lerner,  job interview for a job he did not get). This quote shows a lot about Lerner and his love of Providence College. He has a lot of fear for his future, but it seems that it is more born out of his deep appreciation for the campus. I think that Lerner values his experiences so much and has managed to carve out happiness in his senior year. It seems he is reluctant to leave and to possibly fail miserably for the rest of his life alone. 
I think that Aidan Lerner is obviously thankful for this school because it was welcoming to him even though he is shy and anxious, and a virus ruined everyone's fun. This shows that Providence College is a great place that everyone will miss once they graduate. 
Professor Comments: Repetitive, poor central argument, awk, needs better quote integration, C-