BROADCASTING DURING A PANDEMIC
by The Cowl Editor on September 17, 2020
---
Sports
---
The Call From the Booth During a Hectic Summer
by Thomas Zinzarella '21
Sports Staff
When the sports world came to a halt in the middle of March, my broadcast partners and I were at Madison Square Garden, taking in the first half of the Big East Tournament matchup between St. John's University and Creighton University.
We were awaiting the following game in which the Providence College Men's Basketball Team was to face off against Butler University. While other college basketball conferences started to shut down their basketball tournaments due to the COVID-19 pandemic, the Big East was one of the last conferences to shut down basketball.
As I walked out of an empty MSG and hopped on the Amtrak train back to Hartford, CT, I had no idea what the future would hold. I had no idea that I would be stuck in my house for over two months without any live sports on television. Even worse, I had no idea the next time I was going to broadcast a sporting event. With March Madness canceled and the remainder of winter and spring sports put on hold, I would have to wait for my summer internship where I was slated to work with the Newport Gulls of the New England Collegiate Baseball League (NECBL.)
The first summer collegiate league to go down due to COVID-19 was the prestigious Cape Cod Baseball League, where I had worked the previous two summers with the Orleans Firebirds and the Harwich Mariners. It was the first time since World War II that there would be no summer baseball on the Cape.
With the plug getting pulled on the Cape League season, I knew this did not bode well for the NECBL. However, plans for the NBA and other professional leagues gave me some hope. The Coastal Plain League, another summer collegiate league in the Carolinas and Georgia, provided me with even more hope when teams announced their plan for summer games.
In the late evening hours of May 1, my worst fears came true: the board of directors canceled the NECBL season. Just like many other broadcasters and employees in sports, I was left without a job. As the calendar rolled from May to June, I was planning on caddying at a golf course in Rhode Island.
Scrolling through Twitter one day, I saw a new summer baseball league was formed: the Newport Collegiate Baseball League. My contact with the Newport Gulls created the new league and enlisted me to be the main play-by-play broadcaster. 
The games were to be played at Cardines Field in Newport. There would be four teams who would play an 18-game schedule followed by playoffs. Just like with all of the other professional leagues, COVID-19 regulations had to be followed. Players were required to sit six feet apart in the stands, no fans were allowed into the ballpark, and players on the base paths had to wear masks.
Compared to my previous two summers on the Cape, this summer was drastically different. There was no crowd noise, no sideline interviews, and only local players from Rhode Island, Connecticut, and Massachusetts were allowed to play. The few players from out-of-state had to stay in houses in Rhode Island. During a normal summer, players would stay with host families, but that was obviously not a possibility this year. Even on the baseball operational side of things, there were limitations. Only a handful of interns were allowed into Cardines Field.
The games were all televised via Twitch and YouTube. Additionally, Cox Television picked up 15 games that were streamed throughout Rhode Island and across the country. Games were played on Thursdays, Fridays, and Sundays. Each weekend consisted of two games: one at 1 p.m. and one at 6:30 p.m.
The level of talent varied as there were players from Power Five schools all the way to some of the best Division III schools in the Northeast. There were players who competed in the NECBL or even in the Cape Cod Baseball League their previous summers. Many of the players hailed from Rhode Island College and Bryant University, but there was still a diverse array of schools. The league started in the beginning of July and wrapped up in the middle of August. Luckily, it was a great success as not a single player or league employee tested positive for COVD-19.
Being able to broadcast for this novel league over the summer made me realize how lucky I was to be back behind the microphone. I not only missed sports, but also truly missed spending a day at the park broadcasting baseball. Still, it was not the same. I could not interact with the players as I used to, nor could I talk with coaches pre-game at the batting cage. As I arrive back on campus, I am holding out hope that we can finally beat COVID-19, and that I will be back broadcasting Big East basketball as we cheer on the Friars at the Dunkin' Donuts Center. 
Behind Enemy Lines
by The Cowl Editor on March 5, 2020
---
Sports
---
A Student-Broadcaster's Experience On The Road To 'Nova
by Thomas Zinzarella '21
Sports Staff
At 5:00 p.m. on a Friday in February, most college kids would be hanging out with their roommates or getting some cardio in before dinner. That was not the case, however, for Matt St. Jean '20 and I on Feb. 28, as we walked into the Providence Amtrak Train Station.
The train we hopped on was headed to Philadelphia, a train ride that takes approximately five and a half hours. Both of us were preparing to broadcast the highly anticipated matchup between the Providence College Friars and the  no. 12 Villanova University Wildcats at the Wells Fargo Center in Philadelphia, PA.
Many of my peers see me broadcasting games at the Dunkin' Donuts Center or at Schneider Arena. Many also know it is my passion and future aspiration to pursue broadcasting. But, what many do not know is what goes on behind the scenes when producing a broadcast. I get that question once in a while, and my trip to Philadelphia is a perfect chance to show how I prepare for broadcasting a game on the radio.
For this past game against Villanova, well before we arrived at the train station, we created cheat sheets for the game called "spotting boards" or "spotting charts," a common practice in the art of broadcasting. Many professionals either make them online or by hand. They can include whatever you want to put on them that you think will be helpful during the broadcast. This includes the basics like names, hometown, heights, and weights of players. It could also include Big East standings, a team foul tracker, and other miscellaneous stats that can help tell a story about a team's season or a team's past few games.
After playing around with these charts for a few hours during the week, doing our research and crunching numbers, it is time to learn about the other team. Big East games are a lot easier because if you are a college basketball fan like myself, you are always engrossing yourself in a team's reading material, or have watched them on television at least once that year. The more you familiarize yourself with the team, the better you can inform the listener so they can learn something from the broadcast.
Following our arrival in Philadelphia around 11:30 p.m., we both headed towards our hotel, which was less than a quarter mile from the Wells Fargo Center. As we passed by in our Uber, the big red letters that bore the arena's name illuminated the night sky. We continued on to pass by the empty lots slowly, knowing full well that tomorrow they would be packed with Villanova fans.
After a good night's sleep, we walked over to the arena about two and a half hours before tip-off to collect our media credentials. From there, we explored the arena, looking to find our media seats. Soon, there was a palpable buzz that filled the arena, due in part to the large stakes involved for both parties. At the start of the day on Saturday, Villanova had won five straight games and was trying to climb for a higher seed come Selection Sunday. The Friars on the other hand, were trying to make sure they would get their name heard on Selection Sunday. They began the day in many analysts' "Last 4 In" the NCAA tournament. The Friars had collected seven quadrant one wins good enough for one of the highest marks in the country, but a win against Villanova would more than likely keep a spot waiting for them in the NCAA tournament.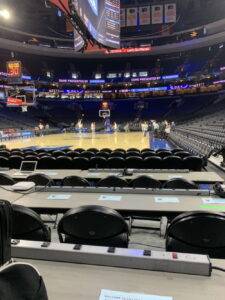 We both found our media spots and arranged all of the broadcast equipment that we lugged into the arena. Next, we headed down to the media room to grab a quick bite to eat before heading back out to floor level to catch shootaround. The biggest storyline in the pre-game warmups was whether Villanova starting point guard Colin Gillespie would play or not. The night before, head coach Jay Wright had said he was "questionable" to play because of a deep thigh bruise. 
Perhaps the coolest part about getting to an arena extra early is all of the access you get. You are in the building before every fan and before even some of the workers. Therefore, I was able to see that Gillespie was indeed warming up. He would go on to log 37 minutes in the game. 
Before we got nestled in for the game, we videoed our pre-game show, which goes onto our social media page and showcases some of the key facts and figures to watch in the game to our fans and followers.
As the fans started to file into their seats, we headed to ours. Our broadcast position for that day's game was right behind the hoop, about four rows up. On some plays you could maybe catch a glimpse of us on television. Sometimes, I will receive the occasional text from aunts, uncles, or grandparents who are watching the Friars on TV who have spotted us. 
With the pre-game clock winding down we hopped back on air before the starting lineups and the national anthem. "Welcome back inside the Wells Fargo Center as the Providence College Friars search to win their fifth straight game against a ranked opponent…" All is well once again. Just basketball and two passionate Friar basketball fans doing what they love.