Tag:
Fight For Drew Brown Night
A Year in PC Sports: Fight for Drew Brown Night
by The Cowl Editor on May 3, 2018
---
Friar Sports
---
By Sam Scanlon '19
Sports Staff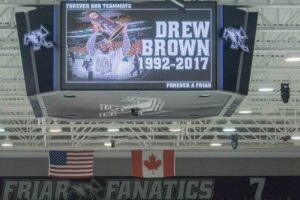 The Providence College community lost a great one this year. Drew Brown '16, a former Friar hockey player and National Champion, lost his courageous battle with cancer on November 11, 2017, at the age of 25.
The Friars hosted the University of Massachusetts Amherst Minutemen for a weekend series on Nov. 10-11. Earlier that week, the game against UMass Amherst was named "I Fight for Drew Brown Night" with all proceeds going to the Brown family. By doing this, it was a way the community could stand with Brown and fight alongside him. Unfortunately, hours before the game, Brown lost his battle. "I Fight for Drew Brown Night" proceeded as planned, with countless heartfelt tributes throughout the night.
With their fallen brother in mind, the Friars took the ice on Saturday night to play and fight for Drew Brown. Former teammate and captain of the Friars, Brian Pinho '18, got the Friars going early as he deposited his first goal of the game in just under five minutes. Pinho's emotion throughout the game was felt by everyone in the arena that night, so his first tally opened the floodgates and sparked the Friars' onslaught.
Following Pinho's first strike, four consecutive power play goals ensued for the Friars, starting with Scott Conway '19, a pair from defenseman Ben Mirageas '21, and Pinho's second of the game. The power play success brought the score to 5-2 with one period left to play.
The Friars' main goal was to win this contest against a Hockey East opponent. However, everyone's mind was on winning for Drew Brown, and the entire locker room wanted to do something special for him.
A little over halfway through the third period, forward Erik Foley '19 scored a beautiful goal to extend the Friar lead to 6-2. With time winding down and a sizeable lead for the Friars, something still felt missing from the game. The missing piece was provided by Kasper Björkqvist '20 with under two minutes left to play on yet another power play goal. This goal, however, lit up the entirety of Schneider Arena. This goal was goal number seven for the Friars on "I Fight for Drew Brown Night". In his time with the Friars, Drew Brown wore number seven.
Former Hockey Player Dies of Ewing's Sarcoma
by The Cowl Editor on November 16, 2017
---
Friar Sports
---
By Meaghan Cahill '20
Sports Co-Editor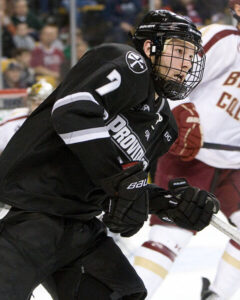 Andrew "Drew" Brown '16 may not have physically been in Schneider Arena this past weekend, but his presence was surely known and felt as the Friars went on to beat University of Massachusetts-Amherst. Seven goals were scored for number seven on that emotional Saturday night of Nov. 11.
It was "Fight for Drew Brown Night" as the entire community came together in support of Brown and his fight with cancer. While the night had been planned in advance, the day of the game took an unexpected turn that resulted in the night taking on a whole other meaning.
Earlier that morning, Brown lost a very hard-fought battle and the news came as a shock to the Providence College community.
"Our program mourns the passing of Drew Brown…Drew touched everyone with whom he came into contact with his energy, his smile, and his big heart. Drew was a thoughtful, soft-spoken teammate who would do anything for his team. Drew showed amazing courage in his battle with cancer. Our Friar family will miss him dearly. With the support of one another, we will find strength to honor Drew…Our thoughts and prayers go out to the Brown family and his fiancée Michelle during this difficult time,"commented Head Coach Nate Leaman on the morning of Brown's passing.
    Brown was a member of  Providence College's Class of 2016, as well as the hockey team. During his junior year, Brown was diagnosed with a rare form of bone cancer, Ewing's Sarcoma. It was a diagnosis that was determined after he took a hit to his left leg during a playoff hockey game the season before. The hit was bad enough for an MRI to be needed and when the results came in, more than just an injury from a dirty hit was revealed. The scans showed a tumor that would ultimately lead doctors to inform Brown and his family that he was that one in a million to have to face the battle against Ewing's Sarcoma.
While his team started preparations for the upcoming 2014-2015 season that would result in a National Championship win, Brown made his own
preparations to begin chemotherapy treatment. However, he did not let his cancer halt him from being with his team, as players stated numerous times following the upset win against Boston University that it was his courage and determination that inspired them to win it all that season.
Brian Pinho '18, who was Brown's teammate, reflected on Brown's character during his long fight in a post-game interview Saturday, saying, "He always had a contagious smile to him even though he was going through some hard stuff."
  Brown's death did not only rock the Providence College community. Boston Bruins' Head Coach Bruce Cassidy commented after practice Monday morning, "Our condolences go out to the Brown family and to Noel. I can't speak for him. At a young age like that, I can't imagine."
  Cassidy is referring to former Friar player turned pro Noel Acciari '15. Now a forward for the Boston Bruins after captaining the 2015 championship team for the Friars, Acciari's friendship with Brown extended all the way back to their prep school days when they attended the same school.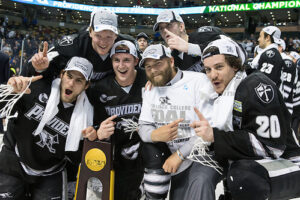 "He's a fighter and one of my best friends, and I want the best for him,"  said Acciari in an interview for the NHL.
  In the same interview, reflecting back on the National Championship win, Acciari states, "When we won the National Championship, that whole year I was fueled for Drew. I felt that the team, the coaching staff, everyone at Providence College backed Drew from when he found out to right now…To be
able to hoist that trophy up at the end of that was a special feeling, just to have him out there to know that he was fighting and we were fighting with him."
  In fact, it was Acciari and his fiancée Kaitlyn Chisholm '16, who started a fundraiser in Brown's name. "Dropping the Mitts for Drew Brown" was what they named the fundraiser, which took place on GoFundMe.Com. Starting with an initial goal of $40k, the goal has been raised three times due to the surplus of donations.
   "It's unbelievable the support that he has," Acciari commented in an interview with the NHL three days after the fundraiser page went up.
  A little over a week since the fundraiser debuted, almost $60K has been raised in Brown's name. The money is to be given to Brown's family and finance to help them during this difficult time.
   Following Brown's death, another Friar player who played two seasons with Brown and turned pro, Tim Schaller '13 of the Boston Bruins, commented following Monday's practice, "Hell of a player…and off this ice too. I don't know anyone who didn't like Drew. Everyone always had something good to say about him. He was more worried about how we were doing than himself. Just a good character kid…he definitely left behind good memories with everyone. He's gonna be missed."
   Since Brown's tragic passing, many of his other teammates have taken to social media to express their condolences.
  Anthony Florentino '17, who is now a Buffalo Sabres prospect, commented, "It was an honor to be on the same team as Drew. Drew is the definition of a warrior and will never be forgotten. Rest easy, Brother."
  Jake Walman, who left the Friars last season to sign with the St. Louis Blues, also expressed his condolences on Instagram by saying, "You taught us all what it means to be a good teammate, friend and brother. You inspired us all and motivated us with your courageous battle. Your presence within our locker-room helped us become warriors on and off the ice and for that reason we will walk together as champions forever. Rest in peace, Drew Brown."
   Brown was laid to rest on Nov. 14 surrounded by his friends, family, and extended Friar Family. In the words of Chisholm, "Sometimes the greater plan is kind of hard to understand…Heaven is lucky to have you."
Brown will be remembered by all as a hockey player, but mostly importantly as a great friend and an outstanding, courageous fighter.