Beginning to See the Light(houses): PC Rings in New Academic School Year with Convocation Ceremony
by The Cowl Editor on August 29, 2019
---
Campus
---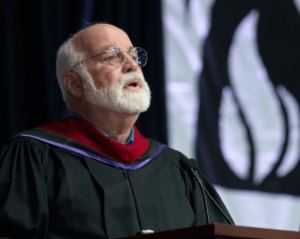 Kyle Burgess '21
News Co-Editor
An assembly of students and faculty gathered in Peterson Recreation Center on Monday, August 26 to celebrate the beginning of the 2019-2020 school year during the annual Providence College Academic Convocation. 
The students, many of them first-year undergraduates who had just undergone a full weekend of freshman orientation activities, looked on with their orientation leaders as professors, clad in ceremonial garb for the occasion, took their seats following a Friars Club escort.
Following the opening procession, invocation of the Holy Spirit, and singing of the national anthem, Father Brian Shanley, O.P., president of Providence College, offered a warm welcome to the Class of 2023 and the PC community. 
He echoed the themes of the principal speaker Rev. Gregory Boyle, S.J.'s book Tattoos on the Heart: The Power of Boundless Compassion in his address, reminding students of the blessings they have received in their ability to attend Providence College. 
"You have to be able to imagine lives that aren't yours," Fr. Shanley echoed, noting how it is the individual responsibility of all to ensure that marginalized groups both inside of PC and out are included in all aspects of society.
After Fr. Shanley's opening remarks, Student Congress President Kelsey Christianson '20 spoke about her own freshman year experience and the importance of finding role models that promote self-discovery and self-care during the college experience. 
Reiterating the words of Steve Pemberton during his commencement address at last year's senior graduation ceremony, she emphasized the existence of "lighthouses" in people's lives as they "direct, correct, and protect" those who look up to them. In a similar sense, Christianson looked up to the upperclassmen in Student Congress as her mentors throughout her PC career and explained that she gained valuable insight as well as a new group of close friends.
Rev. Boyle then took the stand, relating the day's themes to the personal connections he made with the characters in his book. 
He shared multiple stories in which he saw how marginalized persons behave towards outsiders as well as each other, noting how at one social service function a woman had asked one of the gang members he had brought to the talk from his Homeboy Industries community outreach program why he joined. 
The former criminal, covered in tattoos from head to toe to the horror of passersby at the airport the previous night, explained through tears and stage fright that he wanted his children to learn from his mistakes and not end up as he did. The woman then sobbed and called him one of the nicest and most genuine people she had ever met, and wished that his children would emulate their father when they grew up.
The event concluded with the recognition of new, full-time faculty members as well as the recipients of various scholarly and service-related awards before a reception and question and answer session with Rev. Boyle. 
"After a weekend of icebreakers and settling into a new college environment, this was a great way to settle into the academic and religious aspects of the school year," explained Josh Sears '23. "It provided a small break on the first day of classes and helped gear us for what lies ahead."
Wishing a warm welcome home to all residents of Friartown both new and old.