Bursting the PC Bubble: Hurricane Michael Has Devastates Florida Panhandle
by The Cowl Editor on October 18, 2018
---
National and Global News
---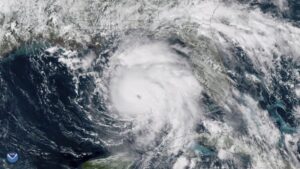 by Thomas Edwards '20
News Co-Editor
Last Wednesday, category 4 Hurricane Michael made landfall on the Florida panhandle, tearing through parts of the state, destroying almost everything in its path, including the city of Mexico Beach. Michael struck Florida with winds of up to 155 miles per hour, and went up through Georgia before making its way through the Carolinas and Virginia; it is expected to head out to sea from there. The Florida panhandle and southern Georgia received the brunt of the damage.
A week after, the death toll has risen to 29, including 19 in Florida, with hundreds still missing. Over 140,000 residents of Florida are still without power while relief efforts continue. To aid the efforts, 4,000 Florida National Guard troops are on the ground helping to clear debris and assist the Federal Emergency Management Agency in their efforts.
According to FEMA, there are 16,000 federal employees, including over 8,000 military personnel, taking part in the response efforts. There are 12 teams in Florida helping those affected register for disaster assistance, while throughout Florida and Georgia there are 42 distribution points to give out food and water.
Federal Communications Commission (FCC) chairman Ajit Pai and Florida Governor Rick Scott are requesting that wireless carriers waive monthly bills for customers who were affected. Since the storm struck last week up to 300,000 households have had their internet and cell knocked out, including the 14,000 plus who are without power. On Tuesday, October 16, Pai released a statement criticizing wireless companies for being too slow in restoring service in affected areas. 
Relief efforts, along with search and rescue efforts for those still missing, are expected to continue for many weeks to come.
If you or someone you know has been affected by Hurricane Michael and has access to internet, encourage them to visit www.fema.gov/hurricane-michael for information on how to help and ways to make the recovery process as painless as possible.