In Memoriam: John Thompson
by The Cowl Editor on September 3, 2020
---
Friar Sports
---
PC Legend Leaves Behind Lasting Legacy
by Cam Smith '21
Sports Co-Editor
John Thompson '64, a legend in the game of basketball, passed away last Sunday night at the age of 78.
Thompson spent four years in Friartown under then Coach Joe Mullaney, helping lead the Friars to a National Invitational Tournament title in 1963. The talented "big man" accumulated 1,520 points and 1,061 rebounds during his college career, one of only seven Friars to ever do so. Following his graduation, Thompson was selected by the Boston Celtics, where he would go on to win two NBA titles.
As remarkable as his playing career was, Thompson made his true impact on the game of basketball as a coach. He served as the head coach for Georgetown University for 27 years. In that time, he would lead the Hoyas to 24 straight postseasons, featuring three Final Four appearances and a championship victory in 1984.
With that 1984 title, Thompson became the first Black basketball head coach to win an NCAA National Championship. Indeed, Thompson's rise to prominence as a coach began to break down barriers that had stood since the game's creation. The great hypocrisy at the beginning of the 1980s was that there were Black stars on the basketball court, but almost no Black men coaching them.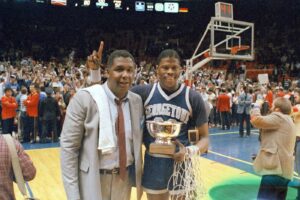 Thompson's fearlessness changed this. By the mid-80s, there were more Black basketball head coaches than ever before.
Patrick Ewing, another basketball legend in his own right, caused a stir in the 1980s when he chose to attend Georgetown over some other high-profile schools. "The main reason I chose Georgetown was Coach Thompson," said Ewing. "I thought that being a young Black kid who in just listening to a Black man who back then, spoke the way that he spoke, the way that he carried himself, it was someone I could emulate."
Thompson never shied away from using his powerful position as an avenue for pursuing racial justice. He protested numerous times, but perhaps his most famous protest came against Proposition 48.
In January 1989, the NCAA implemented Prop. 48, which denied scholarships to freshmen who failed to meet certain academic criteria. Estimates showed that approximately 90 percent of the students impacted by the decree would be Black students. Thompson refused to let that stand.
On a cold night in January against Boston College, Thompson walked out onto the floor 12 minutes before the game. He talked with the opposing coach. He shook hands with the officials. Then he walked right back out of the tunnel, not looking back until he reached his maroon Lincoln Town Car.
"Coach Thompson was a pioneer whose impact extended far beyond basketball," said current Friar Head Coach Ed Cooley after learning of Thompson's passing. "His message was always real and authentic as his passion was helping people to be better… As a mentor, Coach Thompson taught me about fit and loyalty and I will forever be grateful for the doors he opened for so many of us Black coaches. My heart is heavy today. It was an honor to have known him."
Indeed, Thompson's legacy extends far past the confines of any basketball arena. He was a trailblazer: forever fearless and resolute.
In Memorium: Kobe Bryant
by Meaghan P Cahill on January 30, 2020
---
Professional Sports
---
Laker Great Leaves Behind an Unparalleled Legacy
By Cam Smith '21
Sports Assistant Editor
I was eleven years old as I sat on the couch, eyes glued to the TV on June 16, 2010. The Los Angeles Lakers were in the midst of a dramatic Game Seven against my beloved Boston Celtics, a game that was the perfect finale to a perfect series. Fresh off a victory over the Orlando Magic in the NBA Finals the previous year, Kobe Bryant was looking for his fifth championship overall. He was also firmly set on crushing my dreams.
I still remember the shot that ended it. No, it was not the game-winner, in fact there were still five minutes left on the clock, but for all intents and purposes the game was over.
Bryant took the ball at the top of the key, guarded by the Celtics' Ray Allen. A quick jab to the left sent Allen reeling, allowing for Bryant to quickly take one dribble to the right. Somehow, almost immediately, the "Black Mamba," true to his namesake, was in the air hoisting up his patented fade-away jumper.
The ball found nothing but net. As the Staples Center went berserk, I stormed off to my room, frustrated and angry because Bryant had the lead in the fourth quarter of a Game Seven, and there was no way he was going to give it up.
This particular moment perfectly encapsulates what everyone referred to as the "Mamba Mentality:" a mentality of hard-work, grit, and a smooth and unbreakable confidence. These traits, in addition to his basketball prowess, elevated his status to that of a living legend, one celebrated with a retirement tour unlike any other during his final season.
Truly, Bryant just seemed invincible. He had transcended the bounds between sports and pop culture. More than a basketball player, he was a cultural icon that showed that the NBA could thrive post-Michael Jordan.
That is why his death on Sunday in a helicopter crash, along with nine others, including his 13-year-old daughter and fellow basketball savant Gianna Bryant, is so difficult to come to terms with. Bryant was supposed to be around for decades to come, gracing playoff games and award shows much like the legendary Bill Russell does.
Instead, the world got a stark reminder of the fragility of life, an idea made all the more poignant by the passing of fellow passenger and former Cape Cod Baseball League coach John Altobelli. A man who, much like Bryant, devoted his life to the love of the game. Altobelli tragically perished alongside his wife Keri and daughter Alyssa.
In lieu of everything, it bears mentioning that Bryant did not lead a life without controversy. He was accused of sexual assault in Colorado in 2003, although the charges were dropped after his accuser refused to testify. On the court, he often got into spats with his teammates due to his lofty standards, most notably with fellow All-Star Shaquille O'Neal.
Nevertheless, he was the reason so many kids fell in love with the game. If the last generation wanted to be like Mike, then this generation wanted to be like Kobe: a 5-time NBA champion, 18-time NBA All-Star, 2-time Olympic Gold Medalist, and 1-time Academy Award winner.
Bryant was far from perfect, but his commitment to the sport of basketball was unparalleled. So too was his commitment to his children.  Indeed, the ill-fated helicopter was en route to Gianna's travel basketball game, where Bryant was set to coach and Gianna was set to play. Their intended destination makes the untimely passings all the more devastating.
Ten years ago, in Game Seven of the NBA Finals, Kobe broke my heart. On Sunday, my heart broke again: for  the Bryant family and for all the lives lost in the tragic accident.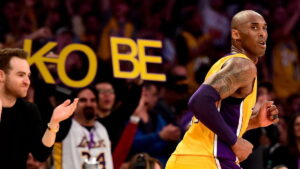 Remembering Mark Adams
by The Cowl Editor on November 29, 2018
---
Friar Sports
---
By Cam Smith '21
Sports Staff
Mark Adams '15RS always wanted to go to Providence College. Ten schools recruited the Boxford, Massachusetts native during his time with the Chicago Steel of the United States Hockey League, but only one ever had a chance of landing him. "He was hell-bent on going to Providence from day one," explained his father, Mark Adams Sr. "That's where he wanted to go."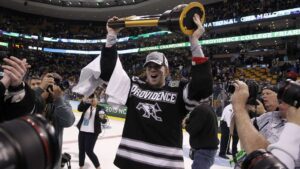 Adams, more affectionately known by his nickname "Roo" after the Winnie the Pooh character, appeared in 98 career games for the Providence College Men's Hockey Team. The smooth-skating defenseman battled injuries for most of his career, limiting him to only seven appearances in both the 2012-13 and 2013-14 seasons. Though frustrating, his scattered appearances allowed Adams to receive a medical redshirt to skate for a fifth season, a season which would culminate with the first national championship in PC hockey history.
As a redshirt senior, Adams appeared in 32 games for the championship Friars, notching a goal and two assists in addition to his shutdown defensive play. To top off the thrill of the victory, Adams was able to lift the championship trophy at TD Garden, in front of family and friends. The Friars defeated Boston University 4-3. "That was great for him, especially being in Boston, too," said his brother Jack Adams. "It was a once-in-a-lifetime opportunity for him."
Following his graduation, Adams signed a contract with the Los Angeles Kings, but recurring knee injuries forced him to retire from the game he loved. Instead, he entered into the world of business, and moved to New York to work for a hedgefund. However, the allure of the Bay State proved too strong, and Adams soon moved back to Boston. When his father's company, Cambridge Therapeutic, expanded, Adams was offered a position running the pharmaceutical division.
Most days, Adams was up at 4 a.m. for a conference call with his associates in China. If someone walked into his office during one of these calls, they might see Mandarin scrawled across the whiteboard. Adams was teaching himself the language for an upcoming business excursion overseas. "People don't realize how brilliant he was," Jack Adams said. "He did a great job for us," commented Adams Sr. on his son's work. "He was very mature for his age. It was nice, as a dad, to watch that development. He's 10 times smarter than I'll ever be."
It was one of these early mornings when tragedy struck. On Sept. 17, at the age of 27, Adams passed away after suffering a heart attack.
The 2014-15 PC championship team had already lost one of their members when they heard the news about Adams: forward Drew Brown '16 passed away in November 2017 after a battle with bone cancer. Once again, this close-knit team had to look to each other for support as they grieved the loss of another beloved teammate.
Adams' teammates mourned the passing of a man whose impact on the team went far beyond his stellar performance on the Schneider Arena ice. "Roo was one of those teammates that would do anything for another guy on our team," remembered Kevin Rooney '16, a member of the championship-winning squad. "Almost every single day he would ask the guys to come over to his place for dinner. It got to the point where sometimes we had to say no because we felt bad not buying any of the food." Rooney recalled a time where Adams hosted the entire team at his apartment in downtown Providence for a Christmas party.
"Roo's (passing) kind of came out of nowhere," remarked Mark Jankowski '16, another key player for the 2014-15 team. "It's tough any time one of your good buddies passes, never mind two of them," Jankowski said referring also to the passing of Brown. "They were both 'one of the boys' and it's now tough knowing you won't be able to see them again."
The Adams family held a celebration of Mark's life at Turner Country Club on Sept. 24. Five hundred people attended, while an additional 200 were turned away because the room was well over capacity. Another 80 people sat in the side rooms listening to the service over a speaker. "It was pretty amazing that many people came. I love hearing all the reflections of stories about relationships he had," said Adams Sr. "…he definitely cared and wanted to do things for other people."
On Friday, November 30, the Friars will host "Roo Adams Night" for their home game against the University of New Hampshire. There, the Most Outstanding Teammate Award, given annually, will be renamed in Adams' honor.