Softball Heads Toward End of Season
by npatano on May 5, 2022
---
Friar Sports
---
Big East Tournament Set for Next Week
Stephen Foster '22
Sports Staff
The Providence College Softball Team is approaching the end of their 2022 season. They have an overall record of 24 wins and 19 losses and a conference record of 10 wins and 11 losses. Coach Jill Karwoski mentioned that one highlight from the season so far was winning in extra innings over the University of Connecticut, who is in first place in the Big East Conference, to snap their nine-game win streak.
Karwoski had many great things to say about the graduating seniors, especially their resilience and the impact that they have had on the PC softball program. This group of seniors had to go through a lot to get where they are today, including much of their college career being interrupted by the COVID-19 pandemic. She explained, "Every year we get to this point in the season and look at our soon to be graduating seniors and say, 'I can't believe it's been four years.' This year is no different, however, I would be remiss to not acknowledge that this year's seniors' careers were filled with unique ups and downs, Covid pauses and cancellations and nontraditional seasons. These past few years have been everything but 'normal' and I am extremely proud of their ability to overcome, persevere, and prevail. Each senior, whether they had been with our program for one year or four, will have left with us a foundation of resiliency and a path to success for years to come."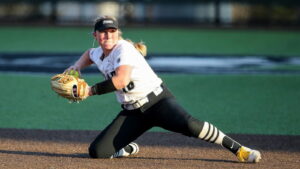 The Friars' softball coach also highlighted the significance of the freshmen on the team this year, explaining, "So many first-year players have been making an immediate impact on the field. And those not on the field have been equally committed to our culture and continue to improve weekly as well as positively influencing our program every day. This is both rewarding this season as well as for the future of our program." With seven freshmen on the team this season, it is important that they commit to the team culture and continue to improve as they grow to play greater on-field roles over the next three years.
The team has a three-game home series against DePaul University before the regular season comes to a close. They play Friday, May 6 at 5:00 p.m. and Saturday, May 7 at 1:00 p.m., and finish the series off with Senior Day on Sunday, May 8 at 12:00 p.m. Following this series, the Big East Tournament begins on Thursday, May 12 and goes until Saturday, May 14. Regarding the Friars' potential in making the tournament, Coach Karwoski explained, "We are still looking to qualify for a tournament berth. The Big East Tournament takes the top four teams and it's a dogfight for the last three spots. UConn has clinched but Villanova, Butler, DePaul, and us are still in the race. It may come down to our last home series next week vs. DePaul, but we have to take care of business today vs. Butler."
The Providence College Softball Team managed to pick up one win out of three games against Butler this past weekend, bringing them in need of some wins down the final stretch against DePaul University. Karwoski highlighted, "This upcoming last home series vs. DePaul will be the biggest weekend for us yet with likely playoff implications. I encourage all Friar fans to come out in full force Friday night. Saturday we will welcome back our Alumni, and Sunday we will celebrate our Seniors. We know there is both power and magic to competing in Friartown, so I thank everyone who has come out thus far to cheer us on and hope to see everyone this weekend. Go Friars!" Make sure you find your way to Glay Field this upcoming weekend to cheer on the Providence College Softball Team as they take on DePaul with hopes of securing a spot in the Big East Tournament.
Optimism in the Air for Friars Softball
by npatano on February 17, 2022
---
Friar Sports
---
By Stephen Foster '22
Sports Staff
The Providence College Softball Team is primed for a return to the diamond for a full season this year, and they cannot wait. After having two years of disrupted and shortened seasons due to COVID-19 concerns, the Friars plan on having a preseason filled with several tournaments to become game-ready. 
Coach Jill Karwoski explained that it was difficult to face opponents last season who had played 20-30 more games than the Friars, and she highlighted the strength of this team to fight through this disadvantage. She stated, "Our team has been so resilient. We essentially lost two seasons, and they kept a positive mindset. We are ready to go this season."
Karwoski has been the head coach at PC for four years, and she has been coaching college softball in the NCAA for more than 17 years. This experience gives her an understanding of the ups and downs of D1 college softball and how to bounce back after a down year. The Friars' coach emphasized the opportunities that await the team this year and how their offseason preparation readied them to take on the new challenges of the season. 
Karwoski detailed, "To prepare for the season, our players have been seeing a variety of live pitching and making adjustments. There has been a lot of work off the field with culture and team building. Their preparation creates the perfect storm of opportunity." PC softball has remained dedicated to their craft on and off the diamond throughout the offseason, and they will prove themselves to be a contender this season.
The Friars' game plan involves leaning on their strong pitching core to keep opponents' run totals low, while outscoring the opposition with their equally tough hitting. PC's softball team is led by a core of strong pitchers, including returners Daniela Alvarez '22 and Tori Grifone '24.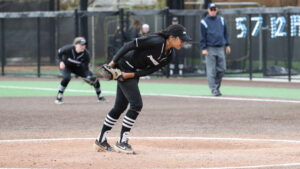 Alvarez has pitched for the Friars for three consecutive seasons, posting a 2.58 earned run average (ERA) and 25 wins throughout her college career. Grifone hopes to build off of a freshman season that saw her significantly contribute to the team on offense and defense. Not only did she finish the year with a 3.90 ERA in five pitching starts, but she also led the team in batting average (AVG) with a .354 AVG in 48 at bats. 
The Friars' pitching staff is rounded out by Elysia Cunnigan '23 (0.00 ERA in 2.2 innings in 2021), Gianna Magrino '23 (1.45 ERA and 466 strikeouts in high school), and Jessica Walter '25 (0.96 ERA in 95.1 high school innings in 2021). All three hope to be decent contributors this season.
In addition to Alvarez, PC hitting is led by dual threat pitcher/outfielder Cunnigan (.297 AVG in 2021), infielder Jessica Tomaso '22 (.281 AVG and 13 walks in 2021), catcher Lyndsey Evix '24 (.279 AVG in 2021), and infielder Madi Traver '22 (11 runs batted in in 2021). In addition, there are six incoming freshmen hoping to contribute to the Friars' success in 2022.
The softball team will play 51 games this season, far more than the 19 they played last year. They begin the season with three tournaments.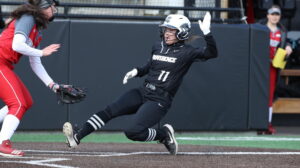 Beginning on Friday, Feb. 18, they have the Elon Softball Phoenix Invitational where they travel to Elon, NC to play Elon University, Morgan State University, and University of Massachusetts Lowell. 
Next, they take on the University of Santa Barbara Invitational, where they travel to Santa Barbara, CA to play Idaho State University, University of California Santa Barbara, and Boise State University. 
The third tournament to begin the season is the Demarini Tiger Clash, which takes place in Towson, MD. The Friars face off against Coppin State University, Towson University, and Columbia University. Coach Karwoski expressed her and the team's excitement at engaging in these three tournaments to start their season off strong. 
Playing against different competitors who they would not normally face will help PC  grow as a team and get some competitive games in to prepare for when Big East conference play begins.
The Big East looks to be full of competition as always, with teams like Creighton University (4-0 in 2022) and Butler University (4-2 in 2022) already kicking off their seasons in the win column. 
Last year, PC had an off year in the conference, going 4-13-1 in conference play and 5-16-1 overall. DePaul University (13-1 in Big East, 25-11 overall) and Villanova University (15-2 in Big East, 37-15 overall) dominated the conference in 2021. Providence College looks to bounce back in 2022 as they maintain numerous returners and welcome new talent.
Coach Karwoski and The Cowl encourage students to come out and watch the team play as they make a run for the Big East conference championship. 
Karwoski emphasizes, "We are just going to be fun to watch this year. We have a lot of home games and a lot of options in our lineup, with some very competitive games. We have plenty of opportunities to make a run for the conference championship." The Providence College Softball Team plays their first home game of the season at Glay Field on Wednesday, Mar. 2 against Boston College.