Basketball Legend Jo Jo White Remembered
by The Cowl Editor on January 25, 2018
---
Professional Sports
---
by Jack Belanger '21
Sports Co-Editor
The basketball community mourned last week as former Boston Celtic and basketball hall-of-famer Jo Jo White passed away after a battle with brain cancer. White, 71, had been battling the cancer for a while as he had a brain tumor removed back in 2010. The announcement came just before the Celtics tipped off against the New Orleans Pelicans.
   White starred as the point guard for the Celtics during the 1970s, playing in Boston for 10 seasons before finishing his career with the Golden State Warriors and the Kansas City Kings. He, along with forwards Dave Cowens and John Havlicek, led Boston to NBA titles in 1974 and 1976. White was a seven-time all-star for the Celtics  averaging 17.2 points per game and 4.9 assists per game in his career.
   Drafted ninth overall in the 1969 draft out of Kansas, White quickly became a fan favorite in Boston. He set a franchise record by playing in 488 consecutive games over the span of seven seasons. He made the game look easy, and bought into the idea of Celtic pride, giving all he had every game.
    One of White's biggest games of his career probably came on the biggest stage. In Game 5 of the 1976 NBA Finals against the Phoenix Suns, White led the Celtics to a 128-126 triple-overtime victory, where he led the team with 33 points and nine assists while playing 60 out of 63 minutes, and was eventually named the Finals MVP.
   After he retired in 1981, the Celtics retired White's #10 jersey in 1982 during a ceremony where they raised it to the rafters. Eventually, White was inducted into the Naismith Memorial Basketball Hall of Fame in 2015 along with his former coach Tommy Heinsohn.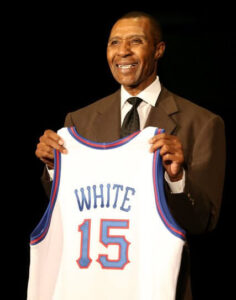 Outside of his career on the court, White was one of the most respected players around the league. Unlike many players today, White was a quiet leader for the Celtics and was known for his kind-hearted nature.
   Even after his playing days, White stayed involved with the Celtics, as he mentored many players over the years and was hired as Director of Special Projects. Former Celtic, Brian Scalabrine, took time out of the Celtics broadcast to talk about White. "In 2010, before every game," Scalabrine said, "he would stand at half court, give me a hug and tell me–every game–'you're doing great; just continue to be who you are, and do what you do.' That meant a lot to me."
  During last Thursday's game against the Philadelphia 76ers, Boston honored White by putting his jersey over the seat he usually sat in over the years to cheer on the Celtics. The team also played a tribute video for him during a timeout.
    While he will surely be missed, White left an impact in Boston that spread across multiple generations that will remember his contributions on and off the court for years to come.