Men's and Women's Track Prepare for Big East Championship
by npatano on May 5, 2022
---
Friar Sports
---
Both Teams Look to Finish the Year on a High Note
Joseph Quirk '23
Sports Staff
The 2022 Providence College spring track and field season is off to a fast start. Both the men's and women's squads have hit the ground running since they opened their season on March 27 at the Raleigh Relays.
The Raleigh Relays are a collegiate track and field event hosted by North Carolina State University in Raleigh, NC. For the men, the event represented an opportunity for many athletes to achieve new personal bests. Liam Back '24 and Angus White '22 both ran personal best times in the 1,500-meter, running 3:43.78 and 3:45.15 respectively. Matt Lepine '22 ran a PR of 14:27.73 in the 5,000-meters event. But perhaps the greatest bunch of accomplishments from the men's team at this event came in the 10,000-meters race. Shane Coffey '24 ran the race for the first time in his collegiate career, finishing with a solid time of 30:11. David McGlynn '22 ran a time of 29:04.9, which not only was a personal best for himself but also placed him at No. 6 in the College's history. Abdel Laddjel '25, from Lucan, Ireland, ran a time of 29:23, breaking the 50-year-old Irish Junior records.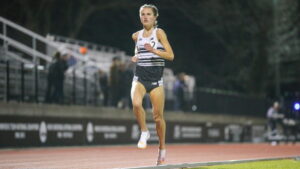 Things were just as historic on the women's side. Lily Tuck '23 ran a personal best time in the 5,000-meters with a time of 16:02. With a time of 14.98, Nicole Borowiec '23 broke the PC program record for 100-meter hurdles. Niamh Gowing '22 also entered the record books, running a 56.87 second time in the 400-meter which was not only a personal best but good enough to put her at No. 3 all-time in Providence College program history. Hawa Grear '24 also entered the record books, running a 12.61 second time in the 100-meters, food for No. 2 all-time in PC program history. Taylor Newman '23 also became No. 2 all-time in program history for her 25.19 second finishing time for the 200-meters. Meg Hughes '24 set a school record early in her career as well with a 400-meter hurdle time of 63:64 seconds. Along with previous years performances, McGlynn, Back, AJ Ernst '22, Tuck and Shannon Flockhart '24 all earned a qualification for the NCAA First Round, which will be hosted in Bloomington, IN from  May 25-28.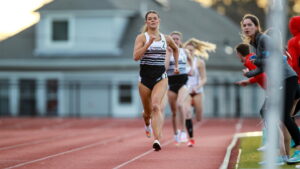 The Friars continued their hot start when they went to the Black and Gold Invitational, which was hosted across town by Bryant University on April 2. Nicola Calabrese '22 and Grear both recorded personal bests in the 200-meters. Gowing had a personal best performance in the 400-meters, landing her in second place. In the women's 400-meter hurdles, Meg Hughes not only had a first-place finish and a new personal best time, but also broke her own school record with a time of 61.34.  Borowiec also broke her own school record in the 100-meter hurdles, giving her a third-place finish. The Friars men's team claimed the first four finishes of the 1,500-meter race with Michael Morgan '25, Patrick Thygesen '24, Ryan Gallagher '22, and Josh Lewin '24 finishing in that respective order. Back and White also claimed the first two finishes of the 800-meters (respectively) with Back setting a meet record with a time of 1:52.21.
Following their strong return to Rhode Island, the track and field team decided to take the heat to their own turf, right at Ray Treacy Track. On April 8, Back ran the first sub-4-minute mile of his career, with a first-place finish and a personal record time of 3:59.06. The time was also the first sub-4-minute mile at Ray Treacy Track and beat the previous record by over 4 seconds. Ernst and White were not far behind him with 4-minute flat miles and third and fourth place finishes. Gallagher took first place in the 5,000-meters, an event which also saw McGlynn and Lepine hit new personal bests. Lewin had a nice first place finish in his heat of the 800-meters. In impressive fashion, Thygesen had a second-place finish, with a time of 8:54.07, in the 3000-meter steeplechase. Brett Lehman '25 had a second-place finish for himself in the 400-meters. And Chris Johns '25 had himself a first-place finish in the high jump. As for the women, sophomore Laura Mooney '24 dominated 5,000-meters, with a personal best time of 16:09.43, which was over 17 seconds faster than the runner up. Flockhart came in second in the mile, Gowing came in third in the 400-meters, and Alex O'Neill '23 came in first while setting a facility record in the 800-meters. Following the Friar invitational, Back earned a Big East men's track athlete of the week honor.
The Friars continued to rack up records in subsequent meets. At the Penn Relays, Mooney broke the Irish U23 National record and placed sixth all-time in Providence College history for the 10,000-meter. A team of Kimberly May '25, Halle Atkinson '24, Flockhart, and O'Neill also set a Providence College record for the 4×800 meter relay. In their most recent event, the Brown Springtime Invitational, O'Neill broke a 32-year-old Providence College record in the 800-meters. O'Neill, along with Lewin, made a good case to qualify for the NCAA first round.
The Friars will look to continue their historic record breaking season May 13-14 when they head to Storrs, CT for the Big East championships.
Friars Locked in During NCAA Tournament
by npatano on March 24, 2022
---
Friar Sports
---
Kansas University and the First Sweet Sixteen in 25 Years is Ahead
Joseph Quirk '23
Sports Staff
The month of March is synonymous with two things: luck and madness. Despite all the chaos and craziness the other 11 months of the year can offer, few have a case to match up against the month of St. Patrick's Day, the day of the year most associated with luck and chaos, and of course, March Madness, otherwise known as the NCAA Basketball Tournament. 
There are 64 teams invited to the tournament, any of whom can win on a given day. If you are a college basketball fan, this is the best time of the year. And with all the luck that comes with St. Patrick's Day and all the luck needed to win in March, the "luckiest team in the country" needs all the luck they can heading into the big dance.
The Providence College Friars Men's Basketball team headed into this weekend excited. Fresh off their first Big East regular season title in school history, the Friars would own the No. 1 seed in the Big East tournament. 
The Big East tournament itself was celebrating its 40th anniversary of being hosted by Madison Square Garden, the world's most famous arena. The biggest stage, in the biggest city, the Friar fans came out in force. Descending on MSG and New York City, head coach Ed Cooley was quick to tab MSG as "the Dunk South" as during the Friars first game against Butler University, loud cheers in support of the Friars were heard all afternoon. 
The Butler Bulldogs were coming off an overtime thriller of a win the night before over Xavier University. However, in a start like far too many this season, the Friars started off slow. They had trouble scoring and playing defense. 
The only Friar who really showed up was big man Nate Watson '22, who finished the game leading the Friars with 26 points, added seven rebounds, and a block. Redshirt junior guard Jared Bynum '23 also had a solid afternoon with 16 points. But once again, the Friars came back and gritted out a win, a common theme for the "luckiest team in the country" this season. 
When asked on Friday about his team's performance, Coach Cooley referenced Thursday's matchup saying, "Quite frankly I didn't think we played well yesterday, and we just found a way to win." This has been the theme of the Friars entire dream season, gutting out ways to win. 
Prior to Friday's matchup against Creighton University, the Friars were 18-20 in games decided by 10-points or less and 12-14 in games decided by five points or less. Both of the losses were to Villanova University, who won both games by a total margin of victory of seven points. 
The Friars' total record was 25-4, meaning close to half of their wins were decided by fewer than five points and just over half were decided by 10 points. That is a scary thin margin of victory; even though it can be said that this is a veteran savvy team that finds ways to win, which is invaluable in March, it still is a dangerously fine line. 
The other two losses the Friars had suffered this season to a team not named Villanova University were by 32 points in an away game to Marquette University and by 18 points to the University of Virginia. Safe to say that when it rains, it pours on the Friars.
On Friday the Friars played the Creighton Blue Jays, the No. 4 seed in the tournament coming off a thriller against Marquette. And Creighton dominated. 
The Friars struggled once they let Creighton get on a big run in the first half and could never regain any momentum. Their defense fell apart. They couldn't score either inside or outside and Creighton big man Ryan Kalkbrenner, the Big East defensive player of the year, dominated to the tune of 15 points, nine rebounds and four blocks. This, added with Alex O'Connell's team leading 18 points, Arthur Kaluma's 17 points and Trey Alexander's 15 points led Creighton to an easy 42-27 victory. 
After the game coach Cooley spoke on trying to keep his squad motivated, saying, "When you play a game like this you know A) your ego can get shattered and B) your confidence can get shattered, and I just want them to understand that it is only one game. Obviously, it's a really big stage, great arena, great support, great crowd, that's what the Big East tournament is about."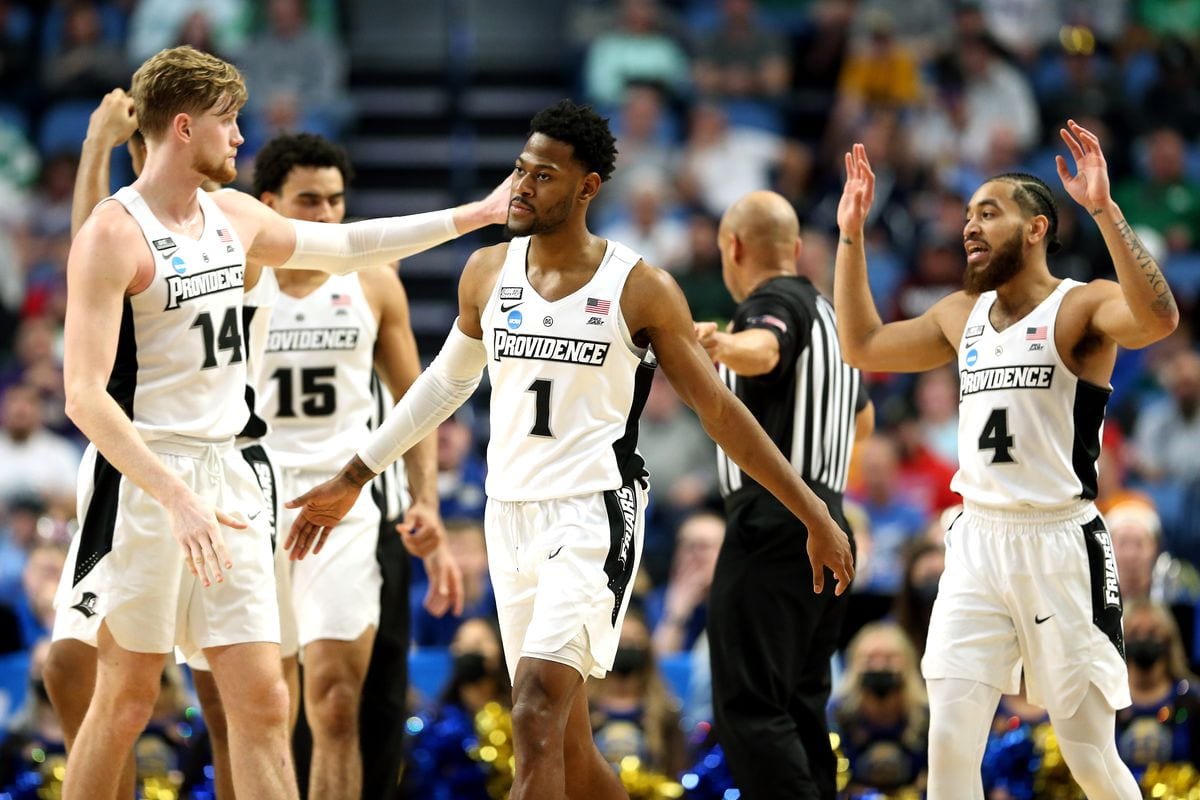 Coach Cooley also noted that he thought that the team's best basketball was ahead of them and that they had earned the right to play in the coming NCAA tournament. He remained firm in his belief that whomever the Friars face next, they can beat.
The concern, however, must be the slow starts. Cooley's team can pull comebacks against Depaul and Butler any day, but when facing some of the top competition from the Big 12, Big Ten, and SEC, that may be a much taller task. 
Plus, it needs to be remembered that the 18-point loss to Virginia, the Friar's first of the season, came on a neutral court, to a worse team on the second day of a back-to-back. That was the exact same scenario that the Friars faced when they were blown out by Creighton. When the tournament arrives, the Friars' are going to need to be able to play consistently regardless of their schedule or location. .
Of course, the Friars' success in the tourney will in large part be due to their seeding. Coach Cooley said that it was "something I can't control" and that "our body of work, I just don't want our seeding to be determined by one game."
In terms of using this game as a humbling experience and one to rally around, Cooley said he reminded his team about their first Big East loss of the season, a 32-point loss to Marquette, after which his squad won 8 straight. However, he noted that "we don't need to win 8."
Since that embarrassment in the Big East tournament however, the Friars are 2-0. On Sunday, the Friars returned to a roaring crowd after a big weekend in Buffalo to kick off the March Madness tournament. 
The Friars started by knocking off 13 seed South Dakota State. The Jackrabbits were a popular pick to upset the Friars in the first round, with an electric offense that was one of the top in the nation and a hot streak of 21 straight wins. 
But the Friars took care of business and punched their ticket to the round of 32, where they met a hot University of Richmond team, fresh off winning their own conference tournament and beating the Big 10 champion Iowa State Hawkeyes in the first round. 
Still doubted, having the second consecutive game against a double digit seed and second consecutive game where they were favored by as little as under three points, the Friars routed the Spiders 79-51, in what looked like their best and most well-rounded game of the season.
Now the Friars head to the Sweet 16 for the first time since 1997, where they will take on the University of Kansas, a blue-blood program and number one-seed in the Midwest region. 
The Friars can handle the Jayhawks, assuming they can lock down guards Ochai Agbaji and Remy Martin. The Jayhawks are a good team, coached by legendary coach Bill Self. 
While this is true, this is not Self's best squad he has ever had. If the Friars can shoot the way they have been the last couple of games, they have a legitimate shot to be in the Elite Eight. 
If they can manage to pull off a upset, as Kansas is currently favored by over 7 points, then they will secure a date with another team in the double-digit seeds, either a cinderella University of Miami (FL) team or a hot Iowa State University team with a trip to the Final Four on the line. 
All eyes will be on the Friars this Friday at 7:15 p.m. as the Friars tip-off against Kansas at the United Center in Chicago.
Bob Driscoll to Retire as Athletic Director
by npatano on February 10, 2022
---
Friar Sports
---
Steve Napolillo Next in Line
Joseph Quirk '23
Sports Staff
It is the end of an era at Providence College: longtime athletic director Bob Driscoll has announced his retirement in the coming months. Driscoll's tenure in Friartown certainly had its ups-and-downs and was defined by change. At the end of Driscoll's role in leadership at PC, the athletic programs are noticeably improved and better off. His work will have everlasting effects on the athletic program at Providence College.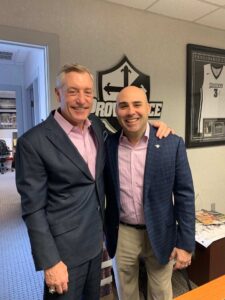 Driscoll was hired back in 2002. At the time, Driscoll was working at the University of California-Berkeley with the dream of one day being an athletic director. He interviewed for the position at UC Berkeley and did not get it. During his retirement announcement press conference, Driscoll told the story about how he ended up as a Friar after not being offered the position at Berkeley. He had heard that the position was open at Providence College, and he begged the headhunter to get him an interview. He ultimately got the job and established a staff that shared the vision of wanting to make the PC Athletics Department one of the best in the country.
Early on in his tenure as A.D., Driscoll made mistakes. He said he was inheriting a college with athletic facilities the quality of a "bad high school." The "big time" programs of the school: basketball and ice hockey, were struggling and not winning to the extent that is now expected of them. As one of his first head coaching hires, Driscoll hired Tim Army to be the head coach of the men's ice hockey team. Army had a long and extensive resume prior to being hired as a head coach for the Friars, which included time spent as an assistant coach with at PC in the 1980s. After leaving Friartown the first time, Army would have experience coaching at the NHL and AHL level, including a three-year stint as head coach of the Portland Pirates in the AHL. Army was hired in 2005 and only lasted six seasons with the Friars, with his highest single-season winning percentage being 0.514 his first season. After that, Army never posted a single-season winning percentage over 0.500. Another bad hire was Keno Davis, who was hired in 2008. Davis was out of town by 2011. Davis was hired after being named the College Basketball Coach of the Year by the Associated Press because of his success as head coach of the men's basketball program at Drake University. Davis went 46-50 during his few seasons in Friartown. When asked about these hires during his retirement press conference, Driscoll said, "Those weren't bad hires. They were good coaches; it just didn't work out here."
The failures of both Tim Army and Keno Davis may have been enough to get Driscoll fired at other schools, but then-president of the College, Rev. Brian Shanley O.P., kept faith in Driscoll. His next two hires, Ed Cooley and Nate Leaman, turned out to be home runs. Cooley brought the men's basketball program back to the NCAA tournament and currently has the Friars at No. 11 in the nation. Leaman has two Frozen Four appearances under his belt, including one national championship in 2015 with the men's ice hockey team. That championship was the first by a men's team in the College's history. During his press conference, Driscoll mentioned how Friartown has been turned into a destination job no one wants to leave. Driscoll affirmed: "I promise you: Ed had the University of Michigan job. I was there. We sat down and talked about it. He wanted to stay here." He also said, "He can go anywhere in the country and chose to stay here."
Driscoll has had several other impacts outside of his coaching hires. Driscoll was responsible for the underground parking garage with tennis courts on top, an idea he said he got from similar structures at Berkeley. He also rebuilt the soccer field and, in the process, relocated the softball field. He has upgraded the fundraising program to provide the different teams here with the amenities top Division 1 programs enjoy, such as the world-class Ruane Friar Development Center and renovations to Schneider Arena. Of course, Driscoll helped lead the Friars through the creation of the new Big East and aided in the building of the conference as it is today.
Driscoll has said he is retiring not only because it feels right but because he cannot provide the longevity that new president Rev. Kenneth Sicard O.P. will need it from him. He also wants to spend more time with his wife. "She has given so much of her energy to me and now it's time I give all my energy to her," said Driscoll. He also noted his competitive spirit and drive, things he picked up playing hockey at Ithaca College, and a desire to build a program and coach young men as the reasons he wanted to be an A.D. Driscoll noted how he had had "life coaches" his whole life, and all he has ever wanted to do was coach and teach other people.
In his press conference, Driscoll thanked his "teammates," identifying them as the reasons for his success. He hinted at an internal hiring when he said, "When you have a successful organization, you want to hire the team members that have been already working to make it so successful." A few days later, Steve Napolillo was announced as the new A.D. Napolillo was one of Driscoll's first hires and has worked closely with him for quite some time. He is equipped to take over as he has a list of uncompleted plans of Driscoll's, an idea of how things should be running here, and will have continued mentoring from Driscoll himself.
At Napolillo's first press conference, President Rev. Kenneth Sicard O.P. noted that he had done his due diligence and had been discussing Driscoll's replacement for months. He said that he feared screwing up the momentum that the program had built by bringing in an outside candidate and how he wanted to reward the talent they had internally. Driscoll said, "Nobody loves Providence College more than Steve [Napolillo]" and talked about the overwhelmingly positive reaction from the whole athletics department when they were told about his hire. Napolillo further exclaimed his gratitude and love for this school when he began to speak. From the sounds of things, Napolillo will be a great A.D. for Providence College. He will have big shoes to fill and we look forward to seeing how he will do it. To Bob Driscoll: thank you for everything and enjoy retirement.
Providence College Investigates
by npatano on February 7, 2022
---
PCI
---
Which is the Better Olympics?
Will Murphy '23
Sports Staff
Summer
The Summer and Winter Olympic Games allow the best athletes in the world to showcase their talents while representing their country. Although both are extremely fun to watch, the summer games beat out the winter games in terms of excitement. 
The wide array of sports to choose from during the Summer Olympic Games, ranging from archery to water polo ensures that there will be something for everyone. The track and field events that take place during the Summer Olympics are can't-miss T.V. The races combine mesmerizing star power with incredible pace. Battles between Jamaica's Usain Bolt and the rest of the field have been consistently breathtaking for nearly the past two decades, often with Bolt coming out on top. The relays also add another layer to watch during the track and field events, often resulting in chaotic finishes. 
The swim events are another aspect of what makes the Summer Olympic Games so fun to watch. The United States' Michael Phelps' run of dominance in swimming can be compared to Bolt's in sprinting, as he is the all-time leader in medals in the Summer Olympic Games, at a whopping 28 medals. 
Beach volleyball is another event that adds to the excitement of the games. The beach volleyball matches are fast-paced and never fail to amaze the crowd. Another fan favorite is table tennis, as it is incredible to watch the coordination displayed throughout the matches. 
Some of the recently added events have also been rapidly growing in popularity. Skateboarding and surfing were both added as events to the games, and each continue to reach a broader audience. Each sport has polarizing athletes who continue to grow the fanbase for the Olympics. 
The Summer Olympic Games also have widely popular sports such as basketball and soccer. Both  have consistently provided competitive matchups, with three-versus-three basketball being a recent addition to the games on top of five-versus-five. The great variety of events that provide something for everyone combined with the star power of the Summer Olympic Games pushes them ahead of the Winter Olympic Games. 
Overall, both the Summer and Winter Olympic Games are great opportunities for every country around the world to band together and appreciate the hard work that each athlete puts in to reach the levels of greatness required to participate in the Olympics.
Joseph Quirk '23
Sports Staff
Winter
When it comes to the Olympic games, it always seems to feel like the summer games get much more love and attention than their winter counterparts.  In all fairness, the summer games are exciting and have been full of iconic moments, athletes, and events. Usain Bolt and the Jamaican 4×100 meter relay team beating the U.S. team after both squads beat the previous world record time in the same race, for example, are some exciting moments in Olympic history. Similarly, Michael Phelps is one of the most decorated Olympians of all time. And, the cultural significance of the USA Dream Team in the basketball tournament has had an impact to this day. Whatever it may be, winter sports are  just as good, and perhaps even better.
The winter games can answer the summer games in terms of star power and iconic moments themselves.  Look at Lindsey Vonn, one of the greatest female skiers of all time, or, Shaun White, who makes even the most difficult snowboarding tricks look easy. And, few moments in sports are more iconic than the 1980 Olympic Men's Ice Hockey Tournament when the United States beat the USSR in the semi-finals and went on to win gold. Needless to say, the winter games are right up there with summer in terms of iconic moments, athletes, and overall enjoyability. However, not notoriety. 
Maybe it is because the summer games have more recognizable and exciting sports.  After all, it is much easier to get excited about a race when the racers are competing head-to-head and not against a clock like some winter events, but the winter games are vastly underrated in this area too. 
For fans of technique and grace, perhaps gymnastics in the summer games is a favorite event. But, figure skating is just as beautiful and graceful and arguably more difficult than gymnastics. And if it resembles "dancing" too much for your taste, half pipe and freestyle skiing and snowboarding are just as technical and dramatic. For fans of speed, speed skating or ski jumping may be interesting. And, of course, the exhilarating  downhill skiing events. Anyone who has ever skied or snowboarded knows the rush of flying down a mountain and it is no different here. The hockey tournament, which could be less popular in the United States, is nonetheless incredibly entertaining and intense as the talent is spread evenly worldwide. 
The winter games have many great aspects and advantages over its summer counterpart, and it is time we gave these games the respect they deserve.
Men's Basketball Season Preview
by The Cowl Editor on October 28, 2021
---
Friar Sports
---
PC Hoops Looks to Silence Critics
Joseph Quirk '23
Sports Staff
The Providence College Men's Basketball Team had a disappointing last season, finishing 12-14 and failing to qualify for the NCAA tournament, let alone make it past the first round of the Big East tournament. The Friars entered last season with high expectations, considering how they nearly made the NCAA tournament in the 2019-2020 season.
Much has changed in the past two years, particularly the loss of some crucial players. Star guard David Duke Jr., for example, left the Friars after last season to pursue the NBA. Duke went undrafted before making the Brooklyn Nets summer league team and earning himself a two-way contract with the championship favorites. 
Some things remain the same, though. Two players that stayed to play are center Nate Watson '22 and guard AJ Reeves '22. The returners expect to feature prominent roles in the offense with Watson working down low in the post and Reeves creating spacing on the floor.
At this past Big East Media Day, Watson was chosen as a Big East All-Conference first team selection. The preseason polls, however, had the Friars as the seventh team in the conference. Reeves said, "I think Nate is one of the most consistent bigs in the country." Head coach Ed Cooley said, "I feel like my wife gave birth to Nate, he's been with us so long."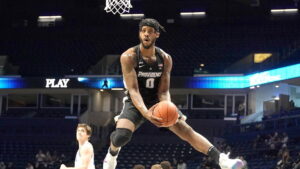 This is a big year, particularly for Reeves, as the former four-star recruit looks to have his most prominent role in the offense since arriving in Friartown. He has been inconsistent his first three seasons, flashing a brilliant shot in some games and becoming ice-cold in others. With the departure of Duke and Watson, consistency beyond the arch from Reeves will be a necessity. He will have some help with moving the offense as point guards Alyn Breed '24 and Jared Bynum '22 return, as well as graduate student forward Noah Horchler '21GS and senior big man Ed Croswell '22.
Breed looks to build off a very promising freshman season in which he averaged five points-per-game along with one assist and two rebounds. He has flashed potential to be a solid scorer who can move the ball well, and now having a full offseason and the experience of Big East basketball last season, it is reasonable to expect a good jump in production from him this season.
Bynum is a lot more experienced than Breed, and is a key piece in this offense. The redshirt junior was a massive part of last year's offense as he played the main distributor and set up his teammates well. The point guard who can distribute the ball smartly is key, and that was never more apparent than last season. Last year, Bynum was a newcomer but made an instant impact. However, a mid-season injury took him out of action for a couple weeks and the offense looked drastically different.
Croswell was also a newcomer last season, and he had some struggles. The transfer from La Salle University was advertised as one of the best rebounders in the country, but his 1.9 rebounds-per-game last year showed he may have struggled to translate his game to the tougher Big East conference.
If the Friars are going to be good this year, they are going to need him to step up. Having an anchor that can come in off the bench and allow Watson to rest is going to be very important.
Another player the Friars will need this year is returner Horchler. The grad student forward adds a different fold to the offense with his ability to stretch the floor.
One thing this offense has clearly lacked the last few seasons is consistent three-point shooting, and towards the end of last year, Horchler flashed the ability to be a good catch and shoot perimeter player. An athletic forward at 6'8" and 220 pounds, he also has some size to him. With the way the game has evolved, having big men who can shoot is becoming increasingly important.
While all these returners are going to be very important to the success of this team, the newcomers are going to be very important as well.
The rest of this roster is brand new, composed of freshmen and transfers. As mentioned earlier, star guard Duke left to pursue an NBA opportunity. But Cooley and the Friars also lost Greg Gantt '23, Kris Monroe '23, Jimmy Nichols Jr. '23, and Jyare Davis '24, who all left through the transfer portal this offseason.
The transfer portal did not just take, however. Justin Minaya '22 came from the portal via the University of South Carolina. In his previous two seasons at USC, Minaya he was about a seven point-per-game scorer, adding about six rebounds and one block per game to his per-game totals. He looks to have had pretty solid production for a power-five team and should be a nice piece to add.
Their other transfer is graduate guard Al Durham '22. In Durham's senior season at the University of Indiana, he averaged 11.3 points, 2.6 assists, 3.1 rebounds and .5 steals per game.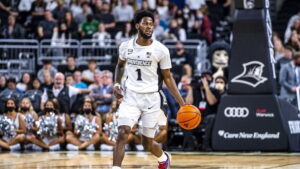 He was a leader there and the Friars got a good look at him when he went off and helped lead the Hoosiers to an early season out-of-conference win against the Friars at the Maui Jim Invitational.
The Friars also brought in a ton of young talent to help rebuild this roster.
Freshman guard Matteus Case '25 is a two-star recruit from Canada and appears to be able to shoot the ball decently from a distance. Freshman guard Luke Fonts '25 is the brother of graduate walk-on Andrew Fonts '22GS. Legend Geeter '25 is a big freshman forward, standing at 6'7" and 220 pounds. He likely will be buried on the depth chart early in his career with all the experienced power forwards in this team, but the former three-star recruit should be a big piece of this team's future.
Former three-star forward Rafael Castro '25 and freshman Kieran O'Haire '25 round out the recruiting victories Cooley claimed this offseason.
Cooley expects a competitive year in college basketball, especially with this extra year of eligibility. He said at Big East Media Day, "College basketball will be in a good place this year. It should be as competitive as any."
Cooley hopes the Friars will be competing on the highest stage too, considering it has been about three years since their last appearance in the NCAA tournament. But he is not discouraged by the early hate the Friars are getting.
"It's what they think. How true is it? Who knows? I think it will all balance out. As a coach, if you're worried about where you're picked early, you're in it for the wrong reasons," said Cooley.
He continued, "You balance your team with confidence, inspire them to be better than people think and kind of go from there. Don't look at it as a negative. It's just somebody else's opinion."
Sports Shorts
by The Cowl Editor on October 7, 2021
---
Sports
---
Sports Shorts
Joseph Quirk '22
Sports Shorts
Field Hockey:
The Providence College Field Hockey team had a rough week, dropping a Big East game at the University of Connecticut this past Friday before losing a home game to Virginia Commonwealth University on Sunday Oct. 3. The Friars were shutout in both games, meaning they have now been shutout in three straight games. After the two losses, the Friars dropped their record to 5-7 overall and 1-2 in conference play. They lost the game Friday in Storrs, CT by a score of 3-0 and the home tilt Sunday 1-0. The Friars next play Friday, Oct. 8 at home vs. Temple University.
Men's Ice Hockey:
The Providence College Men's Ice Hockey team kicked off their season at Schneider Arena this past Saturday, Oct. 2 against the United States Marine Academy, also known as Army West Point. The Friars won their home opener in routing fashion, beating the Black Knights by a score of 7-0. Goals were scored as soon as a minute into play and six different Friars put the puck into the net. Sophomore Brett Berard '24, a New York Rangers draft pick, led the scoring notching two goals himself. The Friars next take on Merrimack College to open their Hockey East play at home Thursday, Oct. 7.
Women's Ice Hockey:
The Providence College Women's Ice Hockey Team also began play this weekend with an exhibition this past Friday, Oct. 1 at home against the Boston Pride. The Boston Pride is an LGBTQ+ hockey organization that creates a supportive environment for people of different sexual/gender orientations to have fun and play hockey. The Friars won the game 3-2, when Hunter Barnett '22 scored the game winner with only 13 seconds remaining in regulation. The Friars were out-shot 23 shots to 31 in favor of the Pride. The Friars open Hockey East play this Friday, Oct. 8 at home against the University of New Hampshire.
Men's Soccer:
The Providence College Men's Soccer team tied a Big East game against Marquette University this past Saturday, Oct. 2 in Milwaukee. The score ended tied at two goals apiece and sent the Friars record to 6-1-2 overall and 2-0-1 in conference play. Both teams scored their two goals in the second half of regulation play and would remain scoreless throughout the overtime period. Providence held the edge in shots and corner kicks while Marquette fared better in the saves and fouls categories. The Friars' next game is Wednesday, Oct. 6 in Queens, NY to face St. John's University.
Providence College Investigates: NBA
by The Cowl Editor on September 30, 2021
---
PCI
---
Should the NBA Logo Be Changed?
Will Murphy '23
Sports Staff
Yes, There's A Better Choice
The NBA's logo is one of the most, if not the most, recognizable logos in the world of professional sports.
The NBA has kept the same logo for upwards of 50 years since it was originally established. The logo famously consists of a silhouette of Jerry West, an NBA All-Star guard for the Los Angeles Lakers throughout the 1960s and early 1970s.
Although the NBA has never publicly acknowledged that West is the logo, it is common knowledge that it is West who is represented in the iconic silhouette. One would think that being the logo of the sport they played professionally is one of the highest honors that could be bestowed upon them.
West has publicly stated that, although he is honored to be depicted in the logo, it also embarrasses him to some extent.
In recent years, West has even gone as far as to advocate for the NBA to change the logo.
The game today is almost unrecognizable from the game that was played in the 1960s; there was not even a three-point line yet when the logo was instituted back in 1969. The NBA deserves a logo that evolves with the game and that can more accurately represent the spirit of today's game.
Since West's retirement in 1974, there have been countless players who have made a profound impact on the NBA, providing a wealth of options to choose from. Michael Jordan, Kareem Abdul-Jabbar, and LeBron James are just a few of the players who have left a remarkable impact on the NBA.
One player, however, may be even better suited to become the new face of the NBA: Kobe Bryant.
Bryant played for the Los Angeles Lakers for the duration of his 20-year career in the NBA. Throughout his career he racked up countless individual accolades, including 18 All-Star appearances, one Most Valuable Player award, and two years spent atop the league's scoring leaderboard.
In addition to his individual accomplishments, he also led one of the most successful dynasties the league has ever seen to five NBA championships. Bryant has had one of the most storied NBA careers in the history of the league.
Bryant embodied the loyalty of a true star, remaining with the Lakers for his entire playing career. In every aspect of the game, Bryant's hardworking nature was evident, which allowed him to gain the respect of opponents and become a fan favorite around the league.
Unfortunately, Bryant died in a tragic helicopter accident on Jan. 26, 2020. What better way to honor Bryant than to reward all the work he put into the league by memorializing his trademark fadeaway as the new NBA logo? 
Joseph Quirk '23
Sports Staff
No, Keep It the Same
There is no good reason, be it social or economic, that the NBA should change their logo.
The narrative that the NBA should consider this change really began to pick up steam in the past year since the passing of NBA legend Kobe Bryant.
Prior to Kobe's death, the discourse around altering the logo was not present, or at least it was not nearly as prominent as it is now.
I agree that Kobe should be immortalized; his behavior on and off the court as well as his impact on the sport will be forever remembered by fans and the league; however, changing a logo is a big deal for a couple of reasons.
Firstly, the NBA logo has been a symbol of the league for a number of decades. The NBA as we know it today is still relatively young and the game never really exploded in popularity until the 1980s.
Jerry West is the figure on the league's current logo. He has been one of the best guards in league history, one of the best talent evaluators in league history, and the face of the Los Angeles Lakers organization before the "Showtime" Lakers of the 80's.
Needless to say, he is an iconic NBA player and an integral part of league history. The man nicknamed "The Logo" has represented the league for years.
The current logo is everywhere: on NBA video games, apparel, hats—that is to say, if you own or watch something NBA-based, you recognize it as the NBA.
If you change that, not only do you outdate all of those broadcasts and merchandise, but you have to pay to replace it all. You also confuse everyone who has for years associated that specific image with the league. The fans may not easily recognize the new logo. Those are just a couple of good reasons that the logo shouldn't be changed.
All in all, there is no justifiable reason for the NBA to change its logo.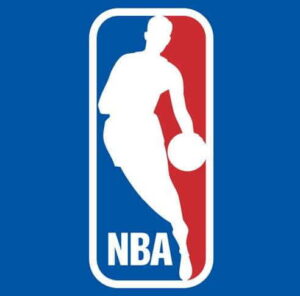 There is no controversy around it, and it hasn't become outdated or the cause of outrage. The logo, an established visual of the league, doesn't have to be changed.
The NFL hasn't changed theirs in the last couple decades. Neither has the MLB or NHL, and all of those leagues, you could argue, have worse logos than the NBA.
Why change a piece of the league's history, a change that may not help the expansion of the league to fans and could cost the league extensively financially for absolutely no good reason?
No, the league should certainly not change their logo.
Volleyball Veterans Lead the Way
by The Cowl Editor on September 23, 2021
---
Friar Sports
---
Friars Look to Continue Hot Start to Season
Joseph Quirk '23
Sports Staff
Last year, the Providence College Friars Volleyball team faced the daunting challenge so many other collegiate sports teams had to face: a season in the wake of a global pandemic.
The Friars spent all of last season playing in masks, having a schedule constantly in flux, and starting their practices much later than usual with no summer training camp to help players get acclimated before the onset of the season.
It was a completely different way to go about doing a Division I sports season, and there were many differences between this season and last. "Well, the biggest difference is we don't have to practice or play in masks," said head coach Margot Royer-Johnson. "So that's definitely different. And significant."
And in terms of differences on the court, the five new freshmen on the team seem to have had a big impact on their dynamic and successful play so far this season, building off last year's 7-3 record and fourth-place finish in the Big East. "The biggest difference right now is we have five new freshmen and we only lost one player from last year," said coach Royer-Johnson. "So, we pretty much brought back everyone who was with us this past year and we've added five new players. And they've all gotten playing time," added coach.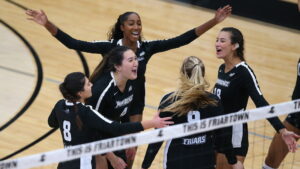 Yet, despite all the COVID-19 difficulties last season, Coach Royer-Johnson led the Friars to their first Big East Tournament appearance in years. Unfortunately, a COVID-19 outbreak prevented the girls from being able to play in the tournament, but that disappointment seems to have provided them with extra motivation and confidence going into this season. "Yeah, it's definitely stuck with them. I think it's given us the confidence that we need to mentally know that we can qualify for the tournament and be successful in the Big East Conference," said coach Royer-Johnson. She then added, "I think confidence is a big part of this game, and so it is a mental game in a lot of ways."
That confidence has certainly shown up in the play on the court thus far. So far this season, the Friars are 12-1 in non-conference play, with their only loss so far to the United States Military Academy, also known as Army. However, since that loss to Army back in August, the Friars are 11-0 and winning games in dominant fashion with 10 out of their 12 wins being decided by four sets or less.
Coach Royer-Johnson points to added depth as another reason for the team's tremendous start. "Well, we have a lot more depth than we've had in the past," said the coach. "We have a lot more depth and a lot more talent. A lot more experienced talent, so we don't have to play certain players in certain positions, we have options" she added. On the topic of depth, Coach Royer-Johnson mentioned last season how the team only had two outside hitters, and while they had players that could play there if necessary, she feels much more comfortable allowing players to play their own positions.
Coach Royer-Johnson also discussed the team's experience as a big factor in its performance. "The two biggest experience factors are our setter and libero," said coach Royer-Johnson. The team's setter Allison Barber '23 is a grad student, using her extra year of eligibility due to COVID-19, and Coach Royer-Johnson pointed out that she had been the team's setter since her freshman year. "When you have basically your quarterback coming back, that's obviously an experience boost," said the coach. As for the team's libero, Mackenzie Taylor '22 is a senior who has been playing crucial minutes since her freshman season. "The leader of our defense is the libero and she's a senior this year and she too has been starting for us since her freshman year," said the coach. Coach Royer-Johnson then added, "So the leaders of both our offense and defense are our veterans, and yeah, I think it most certainly makes a difference."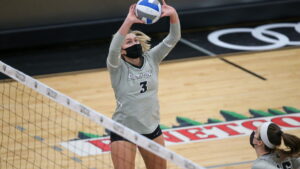 The Friars now get the week to prepare before starting Big East competition this Friday, Sept. 24 on the road against Xavier University. When asked about the impending Big East Conference play and whether the team was going to keep using their current strategies, Coach Royer-Johnson showed respect to the competition before saying that the Friars only wanted to be better before conference play began. "Yeah, it's definitely going to be a step up in terms of level of competition," stated the coach. "I think we're just hoping that by that time we have a lot of our skills honed a little bit, that our connections that we've been making with our hitters are a little more precise and our passing is a little more precise, our serving is a little bit tougher," explained coach Royer-Johnson. However, immediately after this remark she was quick to point out how the Friars are leading the conference in aces per set and that it is a strong part of their game–she just wants the team to perfect it.
The Friars now have the rest of conference play and hopefully tournament play to look forward to. After a great season last year and a fantastic start this year, Coach Royer-Johnson said that their expectation and hope this season is to prove the haters wrong. "We have a little bit of a chip on our shoulder given how well we did in the spring, and what we believe in ourselves, we were picked only eighth in the Big East. We felt like we were pushed down a little bit by that, so I think one of our goals is to just prove 'em wrong," emphasized Coach Royer-Johnson. She also mentioned what the coaching staff is looking for going forward in the season. "We're just looking for everyday improvement. You know, that one-percent-better-every day improvement."
The Friars look to continue their fantastic start into Big East play this Friday against Xavier University in what will hopefully be the first of many Big East victories for Providence College this season. 
PCI: Who Will Win the NFL MVP this Season?
by The Cowl Editor on September 16, 2021
---
PCI
---
Providence College Investigates: NFL
Joseph Quirk '23
Sports Staff
Josh Allen
Josh Allen will be the National Football League's "Most Valuable Player" this season.
To win the NFL MVP, you must have three things: a top three-seeded team, consistent MVP-level play throughout the season, and a lot of luck. While it is hard to predict luck (the primary reason most MVP predictions pre-Week 6 are usually wrong), we can certainly predict the other two things to some extent.
Heading into Week 1 this weekend, Allen will have both. Starting with the first thing necessary, a top three-seeded team (or, at least, a playoff caliber team), the Buffalo Bills should easily be one of the best teams in AFC this season.
Although they do play in a tough division, neither the New England Patriots nor the Miami Dolphins should cause problems for the Bills as they have arguably one of the most well-rounded rosters in the league.
The Bills' defense is one of the best in the league, with defensive-minded head coach Sean McDermott's leadership, an elite secondary, ball-hawking linebackers, and a versatile defensive line.
On offense they boast a solid offensive line, a couple of strong running backs, as well as several skilled wideouts and tight ends for Allen to throw to. That's not to mention their top special teams' units.
Now, onto the second thing Allen needs: a consistent MVP-level season.
Allen had a breakout year, which led him to be considered for the award last season. He has all the physical tools necessary to play at an MVP level: a big body to fend off opponents and keep him durable, speed to maintain a fast-paced game, and a cannon of an arm.
Last year, he managed to improve upon weaknesses in his passing accuracy. Add in the arrival of star wideout Stefon Diggs last season to make some plays, and Allen had his best statistical season yet.
Factor in his physical capabilities, history of good health, yearly progression, and history of putting up huge numbers, and there isn't a reason why Allen can't throw for over 4,000 yards and 40 touchdowns. And if the Bills play as well as everyone anticipates, it will be difficult to find another worthy recipient of the award.
There is a third aspect to winning MVP, and that's luck. No one can predict it.
Anyone can get hurt or outplayed in any given season, which is what makes this sport so exciting.
Although we can't predict how luck will treat him this season, looking on paper before kickoff indicates that Josh Allen is a good, healthy bet.
Luke Sweeney '24
Sports Staff
Tom Brady
The 2021 NFL Season kicked off last Thursday night in exciting style with the Tampa Bay Buccaneers versus the Dallas Cowboys. The usual playmakers of each team were healthy and made highlights on each side of the ball in a high-scoring game that came down to the last few minutes.
Dak Prescott made an impressive return from his injuries last season by throwing 42 out of 58 completed passes for 403 yards, but ended up falling short of a win in the fourth quarter. Of course, the Buccaneers' quarterback, Tom Brady, stepped up when he needed to by playing at an elite level in the season opener.
While Sunday's Week 1 slate of games was full of great quarterback performances around the league such as Kirk Cousins, Matt Stafford, and Patrick Mahomes, nobody looked sharper and more confident than Tom Brady on Thursday Night.
It has been said year after year, but Brady continues to show that he can compete at the highest level well into his 40s. Because of excellent pocket presence and quick, efficient decision-making, Brady is looking like the current MVP frontrunner after Week 1.
Brady threw for 379 yards and four touchdowns against the Cowboys and proved that he has not lost a single step over the offseason. The final minutes of the game were set up in a way that Brady had seen a thousand times before. The Buccaneers were down one point with 1:24 to go in the game. This achievement is basically free for Brady, and everyone watching knew it. He waltzed down the field as he always does and set up an easy kick for Tampa to seal the victory.
Dallas played an outstanding game the whole way through, and Prescott may have played an even better game than Brady, but the bottom line is that no one knows how to win the way he does. In big moments when he needs to produce results, he always gets it done.
Brady and the Buccaneers still have some room for improvement if they hope to repeat what they did last year. Brady threw two interceptions against Dallas, giving them an opportunity to win the ball game at certain points. But none of that mattered after a game-winning drive snuffed out any doubt.
As always, Brady was able to spread the ball and get many different playmakers involved in the win. He threw touchdowns to Chris Godwin, Antonio Brown, and twice to fellow former Patriot Rob Gronkowski.
If Brady can look this sharp for the rest of the regular season and come up clutch when his team needs, he will be the 2021 NFL MVP.
Best Friar Moment/Storyline of the Year
by Joshua Lopes on May 6, 2021
---
Friar Sports
---
Providence College Investigates: PC Athletics
Women's Hockey Makes NCAA
Joseph Quirk '23
Sports Staff
There have been a lot of impactful events that have happened in Providence College Athletics this year, but few are as impactful and program-defining as the PC Women's Ice Hockey Team's run to the NCAA tournament. The Friars made the national tournament for just the second time in program history, and their first appearance since the 2004-2005 season when they lost to the University of Minnesota 6-1 in the first round.
That year, the Friars, led by Bob Deraney, went 21-11-5, finished second in Hockey East, and won the Hockey East Conference Championship. But that was then, and now the Friars are under the tutelage of head coach Matt Kelly. In a shortened season caused by COVID-19, Kelly's squad boasted a 12-8-1 record. The Friars had a fantastic season all around, highlighted by the performances of forwards Bailey Burton '23, Sara Hjalmarsson '22, and Caroline Peterson '22, defenseman Brooke Becker '24 and Claire Tyo '24, and goaltender Sandra Abstreiter '21.
They would ultimately reach the Hockey East Championship game against Northeastern University. The Friars would fall in that game 6-2, but luckily their season would not end there.
The second-place finish at the hands of an elite NU squad would earn the Friars the No. 7 seed in the NCAA tournament.
The women's ice hockey tournament is only eight teams deep, making it incredibly difficult for teams to qualify, and the Friars were just able to edge in at the seven spot. The Northeastern team that had defeated them in the Hockey East Championship would earn the number one seed, and Boston College, who had been upset by the University of Connecticut in the Hockey East Quarterfinals, would round out the Hockey East representation at the tournament. The Friars would match up with the number two seed, and the eventual champions, the University of Wisconsin Badgers.
Unfortunately, the Friars would be blanked 3-0 by the Badgers, who would go on to defeat Northeastern in the National Championship 2-1. While the outcome was not much different than the last time they qualified for the tournament, making the tournament under this new coaching staff and fielding a team capable of doing so is not only the biggest moment of the year for PC Athletics, but also a vital building block for the program for years to come.
With COVID-19 affecting so many sports on campus—limiting teams' preseasons, practice, and travel, as well as cutting games out of the schedule—many teams struggled to find consistent success this season. However, the women's hockey team rose above, having one of their most impressive seasons in recent memory, attaining a goal that had only been accomplished once before in program history.
David Duke Enters NBA Draft
Ben Bilotti '23
Sports Staff
Providence College Friars guard David Duke Jr. '22 has always had a bright future ahead of him. The 21-year-old already has a very impressive resume and is looking to add one more accolade to his growing list. Concluding this year's college basketball season, Duke declared for the NBA Draft. Overall, Duke's performance this year and subsequent entry into the NBA Draft is the highlight of the year for Friars athletics. 
Duke's first season for the Friars was not one to scoff at. Heading into the 2018-19 basketball season, Duke was named the Preseason Big East Co-Freshman of the Year. In 34 games he averaged 7.1 points and made 38.7 percent of attempted field goals, an impressive line for a freshman. Concluding Duke's inaugural season, he earned the team's Coca-Cola Most Promising Prospect Award.
David Duke's success continued in his sophomore campaign. On top of being awarded the team's Ryan Gomes Most Improved Player Award, and being named to the U.S. Basketball Writers Association All-District I team, Duke also competed as a member of Team USA in the Pan American Games in Lima, Peru, where he helped the squad earn a bronze model. During PC's season he improved his field goal percentage to 40.9% while making 42% of his threes. 
Duke's success peaked in his final season. The junior ranked first in the Big East in minutes played, averaging 37.1 minutes per game. He ranked second in the league in assists and finished second on the Friars for scoring. On Feb. 24, Duke scored his 1,000th career point. On that day he became the 52nd Friar to reach the 1,000-career-point mark. He earned USBWA All-District I honors again and was named to the All-Big East Second Team. 
Despite all the success on the court, what makes David Duke's looming selection in the draft so special is that he grew up right in Providence, RI and has always given back to his community. This past February, Duke helped to publicize a GoFundMe that he and his classmates made for a class project, with the goal of raising $5,000. The money donated would go to Crossroads Rhode Island, the leader in homeless services organizations in Rhode Island. Duke and his classmates surpassed the goal of $5,000 with ease, raising over $14,000.
The NBA Draft will take place on July 29. Many suspect Duke will be selected in the 60-player, two-round draft, and coming off a breakout junior campaign, Duke certainly has much to look forward to in his basketball career. Friar fans will be glued to the TV, waiting to see where Duke lands next as he leaves behind a substantial legacy in his city.