Featured Friar: Rita Murphy '19
by The Cowl Editor on September 27, 2018
---
Campus
---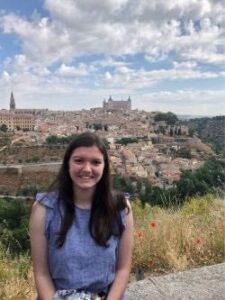 By Kendall Carol '20
In the midst of the overwhelming nature of college, students often struggle to stay afloat.  
Rita Murphy '19 has undoubtedly encountered some chaos throughout her time at Providence College, but she has also fostered a mindset that keeps her close to her intentions and identity, trusting in the future ahead. 
With poise and reflection, Murphy was able to share some valuable advice and a taste of her PC experience, which has been filled with faith, music, and laughter. 
Rita's involvement at PC began her freshman year when she joined Peer Ministry. The Connections retreat, paired with a first club meeting at Newport Creamery, signaled to Murphy that this was the club for her. 
She explained,  "The chance to meet authentic and genuine people opened my eyes to the possibility of having a faith life in college. Peer Ministry also allows me to slow down, and one thing I love is how I can look back and see how much I've changed."
    Murphy's engagement on campus continued into her sophomore year where she took on several roles throughout the community that allowed her to lead and flourish as an individual.  
From helping the freshmen assimilate during their first year as an Orientation Leader,  to working as an Admission Ambassador, a coordinator for Peer Ministry, a radio DJ for WDOM, and a member of Six Gents, Murphy's schedule is more than full.  
When asked about staying sane but also true to her identity through all these changes, Murphy explained, "You don't want to waste time being something that is not yourself, to be authentically yourself is a very freeing thing to accomplish, but by no means easy." 
Her choice to join Six Gents was spurred by the chance to spend more time with her sister, who was also a member.  It was an unexpected decision, but an experience that was irreplaceable for Murphy.  
Murphy explained that watching the audiences grow throughout the years was an indescribable feeling, saying, "Six Gents is a ton of fun, it taught me public speaking, and it gave me confidence."  
When looking back at all of her endeavors, one thing is certain for Murphy, "I wouldn't change anything," and she encourages all PC students to follow a similar mantra of "trusting the process."
As for her future plans, Murphy will continue to apply that mindset. She said, "Life is happening and I'm just going to see where it takes me." But she does have a few ideas in mind. 
As an art history and psychology double major, Murphy is interested in counseling or higher education. Her dream job of working at the Metropolitan Museum of Art is still in the realm of possibilities, but as of now, she is deciding between doing a year of service or going right into the workforce post-graduation. 
 When asked about one relationship that has impacted her experience the most, Murphy had trouble narrowing it down. She explained,  "Every person, every roommate,  orientation leader, group project member, has truly contributed something small to who I will be when I graduate here from PC." 
Mass Held in Memory of Michael Gilmor
by The Cowl Editor on September 13, 2018
---
Features
---
By Kendall Cairoli '20
News
The Providence College community gathered in Saint Dominic's Chapel, on September 5, 2018 to celebrate the life of Michael Gilmor. 
As a beloved member of the class of 2017,  Gilmor's incredible spirit was honored by family, friends, and professors.  During his time at PC, he was an active member of the innertube water polo team, Habitat for Humanity, and was the executive treasurer of the Board of Programmers (BOP). After graduation, Gilmor was selected by the prestigious Fulbright scholarship program to teach in Poland. 
Father Nicanor Austriaco  remembered Gilmor's beloved presence in his homily that urged students to make the most of their time here on earth, but especially here at PC. The powerful message emphasized the virtues that Gilmor embodied, loving and appreciating our loved ones and taking every opportunity available to experience what the world has to offer. Gilmor's spirit was cherished and remembered by members of the community, who will always feel his presence throughout their lives. 
BOP has been selling wristbands this past week that will go towards the Michael Gilmor Scholarship Fund, which the College has set up in his memory. They will be sold through Friday, Sept. 15. 
Carly Fiorina Speaks at Fiondella Lecture
by The Cowl Editor on May 3, 2018
---
Campus
---
Presidential Candidate Speaks at PC
by Kendall Cairoli '20
News Staff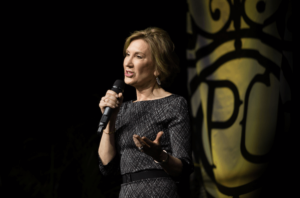 On April 26th 2018, The Providence College School of Business hosted Carly Fiorina as the fourth annual Dean's Symposium speaker. The Peterson gym was filled with over 800 student and faculty members anticipating a speech from Fiorina that detailed her success in the corporate world, her position as CEO of Hewlett-Packard and her 2016 Presidential candidacy. However, Fiorina spoke about the unexpected, her Philosophy and Medieval Studies degree. 
The Fiondella Lecture was featured as part of the PCSB Dean's Symposium, which aims to highlight the importance of a foundation in the humanities and the influences it has on the study of business and other disciplines. Fiorina's lecture aligned perfectly with that message as she emphasized the power within humanities to think, communicate and transform an individual into a leader in their communities and corporate careers. 
Fiornia said, "At my Stanford Commencement speech, I did not attribute my success to my Econ 101 course, but rather my Medieval Philosophy class". As students who take Western Civilization, Fiorinias detailing of reading texts of the classical greeks and extracting significance or a new perspective from the work, "boiling it down to its essence" as she exclaimed, was a familiar feeling.  Finding truth and importance within a work is what Fiorina credits to her critical thinking and problem solving skills. That skillset has guided Fiorina in both her corporate and public service work. She remarked,  "That ability to think critically and understand how other people view the world is a vital component of a good career and a good life."
Fiorina did not neglect to acknowledge the challenges and failures that are also encountered on the journey of success.  Fiorina was particularly candid about fear. She urged the audience to choose to lead in every possible opportunity, but acknowledged the role fear and the risk of criticism play in preventing that goal. She remarked,  "Criticism can be fierce, constant, and cruel, but keep going—fear can define you, or you can overcome fear and define yourself." 
An aspect of Fiorina's speech that profoundly aligned with the PC message was her emphasis on the virtues of empathy and character, skills that are fostered and expanded through a humanities education. Humility is a principle  that is becoming a theme in the corporate world as millennials are highlighting the importance of companies giving back to their communities. Fiorina explained that this is why businesses are making a mistake in looking solely for "business skills" when searching for employees she said, "Neglecting to acknowledge the importance of art, history, science is hampering civil society, those skills feed and grow the soul." 
Sydney MacKillop '20 left the Fiorina lecture with a newfound confidence in her history major. She remarked, "When I usually tell people that I am majoring in history, I am met with confusion. But Fiorina validated that my passion is not useless in the real world—it is important and it gives me the chance to connect with something that is  greater than myself and I am proud of that."   
For many students, Fiorina's lecture was a chance to see the humanities through a different lens and one that offered unexpected, but bright promises.The humanities may provide not only communities, but also the corporate world, with a foundation that is rooted in virtue and a future of prosperity and possibility.   
Student Affairs Hosts Sexual Assault Awareness Month
by The Cowl Editor on April 19, 2018
---
Campus
---
PC Engages and Informs Students Through Events
by Kendall Cairoli '20
News Staff
April is Sexual Assault Awareness month and Providence College continues to participate in the international movement to bring awareness, education, and prevention to college campuses. However, for both PC administrators and student leaders, addressing the topic of sexual violence is a conversation that they believe deserves recognition and engagement beyond the month of April. "It would be naive to think that our work would be done in a month," said Kristine Goodwin, vice president of student affairs. "This is not a one month endeavor, but rather a 12 month endeavor." 
In order to continue a transparent and educated discussion regarding sexual violence, both Goodwin and Title IX Coordinator, Dr. Jim Campbell, have diligently worked to develop programs that address the issues on the PC campus. Offering students resources and education about sexual violence not only brings awareness, but enhances solidarity and support for victims. 
Programs like Haven—an online pre-orientation program that is required for freshmen to take before they attend school in September—are paired with two top rated sexual assault prevention programs during orientation week, like the Bystander Step Up Program. These programs aim to educate students early on in their college careers, in the hopes of preventing sexual violence throughout their time at PC. They also equip them with skills that will help themselves or others when confronted with the issue.
"At Providence College there is a large investment in bringing awareness of sexual violence. When students have a trust and confidence in their system, they feel safe and more comfortable reporting their incidents of assault—that is vital to us," said Campbell. 
To establish a safe space for students to report their experiences of sexual assault, PC has partnered with the local police department as well as external Title IX investigators, who help administer updated resources and tools that PC can implement into their own human resources. To gather student experiences and opinions, campus climate surveys are sent to students, which ask questions about student's experiences with sexual violence and harassment issues, along with a plethora of issues like gender and race issues. 
From this survey, the administration is given student responses which help them tackle the issue of sexual violence in a more productive manner. Goodwin said, "When students fill out these surveys, we are able to triangulate all this data and grasp an idea of what is occurring on our campus and from there, we can gage the areas that we need to improve on." 
Student voices are vital in combating the issue of sexual violence, which is why these surveys are a vital aspect in the progression towards a safer community that grants survivors and victims with the resources they need.
For Women Will, a PC organization that focuses on educating the community on issues of gender and sexuality, the month of April offers an opportunity to heighten awareness of the issue and the preventive steps that need to taken in the future. One of the main events on campus was Take Back the Night, an event hosted on April 10 that created a safe space for students to share their experiences in a place of solidarity. 
Ingrid Brugnoli-Ensin '18 is the president of Women Will and believes that hosting lectures and community wide events works towards expanding peoples' understanding of sexual violence. "There is a whole sexual assault spectrum, there are different experiences and different traumas endured, but every trauma is significant," said Brugnoli-Ensin. Take Back the Night and other events ensure that there are platforms on campus for individuals to feel safe in voicing their experiences, while simultaneously educating others in the community on  sexual violence and its effects. 
By expanding people's interpretations of sexual violence, people can learn what is okay and what is not, what classifies a healthy relationship, and when to notice when yourself or a friend is in an unsafe situation. With the countless resources that PC provides students, an underlining issue is still present, Brugnoli-Ensin explaineds, "There is a stigma regarding sex and sex education programs at a Catholic school, we can not really talk about the issue at hand without talking about sex, which gets messy and complicated." As a Catholic institution, the topic of sex is complex. Brugnoli-Ensin  went on to explain that difficulty arises in the inability to approach subjects like the practice of safe and consensual sex, because pre-marital sex in general goes against Catholic beliefs. 
When safe and healthy sex is not discussed or taught, but turned into a taboo subject, students can be misinformed about responsible and safe sex practices, which may result in a hesitation to report or come forward with their experiences of sexual violence.  
 Despite these broader issues, we can all do our part as individuals to ensure the safety of ourselves and others on campus. Being an active bystander in social situations can be as simple as walking someone back to campus on a Friday night. There may be no grand solution to this problem, but a month dedicated to sexual violence awareness may indicate how much more work and prevention needs to be done and the small acts we can take to move towards some progress. 
As this month represents many things, Goodwin reinforces the idea that it marks a moment for us all to reflect on our role as community members, saying "This month is an opportunity for someone to be a better ally, to be a be a support system, we all need to ask ourselves, 'Am I doing everything I can, for myself or someone that needs me?'"