Providence College Investigates
by npatano on May 5, 2022
---
PCI
---
Who Will Win the 2022 Kentucky Derby?
Margaret Maloney '23
Sports Staff
Epicenter
The 148th running of the Kentucky Derby will take place on May 7, 2022, the first Saturday in May, in Louisville, Kentucky. The race is open to 20 horses, who qualified for the race by earning points on the 2022 Road to the Kentucky Derby. While there are lots of contenders who are favored to win for a variety of different reasons, it is going to be Epicenter's year to win the derby for the first time ever. Epicenter's trainer, Steve Asmussen, is the leading trainer in North America by wins and has won everything besides the Kentucky Derby. He has 9,946 wins as of August 2021. Epicenter started his racing career at Churchill Downs, finishing sixth in his debut last September and then breaking his maiden two months later with a 3 1/2-length score. All four races since then came at Fair Grounds, where he went 3-1-0 with a pair of Grade 2 victories in the Risen Star and Louisiana Derby. Epicenter is the 2022 Kentucky Derby favorite for a reason, winning four of his last five starts. His singular flaw during that time frame was a runner-up showing at the Lecomte Stakes on Jan. 22. Epicenter has also had success at Churchill Downs in the past, winning a one-mile maiden special weight race last November. Assmussen describes Epicenter as "a really attractive horse that's very physical… he takes everything he does with a great amount of ease. He's always maintained a very forward step. From last fall to him arriving here (in the spring), you can tell the difference in his confidence level and demeanor. … He looks a lot more mature and confident."
Epicenter's jockey, Joel Rosario, is a Champion jockey in American Thoroughbred horse racing, originally from the Dominican Republic. In the space of five weeks in 2013, he rode the winners of the Dubai World Cup and the Kentucky Derby. More recently, he rode Knicks Go to wins in the Pegasus World Cup, Whitney Stakes, and Breeders' Cup Classic in 2021. In 2022, Rosario held his ground with 48 wins. When riding under Asmussen as the trainer, in the six races, four winners have come inside of the top-3, making the odds even stronger. Rosario is considered one of the elites as a jockey with 3,301 first-place finishes for $270,742,564 in winnings. Overall, with an elite trainer backing him, and one of the best jockeys on top, this is the best time to get on Epicenter's odds before potentially shifting as the race gets closer. 
Leo Hainline '22
Sports Co-Editor
Smile Happy
Smile Happy will leave Lucky Seven Stables smiling happily after he wins them their first-ever Kentucky Derby this weekend. 
The dark bay colt is a Kentucky native and won his first-ever race this past October in his home state by five-and-a-half lengths on a mile and 1/16 long course. 
Almost a month after his first victory, Smile Happy dominated again, this time at Churchill Downs where the Derby will be hosted. There he grabbed first place by three-and-a-quarter lengths. 
Trainer Kenny McPeek has confidence that Smile Happy will be victorious this weekend:
"This is a really good horse. This is only his fourth career start. I feel like I could win the Derby or the Preakness with this horse." 
McPeek also believes the familiar terrain will work to their advantage: "I liken this to a home game for us." 
Jockey Corey Lanerie has five previous Derby appearances. His best finish was in 2017 when he finished second place with Looking at Lee, a horse with a winning odds of 33-1. 
Lanerie has never mounted off on a horse placed at odds lower than 25-1. The 47-year-old jockey is due for a victory in the event after earning a good reputation for prior performances. This surely will be his best chance to date to win the prestigious race. He stated, "I've won a lot of races—I think I'm only like (114) from 5,000 (winners)—but I haven't won the big ones… It might be this year. It only takes one horse."
At 14-1 odds, Smile Happy is a respectable underdog pick. His previous success at the venue should not be overlooked. Most experts are focusing on favorites Epicenter (5-1) and Messier (6-1) as two horses likely to provide a top display. John Velazquez, one of the most famous Derby jockeys, is mounting off on Messier this year. The horse was formerly trained by the controversial Bob Baffert, whose horse Medina Spirit finished first in 2021 but was later disqualified after testing positive for a banned drug. 
Many are selecting Tiz the Bomb (20-1) as their dark horse pick. The Japanese horse Crown Pride (50-1) has also been cited as a good long-shot bet. However, these colts will not be able to provide the performance by Smile Happy on May 7. 
Smile Happy and jockey Corey Lanerie's familiarity with Churchill Downs will lead them to a first-place finish in the 2022 Kentucky Derby. 
Providence College Investigates: NCAA
by npatano on March 24, 2022
---
PCI
---
Who Will Win March Madness?
Leo Hainline '22
Sports Co-Editor
Providence Friars
On Monday, April 4, the Providence College Friars will be the team cutting down the net in New Orleans. 
This team is the toughest in the nation. Defensively, the Friars are elite and have a standout player in Justin Minaya '22GS who can guard all five positions. His ability to stifle the opposition's best offensive threat combined with his relentless rebounding on both the offensive and defensive ends makes him indispensable to this Friars team. He sets the tone with his energy and is a player any coach would love to have. 
The Friars are well-balanced offensively. Four members of the starting five, and Big East Sixth Man of the Year Jared Bynum '23, are all threats from beyond the arch. Nate Watson '22GS and Ed Croswell '23 are dominant big men who can change the game through merely their presence on the court. They are a tough team to guard given each player has the ability to rise to the occasion and get themselves a bucket. 
Additionally, whenever one Friar is struggling, another steps up and helps lead the team to victory. Each player is unfazed by big moments yet knows their individual roles, making the right plays at the right moment. The unselfish yet assertive dynamic on the offensive end, especially in close games, is a key reason why PC will prevail in this tournament. 
Coach Cooley has also done a phenomenal job leading this team both on and off the court. His preparations and in-game decisions have been a massive factor in the Friars' success and he deserves to be named Coach of the Year. The Big East is arguably the most competitive conference in the nation and winning the Regular Season Championship is a significant accomplishment. Players are the ones who ultimately decide games, but Cooley's ability to prepare his men and to manage any situation on the sidelines gives the Friars an edge over their opponents. 
Among all else, this Friars team never gets rattled. They are mature and remain calm in adversity. Numerous times this season, most notably at Hickle Fieldhouse playing Butler University when the Friars faced a 19-point second-half deficit, they battled their way from behind to win. Their energy and communication with each other are arguably the best in college basketball. PC emulates what true teamwork entails and their composure under pressure has been and will continue to be a driving force of their success. 
The energy surrounding this team is unmatched. No student body and administration are more collectively passionate about their basketball program. The players and fans are eager to prove doubters wrong. PC has a chip on our shoulders and is eager to continue this statement season. The support from the Providence College community will only further elevate this team towards a national title. 
God bless, go Friars. 
Stephen Foster '22
Sports Co-Editor
Gonzaga Bulldogs
When I look at the group of teams assembled this year in Division I Men's College Basketball, I see a lot of teams with talented interior and exterior offense and defense. However, one team stands out from the rest: Gonzaga University, the 2021 March Madness Runner-Up.
The Bulldogs are the favorite to win it all this year, and for good reason. According to ESPN, Gonzaga is in the top ten for both adjusted offensive and defensive efficiency. They finished the regular season as the No. 1 team in the nation after a strong late season push. In the first four hours after the 2022 tournament bracket was determined, 34.5 percent of brackets in ESPN's Tournament Challenge picked Gonzaga to win it all.
Gonzaga has an overall record of 26-3 and a West Coast Conference record of 13-1 this season. They have only lost to No. 2 seed Duke University (28-6 overall, No. 1  in Atlantic Coast Conference), No. 5 seed Saint Mary's College (25-7 overall, lost to Gonzaga in WCC Tournament), and No. 6 seed University of Alabama (19-13 overall).They are led by two strong candidates for the John R. Wooden Award, which is awarded to college basketball's most outstanding player.
Drew Timme '23 is a 6'10" forward for the Bulldogs who averaged 17.5 PPG (points per game) and 6.3 RPG (rebounds per game). Timme picked up the West Coast Conference's player of the year award this season. Chet Holmgren '25 rises up at 7'1" and is another inside force for Gonzaga. The center leads the interior defense for the team with 9.6 RPG and 3.4 BPG, as well as contributing extensively on offense with 14.2 PPG and shooting 41.3 percent from three-point land (3PT). He won the defensive player of the year award and is projected to lead the NBA draft class next year.
The Bulldogs starting lineup as a whole is a force to be reckoned with, as all five starters average double-digit scoring. In addition, four out of five starters shoot over 36.5 percent on three-point attempts. These players include Holmgren, Julian Strawther '24 (12.2 PPG, 39.6% 3PT), Andrew Nembhard '22 (11.7 PPG, 36.5% 3PT, 5.7 assists per game), and sharpshooter Rasir Bolton '22 (11.2 PPG, 46.7% 3PT).
Although the path to the March Madness Finals is undoubtedly challenging, Gonzaga University will have the best chances to reach the end. They have a unique combination of offensive and defensive talent that prevents them from lacking in any area of the game. Gonzaga has reached the national title game in two of the past four NCAA tournaments. This year will make that three of five, with a national championship to go along with it.  
Swim and Dive Update
by npatano on February 10, 2022
---
Friar Sports
---
Big East Championships Approaching
Leo Hainline '22
Sports Co-Editor
The Providence College Swimming and Diving team took on the University of Connecticut on Saturday, Feb. 5 in a dual meet, the final chance to clock in official times ahead of the Big East Championships occurring later this month.
PC's men's and women's teams raced under different circumstances, given that UConn has recently cut their men's program. Many on the men's team utilized this meet as an opportunity to receive more practice under race-like conditions, although they were racing against the clock rather than an opponent. As for the women, this meet gave them the opportunity to swim in events needed to qualify for the Big East Championships scheduled for Feb. 23-26. For some of the seniors, this meet was their final time competing for the Friars. 
The implications of the UConn meet varied for the individual swimmers across the Friars' program, but those who needed these races to qualify for the Big East "suited up," a swimming term referring to wearing a technical race suit to increase performance, and swam with the pressure of knowing these races could conclude their individual seasons or collegiate careers. Mike Hawkins '22 and Elizabeth Murray '23 both delivered big performances this past weekend and qualified for Big East due to their times.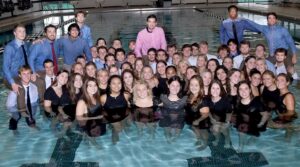 Angela Brillantes '22, one of the swimmers who will be competing in the coming weeks in East Meadow, NY, is confident that this past weekend has provided a good prelude to the Big East for the Friars: "After last year's huge wins, the expectations are definitely pretty high and I think we're in a good position to do some great things. The energy from this weekend was insane, watching the entire team support swimmers trying to qualify or finish up their careers. The energy levels and emotion were crazy, seeing everyone step up for each other this weekend, and it's exciting to think that it'll just be a million times crazier at Big East." 
Over the next coming weeks, the Friars will be fully focused on ensuring that they are in the best condition for their biggest meet of the season. Unlike over winter break, during which the teams trained twice a day to build up their conditioning and speed, the swimmers will lighten their schedules so their bodies are fully rested ahead for  late February. 
Last year, the Friars impressed at the Big East Championships, setting a total of 21 program records. Coach John O'Neill won Big East Coach of the Year: his first time receiving the honor. Justin Viotto '22 won the 200 Fly with a school record of 1:48:23, and Kevin Hood '23 also set a school record in his first-place finish in the 100 Breaststroke, with a time of 55:52. These student-athletes constitute two of the three Big East Champions in program history. 
Both Viotto and Hood, as well as the entire Friars program, will hope to both replicate and expand on the success that they enjoyed in the 2021 Championships. With many returning swimmers who contributed to the Friars' success during the previous season in the meet, do not be surprised if the team  claims multiple accolades at the Big East Championships. 
Women's Basketball Winter Recap
by npatano on February 7, 2022
---
Friar Sports
---
Young Friar Squad Battled Tested
Leo Hainline '22
Sports Co-Edito
The Providence College Women's Basketball team returned to winning ways with an overtime win against Georgetown University. The Friars pulled away in the extra period, thanks to a 9-0 run during the final minute and a half to seal the victory. Kylee Sheppard '25 led the way with 21 points, including seven of the team's 15 in overtime. This was the Friars' first win at McDonough Arena, snapping a 16-game losing streak at that venue. 
The first half was controlled mostly by the Friars. PC held an eight-point lead at halftime, partly due to the shooting of Lauren Sampson '23, who hit back-to-back threes in the second quarter, and Alyssa Geary '22 who led the team with nine points at the break.
Georgetown crawled back into the game after the PC offense stagnated at the end of the third quarter, going scoreless for the final four and a half minutes. The game was closely contested throughout the fourth, but the Friars seemed to seize control following late scores from Janai Crooms '23 and Sheppard. However, Georgetown managed to bank in a deep three-pointer with just seconds remaining to send the game into overtime. 
The Hoyas took the initial lead during the extra period and held a one-point advantage with a little over two minutes remaining, but the Friars, particularly Sheppard, rose to the occasion and got multiple stops defensively while also converting on the offensive end. Sheppard knocked down five of her six free throws in the final 40 seconds, putting the game out of reach.
Three Friars scored in double-digits—Sheppard, Geary, and Crooms—and they combined for 48 of the team's 66 total points. Mary Baskerville '22 was a force defensively, providing six steals and six blocked shots. The senior center also grabbed a team-high eight rebounds. 
The win in Washington D.C. returns the Friars to .500, with a 9-9 overall record. PC is 4-5 in conference play and had dropped their previous two games against Seton Hall University and Villanova University. The loss against the Wildcats was the team's first on the road this season, but the recent win against Georgetown elevates their away record to 4-1. Over winter break, PC went 2-4, with their two wins coming against Xavier University and St. John's University. 
Much of the Friars' roster is composed of freshmen, while their leading scorer, Crooms, is a transfer from Michigan State University. While Baskerville and Geary are certainly the senior leaders, they are surrounded by a squad of players who are mostly amid their first season wearing black and white. This dynamic, although it may, in part, explain some of the team's inconsistencies and struggles, is one that can improve and it may suggest a strong final stretch of the season. Sheppard has filled the point guard role exceptionally well and is a confident facilitator. Her recent play has been vital for PC's success, as seen in their game against the Hoyas. Crooms has also established herself as an instrumental part of PC's lineup through her playmaking ability. Leading the team in points and assists, but also in turnovers, her efficiency and decision-making is an x-factor. As these two players, in addition to the likes of Emily Archibald '25, Olivia Olsen '25, Audrey Koch '25, Meghan Huerter '25, and Nariah Scott '25, continue to become accustomed to Friar basketball, the cohesion and efficiency of the team should improve.
In early December, PC fell to the Hoyas at home 55-47, and getting revenge on the road is an excellent way to propel them into a challenging week ahead. The Friars will travel to Omaha, NE to face Creighton University on Friday, Jan. 28. Creighton sits towards the top of the Big East with a 9-2 conference record. The Blue Jays however are coming off a loss to Villanova, a team the Friars split their season series with. 
PC then has a short turnaround and returns home to take on legendary coach Geno Auriemma's University of Connecticut at the Dunkin' Donuts Center on Sunday, Jan. 30. The Huskies are ranked tenth in the nation, but they are still without Paige Bueckers '24, who is recovering from a November surgery to repair an anterior tibial plateau fracture and torn lateral meniscus. Bueckers won the national Player of the Year award last season and became the first freshman in women's college basketball to ever receive that honor. UConn remains a strong squad without her presence, and the Huskies are undefeated thus far in Big East play. Last season, the Friars only matched up once against UConn, in a game away from home and in front of an empty arena. PC started out the game strong on that occasion, leading 7-1 initially and only trailing by a point after the first quarter. UConn ultimately took control and won the game handily. The matchup scheduled in Providence was canceled due to COVID-19 related issues in 2020/21, so this will be the program's first game at home against the Huskies since they returned to their rightful home in the Big East. If the Friars pull off the upset in front of a home crowd at the Dunk, it will certainly be the highlight of the team's season and the careers of some of the players. 
Who Will Win 2021/22 NBA MVP?
by The Cowl Editor on November 18, 2021
---
PCI
---
Providence College Investigates
Will Murphy '23
Sports Staff
Ja Morant
Ja Morant has begun this season with the Memphis Grizzlies scorching hot. Morant appears poised to lead the Grizzlies on a playoff run, thanks to the considerable improvements that have been evident in all aspects of his game. The three-point shot, once a hole in Morant's game, has developed into an asset. He now makes almost two three-pointers per game on five attempts, shooting around 35 percent. Morant is even more dangerous off the bounce because defenders must respect his jumper. One crucial characteristic of an MVP is their ability to improve the play of their teammates, an area in which Morant excels. He consistently blows by his primary defender and forces the defense to collapse on him in the paint, and his vision allows him to kick the ball out to wide-open shooters at the three-point line. Morant is top ten in assists in the league, something that has been invaluable for a Grizzlies squad with many capable shooters who are comfortable spotting up and awaiting a dime from Morant.
Morant is also fearless when attacking the rim, willing to climb the ladder against rim protectors even when he's often almost an entire foot shorter. This willingness to slash to the basket leads to countless momentum-swinging dunks that often end up as highlights on SportsCenter's Top Ten Plays. His scoring has also seen an impressive jump from 19 points per game last year to almost 27 this year, which is good for fifth in the league. What's more is that he has been able to boost his scoring volume rather efficiently, shooting just a shade under 49 percent from the field, which is extremely impressive for a lead guard tasked with being his team's primary shot creator.
Morant is also one of the best rebounding guards in the league, bringing down six per game. A point guard's ability to grab rebounds is an asset for a team, allowing them to push the ball up the court quickly before the defense gets set without needing an outlet pass from a center to a guard. MVPs are not only difference-makers on offense, but impactful defenders. At point guard, he guards the opponent's elite playmakers. His elite lateral quickness allows him to stay in front of even the shiftiest guards. He also has a knack for timing steals perfectly, in the league's top 15 in steals per game at just under two. Morant will likely be the best player on the court each game this year, but even in games when he's not, he will be the most valuable to his team, which is why Morant will take home the 2021-2022 MVP award.
Leo Hainline '22
Sports Co-Editor
Stephen Curry
Right now, there is no better basketball player in the world than Stephen Curry. The Warriors star has led his team to a league-best 11-2 record without fellow Splash Brother Klay Thompson and the team's raw but talented center James Wiseman. No signs suggest that Curry will slow down this season and he has established himself as the rightful favorite to win the NBA's 2021-2022 MVP award.
Curry is second in the league in points-per-game average at 28.1, trailing only Kevin Durant, who is providing 6.7 assists, 6.2 rebounds, and 5.2 made 3's a contest. These statistics are on pace to surpass his 2014-2015 MVP campaign numbers and are similar to his 2015-2016 statistics, a season in which he led the Warriors to a record-breaking 73-9 regular season record while recording 30.1 points, 6.7 assists, and 5.4 rebounds a game. Despite posting similar individual numbers last season, Curry finished third in MVP voting behind winner Nikola Jokic and runner-up Joel Embiid. The main factor preventing Curry from winning his third MVP this past season was the Warriors 39-33 record and failure to make the playoffs. Judging from the first month of the season, this year is a different story for Golden State.
The Warriors have a legitimate chance to grab for the one-seed in the competitive Western Conference, an achievement that would undoubtedly reward Curry with this third MVP trophy. What would make this feat even more remarkable is the fact that without Curry, the Warriors would probably be a sub-50 team. There is no single player who contributes more to his team's success.
What further helps Curry's case is that he has already broken NBA records this season. At only 33 years old, he has broken Ray Allen's record for most three-pointers made in the history of the NBA. Do not be surprised if Curry continues to set and break records this season, adding to his resume and making him the clear choice for NBA MVP. Furthermore, Curry is the type of player who people enjoy watching and adds to the game of basketball. His shooting and general offensive skill is objectively fun to watch, and Curry is one of the most likable athletes in the world. This will only help his case for winning the prestigious award.
Curry's play this season has been literally the most valuable out of any player in the league. Continued production out of the Warriors' point guard will seal his position as the award's frontrunner, and he will walk away from the 2021-2022 season with his third, and likely not final, MVP trophy.
Women's Basketball
by The Cowl Editor on November 4, 2021
---
Friar Sports
---
Friars Look to Make Statement this Season
Leo Hainline
Sports Co-Editor
The Providence College Women's Basketball team enters the season with high hopes, eager to fully showcase their potential after a turbulent 2020-21 season that was frequently interrupted by COVID-19 postponements and cancellations.
The Friars retain their two top scorers in Mary Baskerville '22 and Alyssa Geary '22, senior leaders who will hold down the team's frontcourt standing at 6'3" and 6'4", respectively. This season will also allow for other players to shine as the Friars lost four key members of the team, including point guard Chanell Williams '21, who graduated from PC and is continuing her education and athletic career in-state at the University of Rhode Island. She shot over 41 percent from beyond the arc last season. Kyra Spiwak '21 is another three-point threat who will need to be replaced, as she shot a serviceable 33.3 percent on a team high of 108 attempts last season.
Fortunately for PC Women's Basketball, the team has both returning players and an influx of new talent from transfers and incoming freshmen to compensate for their departures from last season. On paper, Coach Crowley has done a fantastic job recruiting and the future of the program looks incredibly promising.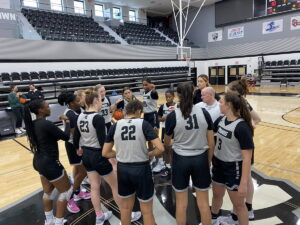 Lauren Sampson '23 seems set to fill part of the void left by the Friars' graduating shooters. The junior from Waltham, MA, averaged only 10 minutes a game this past season but hit the fourth-most three-pointers on the team. Expect her to play a key role in the Friars' offense this year, especially given that defenses will need to focus on the interior presence of Baskerville and Geary. Likewise, Andreana Wrister '22GS, a graduate transfer from Tennessee State, will also be a vital player on the perimeter. She had the third highest number of three-pointers in the Ohio Valley Conference this past season. Wrister also blossomed in her role in her final season for the Tigers, improving her scoring by nearly 10 points from her junior to senior year. The Friars will need her to accomplish much of what Williams did last year offensively in instigating scoring from the point guard position and stretching the floor with her shooting.
Speaking of shooting, Coach Crowley was able to recruit Meghan Huerter '25 to Friartown, a player who set a record for the most three-point field goals made at Shenendehowa High School in Clifton Park, NY. The marksmanship seems to run in the family as her older brother, Kevin, is one of the best young three-point specialists in the NBA and plays for the Atlanta Hawks. Huerter is 5'11" and has unlimited range, creating a tough matchup for any opposing defense. Similarly, shooting guard Audrey Koch '25 from Iowa City, Iowa stands at 5'10" and knows how to get a bucket in any situation. Similar to Huerter, Koch is a threat from beyond the arc, and she was even a McDonald's All-American Nominee during her senior year of high school.
Coach Crowley also recruited two-time Maine Gatorade Player of the Year Emily Archibald '25. She was also named 2021's Miss Maine Basketball, along with a host of other accolades. At Kennebunk High School, Archibald averaged a whopping 24.6 points and 20.7 rebounds a game. The 6'2" freshman is versatile with the ability to play both in the post and on the perimeter, and has the potential to grow into one of the program's top players.
In the Friar frontcourt, while fans should anticipate Baskerville and Geary getting most of the run, Olivia Olsen '25 may also see minutes off the bench and will certainly provide the Friars with depth at the position. Expect Olsen to fill the shoes of her namesake in Olivia Orlando '21, who was a tenacious rebounder for the Friars throughout her four years on the roster. Despite being undersized at 5'10", Orlando tallied the second most rebounds for PC last season, and her presence on the court will be missed. Olsen stands taller at 6'3" and acts as a more typical post presence, and after Baskerville and Geary graduate, many expect her to be an integral piece of the Friar frontcourt in the future. She played AAU ball with fellow newcomer Huerter, and at Niskayuna High School in Niskayuna, NY, Olsen averaged a triple-double in points, rebounds, and blocks in both her junior and senior years.
The Friars also added guard depth with freshmen Nariah Scott '25 and Kylee Sheppard '25, as well as with the acquisition of Cranston native Janai Crooms '23, who transferred to PC from Michigan State University. Crooms attended St. Andrew's High School and was the first female basketball athlete to have her jersey retired at the school. She has plenty of experience playing college hoops as she began her collegiate career with Ohio State University for her first two years before transferring to the Spartans. The floor general will be a valuable player in Coach Crowley's arsenal, especially given Williams' departure.
While the PC Women's Basketball team looks ready to turn heads this season, they find themselves amid a competitive conference that has one of the greatest programs in any collegiate sport of our lifetimes: the University of Connecticut. The Huskies enter the season ranked second in the country, only behind the University of South Carolina. UConn has won 11 national championships, all coming since 1995, and rarely ever lose their conference tournaments. The Friars will square off with the Huskies at the Dunkin' Donuts Center on Sunday, Jan. 30, which is certainly a game to mark on your calendar.
UConn is not the only notable team in the Big East. DePaul University also poses a threat and in recent years has consistently hovered around the AP Top 25. The Blue Demons return all five starters and will be expected to be a tournament-caliber team this season. Seton Hall University, which finished as runner-up in the conference last year, is also expected to be one of the more competitive teams that the Friars will face.
The Big East Preseason Poll ranked the Friars as eighth out of 11 teams, but PC Women's Basketball will let their play do the talking and prove that their roster is much better than others in the conference perceive it to be. There would be no better way to celebrate 50 years of female students at Providence College than to have a fantastic year out of this team. The Friars play an exhibition matchup at Alumni Hall vs. Bentley University on Nov. 4, and then they begin their regular season play again at home on Tuesday, Nov. 9 against Yale University.
Men's and Women's Cross Country
by The Cowl Editor on September 23, 2021
---
Friar Sports
---
A Big Season Ahead
Leo Hainline '22
Sports Co-Editor
The Providence College Men's and Women's Cross Country teams are off to a flying start, both winning the Friar Invitational that took place just outside state lines in Attleboro, MA at Mark Coogan Course. The Friar women dominated their race, scoring 18 points compared to competitors University of New Hampshire's 54 points and Stony Brook University's 67 points.
The women's success this past weekend was no surprise given that preseason polls ranked the Friars 26th in the nation and second in the Northeast region. Their roster is very international, with four women hailing from Ireland, two from New Zealand, one each from England and Canada, and the seven others being local products from the Northeast.
In addition to having a global team-makeup, the Friars are full of key members who have multiple years of eligibility remaining. Apart from Maria Coffin '21GS, who was the only Friar to qualify for last year's Women's Cross Country NCAA Tournament, the team is primarily led by juniors and a few underclassmen, which was highlighted in the Friars' performance on Sept. 10. PC's Laura Mooney '24 (Cappincur, Ireland), Lilly Tuck '23 (Sunderland, Canada), and Orla O'Connor '23 (Waterford, Ireland) took first, second, and third in the Friar's Invitational. Maria Coffin (Annapolis, MD) was not close behind, finishing fifth. Other Friars Alex O'Neill '23 (Ennis, Ireland), Kimberley May '25 (Auckland, New Zealand), and Holly Brennan '25 (Bettystown, Ireland) also finished in the top 10.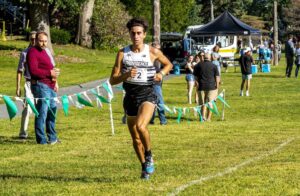 Coffin will look to lead this current squad as she is the only Friar to have qualified for the NCAA tournament in cross country this past year. Her qualification followed her fourth-place finish in the 2020/21 Big East Tournament race, which was the best out of any Friar. At the NCAA tournament, she was able to finish 99th out of 253 runners.
One of the main goals of the current squad is to make the NCAA tournament in Florida this November. Mooney, who topped the field in Attleboro two weeks ago, conveyed that "one of the key things for the team to achieve their goal is to work together." As a sophomore, she is particularly excited about the season as she has yet to experience one under normal conditions given that COVID-19 prevented the team from having a normal season during her first year in Friartown.
The men's cross country team was similarly successful in Attleboro, scoring 29 points to defeat Stony Brook (34 points), Boston College (77 points), and New Hampshire (102 points). The Friars, who are ranked fifth in the Northeast region, looked sharp with four runners listed in the top 10. Marcelo Rocha '21GS, the Friars' star runner from last season who had a fantastic spring track season as well, finished first in the men's side of the Friar Invitational. He dominated the entire race and finished over 30 seconds faster than second place, earning him Big East Athlete of the Week. PC also had three other runners finishing in the top 10, with newcomer David McGlynn 'GS taking third, Liam Back '24 finishing sixth, and Ryan Gallagher '21GS finishing eighth.
The Friars return many of their key members from last year's roster, with their top seven runners from last year's Big East Tournament all returning. In addition, many of these runners on coach Ray Tracey's squad are seasoned veterans. Rocha, who finished eighth in the tournament, Gallagher, who finished 21st, and David Rosas '21GS, who finished 32nd, were all seniors that season who returned to Friartown as graduate students. Matthew Lepine '22 is now a senior, as is Sean Meehan '22. The two finished 47th and 51st respectively. Shane Coffey '24 and Back were the two young guns on the roster who made valuable contributions. The foreigners, with Coffey from Ireland and Back from New Zealand, had a nice introduction to the states last year in regards to their performances and aim to grow into a bigger role their sophomore year.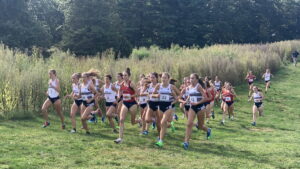 This Friday, both the men's and women's cross country teams will face tougher opposition in the Battle of Beantown, hosted by Boston College. The top five teams in the Northeast on the women's side will all be in attendance, including the Friars, University of Connecticut, Boston College, Syracuse University, and Harvard University, as well as over 20 other schools. As for the men, every top-five team in the Northeast is competing except for the top-ranked Iona College. In both competitions, the Friars will be the sole BIG EAST representative. This will be a prime opportunity to send a message from afar that PC is a force to be reckoned with on both the men's and women's sides. Last year, the men finished fifth in the Big East Tournament, while the women finished third. All signs suggest that both have notably improved since the previous season and should not be overlooked as title contenders.
An Entertaining Season Ahead in the English Premier League
by The Cowl Editor on September 23, 2021
---
Professional Sports
---
English Premier League Update
Leo Hainline '22
Sports Co-Editor
The 2021/22 English Premier League season is off to a competitive start and is shaping into one of the most intriguing title races in recent years. There are four clubs that could be argued as title contenders: Chelsea, Liverpool, Manchester United, and Manchester City. Each has made improvements to their squads during the summer and currently hold four of the top five spots in the EPL table.
Chelsea look poised for a run at the Premier League title, especially after signing striker Romelu Lukaku from Inter Milan for $135 million. The Belgian goalscorer is making his return to Stamford Bridge after starting his time in English football playing for the Blues back in 2011. Lukaku was a key factor in Inter Milan's success the previous season, winning Serie A and ending Juventus' dominant streak of nine consecutive league titles. His game matured during his two-year stint in Italy, and he returns to English football as an established world-class talent. Lukaku has scored three goals in four Premier League matches this season. 
The Blues are also coming off a successful 2020/21 season as they claimed their second ever Champions League title. Manager Thomas Tuchel, who took over for Chelsea-playing legend Frank Lampard midway through the season, deserves much credit for their recent triumphs. He turned a talented but inconsistent Chelsea roster into a dominant force that can consistently compete with Europe's best.
Chelsea sits at the top of the Premier League table with Liverpool and Manchester United, each winning four and drawing one through five matches. Liverpool and Chelsea drew against each other on Matchday 3 in a highly entertaining 1-1 draw that saw Chelsea hold on against a relentless Liverpool attack after going down to 10 men in the first half. Liverpool added depth to their defense by adding Red Bull Leipzig's Ibrahima Konate, but unlike the other title contenders, decided not to sign any player that would notably alter their starting XI. The team is fairly similar to their 2018/19 Champions League winning squad and the one they fielded during their 2019/20 record breaking season. They will continue to rely on Mohamed Salah and Sadio Mane to create scoring chances and Dutch center-back Virgil van Dijk to lead the defense.
Manchester United, on the other hand, added to their squad multiple world-class players whom they will rely on to bring glory back to Old Trafford. Of course, Cristiano Ronaldo headlines this list. The five-time Ballon d'Or winner, who established himself among the footballing greats at Manchester United from 2003-2009, has already asserted his presence since arriving from Italian club Juventus, scoring four goals in his first three matches. He is also reunited with former teammate Raphael Varane, who the Red Devils also acquired this summer. Varane and Ronaldo won four Champions League trophies at Real Madrid and will hope to claim more silverware together soon.
United also signed 21-year-old English winger Jadon Sancho from German club Borussia Dortmund. Sancho returns to Manchester having played his youth career for rivals Manchester City. Despite his $100-million price tag, Sancho may not establish himself as a consistent starter in manager Ole Gunnar Solskjaer's starting XI, as the Red Devils have arguably the deepest squad in the Premier League. They have backups in every position that would start on nearly any other team in England's top flight.
Manchester City round out the title contenders. The defending champions made headlines this offseason in their pursuit of Englishmen Harry Kane and Jack Grealish. They were only able to acquire the latter, signing the Aston Villa winger for $139 million. Kane, who plays for Tottenham and captains England, would have been an even heftier price tag. City decided against matching Tottenham's asking price, leaving a void in their attack after the departure of club-legend Sergio Aguero and lack of an elite no. 9 on their roster. This weakness proved to be detrimental earlier in the season, with City losing to Tottenham 1-0 and dropping points at home to Southampton in a 0-0 draw. However, they are only three points back from the league leaders, and manager Pep Guardiola is an established winner who can get the most out of his players, expecting nothing less than another trophy.
Simply put, this will be the most entertaining EPL season in years. The number of legitimate title contenders and pure talent influx into the league this offseason has already made for must-watch entertainment, and the stakes will only get higher as the season persists into its later stages.
Women's Soccer in Full Force
by The Cowl Editor on September 16, 2021
---
Friar Sports
---
Women's Soccer Preview and Update
Leo Hainline '22
Sports Co-Editor
The Providence College Women's Soccer team has fared well early in the season despite having played a competitive out-of-conference schedule. Their 4-2-1 record has produced many positives in the early part of the season, many of which they will aim to carry over to Big East play.
The Friars opened their season on the road against in-state rival University of Rhode Island, a game that they would draw 1-1. With PC coming off a serviceable 2020-21 campaign and the Rams only winning in two matches the previous season, the Friars were disappointed not to leave Kingston with a victory.
The team bounced back the next game, however, in their home opener against Sacred Heart University, defeating the Pioneers 4-0. The Friars' attack looked cohesive and showed glimpses of their potential with great team play while also showcasing a beautiful individual effort by Angie Suaza '23, who scored an absolute beauty by striking the ball from outside the box with power and movement, giving the Sacred Heart goalkeeper zero chance at a save.
PC struggled in their following match against Rutgers University, a team that is currently ranked No. 12 nationally, losing 5-1. However, Coach Sam Lopes' squad turned their performances around after their tough trip to New Jersey, following the loss to the Scarlet Knights with three consecutive wins against Stony Brook University, Monmouth University, and Boston University. Among these three games, the Friars bagged 12 goals, expressing their attacking capability.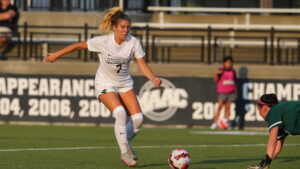 Meg Hughes '24 helped lead the scoring charge, scoring three goals during this stretch. She also tops the team in scoring, grabbing five in seven games. Her play was recognized as she received Big East Offensive Player of the Week. Hughes' impressive form is hardly a surprise after she starred for the Friars as a freshman, earning accolades including an All-Big East Second Team selection and a spot on the All-Big Freshman Team. She was also the only Friar selected to the preseason All-Big East Team.
Friars' goalkeeper Emma Bodmer '24 also enjoyed a good run of form, earning a spot on the Big East Weekly Honor Roll. The sophomore stopper has enjoyed some standout games so far this season, highlighted by her performance against URI in the Friars' opener where she saved a total of nine shots. Both Bodmer and Hughes headline a star-studded sophomore class. Forward Kyla Gallagher '24, midfielders Avery Snead '24 and Emily McCalligett '24, and defender Grace Murphy '24 have also all made significant contributions the Friars team this season.
On Sunday afternoon, PC traveled to the midwest to square off against the University of Wisconsin. The Badgers are projected to finish in the top half of the Big Ten, and this was anticipated to be a closely contested match. Both teams entered with similar records, with the Friars 4-1-1 and the Badgers 4-2-1. Maria Paveglio '25, a freshman from Lake Orion, Michigan, opened the scoring as she grabbed her second career goal in a Friars uniform. Despite entering halftime with the lead, the Badgers struck back with two quick goals to reclaim control. The scoring would not end here, as the Friars kept applying pressure and forced a Badger own goal to level the match back up. The game would go into extra time, marking Wisconsin's fourth consecutive extra time match of the season. Unfortunately, the Badgers would grab the golden goal and send the Friars back to Providence empty-handed.
Looking ahead, the Friars culminate their non-conference schedule on Thursday, Sept. 16 at Chapey Field against city rivals Brown University. PC will be eager to enter Big East play coming off a win, especially with 23rd-ranked Xavier looming on their schedule. The Musketeers look to have been underestimated in the Big East Preseason polls, having been predicted to finish No. 7 in the conference. The team hailing from Ohio boasts a perfect 7-0 record, a winning streak that the Friars will be eyeing to cease when they square off in Providence on Sept. 23.
The Friars were projected to finish fourth in the Big East. Such a finish would see them qualifying for the Big East Tournament, which only features four teams. Defending Big East Champions Georgetown University are projected to top the conference, receiving ten of eleven first place votes. Interestingly, the only other team to receive a first place vote was the Providence Friars.
Butler University and University of Connecticut were the other two schools projected to finish above the Friars in conference play. PC will square off against both of these opponents in mid-to-late October.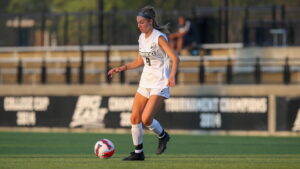 Although the squad is relatively young, the Friars will rely on a few veterans who could be catalysts for the team's success this season. Fifth-year senior forwards Amber Birchwell and Hannah McNulty are staples of PC's attack. Both have provided two assists this season, and Birchwell has provided two goals to her name as well. Christina Rogers 'GS is a rock of the Friars' backline and will be instrumental in stifling the opponent's attack. She was an All-Big East Second Team selection this past season.
Alexis Rothmann '23 is another player to keep an eye on. The Friars' No. 10 received All-Big East First Team accolades last year, making her the fourth woman ever selected in program history, and was also the youngest to ever be recognized on the First Team for the Friars. Her playing in midfield can dictate much of PC's success this season and she will have the opportunity to follow up her 2020-21 campaign with another outstanding season.
The Friars have produced great performances so far this preseason, perhaps revealing their potential for this season. This roster has the ability to assert itself permanently in the record books if they can translate these positive performances into conference play. 
Sports Shorts
by The Cowl Editor on September 16, 2021
---
Sports Shorts
---
Sports Shorts
Leo Hainline '22
Sports Co-Editor
Volleyball
The Providence College Women's Volleyball Team continued their outstanding form this past weekend, winning the 16th ​​annual Friar Volleyball Classic. The four-team tournament consisted of the Friars, Fairleigh Dickinson University, Saint Peter's University, and Binghamton University. PC squared off against Saint Peter's in their first match, defeating the Peacocks in straight sets. Providence claimed the championship the following day, winning against Binghamton in the afternoon and then Fairleigh Dickinson in the evening to cap off an undefeated weekend. Maryanne Boyle '24 won the title of tournament MVP. The Friars moved to 10-1 on the season.
Men's Soccer
The Providence College Men's Soccer Team returned to their winning ways after defeating Loyola University Maryland 3-1, defending their home turf at Chapey Field and offering them a bit of momentum before taking on Seton Hall, ranked 22nd, this Saturday. Right-winger Roman Christopher '22 broke the deadlock in the first half, opening his scoring account for the season. Striker Brendan McSorley '24 helped the Friars cushion their lead, bagging a brace in the second half and continuing his good form this season.
Women's Soccer
The women's soccer team lost a heartbreaker in Madison, WI this Sunday to the University of Wisconsin, 3-2, in extra time. Maria Pavelgio '25 opened the scoring, giving the Friars the lead entering halftime. Wisconsin started the second half with all the momentum, scoring twice in quick succession. The Friars fought back to grab the equalizer, thanks to a Badgers' own goal. Unfortunately, the home side grabbed the golden goal in extra time, spoiling PC's comeback effort. The women will face in-city rivals Brown University this Thursday at Chapey Field.
Field Hockey
Providence College Field Hockey produced a perfect 2-0 weekend, defeating both the University of New Hampshire and Long Island University at Lennon Family Field. The Friars were able to hold on to a 2-1 victory over UNH Friday night thanks to goals from Nora Goddard-Despot '23 and Amanda Collins '24. On Sunday, PC completed an impressive comeback effort against LIU. The Friars went down 2-0 in the first half but responded with a brilliant second half, scoring five unanswered and extinguishing the Sharks' upset effort. Second-half goals were provided by Niamh Gowing '22 and Olivia Ward '21GS, who each provided two goals, along with a goal from Nora Goddard-Despot '23.