Songs the Lonely Sing
by The Cowl Editor on April 8, 2022
---
Poetry
---
by Madison Palmieri '22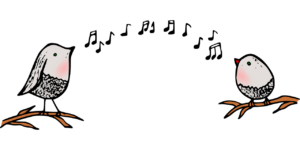 They are the ruffled wings of a little bird in flight,
The muffled songs the lonely sing as day turns to night.
The gentle tides ebb and, in turn, flow,
The crashing of the waves, with which their secrets go.
They are the aches and pains,
The jealousies and vanities,
They are love, tried and true,
The cascades of the ocean blue.
They are lullabies that've just begun
The madman's murmurings heard by no one.
The shift of season, wind and rain,
As winter ends, spring begins again.
They are the times we feel we've won,
The day's end marked by the setting sun.
They began when time was set to begin:
The mysteries of the universe, found within.