Featured Friar: Maggie McKenna '20
by The Cowl Editor on December 5, 2019
---
Campus
---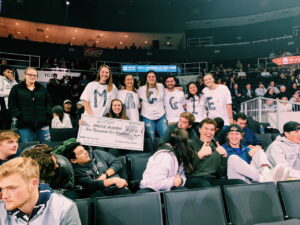 by Kyle Burgess '21
News Co-Editor
According to ESPN, the odds of making a half-court shot on a basketball court are roughly one in 100. However, for Maggie McKenna '20, all it took to be that one was her closest friends, her lucky sweater, and a dream.
The road to this moment began five years ago and almost 1250 miles away in her hometown of Orlando, FL. Having seen her older brother leave the Sunshine State to attend Syracuse University, McKenna wanted to follow in his footsteps to attend college out-of-state and set her sights on universities in the Northeast. She credits her father as the one who put Providence College on her radar, as he believed that her decision to enroll there would be based on the men's hockey team's success against Boston University for the championship title in 2015; the rest was history.
"In addition to the luck and destiny of the hockey team's success, I truly fell in love with PC after experiencing its culture of family, Dominican spirit, and all-encompassing curriculum at Accepted Students Day," McKenna added. "In the end, I chose PC because it was the only place that felt like home despite being over 1,000 miles from my hometown."
Since then, McKenna has made the most of her experience at her home away from home. She is extensively involved in many organizations such as Admissions Ambassadors, freshman orientation staff, and women's club basketball. McKenna is also a member of the liberal arts honors program and has travelled with fellow honors program students to the settings of her DWC books like Florence, Italy.
Aside from her club basketball commitments, McKenna boasts a growing collection of intramural t-shirts, already having won four this semester alone. Additionally, McKenna feels fortunate to have made so many friendships in her four years at Friartown and take in all it has to offer. "Some of my favorite PC memories include living on second floor Ray as a freshman, finding my accounting study squad as a sophomore, going to the Big East Tournament at the Garden as a junior, and living on Eaton Street with my six best friends as a senior."
McKenna plans to spend big this holiday season with her recent winnings. "The first thing I'm spending my $5,000 on is Christmas presents for all my family and friends. The rest is going into my postgrad savings account." 
When asked about potential strategies for future shot-takers, McKenna responded, "Wear your lucky sweater, imagine you're shooting anywhere but the Dunk, bring all your best friends to cheer you on (it helps a lot with the nerves), and, most of all, believe in yourself!"
While reflecting on her PC experience, she wished to offer underclassmen some sage advice to get the best out of their own four years. "My best pieces of advice for underclassman are to be patient and understand that while the four years can sometimes be tough (especially academically), as years go on everything gets so much better—friends, memories, possibilities, etc. I encourage all underclassmen to get involved in as much as you can and soak up every last experience as it goes by faster than you could imagine. "
Following her graduation from PC this May, McKenna plans to travel the world as well as her home state of Florida while preparing for her CPA exam. She will then trade in balmy beach days for northeastern winters once again when she moves to the tri-state area with her PC roommates in anticipation of working as a public accountant at RSM International.