Patrick Reed Wins Masters
by The Cowl Editor on April 12, 2018
---
Professional Sports
---
By Joe Myko '19
Sports Staff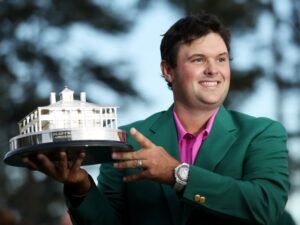 Held on the weekend of April 5-8 at the Augusta National Golf Club in Georgia, this year's Masters Tournament saw Patrick Reed pick up his first major championship title.
Beginning the competition as the world's 24th ranked professional golfer meant Reed was not one of the first names backed for success in Augusta, making this somewhat of a surprise win. Born in San Antonio, Texas, Reed bested two of his fellow countrymen, Jordan Spieth and Rickie Fowler, to take home the glory with a spectacular one-shot win.
27-year-old Reed led the competition from the second round, besting Rory McIlroy by three shots overnight. Northern-Irishman McIlroy, who still has yet to win this competition, declined with two-over 74. Meanwhile, Reed showcased nerves of steel when he parred the last shot, shooting 71 and winning with 15 under. Ultimately though, Rickie Fowler bested Spieth to second-finishing with nine birdies within a 64.
Tiger Woods gave his best performance to one of the early rounds of the tournament, accumulating a three-under-par 69 for one-over 289 tying for 32nd overall. The 42-year-old has won the Masters on four previous occasions, the most recently in 2005. Woods has been on a sharp decline in his success since his last major win in 2008, which has been mainly catalyzed by a debilitating back problem which left him requiried spinal fusion surgery. An upbeat Woods was quoted by USA Today news seeming grateful to have even took part in the competition: "To just be out here competing again, if you had said that last year at this particular time I would have said you're crazy," he said.
Reed was quoted as saying that this win was all the more special due to it being held in such close proximity to where he attended college, at the University of Georgia.
However, upsets are not uncommon at this annual tournament, with Reed being the ninth first-time major title winner at the Masters from the last twelve events. Impressively also, all four of the major championship titles in professional golf currently belong to Americans, all of which are under 28.
The Masters, established in 1934, is one of the four major championship titles for professional golfers. However, it is distinguished from the others in that it has always been held at the same location; the private course in Augusta, Georgia, built in 1933.