Vaccinations at Friars' Fingertips: Moderna Vaccines Arrive on PC Campus
by The Cowl Editor on May 6, 2021
---
Campus
---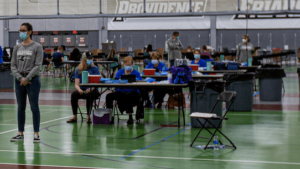 Katherine Morrissey '22
News Staff
Almost a week after vaccines became available to all students over the age of 16 in Rhode Island, the Providence College community was once again greeted with positive news regarding COVID-19 vaccinations. In addition to vaccination appointments continuing to be available in Providence at the Dunkin' Donuts Center, vaccines would soon become accessible like never before for the Friar Family.  
The news came through a series of emails sent to students, faculty, and members of the PC community from the Continuity Task Force during the weekend of April 25. These messages communicated that the Rhode Island Department of Health had announced it would offer a COVID-19 vaccination clinic for Providence College students, faculty, and staff at Peterson Recreation Center on Wednesday, April 28.
Students who wished to be vaccinated at the on-campus clinic were required to register in advance through the state's scheduling portal. Despite the need for registration, the clinic located on campus provided a convenient opportunity to get vaccinated for students, faculty, and staff as Wednesday, April 28 was already a designated rest day.
The clinic operated from 10 a.m. to 6 p.m. in Peterson Recreation Center, offering those who wished to make appointments a large window on their day off to stop by and get vaccinated. The large gym, with the help of many devoted workers, was quickly transformed into a fully functional vaccination clinic. The gym, however, is no stranger to dramatic transformations as it has been the backdrop of many events throughout the years including everything from Black and White Ball to spin classes to, most recently, a COVID-19 testing center.  
Those who got vaccinated at the on-campus clinic on April 28 received the Moderna vaccine, which requires a minimum of four weeks between doses. Those who are able to return to campus after the school year is over are encouraged to come back to Peterson on May 26 for their second dose. Individuals who cannot are encouraged to schedule their second doses of Moderna at home for on or around the same date. Those who have received both doses are then required to upload documentation to the College's website.
After receiving their vaccine, students were given a Dunkin' gift card and were entered into a raffle for the opportunity to win an Apple Watch. This provided extra incentive for all students to take a little time during their day off to get vaccinated.
The vaccination clinic was not open to all students, such as those who have already received the first dose of vaccines from different manufacturers like Pfizer, or students who were in quarantine or isolation for COVID-19. The clinic did not have significantly negative impacts on the schedules and routine of other students on their day off. The only change the PC community was forced to make was to their twice-a-week testing schedule.
While this change required students to test a day earlier and later than normal during the week, it also afforded them no testing on their day off. This quick and successful change demonstrated the school's flexibility in executing the clinic as well as maintaining COVID-19 protocols already in place.
Vaccinations for students do not indicate an immediate end to the COVID-19 pandemic which continues to impact all our lives. However, Wednesday's clinic marked a revolutionary step in the process of getting all members of the school community vaccinated.
Within the last year, many communities and groups of people have struggled to adapt and navigate the COVID-19 pandemic. This was widely seen across many college campuses as school communities had no choice but to be remote in order to keep students and faculty safe. Although many of us have been witnesses to the struggles and hardships of the last year, widespread vaccinations remind us of the triumphs of the human spirit and the many ways in which situations of necessity bring about the most impressive innovations.
Continued information about vaccination availability and registration will be provided to students through Continuity emails. The most up-to-date information is also provided on Providence College's website and the state health department's online portal.