Minaya Continues to Shine for PC
by npatano on February 10, 2022
---
Friar Sports
---
Friars Transfer Earns Big East Player of the Week
Justin Bishop '24
Sports Staff
The Providence College Men's Basketball team has been one of the hottest teams this year, currently on a seven-game win streak having won 15 of their last 16. The team, as of Wednesday, Feb. 9,, sits at 20-2 overall and are 10-1 against opponents in the Big East Conference while being ranked 11 in the country. The updated rankings, by the Associated Press, are released every Monday and the Friars will certainly rise in the rankings. Multiple teams ranked ahead of Providence lost over the past week along with the team's 86-82 win over St. John's University and their 71-52 thrashing of Big East bottom feeder Georgetown University this week.
Since the last Friars basketball recap, the team took on two ranked conference rivals in No. 21 Xavier University and No. 22 Marquette University. Providence survived both teams but did not go without any excitement, as a clutch Jared Bynum three-pointer with 1.5 seconds left lifted the Friars past the Musketeers 65-62. The team effort of graduate student Al Durham's 22 points, Noah Horchler '21's 11 rebounds, and Justin Minaya '21's four blocks was able to muscle past a disciplined Xavier team. If the three-point margin of victory was not close enough for you, the Friars slipped past the 22nd-ranked team in the country again putting up 65 points, but this time allowing 63 points. The 65-63 win for Providence was thanks in part to Nate Watson '21's 17 points and Horchler's double-double of 10 points and 11 rebounds.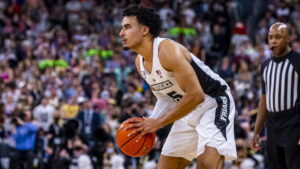 Although the Friars improved to 10-1 in Big East Play and 20-2 overall this week, the big story from the team was transfer grad student Justin Minaya being named Big East player of the Week. Minaya, who transferred from the University of South Carolina this past off-season, averaged 10 points and six rebounds while playing the entirety of both games, 80 total minutes, where the Friars beat Xavier and Marquette. Minaya also shot 50 percent from three point range and played lock-down defense against everyone he guarded, including Marquette's star player, Justin Lewis. "All credit to my teammates and Coach Cooley to allow me to play that well and that much…" Minaya said during the interview we had this week. "The biggest thing is that we got the two wins this week, and it's also an honor to be recognized as the player of the week in a great conference like the Big East," Minaya said. 
This is exactly what Head Coach Ed Cooley had in mind when recruiting Minaya when he entered the transfer portal. "I could tell it was time for a change," Minaya said. He mentioned that Coach Cooley was heavily involved in the recruiting process: "I had a great relationship with Coach Cooley and felt great when deciding to come [to Providence], plus it's close to home" said the New Jersey native. When asked about the specific reason for choosing PC over other schools, the fifth year said, "I felt I could complement great players like Nate [Watson] and shooters like A.J. [Reeves] and be a fifth of this team."
The grad student, son of former New York Mets' general manager Omar Minaya, played at South Carolina all four years but suffered a knee injury early in his second season which sidelined him for the entirety of that season. Justin was a reliable piece during his time at USC but has found that he is playing his best here at PC. With a hand injury to A.J. Reeves '22, Minaya stepped up and has started every game since then, averaging 8.5 points, 6.3 rebounds, 1.0 block, and shooting 47 percent from three over those 12 games.
Recently, Justin was snubbed of the Naismith Top 15 Defensive Players list—and that is the correct use of the word "snubbed." The college basketball writers released their consensus list of the top 15 defensive players in the country this year, and Providence's Justin Minaya was not on it. Coach Cooley was furious about this, and rightly so. "I do not know if [the writers] watch the Big East or if it's about the steals… it's about who impacts the game defensively," Cooley said in a press conference on Sunday, Jan. 30. "For [Justin Minaya] to not be in the top 15 or top five is an absolute joke," and finally, "Open your eyes," he said to the writers who were listening and watching the press conference. 
When asked what it meant to have Coach Cooley stick up for him publicly, Minaya responded by saying, "To have Coach Cooley stick up for me publicly and go in front of the media and say those things, I know he has my back, and it means the world to me that he would say those things publicly."
Justin also added that the home court advantage at the Dunkin' Donuts Center is unlike anything he has been a part of. "We are so appreciative of the fans and how much energy we are able to feed off of as players," said Minaya. "You definitely felt it at that last Marquette game, just the level of energy in the building is such an advantage." Coach Cooley has also praised the crowd after every home game and credits some wins to the fans because of how they impact the game.
"We are coming for that Big East Championship, but we just want to go 1-0 every day and get better as a team," Minaya responded regarding the goals he and the team have for the rest of the season. The 20-2 Friars are a projected four seed in the National Tournament as of Sunday, Feb. 6, but this will most likely change throughout the rest of the season and how the Big East Conference tournament plays out.
The Providence College Men's Basketball team takes on DePaul University on Saturday, Feb. 12 at the Dunkin' Donuts Center.