Listening Tour: An Interview with Nick Sailor '17
by Joshua Lopes on April 22, 2021
---
Friar Sports
---
PC Administrator Talks Social Change in Sports
By Jack Belanger '21
Sports Co-Editor
This article is part of The Cowl's Listening Tour, a series that aims to amplify the voices of BIPOC members of our community and bring awareness to social justice initiatives on campus.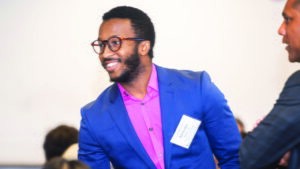 Three years ago, Fox News commentator Laura Ingraham infamously said, "Shut up and dribble" on her TV program in response to criticisms made by NBA star Lebron James of former president Donald Trump. Ingraham argued it was unwise to take political advice from someone who gets "paid $100 million a year to bounce a ball."
Fast forward to now and countless professional athletes across the country are using their platforms to speak out against issues plaguing our society and to make change. Where at one point socially active athletes stood out like a sore thumb, today's environment has opened the doors for all athletes to have a voice, even providing young college athletes with the opportunity to make changes in their own communities.
At Providence College, the athletic department has become a leader in pushing for change and promoting conversations about diversity, equity, and inclusion. Thanks to much of the work of director of training and education for DEI, Nick Sailor '17, a former PC athlete himself, being an athlete at the College has come to mean more than excellence in the gym and in the classroom.
"Student-athletes are starting to recognize they do have influence and they do have a voice," said Sailor. "They don't have to wait on someone else to do something. They recognize they can be advocates for change."
Ever since Sailor came back to PC 18 months ago, he has worked to create a space where everyone in the athletic department can be part of an inclusive environment. What separates PC's athletic department from other schools, Sailor believes, is the support and participation from the senior staff, starting with athletic director Bob Driscoll, to make diversity, equity, and inclusion a priority.
"We are really fortunate we have someone like Bob Driscoll who is passionate [about promoting DEI]," Sailor commented. "This work doesn't happen without our senior staff."
Sailor recalled a conversation with Driscoll during his final interview for director of training and education for DEI in which Driscoll expressed that he wanted to expand the goals of the athletic department.
"[Driscoll] says to me, 'We have the national championships, we have built great facilities, now we need to enter this new frontier.' He wants to be an innovator and a leader when it comes to creating these inclusive spaces on campus." Driscoll and the rest of the senior staff have done their part to attend workshops and be a part of the growth process.
Needless to say, the staff's work has turned into student-led action that has made a real impact. In the fall, the Student-Athlete Advisory Council worked to ensure every single student-athlete at the College registered to vote in the election, achieving 100% voter turnout for eligible athletes.
The access athletes had to vote was a major change from when Sailor, in 2016, had to take a train from campus into Boston just to get onto a bus to Connecticut in order to vote in that year's election. Sailor notes that he would never want a student-athlete to go through what he did just to vote.
Sailor believes that the work the athletic department has done could prove to be sustainable as long as everyone remains committed to it long-term, and that includes smaller departments like marketing or even business development. While racial injustice became a hot topic during the summer, the athletic department has shifted their strategy to how they can keep pushing for change in a post-pandemic world where it does not take tragic events to grab people's attention.
"I want us to be able to talk about these issues and take action without having to unearth deep pain. What is it that we can do long-term?"
Sailor believes that everybody in the department has a role in helping promote change, and he is passionate about helping people find their specific role. Even for those who are not experts in DEI, there are actions individuals can take to be part of the solution.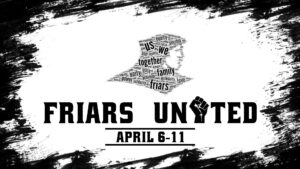 "You probably aren't going to be up here giving an hour-long lunch and learn about intersectionality. You can make sure you have diverse candidates when hiring for [graduate assistant] positions. There are ways everyone in our department can do something to help where we are trying to go."
More recently, SAAC created a new initiative called United Friars Week that ran from April 6-11. Each day during the week, student-athletes ran workshops that covered topics such as allyship, LGTBQ+ inclusivity, and anti-xenophobia. Athletes also wore Friars United warm-up shirts before games.
What makes college athletes especially amazing is how different the landscape is for them from just four years ago when Sailor was at school. Much of Sailor's work now can be traced to his time as a student on campus.
"There are times I think how nice it would have been to have someone focused in DEI in an athletics role such as the one I am in now when I was a senior. Somebody that I could have looked up to as a Black student-athlete."
Sailor's time at PC coincided with events like Eric Garner's death and when Colin Kaepernick began kneeling during the National Anthem. As a Black student, Sailor found Garner's death was hard to process, and PC was still learning how to talk about events involving racial injustice. There were times Sailor felt isolated when it came to processing these kinds of events. He did point out, though, that the College is now much better equipped to talk about events involving racial injustice.
Trying to navigate through those tough conversations as a student-athlete "was definitely a tough time," Sailor remembers. "Even then, the notion of athletes using their voice was not as commonplace as it is now."
Looking to the future, a driving theme that Sailor envisions for student-athletes is "being bigger than the sport" and utilizing their sport for change.
"Our favorite athletes are obviously good athletes, but they have a voice bigger than their sport. Whether that is gender equity with Serena Williams, or the work Lebron James has done or Muhammed Ali. Of course, they are once-in-a-generational talents but we are drawn to them because we recognize their sport is just a part of what they are doing for a bigger cause."
Sailor wants every student-athlete to find their voice at PC. Much like these inspirational athletes, Sailor encourages every student-athlete to help change their community for the better.