Former Friars: Where Are They Now
by The Cowl Editor on January 31, 2019
---
Professional Sports
---
Noel Acciari is Making His Presence Known on the Boston Bruins
By Meaghan Cahill '20
Sports Co-Editor
Before fans entered Schneider Arena to watch the Friars skate to a 4-1 win over Northeastern University, they were gifted with free bobbleheads of former Providence College men's hockey player and current forward for the Boston Bruins Noel Acciari '15. Captain of the NCAA National Championship winning team (a first for PC), Acciari is one of the few former Friars who have made a statement within the National Hockey League as a solid fourth-liner.
A Rhode Island native, Acciari has played in 150 games with the Bruins over the course of his four years with the team. Originally undrafted, the Bruins picked up Acciari at  the end of  his  junior  year just after PC ousted Boston University for the National Championship with a 4-3 win. Acciari left PC to begin his professional career and on June 8, 2015 he signed a two-year entry-level contract as a free agent. However, Acciari would not see the NHL until March of 2016 as the Bruins assigned him to the Providence Bruins to develop his game.
Acciari's NHL debut took place on March 1, 2016 against the Calgary Flames. For the remainder of that season, he would go on to play 19 games with the Bruins, totaling a single assist and a -4 plus/minus rating.
In his second season with the Bruins (2016-2017), Acciari appeared in a total of 29 regular season games, racked up two goals and three assists for a total of five points, and had a +3 plus/minus rating. His first NHL goal was scored on March 28, 2017 against the Nashville Predators, just over a year after his NHL debut.
It was at the end of this season that the Bruins re-signed him with a two-year contract extension.
Acciari saw an increase of playing time over the course of his third season with the Bruins, totaling 60 games played. Over the course of 2017-2018, he scored 10 goals and notched a single assist during regular season play. And despite his -6 plus/minus rating, his presence was surely felt on the ice.
Acciari's third season influx of goal-scoring caught his former college coach's eye.
"He takes the puck to the net hard, stays on the rebound and scores. That's Friar hockey," PC men's hockey Head Coach Nate Leaman commented on his former player in 2018.
Over the course of his first three seasons with the Bruins, and even going back to his days as a Friar, Acciari gained the reputation of being a hard hitter along the boards.
"He can turn the tide of a game with the physicality part…You have to match [teams] hit for hit…and the Kevan Millers, Charlie [McAvoy], Noel, Z [Zdeno Chara]…give  us some of that counterpunching we need," Bruins Head Coach Bruce Cassidy once commented on Noel's physical style of play.
Of the 50 games played so far this current NHL season, Acciari has played in 42 of them; the eight missed games were due to healthy scratches. Unfortunately, Acciari's scratches stem from the fact that he is not producing as much as the Bruins's coaching staff would like. In the 42 games he has played, he has only notched one goal and three assists and has a -9 plus/minus rating. Yet, despite being scratched from multiple games and his low numbers in terms of points he is posting, Cassidy acknowledges that Acciari's line, which usually consists of Sean Kuraly and Chris Wagner, has been playing great and "working hard" in both games and practices.
The start of 2019 marks the last year of Acciari's contract with the Bruins before he will once again become a free agent up for grabs. While the Bruins have made no indication on whether or not he will be offered another extension, going forward Acciari will need to start producing more on the ice and adding a bit more consistency to his game.
Friars in the Pros
by The Cowl Editor on November 30, 2017
---
Professional Sports
---
As Providence College athletics are Divison I, the Friars have seen many of their athletes go on to play professionally in their respective sports. Three writers gave updates on Friars who play on professional soccer, hockey, and basketball teams.
Basketball
By Jack Belanger '21
Sports Co-Editor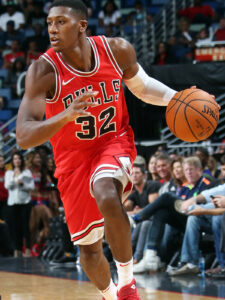 With their recent success in the Big East, Providence has seen multiple Friars appear in the National Basketball Association and other professional basketball leagues.
Marshon Brooks '11 played four seasons at PC from 2007-2011, averaging 24.6 points per game (ppg)  his senior year. He was the 25th pick in the 2011 NBA draft by the Boston Celtics but was immediately traded to the Brooklyn Nets. After a promising rookie year where he averaged 12.6 ppg and was named to the NBA all-rookie second team, Brooks saw his playing time decreased dramatically and struggled to find a consistent role in the NBA. After the 2013-2014 season he signed with Emporio Armani Milano, an Italian basketball team.
Ben Bentil '18 played only two seasons for the Friars. Bentil broke out his sophomore year in 2015-2016, averaging 21.1 ppg and 7.7  rebounds per game. He was drafted in the second round of the 2016 NBA draft by the Boston Celtics.
After playing in three preseason games, Boston waived Bentil and he spent most of the year in the NBA D-league, the NBA's minor league. Bentil managed to make his NBA debut for the Dallas Mavericks on Mar. 1 and became the first person born in Ghana to play in the NBA. Bentil currently plays for the Champagne Chalons-Reims Basket in the Ligue de Nationale de Basket in France where he is averaging 12.4 ppg.
Kris Dunn '16  is one of the best players to come out from Providence College in a long time. Dunn played four seasons for PC (2012-2016), averaging 12.8 ppg and 5.8 assists per game, and was named the Big East Player of the Year and the Defensive Player of the Year in 2015 and 2016. Dunn was the fifth overall pick in the 2016 NBA draft by the Minnesota Timberwolves. After playing limited minutes during his rookie year, Dunn was traded to the Chicago Bulls, where he has broken out, averaging 10.6 ppg and has become the team's starting point guard through 18 games.
Hockey
By Jeremy Perrigo '18
Sports Staff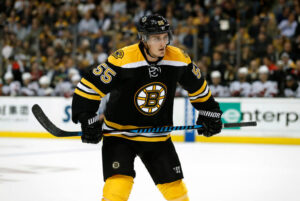 The Providence College Men's Hockey Team has produced many professional athletes over the last several years. The Friars won the National Championship in 2015, and that roster contained four players that have already seen National Hockey League ice time.
Forwards Noel Acciari '16, Mark Jankowski '16, Brandon Tanev '16 and goaltender Jon Gillies '16 were part of the high-caliber roster.
Acciari had 32 points in 41 games during the Friar's championship run, and on June 8, 2015, the undrafted forward signed a two-year entry-level contract with the Boston Bruins. Acciari, a Johnston, Rhode Island native, has seven points in 57 games with Boston as of Nov. 26.
Jankowski played his senior year at PC, scoring 40 points in 38 games, an improvement from 27 in 37 during the championship season. Jankowski was drafted 21st overall by the Calgary Flames in 2012 and has three goals and an assist in 16 games.
Tanev was signed by the Winnipeg Jets in March 2016 and has eight points in 76 games with the team as of this past Sunday.
Gillies was drafted 75th overall by Calgary in 2012. He had a goals against average of 2.01 and save percentage of .930 in the Friars' championship year.
Other notable alumni are current Providence Bruins head coach Jay Leach '01 and long time NHLer Hal Gill '97. Both were defensemen; Leach played 70 career NHL games while Gill amassed an impressive 1,108.
Perhaps one of the best-known Friars is long time Men's Hockey head coach and athletic director Lou Lamoriello '63. A native of Johnston, Rhode Island, Lamoriello had a lengthy career in Friar athletics before winning three Stanley Cups as the general manager of the New Jersey Devils from 1987-2015. He is currently general manager of the Toronto Maple Leafs.
Soccer
By Joe Myko '19
Sports Staff
The most recent Providence College alumnus to break into the world of professional soccer is Atlanta United's Julian Gressel '16 who was named Major League Soccer's AT&T Rookie of the Year in November, after scoring an impressive five goals with nine assists in his debut season. The German-born midfielder is ranked third in the college's all-time list of goal scorers, having netted 30 times for the Friars, and comes in at second for career assists with 26.
Ryan Maduro '09 is another former Friar who has followed up his time at college with a successful career in soccer. The attacking midfielder scored 14 and assisted 22 goals during his time at Providence, before going on to sign with various clubs, including Iceland's first division side Flykir and MLS's New York Red Bulls, who he made his professional debut for in 2012.
Once former Friar Chaka Daley '96 hung up his cleats in 1999, after having played for various professional sides including the MLS's New England Revolution, he decided to return to PC to take up a coaching role enjoying a successful 11 years as manager from 2000-2011.
Midfielder Andrew Sousa '10 was drafted by MLS's side New England Revolution in 2011, before going on to enjoy an extensive career thus far, most notably at the likes of Portugal's Operário (third division), Iceland's Fylkir (first division), and Canada's Ottawa Fury (who operate in the second division of the North American soccer leagues).
Chris Konopka '06 has enjoyed a successful and wide-spread career since leaving Providence, having signed with various professional outfits including MLS's Sporting Kansas City, New York Red Bulls, Philadelphia Union, Toronto FC and Portland Timbers as well as the Scottish Premiership's Ross County. Konopka played 21 times for Toronto FC between 2013-15, becoming an integral part of the club's first playoff appearance in club history in 2015. The New Jersey native also holds records with Toronto FC for the most regular season game wins with 11, as well as the best single-season win percentage for any goalkeeper in the club's history with 59.5 percent.