NIL Deals For Student Athletes
by npatano on March 31, 2022
---
The Scowl
---
Watson, Cooley, Driscoll All Involved
TikTok Star '22
On June 21, 2021, the United States Supreme Court upheld the U.S. Court of Appeals for the Ninth Circuit's decision that the NCAA's restrictions on "education-related benefits" for college athletes violated antitrust laws. As a result, college athletes who play at any division in the NCAA can now profit off of their names, images, and/or likeness. Since July 1, when the NCAA formally approved this policy, many college athletes, including Providence College student-athletes, have jumped at the opportunity to profit, signing deals with different brands and beginning to market themselves.
For the 2021-2022 season, the Providence College Men's Basketball Team ranked No. 1 on the luck scale for the Ken Pomeroy College Basketball Ratings. Since then, they have embraced the "luck" narrative, and this has even translated into their NIL deals. The entire team has partnered with General Mills' Lucky Charms Cereal. All 15 members of the team signed a deal that requires them to eat Lucky Charms before every single game they play and star in a commercial for Lucky Charms. Ed Cooley will also star in the commercial as Lucky the Leprechaun, a casting inspired by his comment in an interview before the team's first Round NCAA Tournament game against South Dakota State University in which he said, "Why not? Hell, I may be the leprechaun tomorrow."
Individual team members have also signed with companies whose brands are centered around luck, such as Irish Spring Body Wash. Nate Watson signed with the soap company and has taken to his TikTok account to promote the product via a shower thirst trap. Watson has almost a million followers on TikTok as well as Instagram, so thanks to him, Irish Spring sales have skyrocketed.
Furthermore, everyone—well, at least everyone who's taken Civ—knows that the number seven is seen as a lucky number in the Western world. The men's basketball team does not currently have a player wearing No. 7, but AJ Reeves will be doing so next season when he returns to Friartown for a fifth year. With the switch to No. 7 from his current jersey No. 11, Reeves signed a partnership with the convenience store 7/11. More specifically, he will be the main figurehead for Switch Sparkling Juice's Green Watermelon-Strawberry flavor, which is sold at 7/11.
Finally, although Nike has been the official outfitter of the PC Friars for decades, Bob Driscoll wanted to make a last-minute impact on Friartown. The Providence College athletics department has signed a new long-term partnership with Lucky Brand: the clothing retailer will now be the official sponsor of all footwear and apparel for PC. The Friars are the first NCAA school to partner with Lucky Brand in this capacity. Driscoll felt that the graphic tee and jean lines were a must-have on campus.
It is safe to say that PC's Men's Basketball Team is taking full advantage of the NCAA's NIL policy and embracing the luck narrative they have been pushing all season.
Women's Basketball
by The Cowl Editor on November 4, 2021
---
Friar Sports
---
Friars Look to Make Statement this Season
Leo Hainline
Sports Co-Editor
The Providence College Women's Basketball team enters the season with high hopes, eager to fully showcase their potential after a turbulent 2020-21 season that was frequently interrupted by COVID-19 postponements and cancellations.
The Friars retain their two top scorers in Mary Baskerville '22 and Alyssa Geary '22, senior leaders who will hold down the team's frontcourt standing at 6'3" and 6'4", respectively. This season will also allow for other players to shine as the Friars lost four key members of the team, including point guard Chanell Williams '21, who graduated from PC and is continuing her education and athletic career in-state at the University of Rhode Island. She shot over 41 percent from beyond the arc last season. Kyra Spiwak '21 is another three-point threat who will need to be replaced, as she shot a serviceable 33.3 percent on a team high of 108 attempts last season.
Fortunately for PC Women's Basketball, the team has both returning players and an influx of new talent from transfers and incoming freshmen to compensate for their departures from last season. On paper, Coach Crowley has done a fantastic job recruiting and the future of the program looks incredibly promising.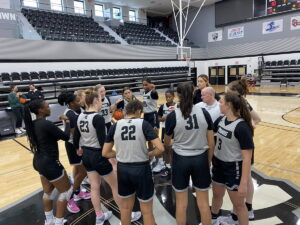 Lauren Sampson '23 seems set to fill part of the void left by the Friars' graduating shooters. The junior from Waltham, MA, averaged only 10 minutes a game this past season but hit the fourth-most three-pointers on the team. Expect her to play a key role in the Friars' offense this year, especially given that defenses will need to focus on the interior presence of Baskerville and Geary. Likewise, Andreana Wrister '22GS, a graduate transfer from Tennessee State, will also be a vital player on the perimeter. She had the third highest number of three-pointers in the Ohio Valley Conference this past season. Wrister also blossomed in her role in her final season for the Tigers, improving her scoring by nearly 10 points from her junior to senior year. The Friars will need her to accomplish much of what Williams did last year offensively in instigating scoring from the point guard position and stretching the floor with her shooting.
Speaking of shooting, Coach Crowley was able to recruit Meghan Huerter '25 to Friartown, a player who set a record for the most three-point field goals made at Shenendehowa High School in Clifton Park, NY. The marksmanship seems to run in the family as her older brother, Kevin, is one of the best young three-point specialists in the NBA and plays for the Atlanta Hawks. Huerter is 5'11" and has unlimited range, creating a tough matchup for any opposing defense. Similarly, shooting guard Audrey Koch '25 from Iowa City, Iowa stands at 5'10" and knows how to get a bucket in any situation. Similar to Huerter, Koch is a threat from beyond the arc, and she was even a McDonald's All-American Nominee during her senior year of high school.
Coach Crowley also recruited two-time Maine Gatorade Player of the Year Emily Archibald '25. She was also named 2021's Miss Maine Basketball, along with a host of other accolades. At Kennebunk High School, Archibald averaged a whopping 24.6 points and 20.7 rebounds a game. The 6'2" freshman is versatile with the ability to play both in the post and on the perimeter, and has the potential to grow into one of the program's top players.
In the Friar frontcourt, while fans should anticipate Baskerville and Geary getting most of the run, Olivia Olsen '25 may also see minutes off the bench and will certainly provide the Friars with depth at the position. Expect Olsen to fill the shoes of her namesake in Olivia Orlando '21, who was a tenacious rebounder for the Friars throughout her four years on the roster. Despite being undersized at 5'10", Orlando tallied the second most rebounds for PC last season, and her presence on the court will be missed. Olsen stands taller at 6'3" and acts as a more typical post presence, and after Baskerville and Geary graduate, many expect her to be an integral piece of the Friar frontcourt in the future. She played AAU ball with fellow newcomer Huerter, and at Niskayuna High School in Niskayuna, NY, Olsen averaged a triple-double in points, rebounds, and blocks in both her junior and senior years.
The Friars also added guard depth with freshmen Nariah Scott '25 and Kylee Sheppard '25, as well as with the acquisition of Cranston native Janai Crooms '23, who transferred to PC from Michigan State University. Crooms attended St. Andrew's High School and was the first female basketball athlete to have her jersey retired at the school. She has plenty of experience playing college hoops as she began her collegiate career with Ohio State University for her first two years before transferring to the Spartans. The floor general will be a valuable player in Coach Crowley's arsenal, especially given Williams' departure.
While the PC Women's Basketball team looks ready to turn heads this season, they find themselves amid a competitive conference that has one of the greatest programs in any collegiate sport of our lifetimes: the University of Connecticut. The Huskies enter the season ranked second in the country, only behind the University of South Carolina. UConn has won 11 national championships, all coming since 1995, and rarely ever lose their conference tournaments. The Friars will square off with the Huskies at the Dunkin' Donuts Center on Sunday, Jan. 30, which is certainly a game to mark on your calendar.
UConn is not the only notable team in the Big East. DePaul University also poses a threat and in recent years has consistently hovered around the AP Top 25. The Blue Demons return all five starters and will be expected to be a tournament-caliber team this season. Seton Hall University, which finished as runner-up in the conference last year, is also expected to be one of the more competitive teams that the Friars will face.
The Big East Preseason Poll ranked the Friars as eighth out of 11 teams, but PC Women's Basketball will let their play do the talking and prove that their roster is much better than others in the conference perceive it to be. There would be no better way to celebrate 50 years of female students at Providence College than to have a fantastic year out of this team. The Friars play an exhibition matchup at Alumni Hall vs. Bentley University on Nov. 4, and then they begin their regular season play again at home on Tuesday, Nov. 9 against Yale University.
Shammgod '15 Shaping Future NBA Star
by The Cowl Editor on October 4, 2020
---
Athlete of the Week
---
Former Friar Flourishes in New Role with Dallas
by Thomas Zinzarella '21
Sports Staff
It has been over 20 years since God Shammgod '15 donned the Friar black and white on a basketball court, yet he continues to carry lessons learned in Friartown with him in his career as the player development coach for the Dallas Mavericks. Indeed, Shammgod plays an integral part in the development of players not only on the Mavericks, but around the NBA as well.
To see where it all began, the clock must be turned back to 1997. The Providence College Men's Basketball Team, led by head coach Pete Gillen, was en route to the program's fourth-ever Elite Eight appearance. The team had a core of players that featured a shifty point guard from New York City named God Shammgod. It was in the Elite Eight game against the eventual champion, the University of Arizona Wildcats, that Shammgod would make his name known nationwide. Shammgod, famous for his exceptional ball handling skills, dribbled the ball towards the baseline from the wing. He then moved his body in the other direction while simultaneously pulling the ball back in towards the paint. This move would be coined, "The Shammgod."
Shammgod elected to forgo his final two years at PC to take his talents to the NBA. He was drafted in the second round by the Washington Wizards and played for a few seasons before moving on to play overseas. After his playing career ended, his first order of business was to finish his undergraduate studies. Shammgod re-enrolled at PC in 2012 and started working on Ed Cooley's staff. Cooley had just been named head coach of the men's basketball team in 2011. Shammgod, at the time, was uncertain as to what he wanted to pursue following his NBA career. His time in Friartown pointed him in the direction of coaching. "The way Coach Cooley and his staff coaches…they're all hands-on coaches and hard workers," Shammgod stated. "Ed Cooley is a great coach, motivator, and innovator for the sport. He gets the best out of his players."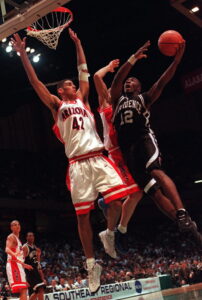 During his time as a coach under Cooley, Shammgod played an important role in the development of some brilliant Friar point guards, including Bryce Cotton '14, Kris Dunn '16, and Kyron Cartwright '18. Shammgod explains, "Their success is a testament to all of their hard work and what they put in… [That's what will happen] if you're willing to listen and to grow as a person and a player." He pointed to each of the player's successes in Friartown, but also to their successes in the professional leagues as well. Whether it was Cotton winning MVP awards in Australia or Dunn excelling with the Chicago Bulls, Shammgod was sure to recognize the talents of the Friar family. 
Though he now works at the professional level, Shammgod still recalls the passion and pride that comes with being a Friar. "The energy from the fans makes people play a certain way and with pride," he said. "PC is the biggest show in town. You have to play with a sense of urgency and pride."
 In his current job with the Mavericks, Shammgod coaches some of the best young talent in the world. He works with stars such as Kristaps Porziņģis and Luka Dončić, perhaps one of the best international duos to ever grace an NBA court. Dončić won the NBA Rookie of the Year Award in 2019, was named to the All-Star team in 2020, and with his recent play in the NBA bubble, looks to be an MVP candidate for years to come. "I feel blessed and honored," said Shammgod, "for kids to listen and take advice from me no matter what I have done in my career…I take a lot of pride in that…to see dreams come true…knowing all of the hard work they put in, for me it is wonderful."
 Although he is currently on an NBA staff, Shammgod has worked with players on all levels of basketball. He recalled working with a young Kobe Bryant when they played on the same Amateur Athletic Union (AAU) team for a summer in high school. Bryant's dad actually approached Shammgod to ask him to help his son work on his dribbling skills. Shammgod and Bryant became friends and remained so well after. When asked about Bryant, Shammgod reflected fondly on their relationship. He talked about the attitude that many referred to as the "Mamba Mentality." "[Bryant] said one day he would be better than Jordan," Shammgod recalled. "And he believed it. Even if nobody else did. We had a friendship because we had a certain bond about work ethic."
 Another major influence on Shammgod was the late-great John Thompson '64, a legendary collegiate coach and PC basketball star. Thompson and Shammgod connected through their love of hoops and passion for coaching. Thompson made sure to instill in Shammgod the idea that there was no one way to coach, that there was no perfect blueprint that you could easily follow. Shammgod took this advice to heart.
These days, everybody wants to learn "The Shammgod." Shammgod gets asked about the eponym everywhere he goes. Though he is perhaps most famous for this specific move, Shammgod refuses to let it define him and continues to strive to achieve even more than he has already. He hopes to one day be the general manager of an NBA team. "I keep studying and working hard, developing…my foundation is strong," said Shammgod. "I come from a great tradition, a foundation of family and sports at PC…I don't see how I can lose."
Men's Basketball Weekend Recap
by Meaghan P Cahill on February 13, 2020
---
Friar Sports
---
By Gavin Woods '22
Sports Staff
The Providence College Men's Basketball Team was defeated by Xavier University last Saturday, 58-64. The Friars record has now fallen to 13-11 on the regular season, and 6-5 within the Big East. 
Both teams came out of the gates aggressively. The Friars got into an early rhythm, but struggled to slow the Musketeers from inside the paint. The soft coverage down low and lack of communication among the defense enabled the Musketeers to consistently get high percentage looks. 
The Friars' offense seemed to be working effectively, as they maintained the lead for the majority of the first half. However, their issue was not scoring, but rather keeping Xavier from scoring easy layups. As the game progressed, Xavier seemed to find success with their substitutions, particularly with Kyky Tandy, who scored 10 points off the bench.
PC's offense was led by Nate Watson '21 with 16 points and seven rebounds. Watson was supported by Alpha Diallo '20 and David Duke '22 with 14 and 12 points, respectively. However, the Friars seem to be struggling to find their identity, as these three stars are the only players to consistently score double digits each game. The offensive burden for the Friars must be more evenly distributed among the team.
Another issue currently plaguing the Friars is subpar perimeter shooting. Out of 23 attempted three point shots, only four fell, resulting in a three point percentage of 17.4. It's entirely possible that PC is simply attempting too many three pointers. Luwane Pipkins '20 shot a total of nine three pointers only to make two of them. This means that seven possessions were essentially handed to Xavier. The Musketeers attempted only 19 three pointers and landed five of them for a three point percentage of 26.3.
Perhaps the biggest issue for the Friars lies in the way they finish games. As seen several times throughout the 2019-2020 season, including the recent loss to Villanova University, PC's shot selection in the dying minutes of the second half become erratic and forced. With 8:59 to play in the second half, Providence led 50-47. Xavier then went on to execute a 5-0 point run, leading PC 52-50. Following this run, the Musketeers never gave the lead back, with the Friars making only three shots within the final 10 minutes of the second half. 
Head coach Ed Cooley voiced his frustration following the loss saying, "I'm really pissed at my team. I thought we were undisciplined. I thought we took some uncharacteristic shots. I didn't think we were united the way you have to be on the road in these environments."
The PC versus St. John's game was not completed at press time.
Once a Friar, Always a Friar
by The Cowl Editor on September 26, 2019
---
Friar Sports
---
An Interview with College Basketball Hall of Famer Ernie DiGregorio '73
By Jack Belanger '21
Sports Co-Editor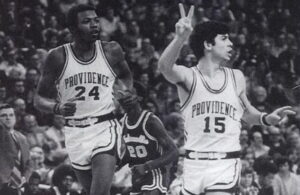 Former Boston Celtic point guard Bob Cousy was asked if anyone currently in the NBA reminds him of how he used play back in the 50s and 60s. Cousy responded, "Not really, because everyone has their certain way they play, but only in one case, Ernie DiGregorio. The way he saw the floor and passed was like me." To fans who watched Ernie DiGregrio '73 play basketball back in the early 70s, he was much more than just a great floor general for the Friars—he was one of their own.
Nearly 50 years after scoring 37 points in his high school championship for North Providence High School at Alumni Hall, the man nicknamed "Ernie D." is still one of the most recognizable and talked about PC athletes. Despite graduating from the College in 1973, he has lived in Rhode Island for his entire life and made headlines this spring when he was named to the National Collegiate Basketball Hall of Fame Class of 2019 for his fantastic career at PC. He will be formally inducted at the College Basketball Experience located in Kansas City, Missouri this November.
"I was home when I got the call that I was named into the Class of 2019, and I said, 'That's tremendous,'" recalls DiGregorio on the day he got the call. Two months later the announcement was made to the media and outlets such as ESPN brought it onto the airwaves.
"I went to Stop & Shop and everybody is telling me congrats. I usually walk six and a half miles every morning and people were coming up out of their cars to congratulate me. It's a very humbling honor and I could not have gotten there without a great coach in Dave Gavitt."
Ever since he stepped into Alumni Hall, DiGregorio was embraced by the fans and the entire city of Providence. His roots as an Italian kid who grew up just 10 minutes down the street and loved basketball more than anything else gave everyone a hometown hero to root for along with teammate Marvin Barnes '74. 
Stories of his incredible work ethic and dreams to play basketball professionally just added to his reputation as a local legend.
"When I was 10 years old, I came home from school and told my mother I wanted to become a professional basketball player and she laughed. I knew if I practiced 8-10 hours a day and did it for years, I could be a great player. I used to get my basketball at six in the morning and I would just start dribbling," said DiGregorio. There were also times he would go out in the middle of winter and shovel off snow at Evans Park to practice in North Providence.
Despite receiving scholarships from colleges such as Indiana University and University of California-Los Angeles, DiGregorio never bothered to visit any school other than PC.
"I wanted to play in front of my family and friends. When I got to do that and see them enjoy that, I thought what's better than that. I wanted to be part of the PC tradition,"said DiGergorio.
Not only did he become part of the tradition, DiGregorio helped create it. He spent three seasons playing for the Friars, setting records such as most assists in a season and highest career average for assists per game, but he will always be remembered most for leading the Friars to their first Final Four appearance in 1973.
While PC had a strong program before the '70s, it was the 1972-73 team that would change the course of PC basketball for years to come. That year would be the first season the Friars would play their home games at the then Civic Center, now the Dunkin' Donuts Center, in downtown Providence. DiGregorio, Barnes and Kevin Stacom '74 gave the Friars three future pros on the roster with the Hall of Fame coach, Dave Gavitt on the sidelines. That season, DiGregorio would score 24.5 points per game and dish out 8.6 assists per game.
The team went 23-2 during the regular season, with one of those losses coming against the eventual champion UCLA. With such an extraordinary amount of talent on that team, Coach Gavitt never had to draw up any plays according to DiGregorio.
"We knew how to play, plain and simple," said DiGrgerio. "We were always trying to get layups and he knew Marvin would grab every rebound and throw it up to me. He trusted me with the ball to attack the defense and make the right play."
The Friars used the fast break to their advantage and ran themselves into the Final Four where they would face the Memphis State Tigers (now Memphis University). The Friars managed to grab an early 16-point lead before Barnes went down with a knee injury that changed the momentum of the game.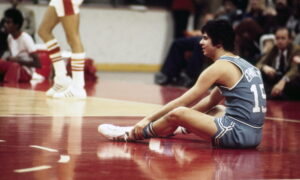 "He stepped on someone's foot, twisted his knee, and that was it. They began to grab all the rebounds and we couldn't run our fast break. They grabbed more offensive rebounds and we ended up losing that game."
To this day, DiGregorio still believes they could have beaten UCLA in the title game had they gotten there. He finished with 32 points and seven assists in his final game in a Friars uniform.
Despite the loss, the magical run brought new national attention to PC as one of the best basketball programs in the country. That team, according to DiGregorio, "changed the culture forever at Providence."
While DiGregorio was looking forward to continuing his career in the NBA, he knew he would miss his coach with whom he had built a sepcial bond.
"He would never yell," DiGregorio said of his coach. "I missed playing for a guy like Gavitt. He had no ego and would let me play my game. I loved playing for Providence College. They were the greatest years of my life."
DiGregorio would go on to have a five-year career in the NBA with the Buffalo Braves, Los Angles Lakers, and Boston Celtics. During his first year, he won the Rookie of the Year and lead the league in assists per game. He also set a rookie record for assists in one game with 25. Knee injuries ultimately pushed him out of the game, but not before getting to experience a special moment in his final game with the Celtics and future Hall-of-Famer John Havlicek.
"Havlicek was the best," said DiGregorio. "I remember his last game. He got a seven-minute ovation from the crowd. It was so emotional."
DiGregorio and Havlicek will forever be connected as the former Friar fed Havlicek the ball every time he was in and even assisted Havlicek for his final bucket ever. After the game, Havlicek wrote on a picture, "Ernie D, one more pass, John Havlicek." This would be one of DiGregorio's most special memories as a professional basketball player as both men were able to go out on top with a special moment.
After his career was over, DiGregorio returned to Rhode Island and stayed involved with the game by coaching high school and younger kids. The game remains a part of him and he will consider himself a basketball player "till the day he dies."
Even though his career ended sooner than he wanted it to, DiGregorio remembers the positives of his career and the special moments he shared with others. He will forever remember seeing the local fans who had never been to a basketball game come out to support the team when he was there.
When he reflects on his career and how much he treasures it, DiGregorio reminisces about a time when he went over to Gavitt's house after he retired.
"I told him, 'If I could've dreamt how great my career was going to be at PC, reality surpassed the dream.'"
Former Friar Named to Collegiate Basketball Hall of Fame
by The Cowl Editor on April 11, 2019
---
Friar Sports
---
Ernie D Becomes the Third Friar Inducted Into Hall of Fame
By Jack Belanger '21
Sports Co-Editor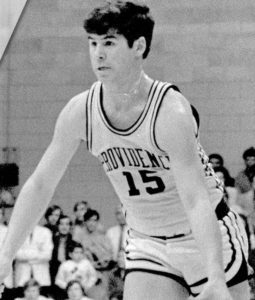 Last week, the National Collegiate Basketball Hall of Fame announced its Class of 2019 who will be inducted into the elite group on Nov. 24 in Kansas City, Missouri. Among the inductees this year will be former Providence College Men's Basketball guard Ernie DiGregorio '73. DiGregorio was a key part of the 1972-73 Final Four team that reached the national semifinals for the first time in the college's history. He led the team with 24.5 points per game and 8.6 assists per game.
"Ernie D" was born and raised just up the street in North Providence, where he won a high school state basketball championship in 1968. After high school, he came to his hometown Friars and started three seasons at the College from 1970-1973.
Known for his spectacular ball handling and passing abilities, DiGregorio holds multiple school records from his playing career including, field goals made in a season with 348, assists in a season with 267, and assists per game for a career with 7.7. He also averaged 20.5 points per game for his career, never averaging lower than 17.7 in a season.
During the 1972-73 season, DiGregorio, along with teammate Marvin Barnes '74, led the Friars to a then-program record 27 wins and brought the team to the national semifinals where they lost to the University of Memphis 85-98. After the season, DiGregorio was voted a First-Team All-American.
After his career with PC, DiGregorio was drafted by the Buffalo Braves as the third overall pick in the 1973 NBA Draft. His career lasted five seasons, four with the Braves, and one season split between the Los Angeles Lakers and the Boston Celtics.
He had an incredible rookie season where he led the league in free throw percentage at 90.2 percent and assists per game with 8.2 stats that led him to be named the 1973-74 NBA Rookie of the Year. He also set a record for most assists in a game by a rookie with 25, a statistic that has been matched by only one player.
DiGregorio is the third Friar of all time to be elected into the Collegiate Basketball Hall of Fame. Former player Lenny Wilkens '60 and DiGregorio's head coach, Dave Gavitt, are the other former Friars in the Hall of Fame.
Men's Basketball Roster Features a New Face
by The Cowl Editor on April 4, 2019
---
Friar Sports
---
Friars Welcome UMass Player Luwane Pipkins After Two PC Players Decide to Transfer
By Sullivan Burgess '20
Sports Staff
After a season of ups and downs for the Providence College Men's Basketball program, it is time to recruit and make big decisions for the program. Ed Cooley knows first hand that the team needs to be reevaluated to see what can be done for the future of the Friars.
After the National Invitational Tournament first round loss to the University of Arkansas, Cooley stated to press "We didn't have it this year—not a year that I'm happy about. To me, it's unacceptable. I have to do a much better job with the group. We have to look at our program and evaluate it as to what we need going forward…Along the way, we have to change some things. We're looking for players who can help the Friars, period."
The changes began with the announcement of redshirt forward Drew Edwards '19 transferring from PC to another school as a graduate transfer. The school at which he will be playing has yet to be announced, but the entire student body will miss his hard work on the court and dedication to the game.
Late in March, the news spread around Providence like wildfire that University of Massachusetts of Amherst Guard Luwane Pipkins would transfer to PC. He will come to the school as a fifth-year graduate transfer, which will make him immediately eligible for the upcoming 2019-2020 basketball season.
Pipkins took to Twitter to announce the news, tweeting "I just want to say thanks to all the coaches that contacted me during this time, but after careful consideration, I have decided to use my last year of eligibility to play for coach Ed Cooley and the Providence Friars." When asked about why he was joining PC, he stated "Basically, I felt a connection with Coach Cooley and his staff…They kept it real from the start and were very honest with me."
Some websites even have Pipkins as a projected starter for next season alongside Providence guard David Duke '22. Last season at UMass, Pipkins averaged 16 points per game, alongside 4.9 rebounds and 5.2 assists. These stats, along with veteran leadership will be of great use to the team.
Twenty-four hours after the announcement of Pipkins, rumors began swirling that sophomore point guard Makai Ashton-Langford '21 was looking to transfer from Providence. Soon after, Ashton-Langford took to his social media thanking the staff and school for the last two years as well as his supporters from the student body, and officially announcing his transfer.
Originally committed to play at the University of Connecticut after high school, Ashton-Langford had then de-committed from the program to join the Friars. After a tough freshman season, this season offered Ashton-Langford more opportunities to show his playmaking skills that he displayed in high school. However he was still only able to average 3.7 points. 1.5 rebounds, and 2.3 assists this season.
The Friars will now head into next season with their depth chart at point guard looking like Pipkens, Duke, and Maliek White '20 as players who will be trusted to bring the ball up the court.
Men's Basketball Sweeps St. John's
by The Cowl Editor on February 28, 2019
---
Uncategorized
---
By Gavin Woods '22
Sports Staff
It has been a busy week for the Men's Basketball Team. In the span of six days, Providence College played two home games versus St. John's University and Marquette University, before their matchup at Butler University. 
The Friars started the week with a home game against St. John's, who is currently third in the Big East. To say that St. John's had the momentum going into the game would be an understatement, especially coming off staggering wins against Marquette, Butler, and most recently, Villanova. However, the Friars had won their last matchup just two weeks prior, and they showed no signs of backing down. 
PC came out hot at the start of the game, scoring an early three from  Makai Ashton-Langford '21. The name of the game for Providence, however, was defense. The Friars did not give up a single point until 7:49 into the game, with a lead of 9-2. Perhaps even more impressive, PC was able to almost completely shut down Shamorie Ponds, the leading scorer for St. John's, who averages 19.7 points per game. Ponds finished the night with two points, well below his season average. 
The Friars were able to hold on to their decisive lead, finishing with a final score of 78-59. There was not a single lead change throughout the game. 
Next, PC faced the Golden Eagles of Marquette, who are currently at the top of the Big East standings. Marquette boasts a win percentage of .85 and a conference record of 12-2. Marquette certainly came into the game with confidence, as they won their last matchup against Providence. 
The Golden Eagles began the game scoring early and often. They led at the half  by 11 with a score of 31-20. Providence seemed to be containing Marquette's star guard, Markus Howard, who averages 25 PPG, holding him to only 14 points. However, this enabled Marquette to adapt, using their other weapons including Sakar Anim  and brothers Sam and Joey Hauser. Marquette had a total of five double-digit scorers, compared to Providence's three.
The biggest difference between PC and Marquette was shooting accuracy. The Golden Eagles sank 54.9 percent of their field goals, 47.6 percent from three and 76.9 percent of free throws. This is compared to the Friars' percentages of 28.6 from the field, 30 from three, and just 50 from the free throw line. 
The game's lead scorer was Alpha Diallo '20 who dropped 19 with six rebounds. However, it was Marquette's Sam Houser who stole the show with an impressive 18-point 13-rebound double-double.
Their next game proved to be the closest for Providence, as they traveled to face off with Butler. Of the three games, this was the closest matchup, with both Providence and Butler having an overall record of 15-13. This was the first meeting between the two teams during the 2018-2019 season, and both teams were desperate to improve their conference record. 
Though the game was tight throughout, Providence seemed to have the slight edge. The Friars' largest lead was 14 points with 7:15 left in the first half. However, a rapid comeback from the Bulldogs resulted in a Providence lead by just five points at the half. The battle continued through the second half, with a total of four lead changes. Providence continued their offensive game plan, facilitating the ball through Nate Watson '21. Watson led the Friars in scoring with 21 points. 
Towards the end of the second half, PC began to build their lead over Butler. The Friars were up by seven points with less than a minute left to play. However, Cooley elected to continue his strategy to not foul the other team until the end of the game. This enabled Butler to come back from their deficit and tie the game, due to several Providence turnovers. This gave PC one last chance to end the game, with 10 seconds left in the second half. A failed open three point shot from David Duke '22 sent the game to overtime, where the Friars outscored Butler 11-5.
Though the Friars seem to have found themselves in a late season slump, with a record of 6-10 in the Big East conference, these two conference wins will certainly help PC in their placement for the Big East tournament.
Friars Fall to Villanova
by The Cowl Editor on February 14, 2019
---
Friar Sports
---
Friars Go Into "Do or Die" Mode as They Get Ready for Playoffs
By Sullivan Burgess '20
Sports Staff
The last week has been difficult and disappointing for the Providence College Men's Basketball Team, but nevertheless an improvement from what the season has provided, helping fans and students keep a positive mindset moving forward as the season progresses towards its finale at Madison Square Garden for the Big East Tournament.
The week began with the Friars headlining a home game against the 15-9 Georgetown University Hoyas. After a stunning defeat in overtime at Georgetown, the Friars looked to bounce back and secure a win. Unfortunately, while keeping a close game throughout the first half, the second half of the game belonged to Georgetown as they went on a scoring tear, defeating the Friars 76-67.
This put the Hoyas in fourth place in the Big East standings; while the Friars have jumped back and forth in the standings, currently they are in ninth place.
After the game, Head Coach Ed Cooley stated, "It has just been one of those years. You just have to hang in there and get onto the next game…I never want to get used to losing…and we have to get our team into a good space."
On a side note, during the game forward/guard Alpha Diallo '20 became one of only 50 Friars to join the 1,000-point club.
Later that week, the Friars traveled down to the city that never sleeps and took on St. John's University with a record of 18-7. This was the first matchup of the two teams this season, and all eyes have been on St. John's point guard Shamorie Ponds, who led his team to victory against Marquette University.
However, the Friars managed to turn things around and handed St. John's a loss at their home court—Madison Square Garden—with a final score of 70-56. The game was led by center Nate Watson '21 who scored 18 points and had five rebounds. There was also a notable double-double from Diallo, who had 10 points and 15 rebounds.
This spark was needed as the Friars traveled down to play against the always red-hot Villanova University. While the Friars bounced back and forth for the lead against the Wildcats, the last few minutes of the second half belonged to the Villanova as they went on a scoring tear to end the game at 85-67. Watson lead in scoring again with another 18 point game and six rebounds, however, it was not enough to stop Eric Paschall and Phil Booth's 25 and 22 point game, respectively.
This now puts Providence at one of their lowest records at 14-11 overall, and 4-8 in the entire conference. The Friars now need to figure out a gameplay strategy that works for them for the remaining six games of the season.
The next game brings the team back home to the Dunk against Xavier University for the two teams' second matchup of the season. The last time these two met up in Cincinnati, the Friars found themselves a 64-62 victory, and will look to reignite that spark to avoid another losing streak.
While so far the road has seemed tough, the road ahead does show some light. It may look as if the Friars are knocked out right now with no chance of a March Madness appearance this season, but fans and critics will continue to show support for their hometown Friars.
Editor's Corner
by The Cowl Editor on January 24, 2019
---
Friar Sports
---
With a little luck (and help) the Friars can still go dancing
By Jack Belanger '21
Sports Co-Editor
It has been a tale of two seasons for the Providence College Men's Basketball Team. After a successful nonconference schedule in which the team got its 10 wins that they usually strive for and only had one bad loss to University of Massachusetts-Amherst (again), the team has struggled to put together a complete game against their Big East opponents. While many Friar fans are nervous that the team will miss their first NCAA Tournament in six years based on their start in the conference, there is still plenty of time for the team to turn their fortune around. With 12 games left, the Friars can still reach the 10 conference wins needed to put themselves in a position to be called on Selection Sunday. Here is what needs to happen:
1. A.J. Reeves '22 returns to form quickly.
The offense just has not looked the same ever since Reeves went down with a foot injury in early December. While Alpha Diallo '20 may be the team's most versatile player on the offensive end, Reeves has simply been the best shooter on a team that has struggled to find success behind the arc. He leads the team in shooting from three with 45.3 percent and has made the second most threes on the team despite missing nine games. Until the star freshman makes his return, it will be hard to win a shootout versus teams like Marquette University.
2. Get one win between Marquette and Villanova University.
Even if the Friars reach 10 wins in the conference, the selection committee always will look at what teams you beat. Right now the team is missing that key signature win that will put them above other teams. While wins over Power-Five Conference teams like the University of South Carolina and the University of Texas are solid, neither team is a top team in their respective conference. Last season, the Friars got two big wins over ranked teams in Villanova and Xavier University. With a much tougher nonconference schedule this year than last, one win over the top of the Big East will go a long way for the Friars.
3. A team or two needs to falter down the stretch.
The yearly theme in the Big East is that every game will be a dogfight and there will be no easy wins to come by. That theme never has been truer than this season. After Marquette and Villanova, no team currently has a winning conference record. So while the Friars may only be less than two games behind third place, they need to jump above several teams to get back into the top half of the league. Having more than three teams finish at 10-8 might mean that one of those teams will be left out. Friars are going to need to sweep usual contenders such at Butler University and Xavier and hope those teams fall below .500 at the end of the season.