PC Honors Multiple Record Holders
by The Cowl Editor on February 28, 2019
---
Friar Sports
---
Twelve Friar Alumni Inducted into Hall of Fame
By Jack Belanger '21
Sports Co-Editor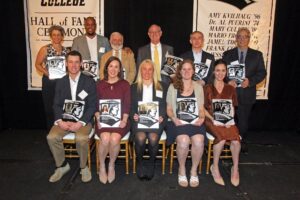 On Friday, February 22, friends, family, teammates, and coaches gathered at the Biltmore Hotel to celebrate the 2019 Providence College Athletic Hall of Fame Induction Ceremony. There were 12 inductees this year, 11 in attendance, that included athletes from several sports and one lifetime achievement award.
The inductees were Amy Kvilhaug '96 (softball), Dr. Al Puerini '74 (lifetime achievement award), Paul Kostacopoulos '87 (baseball coach), Mary Cullen '06 (women's cross country/track), Mario Proulx '84 (men's hockey), Jamel Thomas '99 (men's basketball), Frank Conway '90 (men's cross country/track), Jessica Tabb '01 (women's hockey), Sandra O'Gorman '89 (field hockey), Kevin Jones '01 (men's soccer), Kevin Sheehan '73 (baseball) and Michele Tamburo '95 (women's swimming/diving) who were all announced back in November. Kostacopoulos was the only inductee not in attendance due to his current job as the head baseball coach at the United States Naval Academy.
Kvilhaug is one of the best pitchers in Friars history as she holds multiple team career records such as wins (72), complete games (84) and earned run average (1.02). She helped lead PC to three consecutive 30-win seasons. In 1994 she was named to the First Team All-Big East and Second Team All-Northeast Region.
Dr. Puerini, who has been working for PC as the Head Team Physician since 1988, was awarded with this year's lifetime achievement awarded for his commitment and work in the athletics department. Throughout his career he has been awarded multiple honors from his peers. Most recently, he was given the Outstanding Achievement Award in Sports Medicine by the Rhode Island Interscholastic League in 2015, and Physician of the Year by the Rhode Island Academy of Family Physicians in 2017.
During the ceremony, Puerini reflected upon his time at the College. "Providence College has given me so much. An education, a career, a life's philosophy, good friends, and an invitation to be part of the Friar Family."
Cullen and Conway were both top runners during their time at Providence College. Cullen became the fifth woman at PC to win an individual track title when she won the 5,000 meter race at the NCAA Championships in 2006. Conway made history when he became the first New England collegiate runner to run a sub four-minute mile indoors in 1988.
Proulx is one of the best goaltenders in PC Men's Ice Hockey history. He is second all-time in wins (64) and fourth all-time in shutouts (five). In 1984 he was the recipient of the College's Mal Brown Award.
Tabb played for the Women's Ice Hockey team during the late 90s and early 2000s. She was named to the Eastern College Athletic Conference All-Star Team twice during her career. She is eighth all-time in career goals (86) and was named PC Athlete of the Year in 2001.
Thomas is one of the best scorers to put on a uniform for the PC Men's Basketball Team. He ranks sixth all-time in points with 1,971. He was one of the key members of the 1996-97 team that made it to the Elite Eight. He made it to the Second Team All-Big East and First Team his junior and senior years, respectively.
Sheehan might be the best pitcher in Friars history. The lefty holds the school record for strikeouts in a career with 151 and third for a single season with 68. He was named the team MVP in 1973 and received the Father Krieger Award for outstanding achievement in the PC baseball program in 1972.
O'Gorman helped make PC field hockey history as the goalie for the 1987 team who achieved the #1 overall ranking in the country and made the program's first NCAA tournament appearance. She is one of five field hockey players to be named First Team All-American. O'Gorman holds the team record for career saves with 685.
Jones was one of the best offensive players to suit up for the PC Men's Soccer Team. He is ninth all-time in goals with 21 and sixth all-time in points with 59. After the 1999 season, Jones was named to Second Team All-Big East and awarded Providence College Athlete of the Year.
Tamburo is one of the most decorated swimmers in PC history. She set five school records during her career, one of which, the 200-yard backstroke, still stands today. In 1993 she was named the team MVP. She won Big East titles in the 100-yard butterfly and the 200-yard backstroke while swimming for the Friars. She finished her speech with some words of wisdom to future athletes.
"To all the young athletes out there," said Tamburo, "push yourself outside of your comfort zone, in your sports… and someday in your career."