Men's and Women's Hockey Ready for Second Half of Play
by npatano on February 7, 2022
---
Friar Sports
---
Friar Hockey Looks to End Season on High Note
Luke Sweeney '24
Sports Staff
The Providence College Men and Women's Hockey Teams have been fighting through the cold winter months as they both sit at the 17th rank in the nation in their respective seasons. 
All of Hockey East would enjoy a few weeks off before the grind of the rest of the season came back underway. For the Friars, after the Christmas holiday, they would head out to Milwaukee, Wisconsin to play in the Kwik Trip Holiday Faceoff. 
In their first game, the Friars played Bowling Green State University, and coach Nate Leaman's team picked up where they left off before the break. They would defeat Bowling Green 6-2 behind Jamie Engelbert's '23 natural hat trick and Patrick Moynihan's '23 four-point night.  
The following night, the Friars battled against Wisconsin University in a tight contest. The game officially ended in a 2-2 tie, but the Badgers claimed the Holiday Faceoff title with a 2-1 win in the shootout.
Jaxson Stauber '23 made 37 saves in the contest.
The Men's team has their work cut out for them heading into the final stretch of the season, going 2-2 in the month of January so far. The boys finished up last week with two wins against the Boston College Eagles.
Great goaltending and goal scoring alike contributed to the past two wins over BC, as their first matchup on Jan. 21st ended in a 7-0 blowout with the Friars dominating all corners of the ice. Nick Poisson '23 racked up two goals and an assist after four shots on goal during the game. Although coming off a few tough losses from the 19th ranked Merrimack College, the Friars were able to overcome their issues and collect themselves for a positive win and tie against Boston College the next week.
The Friars will be on the road this weekend with games at #9 University of Massachusetts Amherst on Friday and Boston University on Sunday.  
In recent news for the Providence College Women's Hockey Team, the girls suffered two hard-fought losses to the powerful 12th ranked University of Vermont this past week. 
On New Year's Eve, the Catamounts and Friars faced off at Schneider Arena where the Friars picked up a 3-1 victory. Sara Hjalmarsson '22 scored a pair in the second period and Lily Martinson '25 netted her first collegiate goal to secure the win for the Friars.  
Although it has been a tough season for the women Friars this year, they have earned big wins scattered throughout the season that has allowed them to remain in the top 20 teams in the country, including wins against Boston College, University of New Hampshire, and University of Vermont.
Additionally, the girl's season has been riddled with cancellations and postponements due to the recent outbreak of the new COVID-19 strain. Four of their seven games over the winter break were postponed due to COVID-19. All said and done, the Friars have played extremely well given the hard conditions of playing in a COVID-19 season.
This week, the girls played Boston College on Tuesday in Chestnut Hill. After taking an early 1-0 lead heading into the second period thanks to Hayley Lunny '22GS, the Friars were not able to hold on and after three third period goals from the Golden Eagles, the team fell to 8-10-5 on the season. 
Their season continues this coming weekend with two home games at Schneider Arena against the University of Maine for a Hockey East battle. 
Field Hockey Looks to Continue Fast Start
by The Cowl Editor on September 16, 2021
---
Friar Sports
---
Field Hockey Update and Preview
Ben Bilotti '23
Sports Staff
The Providence College Women's Field Hockey team is enjoying a strong start to their season. The team won their first two games against Bryant University and Boston University. The Friars outscored their opponents 6-1 in the first two matches.  After losing their next two games, they beat Long Island University on Sunday, Sept. 12, 5-2 to improve their record to 4-2.
The Friar's early success indicates that the team has great potential to make big strides in the BIG EAST Conference. The team currently has the fourth best winning percentage in the league.
In the season opener against Bryant, the Friars set the tone by besting the Bulldogs with a score of 4-0. Roos Michiels '24 and Celia Preveza '25 each scored the first goals of their collegiate careers to aid the Friars in their win. Both of the goals were scored in the second quarter. Six Providence players collected at least one point by a goal or assist.
PC continued their success in their second match against Boston University, defeating the squad 2-1. Olivia Ward '21GS collected her second goal of the season, giving the Friars an early lead in the second quarter.
The game was a regional battle. It remained scoreless until Ward scored in the second quarter. BU tied it up shortly after that and the game remained tied until Niamh Gowing '22 scored early in the fourth quarter. The Boston University Terriers pulled their goalie shortly after, but the Friars defended well to hold out for the win.
The Friars collected their fourth win of the season this Sunday when they beat Long Island University 5-2. Ward and Gowing led the charge with two goals each. The match started off fast-paced as LIU scored two goals early in the first and second quarters. Goalkeeper Asia Porter '24 helped the Friars maintain their late lead with six saves.
Porter has had great success since joining the Friars last season. In the COVID-19-shortened season, Porter had a save percentage of 0.756. She had a career day against Boston College on Apr. 14, notching a career-high 17 saves.
In order to continue with their early success, the Friars will rely on Porter's goalkeeping ability. With a strong goalie in the net and leading scorers Ward and Gowing at the charge, PC has victory in their sights.
The Friars are in good shape to stay in the top or middle of the pack of the BIG EAST. Their toughest opponents appear to be undefeated Liberty University and Temple University. PC takes on Temple Oct. 8 at Lennon Family Field. They then take on Liberty Oct. 22 at Liberty's home turf. These two matches will definitely be ones to circle on the calendar.
Providence College's next match-up is set for Friday, Sept. 17 when they take on Villanova. The Friars will face the Wildcats in Pennsylvania at 5:00 p.m. Villanova is currently 2-4 and will look to inch closer to .500 when they play the Friars. PC will have to watch out for Meghan Mitchell '24, Villanova's leading scorer.
Be sure to stay updated on Friars Field Hockey; it looks like a promising year.
Three Future Friars Taken in NHL Draft
by The Cowl Editor on October 29, 2020
---
Friar Sports
---
Two Freshman and One Future Friar Taken in Final Rounds
by Thomas Zinzarella '21
Sports Staff
With the Tampa Bay Lightning still celebrating their recent Stanley Cup victory over the Dallas Stars, it is already time to look to the next generation of hockey players. Many potential stars were selected in the 2020 NHL Draft that took place on Oct. 6 and Oct. 7.
Two current Friars and one future Providence College player were selected on day two of the 2020 NHL draft. Brett Berard '24, a native of East Greenwich, RI, was the first Friar off the board. Berard was drafted in the fifth round at the 134th overall position by the New York Rangers. He was ranked 45th by the NHL Central Scouting for North American Skaters going into the 2020 draft.
Prior to coming to Friartown, Berard spent two years playing for the U.S. National Team Development Program (USNTDP). For the U18 team last year, he scored 16 goals and recorded 18 assists while also recording the highest points per game average of any United States Hockey League skater to play in 10-plus games last year (1.38). He played in the exhibition game between the USNTDP and the Friars last year at Schneider Arena. PC won the game 2-1 in overtime.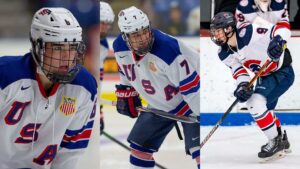 Berard's father, David Berard '92, played for the Friars and is currently the head coach at The College of the Holy Cross. The Friars split a home and home series with the Crusaders the last two years. David also spent time behind the Friar bench over a period of three different stints with the program. He was an assistant coach from 1994-1996 before returning from 1998-2011, and then was the director of hockey operations for the 2013-2014 season.
The next Friar selected was Chase Yoder '24, a forward from Fairview, TX. Yoder was selected in the sixth round with the 170th overall pick by the Pittsburgh Penguins. Yoder also hails from the U18 USNTDP along with Berard. He posted 10 goals and 10 assists in the 2019-2020 season. The shifty forward was ranked 92nd on the NHL Central North American Skaters ranking list coming into the draft. He has been compared to former Friar and current Penguins player Brandon Tanev '16. Yoder may eventually join Tanev in Pittsburgh as the former Friar recently signed a six-year, $21 million deal.
The final Friar selected was Riley Duran, a future Friar to watch. Duran hails from Woburn, MA and was drafted by his hometown Boston Bruins with the 182nd overall pick in the sixth round. Duran compares his game to that of current Bruins center Charlie Coyle. In 27 games last year, Duran recorded 22 goals and 22 assists for Lawrence Academy in Groton, MA. Duran was ranked 95th on the NHL Central Scouting North American Skater list. He will join Friar head coach Nate Leaman's squad in 2021 after he spends this upcoming year with the Youngstown Phantoms of the USHL.
Under the tutelage of Nate Leaman, Friar fans have become accustomed to seeing NHL draft picks fill the line sheet. Since 2011, 28 players have been drafted under Leaman. Just two years ago, the Friars had nine NHL draft picks on their roster, one of the highest tallies in the country. When they made the Frozen Four in 2019, Providence held the most draft picks out of any of the other three teams in Buffalo.
The Friars will look to get back to the Frozen Four this year after their previous season was cut short due to the COVID-19 pandemic. The Hockey East is currently working on plans to start the season in late November, so hopefully Friar fans will soon get to catch a glimpse of these new and exciting NHL prospects.
Shammgod '15 Shaping Future NBA Star
by The Cowl Editor on October 4, 2020
---
Athlete of the Week
---
Former Friar Flourishes in New Role with Dallas
by Thomas Zinzarella '21
Sports Staff
It has been over 20 years since God Shammgod '15 donned the Friar black and white on a basketball court, yet he continues to carry lessons learned in Friartown with him in his career as the player development coach for the Dallas Mavericks. Indeed, Shammgod plays an integral part in the development of players not only on the Mavericks, but around the NBA as well.
To see where it all began, the clock must be turned back to 1997. The Providence College Men's Basketball Team, led by head coach Pete Gillen, was en route to the program's fourth-ever Elite Eight appearance. The team had a core of players that featured a shifty point guard from New York City named God Shammgod. It was in the Elite Eight game against the eventual champion, the University of Arizona Wildcats, that Shammgod would make his name known nationwide. Shammgod, famous for his exceptional ball handling skills, dribbled the ball towards the baseline from the wing. He then moved his body in the other direction while simultaneously pulling the ball back in towards the paint. This move would be coined, "The Shammgod."
Shammgod elected to forgo his final two years at PC to take his talents to the NBA. He was drafted in the second round by the Washington Wizards and played for a few seasons before moving on to play overseas. After his playing career ended, his first order of business was to finish his undergraduate studies. Shammgod re-enrolled at PC in 2012 and started working on Ed Cooley's staff. Cooley had just been named head coach of the men's basketball team in 2011. Shammgod, at the time, was uncertain as to what he wanted to pursue following his NBA career. His time in Friartown pointed him in the direction of coaching. "The way Coach Cooley and his staff coaches…they're all hands-on coaches and hard workers," Shammgod stated. "Ed Cooley is a great coach, motivator, and innovator for the sport. He gets the best out of his players."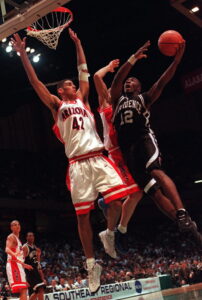 During his time as a coach under Cooley, Shammgod played an important role in the development of some brilliant Friar point guards, including Bryce Cotton '14, Kris Dunn '16, and Kyron Cartwright '18. Shammgod explains, "Their success is a testament to all of their hard work and what they put in… [That's what will happen] if you're willing to listen and to grow as a person and a player." He pointed to each of the player's successes in Friartown, but also to their successes in the professional leagues as well. Whether it was Cotton winning MVP awards in Australia or Dunn excelling with the Chicago Bulls, Shammgod was sure to recognize the talents of the Friar family. 
Though he now works at the professional level, Shammgod still recalls the passion and pride that comes with being a Friar. "The energy from the fans makes people play a certain way and with pride," he said. "PC is the biggest show in town. You have to play with a sense of urgency and pride."
 In his current job with the Mavericks, Shammgod coaches some of the best young talent in the world. He works with stars such as Kristaps Porziņģis and Luka Dončić, perhaps one of the best international duos to ever grace an NBA court. Dončić won the NBA Rookie of the Year Award in 2019, was named to the All-Star team in 2020, and with his recent play in the NBA bubble, looks to be an MVP candidate for years to come. "I feel blessed and honored," said Shammgod, "for kids to listen and take advice from me no matter what I have done in my career…I take a lot of pride in that…to see dreams come true…knowing all of the hard work they put in, for me it is wonderful."
 Although he is currently on an NBA staff, Shammgod has worked with players on all levels of basketball. He recalled working with a young Kobe Bryant when they played on the same Amateur Athletic Union (AAU) team for a summer in high school. Bryant's dad actually approached Shammgod to ask him to help his son work on his dribbling skills. Shammgod and Bryant became friends and remained so well after. When asked about Bryant, Shammgod reflected fondly on their relationship. He talked about the attitude that many referred to as the "Mamba Mentality." "[Bryant] said one day he would be better than Jordan," Shammgod recalled. "And he believed it. Even if nobody else did. We had a friendship because we had a certain bond about work ethic."
 Another major influence on Shammgod was the late-great John Thompson '64, a legendary collegiate coach and PC basketball star. Thompson and Shammgod connected through their love of hoops and passion for coaching. Thompson made sure to instill in Shammgod the idea that there was no one way to coach, that there was no perfect blueprint that you could easily follow. Shammgod took this advice to heart.
These days, everybody wants to learn "The Shammgod." Shammgod gets asked about the eponym everywhere he goes. Though he is perhaps most famous for this specific move, Shammgod refuses to let it define him and continues to strive to achieve even more than he has already. He hopes to one day be the general manager of an NBA team. "I keep studying and working hard, developing…my foundation is strong," said Shammgod. "I come from a great tradition, a foundation of family and sports at PC…I don't see how I can lose."
Incoming Men's Hockey Class
by The Cowl Editor on October 4, 2020
---
Friar Sports
---
Men's Hockey Welcomes Seven New Members
by Liam Tormey '22
Sports Staff
Although there will be a delay to the start of Hockey East play, the Providence College Men's Ice Hockey Team is excited to welcome seven new faces to the 2020-21 roster. The list consists of four freshmen and three transfer students. Included in the list of seven players are Brett Berard '24, Anton Martinsson '21GS, Nick Poisson '24, Uula Ruikka '24, Jaxson Stauber '23, Matt Tugnutt '21GS, and Chase Yoder '24.
The first player on the list, Brett Berard, is a 5-foot-9-inch, 163 pound forward from East Greenwich, Rhode Island. Berard played for the U18 USA Hockey National Team Development Program in the 2019-2020 season, and recorded 16 goals and 18 assists in 41 games. He has also been ranked No. 45 by the NHL Central Scouting for North American Skaters in preparation for the 2020 NHL Draft. Although it did not occur this summer due to COVID-19, Berard was one of 44 United States players named to the 2020 World Junior Summer Showcase. 
Berard is the son of PC alums David Berard '92 and Lynne Berard '93. David played men's hockey and is currently the head coach of the College of the Holy Cross Men's Ice Hockey Team. He has also spent time at PC on the men's hockey staff as an assistant coach (1994-96 and 1998-2011) and the director of hockey operations (2013-14). Lynne starred at field hockey while at PC and is the current President of Samsonite LLC North America.
When pressed on his small stature in an interview, Berard noted that, "As an undersized guy, I'm trying to play like Brad Marchand. He doesn't take anything from anyone, no matter how big they are, and he's a great offensive player." Friar fans certainly hope Berard replicates the play of the Bruins' forward. 
Anton Martinsson is the next name on the list. Martinsson, from Klippan, Sweden, is a 6-foot-1-inch, 175 pound goalie coming off a full four years at the University of Alaska Fairbanks. Martinsson had a career-best year last year with a 2.51 GAA and a .919 save percentage. Most notably, he had a 35-save shutout on the road against the No. 8 ranked team in the country, Penn State University. With Michael Lackey '20GS having graduated last year and the transfer of Jake Kucharski to American International College, Martinsson will be up for the starting job alongside Gabe Mollot-Hill '21 and Jaxson Stauber.
Indeed, Stauber is another goalie transfer. Last season, Stauber appeared in just one game for Minnesota State University, but showcased a 1.00 GAA and a .933 save percentage. He was also a part of the Sioux Falls Stampede in the United States Hockey League, where he led all goaltenders with a .918 save percentage in the 2019-2020 season. Stauber was instrumental in leading Sioux Falls to the 2019 Clark Cup title. In 12 playoff games, he posted a 1.46 GAA and a .941 save percentage, securing him the 2019 Clark Cup MVP. 
Stauber's coach in the USHL, Scott Owens, had nothing but praise for the new Friar goalie. "First you can see that his fundamentals and technique are so much better than the average goaltender," said Owens.  "And then you can see a little bit of it in the genes. He moves well, he's athletic. He understands the position very well."
Nick Poisson, from Vancouver, British Columbia, is a 5-foot-11-inch, 185 pound forward. He played for Prince George in the British Columbia Hockey League before coming to Friartown. During his time at Prince George, Poisson put up better numbers each year. Last season, Poisson led Prince George in scoring with 21 goals and 26 assists in 49 games played. He also led the team with five game-winning goals while serving as an alternate captain.
Uula Ruikka is the lone defenseman on this list. Hailing from Oulu, Finland, Ruikka last played for the Chicago Steel of the USHL. Last season, he posted four goals, 21 assists, and a +17 rating for the Steel. "On the ice, he is a team-first guy with a lot of skill to go along with his great skating ability," said Steel general manager Ryan Hardy. Ruikka will be one of nine defenders on PC's active roster.
Matt Tugnutt is another graduate student transfer for the Friars. The forward transferred from Sacred Heart University where he served as the alternate captain for the Pioneers. Over the course of his career, Tugnutt has earned himself 30 goals and 42 assists in 97 career NCAA games. He finished with 14 goals and 16 assists last season.
Last on the list is another forward: Chase Yoder. Yoder, 5-foot-11-inches, 185 pounds, comes from Fairview, Texas and last played in the U.S. National Team Development Program. Last season, Yoder produced 10 goals and 10 assists for the U.S. U18 Team. Yoder grew up as a two-sport athlete, starring in baseball as well. "There are definitely some similarities between the two sports, especially when it comes to having a short memory," Yoder said when questioned about how his upbringing translated to his current success. "Whether you strike out in baseball or have a bad shift in hockey, you just have to let it go and focus on your next play."
With four forwards, two goaltenders, and one defenseman, the Friars appear to have a deep class of newcomers to add to an already talented team. All players hope to showcase their skills sooner rather than later, as all eyes are on the status of the Hockey East.
Bryn Reilly '22 Secures Monthly Club Award
by The Cowl Editor on March 5, 2020
---
Athlete of the Week
---
Honored for Her "Dedication and Persistence"
by Meaghan Cahill '20
Sports Coeditor
Every month, the Club Sports Council votes on who they believe should be recognized as player of the month. For the month of February, the council chose to recognize Bryn Reilly '22, a member of Providence College's Women's Club Lacrosse Team.
According to the council, "The purpose of the player of the month is to recognize extraordinary athletes [that are] a part of the club sports community [and] are going above and beyond either on or off the field."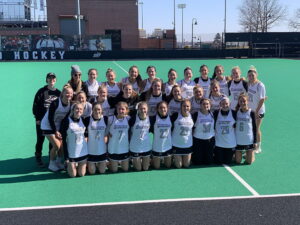 Ava Cicio '20, president of the women's club lacrosse team, believes that Reilly falls under this criteria, describing her as "an exemplary team player with a happy demeanor and overall positive attitude."
Reilly, who is in the midst of her second year with the team, grew up playing lacrosse with her dad, Brendan Reilly '88, who was a member of the Providence College Men's Lacrosse Team. According to Reilly, lacrosse "has always been a part of [her] family," and she chose to continue playing at PC because she just simply loves the sport.
"I think it is a lot of fun and I love being a part of a team. It was also a great way to meet new people as a freshman," said Reilly.
Reilly was a practice player her freshman year, an experience that she describes as "extremely welcoming." According to her, the only difference between being a practice player last year and a member of the travel team this year is that she "now dresses for games." Cicio notes that "Bryn was the team's number one supporter on the sidelines. This year as a travel player, [she] has maintained that support."
In a season that Reilly says has been going "very well" for both her and the team, they have currently beaten Quinnipiac University, the College of the Holy Cross, the University of New Hampshire, and Tufts University. They have two games left in the season against the University of Massachusetts-Lowell and Central Connecticut State University.
Described as a "solid addition" to the team's defense, Reilly has played a key role in the team's current 4-0 record. However, she does not have any personal goals for the remainder of her sophomore season; instead, as any true team player, she simply has team goals in mind.
"I hope we are able to stay undefeated as long as possible and make it to nationals," said Reilly. "We have a phenomenal team led by amazing captains and I cannot wait to see what the rest of the season holds for us!"
In regards to being accoladed as player of the month, Reilly said she was very shocked, but also very honored.
"I try to show up to all practices and games with a positive attitude and work hard while also having fun," said Reilly. "It is very nice to know that others think that my attitude and dedication to the sport are worthy of an award."
Due to her "dedication and persistence," as the council said, over the course of Reilly's two years with the team, she has proven herself to be an exemplary student-athlete worthy of this recognition.
Tennis Looks to Start Spring Season Strong
by The Cowl Editor on February 27, 2020
---
Friar Sports
---
Young Team Ready For Spring
by Leo Hainline '22
Sports Staff
The Providence College Women's Tennis Team recently got itsseason underway as the squad looks to improve from the previous year and aims to establish itself as a competitive program in the Big East.
Returning veterans Aidan Epstein '20 and Natalie Pitocco '20 will need to bring their experience to help lead an underclassmen-heavy roster. In his fourth season as head coach, Jakob Klaeson recruited four freshmen to Friartown to join Mimi Dailey '22, Haley Gurski '22 and the two seniors. The squad looks to usher in a new era for the program. 
The roster is full of competitors and Coach Klaeson anticipates both their youth and depth as two big potential strengths. 
"One of our strengths is that we're very similar from top to bottom," he said. "We have two seniors, no juniors, two sophomores, and four freshmen. One of our strengths could be that everything is so new and exciting, but that could also work against us that we don't have the prior experience as much as other teams, but I see the depth of our team as our strength."
Dailey agrees with Coach Klaeson that there are many reasons  to be optimistic about to the rest of the season. 
"I think our team from last year has already improved from the previous season a significant amount," she stated. "We have four hardworking and determined freshmen and four returning players. I believe this year the eight players are driven and ready to compete to our best abilities." 
She spoke very highly of the newcomers to the team, saying, "All four of our freshmen are amazing. Each freshman has brought new and different talent to the team. I believe they are all worthy of looking for out there on the courts this season."
PC women's tennis is coming off a 5-18 season and currently are 1-3 in the 2020 season, having lost a tight match to Fairfield University this past weekend. Providence and Fairfield have been evenly matched but this time the Friars lost 4-3 in singles, with many of the matches going all three sets. 
In doubles, the Friars went 1-2, with the two losses coming in hard-fought matches. PC came back from 2-5 down only to fall 6-7 (women's collegiate tennis only plays one set in doubles). Brenna Magliochetti '23 was the only Friar to grab wins in both singles and doubles, winning her singles matches 6-3, 6-0, and linking up with fellow Katie Mulvey '23 to grab the sole doubles win 6-2.
The Friars take the court next in Orlando, FL over spring break for matchups against Millsap College and Big East opponents Georgetown University and Creighton University. Coach Klaeson noted that he is looking forward to Big East play. 
"The Big East matches are always highlights of the season," he stated. "We have a couple of exciting ones. For my tenure, we're heading to Marquette University for the first time. We head to Marquette and play Butler University at Marquette so that will be an exciting trip."
Coach Klaeson also mentioned that their match against Sacred Heart University is one to watch out for. 
"Coming back from spring break, we have Sacred Heart at home again. We lost to them last season 3-4, so that's an exciting match. I think we're very evenly squared up and we're very excited to kind of, like, reclaim that because we have beat them in the past and going a bit back and forth, they've always been close matches."
The Friars plan on demonstrating their ability on the court this season with a youthful squad that screams potential. As the season progresses, PC will look to show that they are ready to compete against some elite competition.
Softball Takes on 2020 Bearkat Classic
by The Cowl Editor on February 27, 2020
---
Friar Sports
---
Friars End on Good Note, Walk-off for Win
by Liam Tormey '22
Sports Staff
Two weekends ago, the Providence College Softball Team traveled to Huntsville, TX to compete in their first competition of the season: the 2020 Bearkat Classic.
Traveling did not come easy for the Friars as they planned to head down on Thursday, February 13. Unfortunately, the ladies faced travel problems as their flight was canceled. On the bright side, they were able to reschedule their flight to the next morning. 
The team woke up at 3 a.m. and had a double-header which started just 15 hours after wake-up. Problems in the air caused problems for the Friars, but they still had to play five games during the weekend.
On Friday, the first game for the ladies was against the Houston Baptist University Huskies. The Huskies jumped to a 6-0 lead thanks to a four-run fourth inning which sealed the victory at 7-1. Miranda Trinidad '20 got the start on the mound for the Friars and Elysia Cunnigan '23 came in to relieve Trinidad for her first appearance for the Friars.
Game two started very quickly after the conclusion of game one for the Friars. Their opponent was Sam Houston State University Bearkats. The first inning put the Bearkats at a 2-0 advantage and the Friars were not able to claw their way back into the game. The final score was 9-1. Coach Jill Karwoski said the ladies "emptied the tank" after travelling for most of the day and being short on sleep.
Saturday would involve two more games for the Friars. It would be a much better day after a full night of rest.
Houston Baptist was the first opponent of the day and the game was much closer than it had been just 20 hours before. After a run in the first inning for the Huskies and a response in the third by the Friars, the Huskies scored four runs in the bottom of the third to make the score 5-1. The Friars brought the game back to make it 5-3 after Mackensie Compton '20 had four at bats and three RBIs with a two-run home run in the fifth.
The next two games of the weekend showed the promise the Friars wished for heading to Texas. Sam Houston would be the opponent again, but with a much different result. After being down 5-2, the Friars had an eight-run fourth to seal the first victory of the season with a score of 11-7. Cunnigan got the win on the mound for the ladies with four strikeouts in 3.1 innings pitched, which secured her first win as a Friar. Crista San Antonio '20 had a great day at the plate with four RBIs and two hits, one being a home run, for three at bats.
Coach Karwoski said, "Besides sleep, the biggest change the team made was finding their ability to play loose, letting go of the outcome and being more present in each moment as it presented itself."
The Friars finished the weekend strong with a exciting win against George Mason University. After going down early in the first inning, 1-0, the Friars played well defensively but could not get the bats going. In the bottom of the seventh inning with three outs before the game was over, Tiana Wren '23 hit a walk-off three-run home run to win the game 3-1 and finish the weekend 2-3.
The Friars will be competing in several competitions before the start of Big East play and coach Karwoski stressed the importance of these tournaments because they "allow for us as coaches to see what lineup options we can potentially have and for our players to see, adjust, and compete against a range of competition and talent."
Big East play for the Friars will begin March 20 at home against St. John's University.
College Hockey's Hobey Baker Award Nominees Announced
by The Cowl Editor on February 6, 2020
---
Athlete of the Week
---
Two Friars Nominated for Prestigious Award
by Meaghan Cahill
Sports Co-Editor
In the final stretch of their sophomore season, Providence College Men's Hockey Team players Jack Dugan '22 and Tyce Thompson '22 were announced as nominees for the prestigious Hobey Baker Award, which is given to the top player in college hockey. They were joined by 76 other Division I college hockey players throughout the country.
The Hobey Baker Award follows four criteria when considering the nominees: strength and character, on and off the ice; contribution to the integrity of the team and outstanding skills in all phases of the game; scholastic achievement and sportsmanship; and compliance with all NCAA rules, including being a full-time student in an accredited college or university and completing 50 percent or more of the season.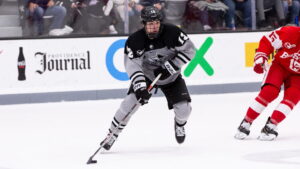 All 78 players who were nominated will go through a three-part selection process. First, NCAA head coaches nominate players from the league in addition to the top three players in the nation. Then, fans have the chance to vote online to narrow down the top 10 candidates. Lastly the Hobey Baker Memorial Award Selection Committee that consists of 29 individuals representing print and electronic sports media, college hockey coaches and officials, and NHL scouts, will vote on their top three candidates and, ultimately, who they think should win the award. Fans are also allowed to provide input by voting during this stage as well. Notable players that have won the Award in recent years include NHL players Johnny Gaudreau, Jack Eichel, Jimmy Vesey, Will Butcher, Adam Gaudette, and Cale Makar.
Dugan, whose goal is to be "the best player in college hockey," currently leads the NCAA in assists (34), points per game (1.78), power-play points (17), and even strength points (24). He also currently leads the league with 41 points over the course of 23 games. In addition, Dugan has an impressive presence on the ice and has been a key player for the Friars all season long, especially since he has spent time transitioning into a more defensive style of play.
On his way to becoming a well-rounded two-way player, the Las Vegas Golden Knights draft pick said, "I've become more of a 200-foot player. Coming in, I was pretty offensive, and now I can play in the last few minutes of a game and be trusted defensively."
Thus far, the numbers have backed his improvement and the efforts he has put into being recognized as the top player in the NCAA. Described as a "dominant player," throughout the course of the season, there have been 14 games where he notched at least two points, five games of at least three points, and three games of four points—the most in the nation.
Despite the fact that he has yet to complete two full seasons of play, head coach Nate Leaman believes that Dugan has a lot going for him, saying, "He's strong on pucks, he's got a good stick, he's got very good vision."
Ranked the best forward in college hockey by the NHL, as well as being listed in their top three for this year's most valuable player, Dugan is believed to be the frontrunner for the Hobey Baker Award. Should he win, he would be the first player in PC history to win, something that he finds to be "very cool."
However, Dugan is not letting his explosive second season cloud his judgement as he looks to what he hopes to be a future in the NHL. And similarly, neither is Thompson, who is listed as the NHL's top breakout player.
After a relatively quiet freshman year due to Leaman's stacked "older team" and desire to allow him to develop and grow, Thompson is experiencing a breakout sophomore season that has led to him being nominated for the Hobey Baker Award.
Currently sitting on 38 points overall, Thompson's 17 goals have him tied for top goalscorer in the country. In the 23 games already played this season, he has scored at least one goal in 15 of them, which leads all NCAA players, and has 13 multi-point games.
Like Dugan, Thompson also is a dominant player on the ice who brings "the energy and the smarts" to the game, according to Leaman. Furthermore, from last season to this season, Leaman also acknowledges that Thompson's overall strength buildup has significantly helped him with having such a great season with the Friars.
In addition to the Hobey Baker nomination, the 2019 New Jersey Devil's draft pick is joined by Dugan and co-captain Michael Callahan '22 in being nominated for the Walter Brown Award, which recognizes the best American-born Division I college hockey players in New England.
The winners of both awards will not be announced until the end of the season during the NCAA tournament.
Cross Country Takes on Big East Championship
by The Cowl Editor on November 7, 2019
---
Friar Sports
---
Maria Coffin '21 and Marcelo Rocha '21 Finish Big for Friars
by Joseph Quirk '23
Sports Staff
This past weekend the Providence College Cross Country Teams headed up to Kenosha, WI to compete in the Big East Cross Country Championships. While neither the men's nor women's team came in first, there were plenty of positives. Both teams were optimistic heading into the weekend.
The women's team has had a fairly up-and-down 2019 season that began with a third-place finish (out of three) at the University of New Hampshire Tri-Meet to start the season. They rebounded later on in September at the Coast-To-Coast Battle in Beantown meet hosted by Boston College. The meet featured several nationally ranked teams, and the Friars showed up with an eighth-place finish (out of 22). The women's team followed that up with a 26th place finish (out of 36) at the Nuttycombe Wisconsin Invitational at the University of Wisconsin.
The men's team entered Kenosha following a strong 2019 season in which they have had two first place finishes (UNH Tri-Meet and New England Championships) and a 12th place finish (of 21) at the Battle in Beantown meet.
Both squads placed well in the Big East championships, despite not winning the whole thing. The men's team placed fifth out of nine and the women's team placed fourth out of 10. The women's team was led by Maria Coffin '21 who placed fourth overall with a time of 21:56.5. Coffin was followed by 2018-19 All-American second teamer Abbey Wheeler '20 who finished seventh at 22:06.2, and Lilly Tuck '23 who finished 11th with a time of 22:19.0. Because of their incredible effort, both Coffin and Wheeler received All-Big East honors. This is the first All-Big East honor in Coffin's career and Wheeler's fourth.
For the men, Marcelo Rocha '21 led with a  22nd place finish overall and a time of 26:46.0. The next two Friars to cross after Rocha were Ryan Gallagher '21 who finished 26th with a time of 26:58.4 and Nick Carleo '20 who finished 29th with a time of 27:10.0.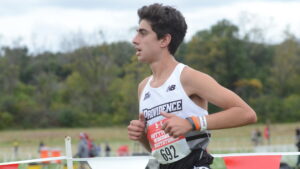 While the Big East Championships are over, the cross country season is not. Both squads will next compete Friday, November 15 in Buffalo, NY in the NCAA Northeast Regionals. If both teams have a strong showing, they will have a chance to qualify for the NCAA championships later this November.