Prince Philip, Husband of Queen Elizabeth, Dies at 99
by The Cowl Editor on April 15, 2021
---
National and Global News
---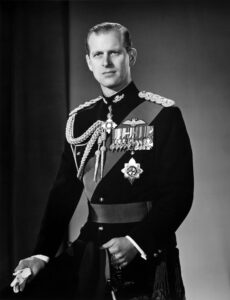 by Katherine Morrissey '22
News Staff
On Friday, April 9, Prince Philip, Duke of Edinburgh, passed away at the age of 99. The news of his passing came around noon in the form of a statement from Buckingham Palace which stated, "It is with deep sorrow that Her Majesty the Queen announces the death of her beloved husband."
The duke, at the time of his death Friday morning, was the longest-serving royal spouse in British history. Prince Philip married Elizabeth, the elder daughter of King George VI and heir to British throne, in 1947. Just two years later, Elizabeth ascended to the throne, and Philip has since been by the queen's side for over six decades. The couple were married for almost 74 years.
Prince Philip served in the Royal Navy during World War II prior to his role as the queen's consort. During his time in the Navy, the duke was praised for his bravery and heroism. He even received the Greek War Cross, a military decoration for acts of heroism, for his role in the Battle of Cape Matapan. This award, amongst other actions, shows how, despite his royal title, Prince Philip lived a life characterized by putting others before himself.
The duke not only put others before himself in military duty, but also spent much of his life playing a pivotal supporting role for the queen, who has served as the monarch of a powerful nation that has gone through challenging times over the past six decades. In a BBC article concerning his death, a tourist visiting London stated, "He's been with her for 73 years. If it wasn't for him, who knows if she would have got through it." In this sense, the strength and service Prince Philip provided for his wife and the monarchy is truly understood.
Prince Philip was also an active philanthropist. His wife and he supported over 1,000 charities as patrons and members during his long life. Some charities which Prince Philip supported include the British Heart Foundation, the World Wildlife Federation, and Book Aid.
As a veteran, Prince Philip also was engaged in military-related charities, working with organizations like The Association of Royal Navy Officers, The Royal Navy and Royal Marines Equestrian Association, the Army Cadet Force, and the Army Officers' Boxing Club. He also was very fond of sports and was a patron and member of many prestigious polo and yacht clubs.
While many are saddened to hear of the passing of Prince Philip, it is reported that he spent his final days on his own terms. The duke, who had been suffering from health complications and concerns for the past few years, ultimately retired from public service in 2017. This February, he was admitted and treated for preexisting conditions at two medical facilities in London. He was not discharged until March.
Since being discharged, Prince Philip reportedly spent his final weeks at Windsor Castle. At the end of his life, he spent most of his time awake, sitting in the sun outside with his wife by his side. He died peacefully Friday morning in the comfort of his home with the queen by his side as he wished.
British citizens and millions across the world have joined in mourning the loss of such a prominent figure and social servant. Many world leaders joined in offering their condolences, including President Joe Biden and First Lady Dr. Jill Biden. They remarked, "His legacy will live on, not only through his family, but in all the charitable endeavours he shipped." This quote showed a shared sentiment from President Biden and the Palace who wished to highlight and remember Prince Philip's charitable works.
While many wished to honor his long life and tremendous legacy by offering flowers and displays at Buckingham Palace in London, the Palace has asked in the midst of the ongoing COVID-19 pandemic that individuals not attempt to partake in the funeral service. Instead, they asked people to consider donating to a variety of the duke's charities.
Prince Philip's death leaves an unsatisfiable void in the hearts of many individuals around the world. Those who have admired the duke and his service may be inspired to implement acts of service and charity into their own lives. While death and the end of a life is saddening, Prince Philip's passing reminds us to reflect on the magnificence of such a long and influential life, challenging each of us to live honorably and charitably even if on a smaller scale.