Bursting the PC Bubble: Iran Admits Fault, Quashes Tehran Protests
by The Cowl Editor on January 16, 2020
---
National and Global News
---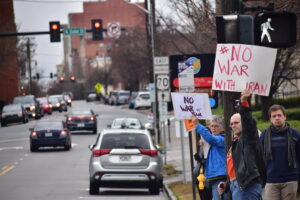 Eileen Cooney '23
Assistant News Editor
On  Wednesday January 8, a Ukranian International Airlines Boeing 737-800 crashed just before dawn near Tehran, Iran. 
Shortly after takeoff the airplane, headed for the Ukranian capital of Kyiv, burst into flames. Of the 176 people on board, no one survived. Sixty-three of the passengers were Canadians, many students or faculty of the University of Alberta in Edmonton. Citizens of Afghanistan, Iran, Ukraine, Sweden, and the United Kingdom were also on board. 
The Canadian Prime Minister Justin Trudeau expressed his anger with Iran and said that Canada will not rest until there is a full investigation into the events that transpired. 
The Revolutionary Guard has taken full responsibility for the plane crash, claiming that shooting down the plane with a missle was a mistake. This admission of guilt comes after Iranian officials initially denied that the plane was shot down. 
The crash comes in the wake of increased tensions between the United States and Iran. The tensions began last week when the United States assassinated Iranian military general Qassem Soleimani, and Iran responded by launching attacks on US military bases. 
Brig-Gen Amir Ali Hajizadeh, the Revolutionary Guards' aerospace commander, says that the firing of a missile was a mistake and they will work to upgrade their military technology to prevent such events from occurring again in the future. 
The families of the victims mourn the loss of their loved ones and are angered that these innocent lives were lost because of foreign conflict. 
Hundreds of protestors have stormed the streets of the Iranian capital of Tehran to vent their frustration with Iranian officials. Protestors want Iranian officials involved in the tragic incident to be held accountable for their actions.
 In the wake of such protests, violence has broken out, and some videos on social media appear to show tear gas being fired. In response, Iranian President Hassan Rouhani released a statement vowing that those at fault will be prosecuted and brought to justice. 
President Trump has praised the protestors, and Secretary of State Mike Pompeo has released a statement saying that the United States hears the Iranians' frustration and that they deserve a "better future." 
These protests in Tehran follow some of Iran's most violent protests in history back in November in response to economic sanctions that resulted in a drop in fuel prices. 
Many were arrested as the violence broke out, and the government even shut down the country's internet in attempts to curb the protests.