Opening the Door to a World of Artistic Talent
by John Downey '23 on April 22, 2021
A&E Co-Editor
---
Local Music
---
Innovation & Cultural Preservation Drives PVD World Music
by Jack Downey '23 A&E Staff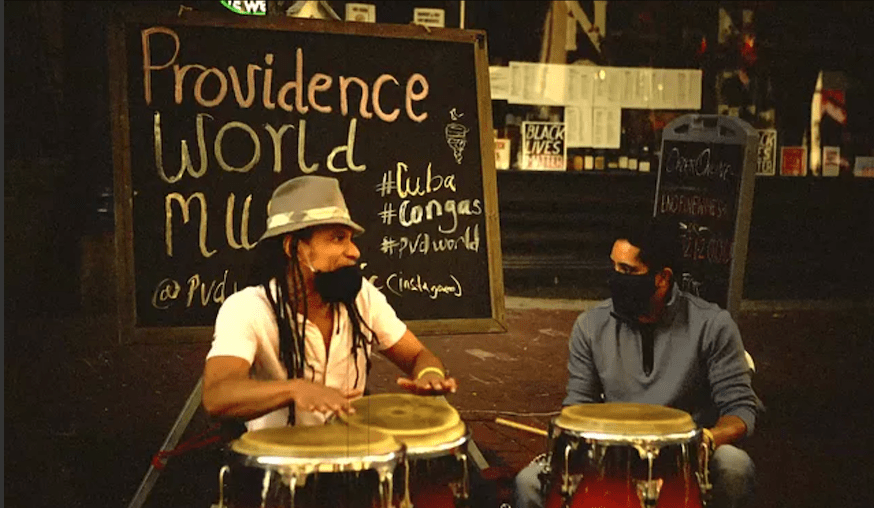 Chance Boas is a man with a mission. I first met him at Askew, a club in downtown Providence, RI in November 2019. Immediately, I was struck by his enthusiasm for local music. Boas had been booking shows around the city, including the show at which I met him. In February the following year, he booked a massive show at the Pawtucket venue Machines and Magnets featuring local legends Bochek.
However, I would find out as the year went on that Boas's ambitions went much further than simply booking indie rock shows. He was also devoted to showcasing the incredibly underappreciated varieties of world music.
Officially founding and starting Providence World Music in 2020, Boas faced the daunting task of trying to showcase live music during a pandemic which had all but shut down the industry. However, he found a way around it, collaborating with Indowncity to put on COVID-safe events. One of these events on Sept. 26, 2020 had Boas and PVD World Music host "World Music Sessions" with Sidy Maiga, a renowned drummer in many styles, as well as a second percussionist, Balla Kouyate. Later, on Oct. 3, 2020, PVD World Music hosted the artist Yacouba, a legendary kora player. The kora is an instrument that combines the sitar and the harp. Both of these events occurred on Westminster Street between Eddy and Union, allowing people to witness these great musicians while walking down the street. That way, there would be less risk of a crowd that could spread the virus.
Aside from hosting more shows, PVD World Music also began hosting movie showings. On Dec. 6, 2020, an African film festival took place at the Waterfire Arts Center, a drive-in cinema in Providence, featuring films from the African Diaspora. The festival also featured live performances by Sidy Maiga and Balla Kouyate, as well as Yacouba. This unique setup helped to bring the art of another country to a classic American setting, which was innovative and interesting. As a result, the event drew an impressive crowd which hopefully will only grow bigger as time goes on, as PVD World Music has indicated that this festival is supposed to be a recurring one, providing a spotlight for even more African filmmakers.
In order to ensure that his concerts get off the ground and Boas is able to pay the artists who perform, PVD World Music applies for grants from the city. This process gives the proceedings a sense of legitimacy and professionalism that they might otherwise not have had. It also indicates how dedicated Boas is to what he does. One other advantage is that it means that some of the events can be free, since the money for the artists is already covered. That way, more people are enticed to watch the performances since they do not have to pay anything, exposing the artists to a wider audience.
Boas's mission goes beyond simply highlighting the work of people from other countries, although that is a big part of it. He is also working to preserve the culture. In a discussion that I had with him, Boas told me that a lot of cultures pass their songs and stories down orally through generations. By giving these songs and stories more exposure, he is keeping the spark alive for generations to come, both on the stage and in the audience.
It helps that Boas works with the indie crowd as well; by promoting and setting up shows for both music scenes, he is helping to enmesh them. One of the ideas that he brought up to me was to feature indie bands alongside world music, a potential example being the aforementioned Bochek performing with jazz musicians. This concept is very creative and would certainly help to diversify Providence's music scene.
What Boas does is truly honorable and unique, and when he reached out to me to write an article about PVD World Music, I could not have been more excited about the idea. To find out more about future and past events, you can follow @pvdworldmusic on Instagram, or go to pvdworldmusic.com.