The Season of the Witch
by Caitlin Bartley '24 on October 20, 2022
Portfolio Staff
---
Halloween
---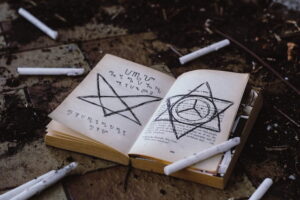 Dark sweaters, messy hair,
Something odd is in the air.
Flushed cheeks, wide grins,
Goosebumps traveling up skin.
Boiling potions, brews of caffeine,
The steam leaves little to be seen.
Frantic pacing, long nights,
Someone has turned out the lights.
Wild winds, scratchy threads,
Nails painted in the deepest red,
Sweet lips, pumpkin pie,
They have fun making boys cry.
Stunning creatures, the women of fall,
Their power has nature in thrall,
Lively eyes, laughs in high pitch,
October is the season of the witch.