Serena Williams Feels Cheated After Upset Loss
by The Cowl Editor on September 20, 2018
---
Professional Sports
---
By Sam Scanlon '19
Sports Staff
The 2018 U.S. Open Women's Championship match was surely a match for the ages, and it will live in infamy.
Serena Williams was matched up against Naomi Osaka, a 20-year-old hailing from Japan. Williams was seeking her 24th Grand Slam title, which would have given her a share of the all-time record for Grand Slam singles wins, while Osaka was gunning for the title of the first Japanese tennis player to ever take home a Grand Slam.
Osaka jumped out to an early lead by taking the first set 6-2 over Williams. Then things turned ugly. During a back and forth second set, Williams recieved a violation for receiving coaching tips from her coach, Patrick Mouratoglou, from the sideline. No player is permitted to receive any sort of coaching during a match. Williams insisted that the "thumbs up" she received was not coaching and followed up by telling chair umpire Carlos Ramos, "I don't cheat to win. I'd rather lose."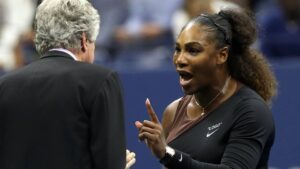 Later on during the set, a visually upset Williams smashed her racket out of frustration, giving her second code violation, which is a point penalty. Therefore, Osaka was awarded an extra point.
At multiple moments throughout the match, Williams expressed her irritation with Ramos, ultimately calling him a "liar" and a "thief." Calling Ramos a "thief" was apparently the last straw for the umpire, and Williams was awarded her third code violation for verbal abuse, which resulted in a game penalty. Williams' back was against the wall, as that game penalty put Osaka up 5-3 in the second set.
An extremely emotional Williams called for tournament officials to issue an explanation and she continuously expressed her feelings that it was not fair to be given that penalty. Williams also made it clear that she believed she was treated unfairly in this situation because she is a woman. She argued, "There [are] a lot of men out here that have said a lot of things, and because they are men that doesn't happen to them."
Willams survived one more game before falling to Osaka in straight sets 6-2, 6-4.
Directly after the match, Williams' coach Mouratoglou admitted to coaching her and went on to say, "I was, like 100 percent of the coaches in 100 percent of the matches." This quote makes the whole situation a lot more interesting, as Serena was insistent that she was not "cheating."
In a press conference following the match, Williams  refuted Mouratoglou's statement by explaining, "[W]e don't have signals. We have never discussed signals. I don't even call for on-court coaching. I'm trying to figure out why he would say that."
She stuck to her story throughout the press conference, adding, "He took a point from me. He alleged that I was cheating, and I wasn't cheating."
Although this was an extremely intense match that will surely be talked about for ages, a great accomplishment for Osaka was overshadowed by controversy. The broadcast's announcers explained, "[Osaka] was given one game and one point, but she absolutely earned everything else… she was a champion this whole tournament."