In Memoriam: Sergeant Major Gary P. Fortunato
by The Cowl Editor on April 15, 2020
---
In Memoriam
---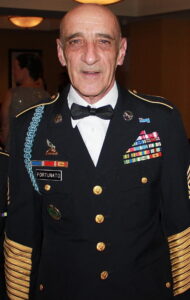 by Hannah Langley
News Co-Editor
What is the definition of a hero? Some common definitions include, "an illustrious warrior," "a person admired for achievements and noble qualities," or "one who shows great courage," but for all those who knew Command Sergeant Major (CSM) Gary P. Fortunato '00SCE of the Providence College Army Reserve Officers' Training Corps (ROTC) Patriot Battalion, he was all of these and more.
The Providence College department of military science was extremely saddened to announce that Sergeant Major Fortunato passed away suddenly at home on April 3, 2020 at the age of 72. Fortunato is survived by his wife, Carol (Morrow) Fortunato, four children – Damian Daniels and wife Deena, Amy Fortunato, John Fortunato and wife Jen, and Judy Fortunato, his six grandchildren, his five siblings, and many extended family members.
For 53 years, Fortunato devoted his life to his friends, family and country. A native of Union City and Point Pleasant Beach, New Jersey, Fortunato was drafted into the United States Army in 1967 before deploying to Vietnam during the onset of the historic Tet Offensive in 1968. He served as a Team Chief for a Long-Range Reconnaissance Unit along the demilitarized zone and as a Company First Sergeant of the 1/161st and 1/16th Infantry Regiments. During his service in Vietnam, he was involved in countless engagements with the enemy and received the Bronze Star Medal with Valor Device for heroic actions during close combat.
After his service in Vietnam, Fortunato served in various assignments, most notably as a Senior Drill Instructor, Command Sergeant Major of 1/38th Infantry in South Korea, the 2/36th Infantry in Germany, and US Army Garrison Fort Devens in Massachusetts. During Operation Desert Storm, he deployed the largest III Corps Task force, serving as Task Force Sergeant Major for thousands of Soldiers assigned to (10) Combat and (16) Combat Support III Corps Units. Following Operation Desert Storm, he served as the Command Sergeant Major for all NATO land forces assigned to US Army Europe in Germany and finally the Office of the Secretary of Defense on NATO Nuclear Policy.
Over his 30 years on active duty, he was awarded the Legion of Merit, Bronze Star with Valor Device, the Defense Meritorious Service Medal, the Meritorious Service Medal, the Army Commendations Medal, the Drill Sergeant Badge, Good Conduct Medal, Rhode Island Star, and the Combat Infantryman's Badge.
He held an associate's degree in business from Mount Wachusett College and a bachelor's degree in business from PC.
Upon his retirement from Active Duty in 1997, Fortunato joined the Patriot Battalion at PC as an ROTC Instructor and Operations Non-Commissioned Officer (NCO). Forever changing the course of countless lives around the world, he touched the lives of countless students, while serving as a life-long mentor and beloved friend to an entire generation of PC graduates who would go on to lead soldiers and serve our country in the years to come.
Fortunato was known as a tough leader and a warrior scholar. He had a unique talent for seeing the best qualities in his students, and challenged cadets to continuously seek excellence, using physical and intellectual challenges to push students beyond their perceived limits. Those who knew him best would tell you the learning never stopped. Graduates of the Patriot Battalion not only applied his teachings as leaders in combat but relied on him as a lifelong mentor for years after graduation. Patriot Battalion alumni have led with honor, distinction, and excellence wherever they serve – the true legacy of Fortunato.
As Major Jarred Rickey '07, an instructor and battalion operations officer in the department of military science, said in a recent interview, "You'd be hard-pressed to find an officer, past or current, who didn't know Gary. It was the kids. That's what made every day (for him)."
There was no greater fan of The Cowl than Fortunato, either, as he was always the first person to grab an issue once it was delivered. As he sat for his lunch break on Thursdays, eating his quesadilla from Alumni, he would always read The Cowl front to back.
As Captain (CPT) Daniel Girouard '16G, ROTC recruiting operations officer, so eloquently stated, "While we all bear the pain of this tremendous loss, we all have the comfort of the bond that holds us all together. While we mourn the loss of a beloved friend, colleague, mentor and warrior, we will celebrate his life the way he lived it; with ambiance and panache."
While his heroic achievements on battlefields all over the world are a testament to his character and selfless service to country, his ultimate legacy would be achieved in the confines of a classroom at PC.
Being that we cannot all be together right now makes the loss of Fortunato even greater and saddening, but knowing him, he would not want us to mourn, but celebrate the amazing life and career he had serving his country and working in the Patriot Battalion and PC community.
While there are currently no services planned due to the coronavirus pandemic, more details will be released in the months to come.