Bursting the PC Bubble: President Trump Gives Controversial State of the Union Address
by The Cowl Editor on February 14, 2019
---
National and Global News
---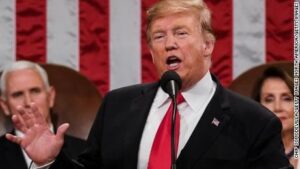 by Kyle Burgess '21
News Staff
On Tuesday, February 5, President Donald Trump spoke before Congress and the viewing American public in his annual State of the Union Address on Capitol Hill. 
The address was originally intended to be delivered a week prior during the time of the federal government shutdown, but Speaker of the House of Representatives, Nancy Pelosi, requested that President Trump postpone the event until the shutdown had concluded.
According to the president, Pelosi elected to delay his address because she "doesn't want to hear the truth," adding that the Democratic Party at large had become "radicalized" and "very dangerous." Cooler heads prevailed, however, and President Trump conceded to her plea.
With the backdrop of tense political antagonism and right off the heels of the longest government shutdown in the nation's history, many Americans had high expectations for President Trump's message.
The evening began in the same maverick fashion which helped Trump to gain a large nonconformist following, with the president immediately diving into his speech without pausing for an introduction by Speaker Pelosi to the joint session of Congress. 
Pelosi has since maintained that she did, in fact, introduce Trump and that no political slight occurred.
In ditching formalities, Trump attempted to begin his speech by reaching across the aisle to tap into the "unlimited potential" which could help to advance a nonpartisan agenda. He reminded those present that "millions of our fellow citizens are watching us now, gathered in this great chamber, hoping that we will govern not as two parties but as one nation."
His attempts at political unity were met with applause as he paid tribute to the courage and life of Joshua Kaufman, a Holocaust survivor and former Israel Defense Force member who embraced American ideals of equality and diversity when he moved to the United States. 
Trump received praise in highlighting the record number of women representatives serving in Congress, many of whom attended his address donning white clothes in commemoration of women's suffrage won nearly a century ago.
Over the course of his hour and 22-minute long speech, President Trump shared the legislations he hopes to enact over the remainder of his first term in office: the elephant in the room being the construction of a wall on the United States' southern border. While the president maintained that a wall would be raised with or without congressional approval, he amended his original promise of a concrete wall to a more effective see-through one.
President Trump also called for an end to the investigations led by special counsel Robert Mueller into possible Russian collusion within his presidential campaign launched back in May 2017, claiming, "If there is going to be peace and legislation, there cannot be war and investigation. It just doesn't work that way!"
Perhaps one of the more controversial topics President Trump addressed was a potential law which would ban late-term abortions. 
While very Republican in nature, these words seemingly contradict the opinions of a once "very pro-choice" New York businessman before bursting into the spotlight as the Republican presidential nominee. 
While a Democrat-controlled House would ensure such a law is not enacted for the foreseeable future, President Trump's stance served as a direct attack on the Reproductive Health Act in his home state which guarantees a woman's right to abort a child after 24 weeks of pregnancy if her life or health is at risk.
Other topics of discussion during President Trump's address included the passing of a bipartisan infrastructure bill, another scheduled meeting with Chairman Kim Jong-un of North Korea in late February, the necessity to lower the cost of health care and prescription drugs, and the protection of patients with pre-existing conditions.
Despite the president's attempts at promoting unity amongst Democrats and Republicans, his opposition was not very impressed, taking major issues with his remarks on abortion and insistence on a border wall in particular.
It would appear that President Trump's America continues to struggle in a state of disunity, one which he hopes to remedy during his remaining two years in the Oval Office.