PCI: Who Will Win the NFL MVP this Season?
by The Cowl Editor on September 16, 2021
---
PCI
---
Providence College Investigates: NFL
Joseph Quirk '23
Sports Staff
Josh Allen
Josh Allen will be the National Football League's "Most Valuable Player" this season.
To win the NFL MVP, you must have three things: a top three-seeded team, consistent MVP-level play throughout the season, and a lot of luck. While it is hard to predict luck (the primary reason most MVP predictions pre-Week 6 are usually wrong), we can certainly predict the other two things to some extent.
Heading into Week 1 this weekend, Allen will have both. Starting with the first thing necessary, a top three-seeded team (or, at least, a playoff caliber team), the Buffalo Bills should easily be one of the best teams in AFC this season.
Although they do play in a tough division, neither the New England Patriots nor the Miami Dolphins should cause problems for the Bills as they have arguably one of the most well-rounded rosters in the league.
The Bills' defense is one of the best in the league, with defensive-minded head coach Sean McDermott's leadership, an elite secondary, ball-hawking linebackers, and a versatile defensive line.
On offense they boast a solid offensive line, a couple of strong running backs, as well as several skilled wideouts and tight ends for Allen to throw to. That's not to mention their top special teams' units.
Now, onto the second thing Allen needs: a consistent MVP-level season.
Allen had a breakout year, which led him to be considered for the award last season. He has all the physical tools necessary to play at an MVP level: a big body to fend off opponents and keep him durable, speed to maintain a fast-paced game, and a cannon of an arm.
Last year, he managed to improve upon weaknesses in his passing accuracy. Add in the arrival of star wideout Stefon Diggs last season to make some plays, and Allen had his best statistical season yet.
Factor in his physical capabilities, history of good health, yearly progression, and history of putting up huge numbers, and there isn't a reason why Allen can't throw for over 4,000 yards and 40 touchdowns. And if the Bills play as well as everyone anticipates, it will be difficult to find another worthy recipient of the award.
There is a third aspect to winning MVP, and that's luck. No one can predict it.
Anyone can get hurt or outplayed in any given season, which is what makes this sport so exciting.
Although we can't predict how luck will treat him this season, looking on paper before kickoff indicates that Josh Allen is a good, healthy bet.
Luke Sweeney '24
Sports Staff
Tom Brady
The 2021 NFL Season kicked off last Thursday night in exciting style with the Tampa Bay Buccaneers versus the Dallas Cowboys. The usual playmakers of each team were healthy and made highlights on each side of the ball in a high-scoring game that came down to the last few minutes.
Dak Prescott made an impressive return from his injuries last season by throwing 42 out of 58 completed passes for 403 yards, but ended up falling short of a win in the fourth quarter. Of course, the Buccaneers' quarterback, Tom Brady, stepped up when he needed to by playing at an elite level in the season opener.
While Sunday's Week 1 slate of games was full of great quarterback performances around the league such as Kirk Cousins, Matt Stafford, and Patrick Mahomes, nobody looked sharper and more confident than Tom Brady on Thursday Night.
It has been said year after year, but Brady continues to show that he can compete at the highest level well into his 40s. Because of excellent pocket presence and quick, efficient decision-making, Brady is looking like the current MVP frontrunner after Week 1.
Brady threw for 379 yards and four touchdowns against the Cowboys and proved that he has not lost a single step over the offseason. The final minutes of the game were set up in a way that Brady had seen a thousand times before. The Buccaneers were down one point with 1:24 to go in the game. This achievement is basically free for Brady, and everyone watching knew it. He waltzed down the field as he always does and set up an easy kick for Tampa to seal the victory.
Dallas played an outstanding game the whole way through, and Prescott may have played an even better game than Brady, but the bottom line is that no one knows how to win the way he does. In big moments when he needs to produce results, he always gets it done.
Brady and the Buccaneers still have some room for improvement if they hope to repeat what they did last year. Brady threw two interceptions against Dallas, giving them an opportunity to win the ball game at certain points. But none of that mattered after a game-winning drive snuffed out any doubt.
As always, Brady was able to spread the ball and get many different playmakers involved in the win. He threw touchdowns to Chris Godwin, Antonio Brown, and twice to fellow former Patriot Rob Gronkowski.
If Brady can look this sharp for the rest of the regular season and come up clutch when his team needs, he will be the 2021 NFL MVP.
PCI: Will Tom Brady Be on the Patriots Roster Next Season?
by The Cowl Editor on November 7, 2019
---
PCI
---
Retirement is Near
by Sullivan Burgess '20
Sports Staff
Twenty seasons, six Super Bowl Championship rings, four Super Bowl MVPs, three NFL MVPs; what athlete has achieved more than New England Patriots quarterback Tom Brady? With that being said, the most common question the 42-year-old QB is being asked is if he is going to retire, or perhaps join another team. 
After careful consideration of the quarterback's career, this will not only be his last season on the Patriot's roster, but this will in fact be the last NFL season for the 20-year veteran and future Patriots and NFL Hall of Famer.
Throughout the last month of the regular season, while the Pats have gone 8-1, rumors have been circulating speculating the future of Brady's career. Some of this has even been shown on the field. 
The Patriots defense has been the number one overall defense this season and has been a key factor in all of the team's eight wins this year.
The offense on the other hand, has certainly had its ups and downs, enduring both injury and scandal. Yet, the team has had a great start to the opening of the 100th season of the NFL.
Even the legendary Peyton Manning looked poor in his age 39 season, the final season of his career. What Brady is doing at age 42 is  nothing short of remarkable.
Many athletes including Kobe Bryant, Derek Jeter, and even Carmelo Anthony, lose the battle against time and are forced to retire before they are ready. Brady so far has been able to stave off the impacts of aging, but no man is immortal. 
Yet, this season, Brady has certainly been more open about the future of his career, saying how he is thinking more and more of the future, and taking this season one game at a time.
The icing on the cake is that the Brady family has recently sold their house in MA and apparently bought a brand new house in Connecticut. Not only has Brady sold his house, but his TB12 head trainer, Alex Guerrero, has also sold his MA house and plans to move. 
Brady, as much as he loves to battle the giant life clock, seeming ready to hang up his cleats and spend the rest of his time with family, focusing on the other joys in his life besides football.
He Will Return
by Liams Tormey '22
Sports Staff
Tom Brady. The best to ever play the game. Is there really a chance we will not see him in a New England Patriot jersey next season?
Simply put, no.
Brady just turned 42 in August. Yet, you would think that on the field he is a 30-year-old still in his prime.
Last week, Brady was asked about the rumors of him potentially not being a Patriot next season. His response: "Nothing has changed with my status of my team and my standing." Players will say what they need to say, so I don't think there should be any concern.
First off, we should eliminate the possibility that Brady will be in any other uniform besides New England's next season. Brady is in his 20th season playing for the same team, with nine Super Bowl appearances and six victories. It would not be right to see Brady finishing his career in any other jersey. Brady will retire a Patriot.
Now the question is: Will the future Hall of Famer be retiring after this season?
In an interview a little over a year ago, Brady was asked how much longer he wants to play and he said he hopes for another five seasons. That would put Brady at 46 years old before he calls it quits. Therefore, the chances of him retiring are slim. 
Brady is in better shape than most players in the National Football League. Brady's own company, TB12, is focused on maintaining peak performance regardless of age. This includes physical activity, diet, and recovery methods. It has clearly worked for the New England quarterback, and he has showed no signs of slowing down out on the field.
A huge part of the reason Brady remains in such great shape and free of injuries is because in games, Brady does not get hit like any other NFL quarterback. Last season, the league average for hits and sacks per drop back on a quarterback was 7.5 percent. Tom Brady's was 3.9 percent. That is a massive difference and a huge reason why we never see Brady on the sidelines.
His performance levels are through the roof, and this season he is leading his team to be in the number one spot in the American Football Conference.
Even if the Patriots win the Super Bowl again this year, Brady will be back in a New England jersey next season. There is zero chance he goes elsewhere. 
When the day does come, the NFL will say goodbye to the best quarterback ever. The league will change, but do not worry, Brady will be playing football in the NFL next season.
Birds Stun Pats
by The Cowl Editor on February 8, 2018
---
Professional Sports
---
Eagles Win Their First Title
by Sullivan Burgess '20
Sports Staff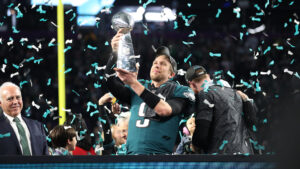 In a shocking turn of events, the Philadelphia Eagles defeated the New England Patriots in Super Bowl LII 41-33. In a game filled with trick plays, incredible catches, and beautiful runs, as well as a new Solo: A Star Wars Story ad, MVP stats, and a Prince tribute from Justin Timberlake, the Super Bowl brought a nail biting victory for the Eagles.
Not only is this the first time the Eagles beat the Pats in the Super Bowl, it is the first time the Eagles have won a Super Bowl in the history of their franchise. Before the game even began, the Eagles were on a whole new level of prepared and hyped as they ran out onto the field, with Meek Mill's "Dreams and Nightmares" blasting through the stadium's speakers.
Throughout the game, the Eagles played consistent defense against 2017 MVP Tom Brady. While Brady managed to set a record by throwing 505 yards and three touchdowns with no interceptions, his arm and his offensive line could not match the strength and the speed of Fletcher Cox and the rest of Philadelphia's defense. One play the Pats tried to use to trick the Eagles  was a reverse to New England wide receiver Danny Amendola, who attempted to throw it to Brady, but Brady missed the ball as it hit his fingertips.
The Eagles at fourth and goal ran a wildcat counter to Trey Burton who threw it to Nick Foles for a touchdown in the 2nd quarter before halftime. Foles ended up winning MVP of the game for throwing 373 yards, three touchdowns, and one interception.
Granted Foles's performance was not MVP status compared to Brady, we have to take into consideration that he was the second string quarterback for the Eagles coming into the season.
The original starting quarterback, Carson Wentz, a 2017 MVP candidate, suffered a torn ACL in December, ending his season. Credit must be given to Foles as he stepped up huge in a time of need and brought the spark needed for the team alongside veteran players such as Alshon Jeffery, Torrey Smith, Zach Ertz, Jay Ajayi, and LeGarrette Blount.
Blount and Chris Long are  notable players who came from New England last season and have now secured back-to-back championships playing for different teams. One of the players who had one of the biggest impacts on the Eagles was undrafted Wisconsin rookie running back Corey Clement. Clement lead in receiving yards for the Eagles with four receptions for 100 yards and one touchdown.
On the other side, Amendola, who finished the game with eight receptions for 152 yards, stepped up alongside Rob Gronkowski after Brandin Cooks suffered a head injury early in the game.
Another notable player who did not play for the Patriots was cornerback Malcolm Butler, who intercepted Russell Wilson at the end of Super Bowl XLIX to secure the win for New England in 2015.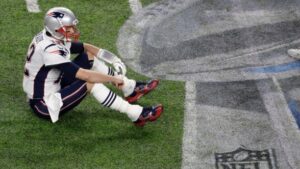 Before the national anthem, Butler was informed that he would not be starting the game, which came as a shock to fans and even himself. Coach Bill Belichick, who called the move a "football decision" after benching a player who played 97.8 percent of the team's snaps during regular season, stated, "We put the players and game plan out there that we thought would be the best, like we always do." Recently, reports stated that Butler was benched for missing team curfew and other reckless activities, which both Butler and Brady denied to the press. Regardless of his presence off the field, it seemed the Eagles were in it to win in the long run.
Fans on campus had mixed emotions about the results of the game. Although New England fans were displeased with the outcome of the game, some shared that they were pleased the game was not a blowout.
Eagles fans on campus felt differently. Devoted Eagles fan Cayla Veverka '20 stated, "Overall, I think the Eagles defense made a lot of good coverage plays. Foles had a great game with Ertz and Smith making amazing plays. I think the Pats missed crucial plays like the missed field goals and Brady dropping the pass. Fly Eagles Fly."
Overall, this will go down in history as one of the greatest upsets and games in Super Bowl history. In the end, the Lombardi trophy is heading to Philadelphia for the first time in history. Philadelphia now joins New York City, Boston, Chicago, and Los Angeles as the only cities to win the World Series, the Stanley Cup, the NBA Finals, and the Super Bowl. Congrats to the  Eagles, and best of luck to them and all the other teams in the upcoming NFL Draft.
Patriots Mid-Season Review
by The Cowl Editor on November 9, 2017
---
Professional Sports
---
 By Jack Belanger '21
Sports Co-Editor
   With the conclusion of Week 9, the NFL season is officially past the halfway point, and the Patriots are once again in first place in the AFC East at 6-2, though the team has not consistently performed to the expectations coming into the season. Here is a review of the season so far.
Defense:
  The first four games for the defense were rough. The Patriots gave up more than 33 or more points in each of their first four games. Cornerback Stephon Gilmore was the big name signing for the defense this off season and it was expected he would be a lock-down defender along with cornerback Malcolm Butler. So far, however, Gilmore has suffered miscommunications that have led to giving up multiple big plays.
   Injuries have also been a big issue for the defense. Gilmore has missed a couple games with a concussion and an ankle injury. Linebacker Shea McClellin was initially on the injured reserve with an undisclosed injury, and now top linebacker Dont'a Hightower is out for the year with a torn pectoral muscle.
  Through all the injuries and underperformances, defensive end Trey Flowers has been the MVP for this unit as he is tied for the team lead in sacks with 3.5 and leads the team with tackles for a loss with four. With Hightower out, he and LB Kyle Van Noy are the anchors for the front-seven.
   While the defense has improved in the last two games by only giving up a combined 20 points, overall this season the Patriots have given up the most yards per game with 417. The defense seems to be improving, and a favorable upcoming schedule with two of the next three games against weak offenses in Denver and Miami should help this unit make some strides.
Offense:
      While it seems obvious, Tom Brady has been the reason this team is in first place in the division. While he looked mortal in the season opener (267 passing yards, 0 touchdowns), Brady has put his team in a position to win in every other game so far this year. He currently leads the NFL in passing yards with 2,541 and has 16 touchdown passes to only two interceptions.
   Tight end Rob Gronkowski, has  been healthy this season and has been Brady's favorite target, leading the team in touchdown catches with five and second on the team in receptions with 34. New pickup Brandin Cooks has given Brady the deep target he has been missing leading the team in receiving yards with 563.
   The one cause for concern for the offense is Brady's protection. Brady has been sacked 21 times already (compared to 15  all of last year) and while Brady has been healthy so far, his 40-year-old body can take only so much punishment by the time the playoffs roll around.