Simone Biles: The Golden Girl
by The Cowl Editor on October 10, 2019
---
Professional Sports
---
Gymnast Sets Record for Most Medals in History
By Nicole Patano '22
Guest Writer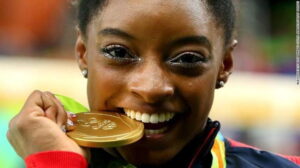 Simone Biles has one medal for every year she has been alive—and then some. During the 2019 World Artistic Gymnastics Championships, which started on Oct. 4, Biles won her 21st world championship medal. Taken together with her five Olympic medals, the 22-year-old has a total of 26 medals, making her the most decorated female gymnast in history.
The title for most World Champion medals was previously held by retired gymnast Svetlana Khorkina, who had 20. With 21 under her belt, Biles is only two medals short of the all-time record for men and women. And the week is not over yet. If Biles were to medal in the Women's All-Around Final, as well as four individual event finals—vault, uneven bars, balance beam, and floor exercise, her total count of World medals could get up to 26. While this week is full of successes for Simone Biles, it is nothing new to her.
Biles has been training in gymnastics since the age of six. She made her national debut at the American Classic only five years later, where she placed third in the all-around competition and first in the vault. From there, her career took off. Still too young to perform in the 2012 Olympics, Biles trained six to eight hours a day in preparation for the 2016 Olympics held in Rio de Janeiro, Brazil.
Biles's inaugural Olympic performance led her team to victory and won her four gold medals, setting a new American record for most gold medals in gymnastics at a single Olympic Games. Her team elected her to carry the American flag in the closing ceremonies. Since then, Biles has been the face of U.S. female gymnastics, appearing on the covers of Time, Sports Illustrated, and Teen Vogue.
Recently, Simone Biles has been in the news for being the first to execute a perfect double-double dismount off the balance beam and a triple-double on the floor. She nailed these two moves at the world gymnastics championship, and they are now known as the "Biles" and the "Biles II," respectively. With the addition of these moves, Biles now has four moves named after her. If her performance this week continues, we may see more history being made.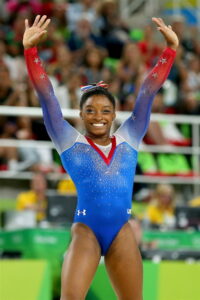 But it has not all been gold medals and perfect dismounts. At an early age, Biles was diagnosed with attention-deficit/hyperactivity disorder (ADHD). While this was difficult enough, after the 2016 Olympic Games, Russian hackers accessed the medical records of some Team USA athletes, including Biles. They revealed that Biles had tested positive for methylphenidate (Ritalin) and tried to use this information to discredit her performance at the Games. Biles took to social media, saying, "I have ADHD and I have taken medicine for it since I was a kid. Please know, I believe in clean sport, have always followed the rules, and will continue to do so as fair play is critical to sport and is very important to me." By opening up about her experience with ADHD, she encouraged many young people in similar circumstances.
When Team USA members began accusing team doctor Larry Nassar of sexually abusing them, Biles added her name to the list. While she does not carry Nassar's guilt, Biles says, "It's not easy coming back to the sport, coming back to the organization that has failed you…I feel every day is a reminder of what I went through and what I've been through and what I'm going through and how I've come out of it. I try just not to think about it." In August, Biles told reporters that she could no longer trust USA Gymnastics, and that she feels anxiety whenever visiting a doctor or trainer now. "We had one goal and we've done everything that they've asked us for, even when we didn't want to, and they couldn't do one damn job."
In addition to the emotional pain Biles feels, she admits to constantly being in physical pain. In an interview with Daily Mail, Biles says, "I joke to my friends a lot that I am going to be in a wheelchair at 30." She adds that it is unusual for her to not be in pain. A calf that has been torn repeatedly, a broken rib, and a shattered toe, and Biles claims she has been fortunate with her injuries. Less than 24 hours after spending the night in the hospital with kidney stones, Simone Biles was leading her team to first place at the 2018 World Gymnastics Championships and securing them a spot in the Tokyo 2020 Olympics.
The 2020 Olympic Games may be Biles's last ever. The champion says that her body is "just kind of falling apart." While she has been out breaking records, she is also healing—emotionally and physically. Admitting that there is little keeping her in the sport besides herself, Biles feels she does not have to prove herself anymore. It is about time that she experiences a break that will not result in a hospital visit.
USA Gymnastics Out
by The Cowl Editor on November 15, 2018
---
Professional Sports
---
By Liza Sisk '19
Sports Staff
USA Gymnastics has been at the center of significant controversy this year. Last winter, more than 100 female athletes joined together to testify against Lawrence Nassar, the longtime national team doctor. The group of women was led by  Olympians Aly Raisman, Simone Biles, Gabby Douglas, and McKayla Maroney. The athletes shared stories of sexual abuse and institutional neglect. Their testament served as a catalyst for conversation around sexual assault, institutional corruption, and the protection of young athletes in these organizations.
The strength these athletes showed through stepping forward to expose the corrupt nature of USA Gymnastics at the institutional level was recognized internationally. Nassar's sentence of 40 to 125 years in prison from Eaton County Michigan and 175 years from Ingham County seemed like a victory for the athletes, and for individuals affected by sexual assault across the country. The courage and perseverance as champions for women's rights in gymnastics displayed by the over 100 athletes who shared their stories was recognized through the Arthur Ashe Courage Award at the ESPYs.
The Arthur Ashe Courage Award is named after the American tennis player and is presented annually to an individual, or in this case a group, whose contributions "transcend sports" according to ESPN. The gymnasts received this award for their courage in standing up against demons from their past, and serving as ambassadors for the #MeToo movement, creating a community of survivors in a world where so many are silenced. They served as statues of empowerment and faced an institution that perpetuated abuse for far too long.
In June, USA Gymnastics named Tom Forster the new high-performance coordinator of the Women's National Team. This hire came with backlash from stakeholders, specifically the athletes.
Forster had a history of defending Nassar and an alleged reputation among "many former gymnasts for pushing athletes to unnecessary extremes and haranguing them about their weight" according to an article in the New York Times written by Juliet Macur.
Many athletes pushed back against this appointment with complaints of not being consulted in this attempted rebranding of the organization after a tumultuous year exposed an empire of abuse. This appointment was an effort to create a new face for USA Gymnastics in hopes of reestablishing their credibility as a governing body.
In a culture of victim blaming and attempts to brush allegations and controversy under the rug, the U.S. Olympic Committee (USOC) took a step in the right direction on Nov. 6. The USOC announced that they would begin the process of stripping USA Gymnastics of its power as a national governing body.
Sarah Hirshland, chief executive officer of the USOC, announced the news in her letter to USAG gymnasts and the gymnastics community in the United States. She explained that the committee's decision was "not a conclusion that we have come to easily" and that "this is a situation in which there are no perfect solutions." The Olympic Committee will assume control of the national governing body "on the grounds that the federation had proven incapable of running itself properly" according to the New York Times.
Hirshland addressed the athletes in the gymnastics community by explaining "you deserve better" and that "in the short-term, we will work to ensure that America's gymnasts have the support necessary to excel on and off the field of play." The USOC decision sends a strong message against abuse and can be considered a victory for the movement as well as the sport as a whole.
The first gymnast to accuse Nassar of abuse, Rachael Denhollander, reveled in the decertification of the organization. She tweeted, "Thank you. After overseeing the abuse of 100s of children by Larry [Nassar], national coaches and club coaches, it is high time for this organization to end and a new one, truly dedicated to athlete safety to begin."
Although the news comes as excitement to many, the critique still stands that this move is not enough. Lawyers of Olympian Tasha Schwikert and her sister Jordan shared a statement that read "[the] announcement by USOC seeks only to deflect from their total failure over decades to protect gymnasts in their care."
"I Forever Lost My Childhood Due to His Abuse"
by The Cowl Editor on February 1, 2018
---
Professional Sports
---
Larry Nassar Found Guilty of Sexually Abusing Over 200 Gymnasts
By Meaghan Cahill '20
Sports Co-Editor
It was a trial that was almost 25 years in the making and has become the greatest sexual abuse scandal in sports history. According to a 2016 lawsuit, in 1994 an unidentified gymnast, who would later go on to medal at the Olympics, stated that Larry Nassar had sexually abused her for six years. She would be the first of over 250 women who would come forward over the years claiming Nassar sexually assaulted them when he was supposed to be acting as their trainer.
Nassar's career began in 1978 when he became a student athletic trainer at North Farmington High School, outside of Detroit. A graduate of the University of Michigan, he began working with the football and track and field teams at UM in 1985. A year later, he signed onto the medical staff as an athletic trainer for the USA Gymnastics' national team.
His career only went up from this point. He received an osteopathic medical degree from Michigan State University in 1993, was appointed national medical coordinator for USA Gymnastics in 1996, became a team physician and assistant professor at MSU in 1997, and during all of this time, he began attending the Olympic Games as a member of the gymnastics team's staff. He had the picture perfect career, yet underneath it all, it was anything but perfect.
According to a lawsuit filed in 2017, a concern about Nassar was brought to John Geddert of John Geddert's Twistars gymnastics club for his behavior in 1997. The claim was overlooked and never brought to police attention. A year later in 1998, according to court records, Nassar began sexually abusing the six-year-old daughter of a family friend, and he acted inappropriately with her "every other week for five years." That same year, a student-athlete at MSU reported Nassar to the other trainers and coaches, but no action was taken by the university following the claims.
The lack of action on behalf of USA Gymnastics and MSU did not stop the accusations against Nassar. In 2000, a second MSU student-athlete came forward with claims that Nassar was acting inappropriately, as well as gymnast Rachel Denhollander, who stated she was sexually abused by Nassar when she was fifteen while he was treating her for lower back pains.
Flash forward to 2014 and all accusations against Nassar while he was at MSU were cleared by the university. That same year, he retired as USA Gymnastics' medical coordinator, but stated he would remain as the team doctor for the artistic gymnasts.
It was not until 2016 that an official investigation was opened into how USA Gymnastics handled the sexual abuse cases, including those with Nassar. Once again, Denhollander came forward with the same claims that he assaulted her when she was 15 and she filed a criminal complaint against Nassar.
Later that year, MSU fired Nassar from all clinical and patient duties. And then, the floodgates opened and Nassar's career came crashing down around him. After he was fired, complaint after complaint came through against him. Denhollander was one of the main accusers on every case and collaborated with others who had worked with Nassar.
On Tuesday, November 22, 2016, Nassar was officially charged in Ingham County with three counts of first degree criminal sexual conduct with a person under the age of 13. In a press conference, it was revealed that over 50 victims had come forward with complaints against Nassar. Less than a month later, Nassar was indicted on federal child pornography charges. On January 10, 2017,  18 more gymnasts filed a federal law suit against Nassar, MSU, USA Gymnastics, and John Geddert's Twistars gymnastics club alleging sexual assault, battery, molestation, and harassment between 1996 and 2016.
There was never a cease in accusations against Nassar, and they all led up to his 2018 sentencing, where most of his victims took to the stand and testified against him face to face. Some of his more well-known victims include Simone Biles, McKayla Maroney, and Aly Raisman.
The statements were powerful. Each victim took the stand and detailed just how much Nassar impacted their lives—and not in a positive way.
"You used my body for six years for your own sexual gratification. That is unforgivable," Kyle Stephens stated.
"I…developed an intense fear of male hands, like a PTSD response…This fear changed the way I grew up and how I related to boys…I couldn't just be a normal girl anymore, and I have forever lost a big piece of my childhood due to his abuse," Jessica Thomashow reflected while on the stand.
One mother even came forward and blamed Nassar's abuse for her daughter's suicide, "For my daughter it became a serious, serious bout of depression. So in 2009 she took her own life because she couldn't deal with the pain anymore." Donna Markham's daughter Chelsea claimed Nassar "hurt [her]" after he wrongfully touched her without medical gloves on.
After all of the witness statements, he was sentenced to 175 years in prison with the "hero" judge Rosemarie Aquilina stating "I've just signed your death warrant." The only questions that remains now are 'why?' and 'how?'
How could this abuse have gone on for so long with no one doing anything about it?
As Olympic gold medalist Aly Raisman stated in her witness statement, "It's easy to put out statements talking about how athlete care is the highest priority. But [USA Gymnastics] has been saying that for years, and all the while, this nightmare was happening."
Joan Ryan, author of Little Girls in Pretty Boxes, a book about the physical and psychological toll gymnastics takes on girls and young women, states, "There is no other sport in which this could have happened…These girls are groomed from an incredibly young age to deny their own experience."
"Gymnastics and the U.S. Olympic Committee didn't want to scare off sponsors and they didn't want to risk the piles of Olympic medals. So they covered it up," 1986 U.S. National Champion Jennifer Sey stated.
In a letter written by Champion Women, an advocacy group for girls and women in sports chaired by former Olympic gold medalist Nancy Hogshead-Makar, demanded that laws should be passed to protect young athletes from people like Nassar. The letter asserted, "Research shows that the more elite the athlete, the more likely they are to be sexually abused by someone within their own entourage."
So, what is the solution? According to Ryan, "We need change to come from the lawmakers, not organizations. There needs to be government oversight with hard and fast rules, because these girls are children, and if they win fewer medals, so be it."
In wake of the trial, the remaining members of the USA Gymnastics board of directors have all resigned due to the pressure from the United States Olympic Committee. According to USA Today, "The United States Olympic Committee threatened to decertify the organization if it didn't take more strident steps towards change."
In a statement issued amid the scandal and remaining board members stepping down, USA Gymnastics claimed that they support "an independent investigation that may shine light on how abuse of the proportion described so courageously by the survivors of Larry Nassar could have gone undetected for so long and embraces any necessary and appropiate changes. USA Gymnastics and USOC have the same goal-making the sport of gymnastics, and others, as safe as possible for athletes to follow their dreams in a safe, positives, and empowered environment."
While words are being exchanged on making the sport safer and better for our country's gymnasts, it is still up in the air if there will be any concrete changes made in the future of gymnastics.